I'm trying to will winter to end and spring to begin by making spring time cocktails. So far it's not working, but I'm hoping that if I drink enough of these Lemongrass Lime Spritzer cocktails over the next week or so that I can impose my will on the snow.
But man these are delicious. Light, citrus-packed, and just a hint of lemongrass herbal undertones.
The lemongrass lime syrup is on the lighter side so I like to make these with vodka so the syrup can shine a bit. But it's great with gin also or just club soda for a refreshing mocktail!
Come on spring. I have a porch and a cocktail waiting for you!
Lemongrass Lime Spritzer
The key to this simple spritzer, which is great with vodka, gin, or just club soda, is a simple lemongrass lime homemade simple syrup. Light and refreshing!
Ingredients
Simple Syrup:
2

stalks of lemongrass

,

split down the middle

1

lime

,

sliced

1

cup

sugar

1

cup

water
Spritzer:
1

ounce

lemongrass lime simple syrup

2

ounces

gin or vodka

Tonic or club soda

Lime

,

garnish
Instructions
Slice lemongrass longwise and add to a medium pot with sliced lime. Add sugar and water and bring to a simmer over medium heat. Stir until sugar is dissolved. When mixture is simmering, turn off the heat, cover, and let sit for 10-15 minutes to infuse flavors.

Pour simple syrup into a squeeze bottle and let cool. If you're in a rush, add the squeeze bottle to a bowl of ice water and it will chill down in just a few minutes.

Make a cocktail by adding gin or vodka to a cocktail glass with a squeeze of simple syrup. Top with club soda or tonic and ice. Serve with a garnish lime.
Nutrition
Serving:
1
drink
|
Calories:
161
kcal
|
Carbohydrates:
10
g
|
Protein:
1
g
|
Fat:
0.2
g
|
Saturated Fat:
0.02
g
|
Polyunsaturated Fat:
0.1
g
|
Monounsaturated Fat:
0.02
g
|
Sodium:
3
mg
|
Potassium:
142
mg
|
Fiber:
2
g
|
Sugar:
1
g
|
Vitamin A:
34
IU
|
Vitamin C:
20
mg
|
Calcium:
29
mg
|
Iron:
1
mg
Did you make this recipe?
What is a Spritzer?
A spritzer is a simple cocktail that generally is made with wine, sometimes stronger booze, and club soda. That's the base, but from there you can make it your own. Generally, a spritzer will be flavored with simple syrup of some sort.
Personally, I like white wine spritzers if it's a really hot day, but this lemongrass lime spritzer will be on my menu as well!
How to Make the Simple Syrup
If you've never dealt with lemongrass, it looks basically inedible. You can eat it if you prepare it right, but we don't need to eat it for this.
Just split it down the middle longwise and add it to a pot with lime slices.
Add one cup sugar and one cup water to that and bring it to a simmer. I like to mash the limes a bit as it simmers to get all the juice out. When the sugar is dissolved, remove it from the heat, cover the pot, and let the syrup steep for 10 minutes or so to infuse flavor.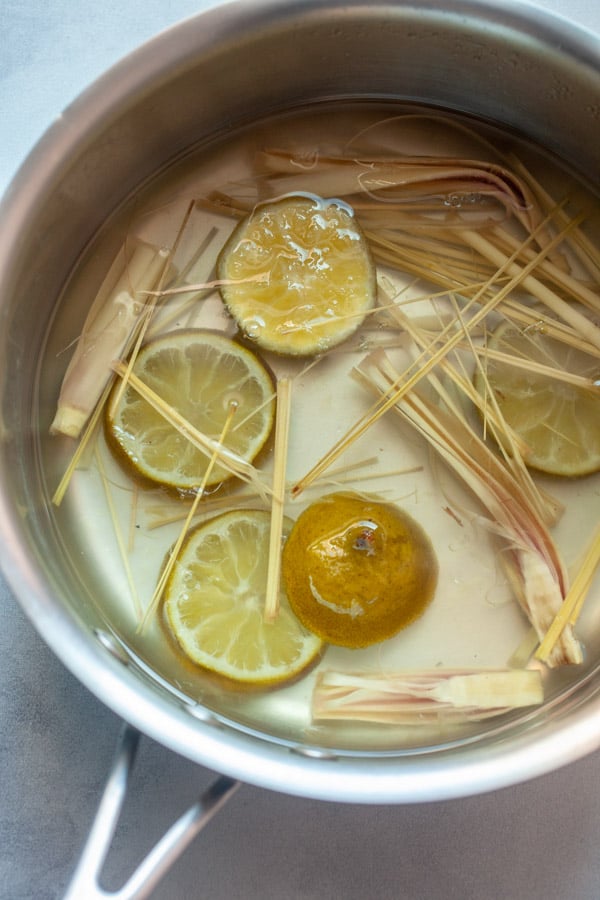 If you're in a cocktail rush, transfer the simple syrup to a squeeze bottle and stick it in a bowl of ice water to chill it down super fast.
Now you can make a spritzer! Add a good squeeze of simple syrup to your glass (maybe an ounce if you want to measure).
Then add your booze (gin, vodka, or nothing) and club soda or tonic for some bubbles.
Lemongrass Lime Spritzer is done!
Cheers!
Here are a few other great cocktail recipes!