Pretty much every year when the summer days get very hot, I decide that the Pimm's Cup should be the drink of summer. I have absolutely no idea, to this day, why Pimm's Cups aren't more popular. They are refreshing, light, and easy to make individually or for parties.
It's the perfect cocktail for a hot summer day. It's not super-alcoholic so you don't have to worry about canceling plans or anything, but it'll take the edge off and is one of the most refreshing things in the liquor store.
If this slightly fancy (but still easy) version is too much, you can just toss it over some ice with a bottle of ginger beer or a dash of lemon and club soda and it's very drinkable. But, because we are all grown-ups, this cucumber ginger Pimm's cup is a definite grown-up version.
What is Pimm's No. 1?
Pimm's No. 1 is a liquor mixture that is gin based with lots of botanical ingredients that give it a deep red color. It's lower alcohol than many liquors and is great in spritzs and lighter cocktails.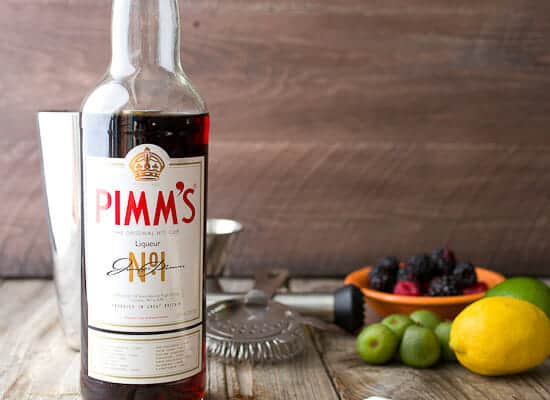 I had to go to two liquor stores in the Denver area to find a bottle of Pimm's which is a damned travesty. In the summer, every self-respecting liquor store should be selling Pimm's No. 1.
Apparently, there are various Numbers of Pimm's concoctions, which only differ because of their base liquor. The only one I've tried is the No. 1 which has a gin base. It's perfect for a light, fruity cocktail though.
The original Pimm's Cup started in London by the owner of an oyster bar named James Pimm. The drink is very popular during tennis events (like Wimbledon) and is starting to gain popularity in the states (and will continue to gain popularity if I have anything to say about it!)
Ingredients in a Pimm's Cup
As far as I can tell, there are no hard and fast rules here, but classically, this drink has ginger ale (I like ginger beer), lemon, and Pimms No. 1. Generally it is garnished with lots of fruit and I use a mix of berries, cucumber slices, kiwi, citrus, and fresh mint.
It is a very flexible base cocktail though and you should feel free to experiment with the add-ins. Mr. Pimm's is no longer with us but I'm sure he wouldn't complain to some leeway with his recipe.
Muddling Fruit for Pimm's Cup
One of my favorite cocktail tricks from my previous life as a bartender is to muddle cucumber in a cocktail shaker with whatever booze I'm mixing. It's almost undetectable in the final drink, but it just rounds out the edges a bit. Hard to describe, but trust me that it's worth it.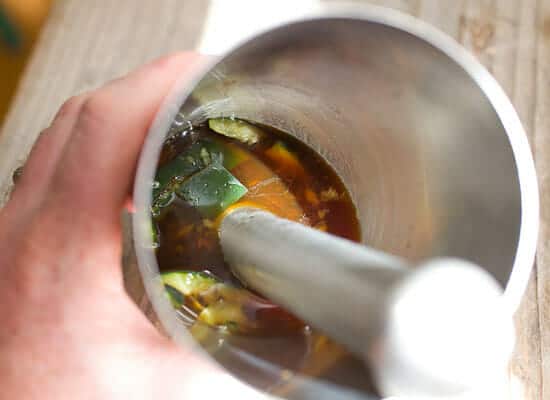 To apply this technique to a Pimm's Cup, seed a few inches of a fresh cucumber and mash the flesh of the cucumber in a shaker tin (discard seeds and guts) together a good measure of Pimm's No. 1.
I like to use 4-5 oz. of Pimm's for two cocktails. Again, it's not a super-strong liquor. You could add a shot of vodka in addition to the Pimms if you wanted to make it stronger.
Strain out the cucumber of course because it would be pretty amateur to leave cucumber guts in your pretty cocktail. i like to serve these in a collins glass or stemless wine glass. Anything will work though!
Garnishes for your Pimm's Cup cocktail
Much like the Bloody Mary, a good Pimm's Cup will have a variety of garnishes. Lemon and lime are standard but I like to go a little sangria here and add some fresh berries. Grab a few kiwi berries if you can find them. They look amazing in cocktails.
After you strain the Pimm's into the glasses, add a bunch of ice and top off the drink with a really good ginger beer. Good ginger beer isn't cheap but it makes the difference between an average cocktail and an excellent one. I like to add a mint sprig and a few fresh cucumber slices as well.
It's not crazy to pay $6 for a four-pack of good ginger beer.
Then toss in all your garnishes and some fun straws and you're ready for summer.
May your Cucumber Ginger Pimm's Cups be refilled automatically by someone you love.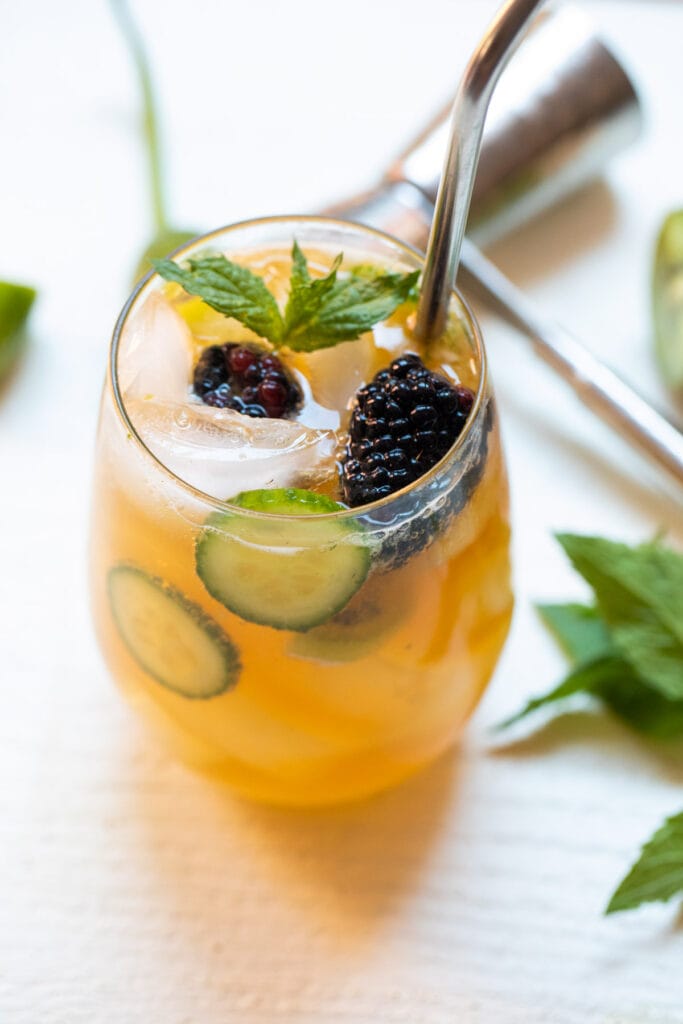 Substitution ideas for the cocktail
As I said, this is an incredibly flexible cocktail. Here are some options:
Make the cocktail stronger by adding gin, vodka, or even rum to the base drink.
For a sharper taste, add fresh lemon juice or lemon soda or sparkling lemonade instead of ginger beer.
To give it extra fizz, top off each cocktail with a splash of champagne
Make a strawberry version with fresh muddled strawberries and basil.
Making a pitcher of Pimms Cups
If you are entertaining, you might find it easier to make a big batch of the cocktail rather than keep refilling individual cups. To do this, muddle a bunch of cucumber with a double amount of Pimms. Strain that into a pitcher and then add another double amount of Pimms (4x the original recipe). Add ice to the pitcher along with fruit and top with four ginger beers.
You could also keep the ginger beer on ice and transfer the base drink to a mason jar. People can help themselves to the base drink and then top off with the ginger drink.
Cucumber Ginger Pimm's Cup
This Ginger Pimms Cup is my official drink of summer. Light, fruity, refreshing, and just a few ingredients. Make a few of these and life is good!
Ingredients
2-3

inches

cucumber

,

seeded

4-5

oz.

Pimm's No. 1

7-8

oz.

ginger beer

Lemon slices

Lime slices

Raspberries

Blackberries

Kiwi berries
Instructions
Cut a section of washed cucumber in half and scrape out seeds. Cut into a few pieces.

Add pieces of cucumber to a cocktail shaker and muddle well. After mashing for a minute, add Pimm's and continue to mash to mix flavors.

Strain muddled Pimm's between two glasses. Fill with ice and top with cold ginger beer.

Garnish cocktails with lemon and lime slices, berries, and straws. Drink immediately!
Nutrition
Serving:
1
Cocktail
|
Calories:
165
kcal
|
Carbohydrates:
9
g
|
Protein:
0.01
g
|
Fat:
0.01
g
|
Sodium:
8
mg
|
Potassium:
6
mg
|
Fiber:
0.02
g
|
Sugar:
9
g
|
Vitamin A:
2
IU
|
Vitamin C:
0.1
mg
|
Calcium:
3
mg
|
Iron:
0.2
mg
Did you make this recipe?
Here are a few other great Summer Cocktails: