I like making cocktails so much. Back in my bartending days, you could get away with knowing just the basics. Where I was bartending, it was half about quality and half about speed. If I was working a brunch shift with bottomless mimosas it was 95% speed and 5% quality.
These days there is a huge resurgence in classic cocktails. It's not uncommon to see flips, shrubs, and all kinds of other classic cocktails on many menus. These were not popular when I was bartending. I'm pretty sad about that because I really like making them.
The flip, for example – a cocktail made with an egg white – might sound crazy to some people, but is incredibly delicious. You shake the crap out of it and the egg white turns into an almost meringue. The finished drink seems impossibly light and airy and the little bubbles make every sip tingle a bit.
It's worth the work.
I really like to use big flavors in my flips because they get watered down because of all the shaking! That's why a pomegranate flip is so good. Use good gin and good pomegranate and you're gonna love it. It's especially nice and refreshing on a hot summer/spring day!
Pomegranate Flip Cocktail
This classic cocktail has a modern twist! It's perfect for a hot summer day: light and refreshing! Here's how to make it!
Ingredients
1

egg white

2

oz.

gin

2

oz.

pomegranate juice

1

teaspoon

sugar

Dash of orange bitters

,

opt.

Lemon rind

,

garnish
Instructions
Chill a martini glass with ice and water. Separate an egg white from the yolk. Add white to cocktail shaker with gin, pomegranate juice, sugar, and bitters (opt.). Add lid to shaker and shake vigorously for 30 seconds. Mixture should be frothing and foamy.

Add ice to cocktail shaker and shake a second time, vigorously, for 30 more seconds.

Strain cocktail into chilled glass. Garnish with lemon rind slice. Serve immediately while very cold.
Nutrition
Serving:
1
Cocktail
|
Calories:
196
kcal
|
Carbohydrates:
13
g
|
Protein:
3
g
|
Fat:
0.2
g
|
Saturated Fat:
0.04
g
|
Polyunsaturated Fat:
0.03
g
|
Monounsaturated Fat:
0.03
g
|
Sodium:
56
mg
|
Potassium:
171
mg
|
Fiber:
0.1
g
|
Sugar:
12
g
|
Vitamin C:
0.1
mg
|
Calcium:
8
mg
|
Iron:
0.1
mg
Did you make this recipe?
Pomegranate Flip Cocktail
This is the lineup. I wouldn't go buy orange bitters just for this recipe, but if you happen to have some, add in a dash.
Also, if you happen to have a copper shaker, it'll be easier to shake the egg whites into a meringue. That's kind of a long shot for most people though. No worries. You can make it with any steel shaker also.
The First Step
You might want to start tossing stuff in your cocktail shaker, but the first step in any good cocktail is chilling the glass. If you go to a bar and they skip this step, you can pretty much bet you'll be getting a mediocre, at best, cocktail.
It's the little things and a chilled glass is one of the most important parts of a good cocktail, in my opinion.
On Egg Whites
Of course some people may have a concern about drinking a cocktail with raw egg whites. Generally, it's safe for most people. The danger is salmonella. These days you can buy pasteurized eggs which have a very low risk of contamination, but even still I would tread carefully if you have a weakened immune system.
In no universe should you serve this drink to someone and not tell them it has egg in it! Proceed at your own risk, however small that risk may be!
Shake Shake Shake
Once you have your egg white separated from the yolk and your cocktail glass chilling, it's time to get to work. Add the gin, juice, egg white, sugar, and bitters to your cocktail shaker.
Put the lid on an shake like crazy for 30 seconds. Don't add any ice or anything at this time.
After 30 seconds, the mixture should be frothy and foamy. This looks about right.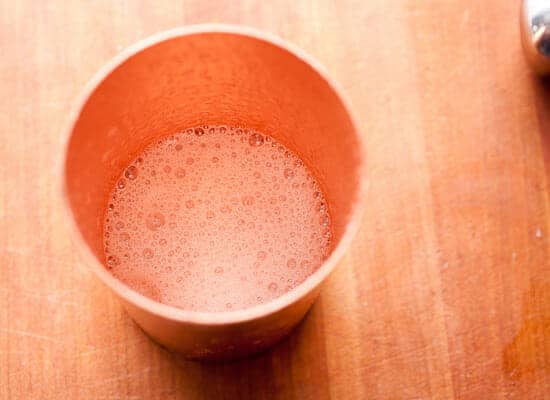 Then add the ice to your shaker and shake it again for 30 seconds.
By the way, 30 seconds is longer than you think. You can use a timer and you'll be surprised how long it is for something like shaking a cocktail.
Once you're done with the second shake though, dump the ice out of your glass and strain in your cocktail.
The cocktail should have a nice layer of bubbles on it and be a light pink color. You can garnish it with some lemon or just serve it as-is.
YUM.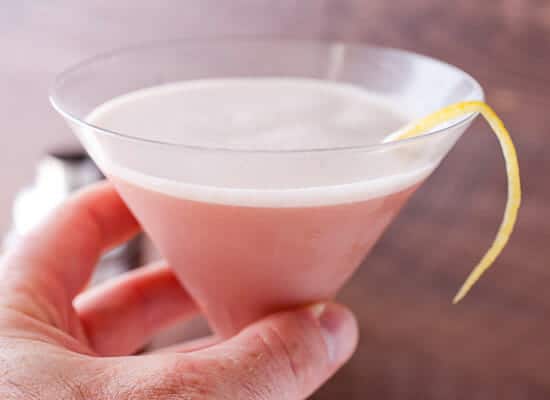 One final note on this bad boy. While you might be tempted to make more than one of these at a time, I find that it's really hard to shake the egg to the right consistency with more than one egg in the shaker.
Do one at a time to make sure it ends up perfect.
Who's a Fan of the Flip?! Leave a comment!