During these early spring days, light and fast dinners are what I'm all about. These Tasty Shrimp Lettuce Wraps with avocado check all the boxes for a delicious and EASY dinner. They are ready to go in just a few minutes, they are healthy, low carb, and easy to customize. Plus, you can serve them for lunch or dinner!
Avocado and shrimp are a very underrated combo in my opinion. Shrimp are really lean and the avocado adds some needed fat and creaminess to the lettuce wraps. There are many options for add-ins to these guys when you get the basics down and I included some ideas in the substitutions list below.
The peanut sauce is a bonus and worth the tiny bit of extra work. I like mine a bit spicy so added more sriracha than the recipe calls for. Adjust to your tastes or leave out the Sriracha entirely for a non-spicy version.
These shrimp lettuce wraps should be on your menu at some point, whether as a full meal or just a fun, and hearty appetizer.
Ingredients for Lettuce Wraps
There are some basics that are essential for these lettuce wraps, like lettuce, obviously, and shrimp. As I mentioned above, I think avocado is really important as it gives some creamy fat to the wraps. Other than that there are no hard and fast rules to what you can put in these. Here are a few ideas!
Shredded veggies like carrots or cucumbers
Spicy slivered jalapeno or serrano peppers
Fresh herbs like cilantro, dill, or mint
Crunchy root veggies, sliced thin (radish, jicama, etc.)
Brown or white rice (room temperature so it doesn't wilt lettuce)
Poaching Shrimp
Okay. Let's talk shrimp! I like to use the large ones for this recipe which generally come 26-30 per pound. That means you should get about 10 lettuce wraps out of the batch if you have 2-3 shrimp per lettuce wrap.
There are a million ways to cook shrimp and you could even use leftover shrimp for these wraps. I tried a poaching method below, but you can also use my steamed shrimp method which is easy and yields wonderful results. It would also be a wonderful addition to use these beer-battered shrimp, but the fried shrimp element kind of counteracts the healthy lettuce wrap situation.
To poach the shrimp, peel the shrimp and devein them, remove the tails, and add them to a pot of simmering water with lemon and Old Bay. You don't want a lot of Old bay, just enough to season the shrimp. I would add more if I were eating the shrimp as a shrimp cocktail.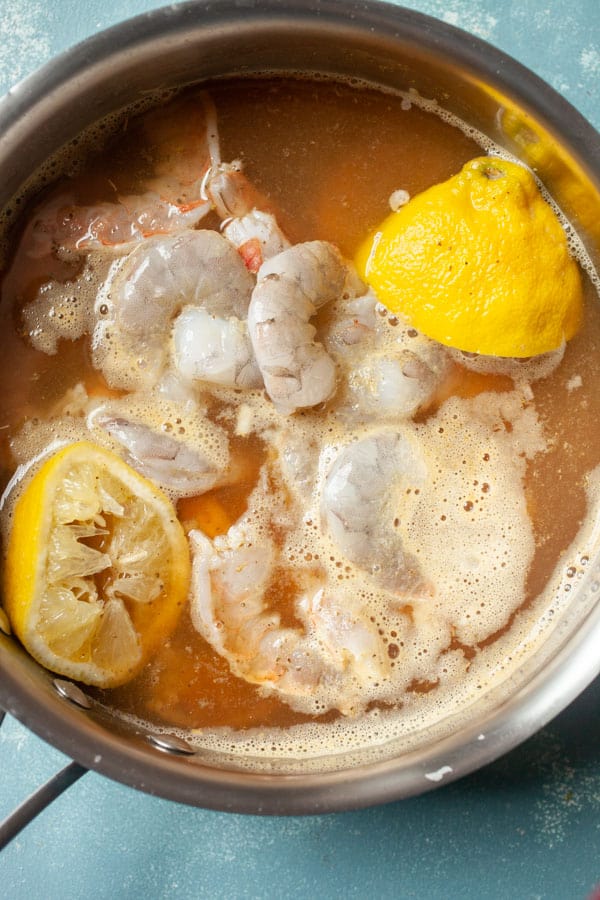 When the shrimp are done, don't rinse them! Instead add them to a bowl with some ice to cool them down quickly. Rinsing them in water will rinse off all the wonderful seasoning you just added.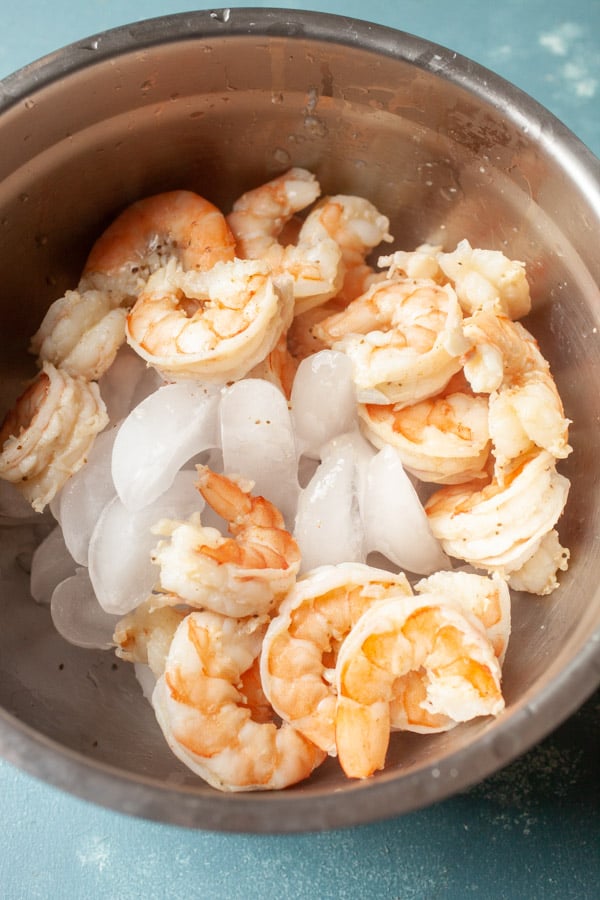 These are now ready to be mixed with your other ingredients and used in the wraps!
Can you used canned shrimp?
I'm a fan of canned shrimp for things like shrimp salads or even shrimp cakes. When shrimp is just an ingredient in the finished dish, it can be okay to use canned shrimp, but I wouldn't use them for these wraps. The main flavor and ingredient in the wraps is the shrimp so it's nice to have fresh shrimp that really shine in the wraps.
What lettuce is best for wraps?
Lettuce is obviously not as strong as a tortilla or even rice paper. It doesn't stretch at all so you do have to be kind of gentle with the wraps. Sometimes it's good to add two pieces of lettuce for each wrap to give them a little extra support.
When it comes to what kind of lettuce to use, I've used many kinds. I like plain green leaf lettuce, but if you use that, definitely stack two pieces. Romaine lettuce can be strong enough to use individually and is a great option. Butter lettuce has a wonderful flavor for wraps like this and nice crunch and is a great option as well.
I would avoid iceberg lettuce for these wraps, which is crunchy, but hard to bend at all and will break apart if you try to wrap it up at all.
How to make the Spicy Peanut Sauce
The trick to making this peanut sauce is actually to add water to it. You might think that dilutes the flavors, but the flavors are so intense that they could use a little diluting. Also, I like the sauce to be thinner so you can easily drizzle it on the lettuce wraps. If you have to spread it on with a knife, it's way too thick.
I had to add about 1/2 cup of water to mine to get to the right consistency. You will have to stir and add in small amounts until yours reaches the right thickness. All peanut butters are different!
You can stir in the other flavors, soy sauce, sriracha, and lime before you thin it out to make sure you get the consistency right. You can also adjust the flavors to your liking, like a little honey for sweetness. There's nothing precious about my recipe – it's just a starting point!
Assembling the wraps
Once the shrimp are cool, add them to a bowl with the carrots and avocado. Looking good! Again, you could add a million crunchy veggies or add-ins to this bowl at this point.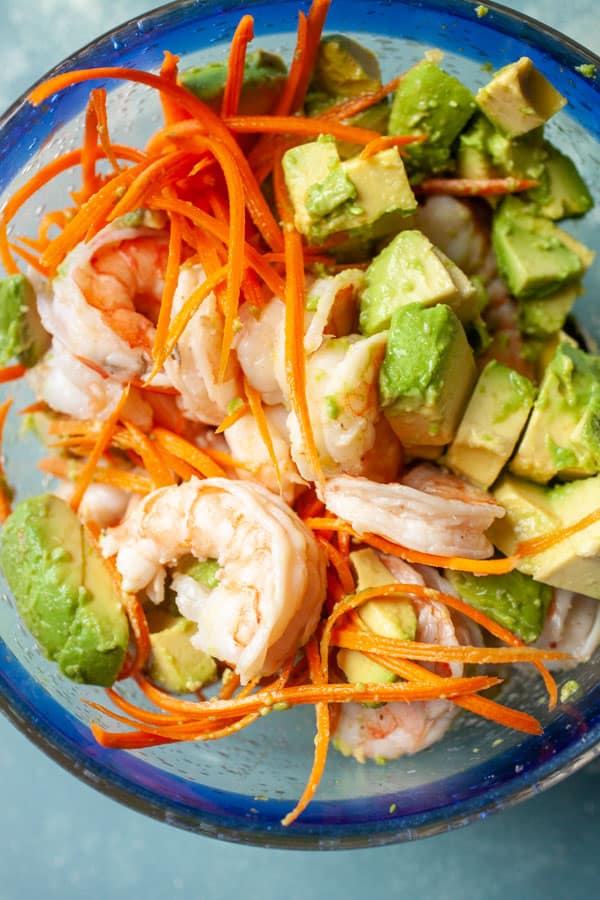 Divide the salad between some washed and dried lettuce leaves and drizzle heavily with the peanut sauce! If you wanted to add some rice or something to the wraps, do so before you pile on the shrimp.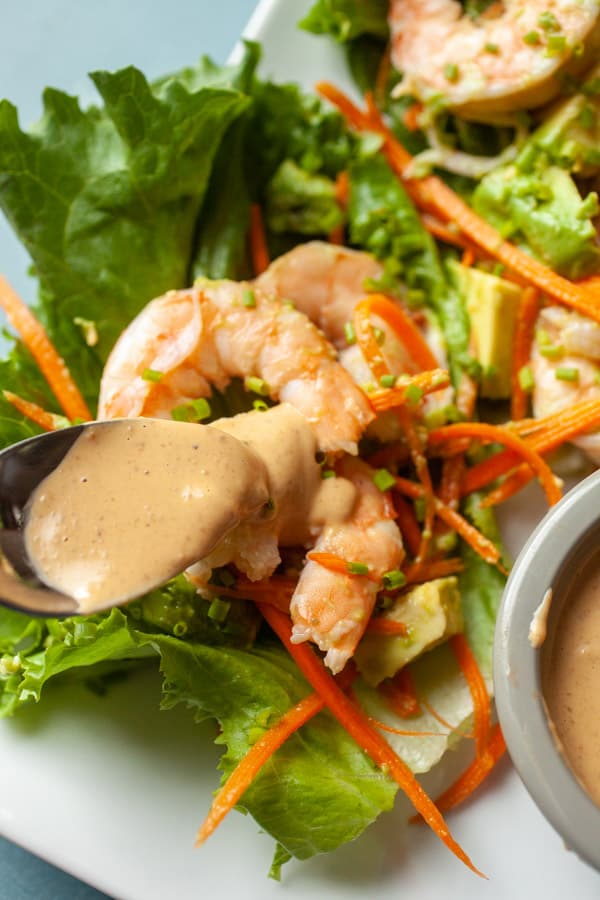 Three or four of these Avocado Shrimp Lettuce Wraps make a great light dinner!
Storing Leftovers
Shrimp doesn't keep particularly well and these will get a bit rubbery after a few days, but they will store fine for a day or two in the fridge. It's best if you can store the pieces separately. The thing that will go off the fastest is actually the avocado so if you can anticipate that a bit and use fresh avocado when you are making leftover wraps, that's best.
Of course, I wouldn't recommend throwing away leftover wraps if you have them made! Wrap the lettuce wraps tightly in plastic wrap and they will be just fine for lunch the next day!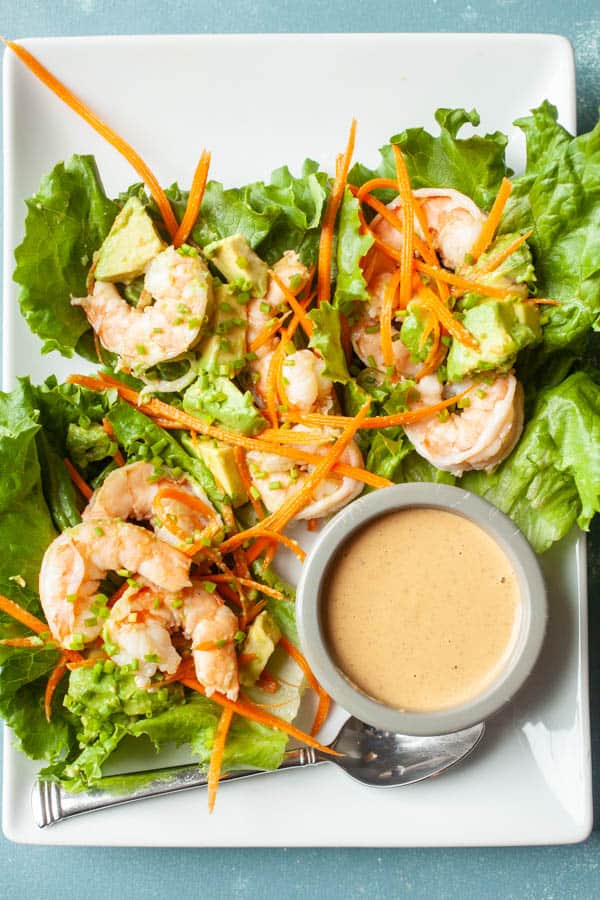 Shrimp Lettuce Wraps with Avocado
This simple Avocado Shrimp Lettuce Wraps are a great light dinner option. It's especially nice on a hot summer day with a bubbly drink! Don't forget the peanut sauce!
Ingredients
1

pound

large shrimp

,

26-30/pound

1

lemon

,

halved

2

teaspoons

Old Bay seasoning

2

medium carrots

,

grated

2

ripe avocados

,

chopped

Green lettuce or butter lettuce

Chives

,

garnish
Peanut Sauce:
½

cup

creamy peanut butter

1

lime

,

juice only

1

tablespoon

sriracha sauce

1

tablespoon

soy sauce

¼-½

cup

hot water
Instructions
For peanut sauce, stir together sauce ingredients in a medium bowl. Start with 1/4 cup hot water, but you might need more to thin out the sauce enough. It should be thin enough to drizzle.

For shrimp, bring a medium pot filled with 2 inches of water to a simmer along with the lemon (squeeze juice into the water) and Old Bay seasoning. Peel shrimp (remove tails) and devein them and add them to the simmering water over low heat. Cover and cook for 2-3 minutes until shrimp are cooked through.

Remove shrimp and add to a bowl with ice. Don't rinse the shrimp. Toss them with the ice to chill them down quickly.

In a separate bowl, stir together shrimp with avocado and carrot.

Scoop some of the avocado and shrimp mixture into washed and dried lettuce leaves. Drizzle generously with peanut sauce and garnish with fresh chives. Serve immediately!

Avocado and shrimp mixture will keep okay in the fridge for a day but the avocados will oxidize and turn brown.
Nutrition
Serving:
1
Lettuce Wrap
|
Calories:
186
kcal
|
Carbohydrates:
10
g
|
Protein:
10
g
|
Fat:
13
g
|
Saturated Fat:
2
g
|
Polyunsaturated Fat:
2
g
|
Monounsaturated Fat:
7
g
|
Trans Fat:
0.004
g
|
Cholesterol:
57
mg
|
Sodium:
459
mg
|
Potassium:
388
mg
|
Fiber:
4
g
|
Sugar:
3
g
|
Vitamin A:
2197
IU
|
Vitamin C:
13
mg
|
Calcium:
49
mg
|
Iron:
1
mg
Did you make this recipe?
Here are a few other great recipes!