A common street food in many countries is just a really ripe mango. A vendor will slice up for you on the spot and either stick it in a bag or, even better, skewer it on a stick! One addition to this that is pretty common is chili powder or a spicy, salty seasoning like Tajin. These Shrimp Spring Rolls have a layer of the same chili mango wrapped into it which goes perfectly with the shrimp!
For some reason it's particularly delicious on a really hot day. I've been playing around with this flavor profile a lot this summer (this grilled cheese, for example), but these chili mango shrimp spring rolls might be my favorite thing so far.
They are obviously light and healthy, but they are also freaking delicious. Like… I couldn't stop eating them. They also are relatively easy to make once you get the hang of it.
No need to go to Asia to get your chili mango fix this year, team. I've got it for you right here.
What size shrimp works well for these rolls?
I like to use a large-sized shrimp for these rolls, but any size will work fine. If you use the smaller shrimp, you can leave them whole in the spring rolls, actually.
I would shy away from the jumbo or extra large shrimp just because they are the most expensive and you'll just end up slicing them anyway. So save your money!
Cooking the shrimp for spring rolls
Theoretically, you could cook shrimp pretty much any way for these wraps. If you happen to have leftover shrimp, these spring rolls are a great use! Just make sure you don't overcook them. Really rubbery shrimp would be noticeable since these wraps don't have many ingredients.
For my money, I always steam shrimp when I want them cooked perfectly.
If you don't know how to do this, check out my perfect steamed shrimp tutorial. It's easy to do and for this recipe you can even skip the seasonings because we will season them after they are cooked.
Most importantly, when the shrimp are done, toss them in some ice water to stop the cooking process. This will result in really wonderful shrimp.
Once they are chilled, peel them and then slice them in half longwise. Then season them simply with a little soy sauce. This should be enough for 10-12 spring rolls.
Other ingredients for these spring rolls
For the mango, I like to slice the fat cheeks off the mango and then peel those and slice them as thin as possible. Use a liberal hand with the chili powder. You want the flavors to really mingle!
If you are worried about heat levels, you can find really mild chili powder that doesn't have a lot of spice to it but is just really savory.
Here's all the fixings for these bad boys!
I also like to add some bean sprouts, crispy lettuce, and cilantro to my spring rolls. Other great additions would be shredded carrots, fresh herbs like mint leaves or basil, bell pepper, green onions, or rice noodles, and thinly sliced cucumber.
Making these Shrimp Spring Rolls
If you've never made spring rolls before, don't let it get you down. Take your time on the rolling part and be prepared to have to re-roll a few until you get the hang of it.
Set the rice paper wrappers (or spring roll wrappers) in a shallow dish or plate of warm water (one wrapper at a time) and let it sit for a few seconds, flipping it over until it's flexible. Then transfer it to a clean surface and start packing on the fillings. I start with shrimp and mango and go from there.
Try to roll it as tight as possible by folding the ends over and rolling it up into a cylinder. You could serve them whole or slice them in half. I like to slice them to show off the goods.
You could make these chili mango shrimp spring rolls in advance and keep them chilled in the refrigerator, but they don't last longer than a day or so in the fridge. After that they start to lose their charm.
I had a few of these for a light dinner one night and never felt better!
These are gluten-free by nature and go well with a variety of dipping sauces. Just soy sauce is fine, but also something like a spicy peanut sauce would be great to serve alongside the spring rolls.
Storing the spring rolls for later
These don't have a great shelf life in the fridge. They would be fine for a day or so if you have a few extra, but they lose their freshness pretty quickly. I recommend rolling them right before serving so they are fresh and delicious.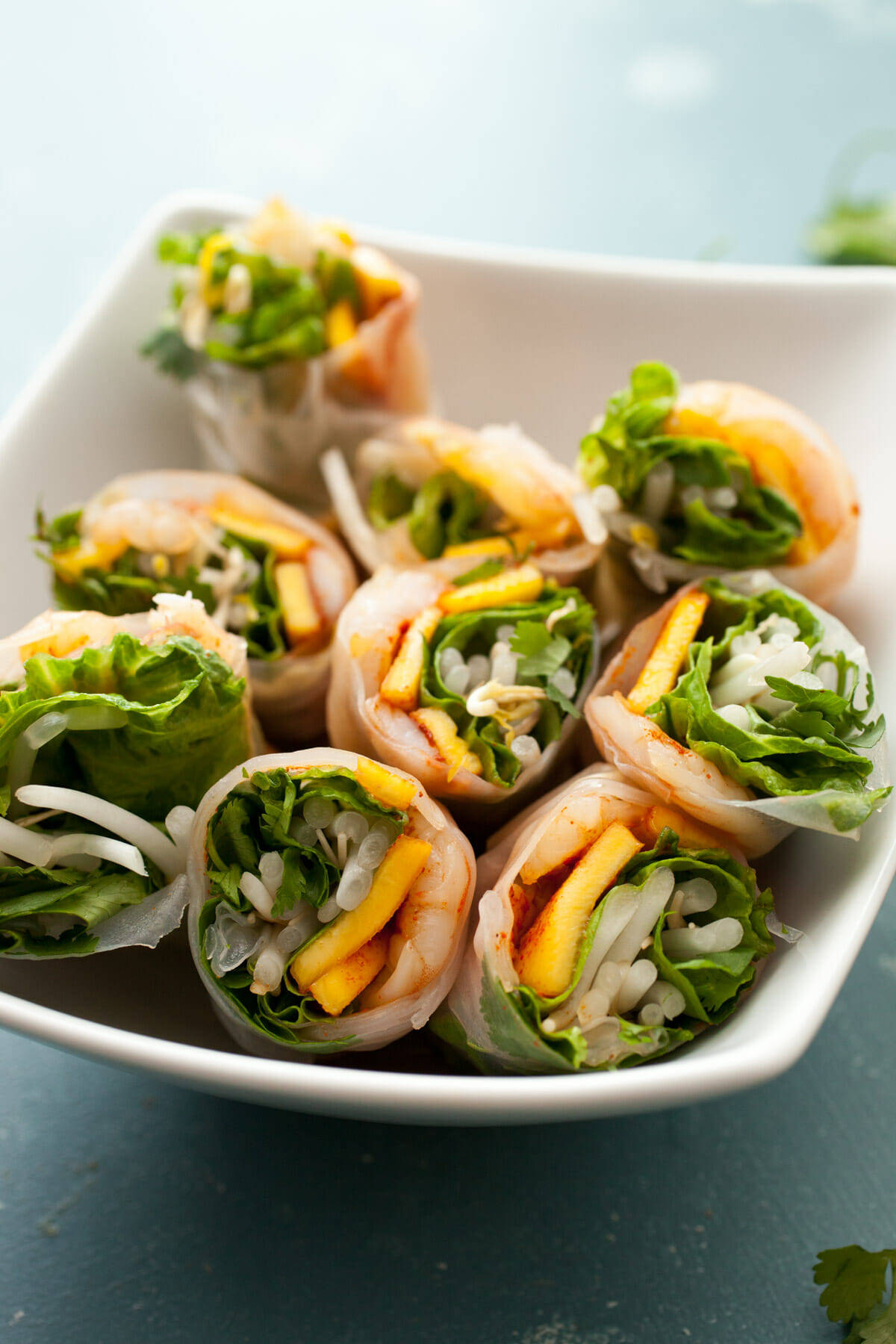 Chili Mango Shrimp Spring Rolls
These light and refreshing spring rolls are the perfect way to beat the summer heat. Serve them as a hearty appetizer or a lighter meal!
Ingredients
1

pound

large shrimp

,

steamed

1

tablespoon

soy sauce

1

ripe mango

,

sliced thin

2-3

tablespoons

chili powder

Green lettuce

Bean Sprouts

Fresh cilantro

Rice paper wrappers
Instructions
For shrimp, bring a medium pot of water to a rapid simmer. Place shrimp in a steamer basket and steam for 3-4 minutes until just cooked through. For a more thorough steaming tutorial, check out my Perfect Steamed Shrimp.

When shrimp are cooked, drain them and transfer them to an ice water bath to chill. Once they have chilled down, peel the shrimp, cut them in half longwise, and sprinkle them with soy sauce.

For mango, use a sharp knife to cut the fat cheeks of the fruit off the pitt. Then peel and slice mango thin. Sprinkle mango slices liberally with a mild or spicy chili powder (to your liking).

Prep all your other fillings as well.

To make a spring roll, set a rice paper sheet in a shallow dish with warm water. Let it sit for 5 seconds and flip. Do that a few times until the wrapper is flexible. Then transfer it to a clean surface.

In the middle of the wrapper, add 4-5 shrimp halves, then a few slices of mango on top. Then top with other veggies. Fold the ends of the wrapper over and roll it into a tight cylinder, pulling on the wrapper as you roll it to keep it nice and tight.

Cut wrap in half for serving and repeat until you are out of fillings. You should get about a dozen spring rolls.

Serve spring rolls plain or with soy sauce to dip in.

Leftover spring rolls will keep in the fridge for a day.
Nutrition
Serving:
1
Spring Roll
|
Calories:
97
kcal
|
Carbohydrates:
15
g
|
Protein:
7
g
|
Fat:
1
g
|
Saturated Fat:
0.1
g
|
Polyunsaturated Fat:
0.3
g
|
Monounsaturated Fat:
0.1
g
|
Trans Fat:
0.003
g
|
Cholesterol:
49
mg
|
Sodium:
428
mg
|
Potassium:
116
mg
|
Fiber:
1
g
|
Sugar:
2
g
|
Vitamin A:
653
IU
|
Vitamin C:
6
mg
|
Calcium:
36
mg
|
Iron:
1
mg
Did you make this recipe?
Here are a few other great shrimp recipes!