I used to be very good about making my own salad dressing. There was a pre-child time of my life when I would scoff at store-bought salad dressing. I will admit that this is no longer the case and if you open my fridge you will find a few bottles of store-bought dressing. But when I first tried this Grapefruit Vinaigrette on a fresh salad, I was zapped back to that time of homemade salad dressings.
Homemade salad dressings are just the best.
They are really relatively fast (although not as fast as unscrewing a lid). But the flavors are so fresh and clean. I find myself eating more salad when I have a good homemade dressing.
This time of year when grapefruit is at its prime, this grapefruit vinaigrette is a must-try! Shake it up and give it a go!
What ingredients are in a vinaigrette?
A classic vinaigrette is a really simple emulsion that almost always has a few different ingredients.
Acid. Usually this is vinegar but you can use citrus or other acidic ingredients for this ingredient.
Oil. Usually olive oil is used but you can use lighter oils if you want.
Emulsifier. I like to use mustard for this. A little bit of it helps the emulsion happen.
Sweetener. Adding some sugar balances out the dressing. Sometimes this is honey or maple syrup.
Shallot. Most vinaigrettes will have some fine minced onion, such as shallot.
Spices. Salt, pepper, and even hot sauce are standard ingredients.
Do you need fresh grapefruit juice?
I'm not going to say that you 100% have to use fresh grapefruit juice for this recipe. If you bought a jar of store-bought grapefruit juice, it would probably be okay.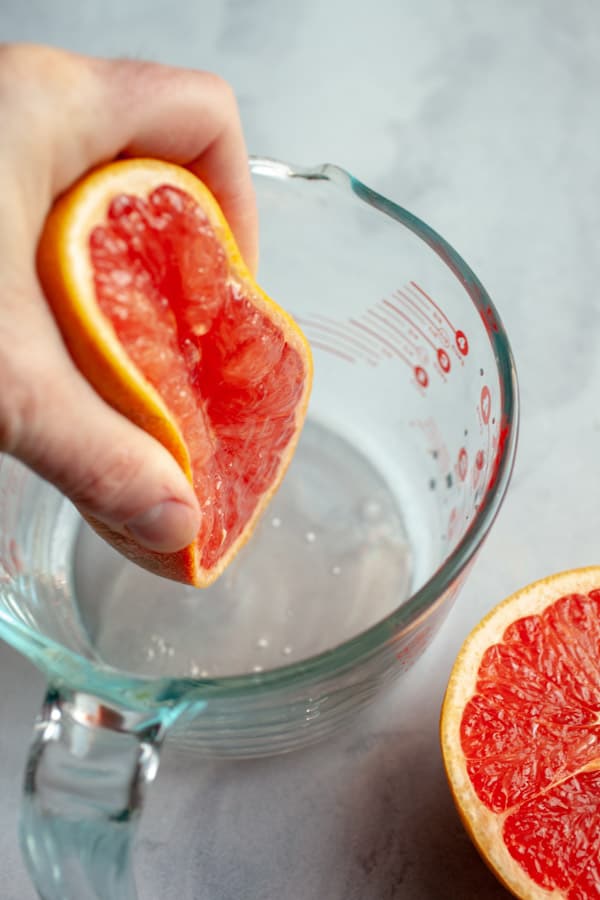 But, buying a single grapefruit when they are in season is a few cents and the fresh, clean taste of fresh juice is hard to match. It's probably the most important piece of this recipe so if you are taking the time to make the recipe, I'd try to get a fresh one.
Instructions for this grapefruit vinaigrette
Add the fresh grapefruit juice to a jar with a lid along with minced shallots (very tiny!), olive oil, mustard, sugar salt, pepper, and just a dash of hot sauce.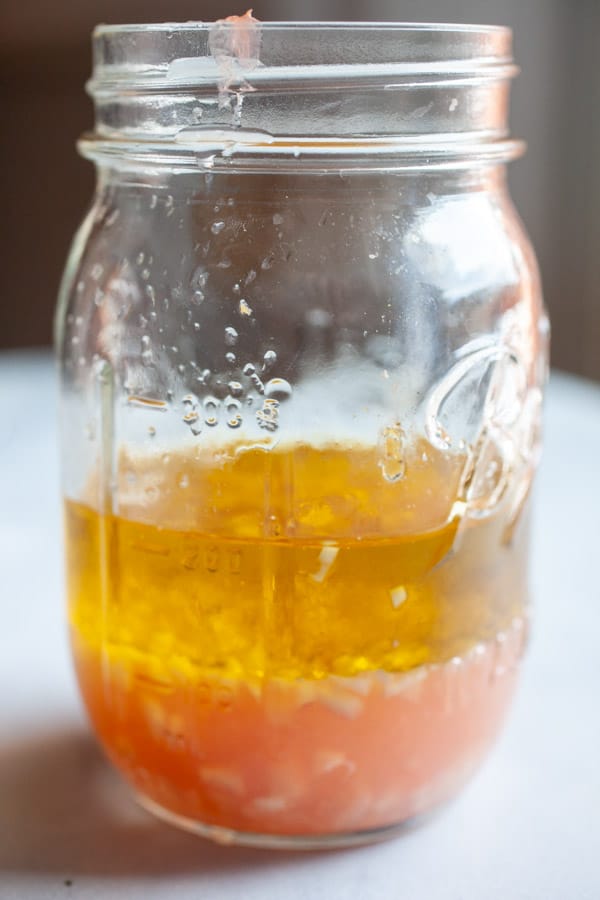 You could add a dash of vinegar if you wanted but I find the grapefruit juice has enough bite to it.
Shake it up like crazy and you're done!
The Grapefruit salad dressing is bright and citrusy and is light enough to use liberally on salad. Of course, you can still overdress a salad with it if it's soggy wet, but it won't overpower the flavors in the salad.
Keep any leftovers you have in an airtight mason jar in the fridge. It'll keep for 2 weeks at least!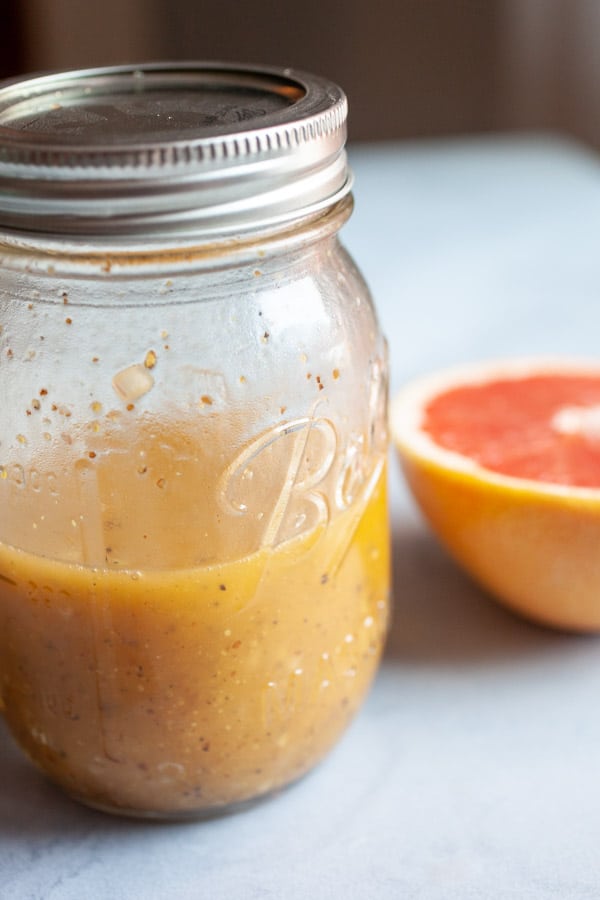 Substitutions and ideas
There are some nice change-ups you can try with this salad.
Switch up the citrus! Citrus is great in the winter and you could try oranges or something similar with this dressing.
Add fresh herbs. A little fresh rosemary or tarragon would be nice.
Change up the sweetener. I used just plain white sugar to keep it simple, but honey or syrup would be great also.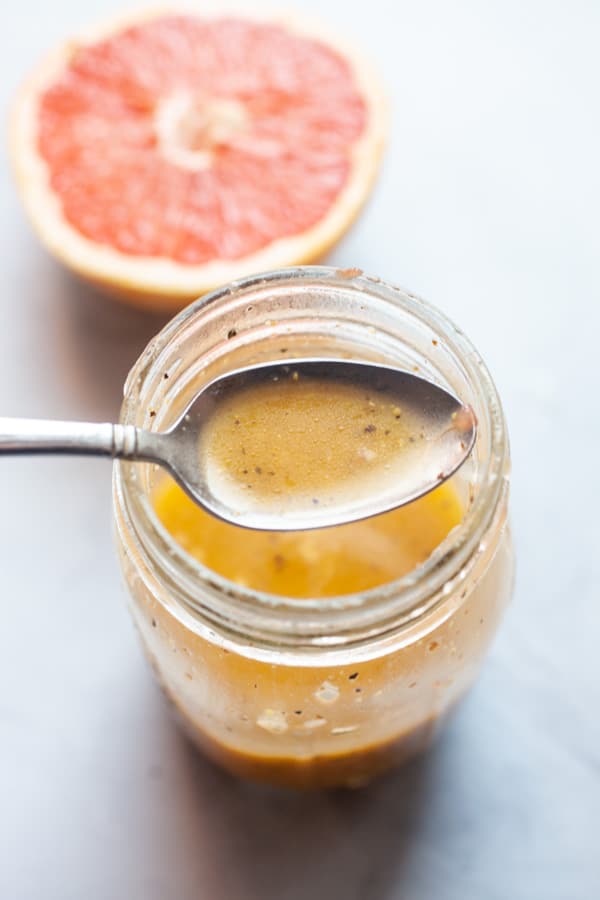 Salads to serve with this grapefruit vinaigrette
There are many salads that would go great with this salad dressing. It can hold up to big flavors like this Shredded Brussels Sprouts Salad or this Rainbow Salad.
It would also go great with lighter salads like this Shaved Zucchini Salad or this Roasted Carrot Salad!
Grapefruit Vinaigrette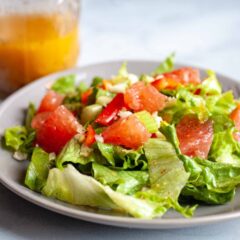 This bright grapefruit vinaigrette salad dressing is the perfect dressing for any salad this time of year. Use it liberally! Just a few ingredients shaken together!
Ingredients
2

tablespoons

minced shallot

½

cup

fresh grapefruit juice

½

cup

olive oil

1

tablespoon

sugar

½

teaspoon

dijon mustard

¼

teaspoon

kosher salt

¼

teaspoon

black pepper

Dash of hot sauce
Instructions
Mince shallot very fine and add to a jar with a lid. Add other ingredients and shake well!

Shake right before serving as well.

Vinaigrette will keep well in the fridge for 2 weeks.
Nutrition
Serving:
2
tbsp
|
Calories:
135
kcal
|
Carbohydrates:
4
g
|
Protein:
0.2
g
|
Fat:
14
g
|
Saturated Fat:
2
g
|
Polyunsaturated Fat:
1
g
|
Monounsaturated Fat:
10
g
|
Sodium:
77
mg
|
Potassium:
34
mg
|
Fiber:
0.1
g
|
Sugar:
4
g
|
Vitamin A:
2
IU
|
Vitamin C:
4
mg
|
Calcium:
3
mg
|
Iron:
0.2
mg
Did you make this recipe?
Here are a few other great salad dressing recipes!