In the spirit of quick summer meals and cool kitchen gadgets, this recipe is always in the back of my mind as zucchini start to pop up in gardens all over the world. Shaved Zucchini Salad is a great use of the zucchini and is about as easy as a salad gets!
Slicing things into very thin ribbons always seems to be a popular technique with the fancy-pants restaurants, but it's not always practical for the home cook. This is a pretty basic application though and zucchini slices really easily.
Other than that you probably have most of the stuff for this shaved zucchini salad in your pantry!
The Light Lemon Dressing
This dressing is really simple but the flavors are very summery and intense. Whisk together the extra-virgin olive oil, lemon juice, salt and pepper, and red pepper flakes.
Everything works really well in it and the red pepper flakes provide a good touch of heat to the shaved zucchini salad. Don't leave them out!
As always I recommend giving the salad dressing a taste and adjust flavors to your liking.
Toasting the nuts
I love pine nuts. Especially when you toast them. But, I've made this salad a few times with various nuts and all of them can work fine. On the day I took these photos, for example, I used pistachios.
Anytime you're toasting nuts, do it in a dry skillet over low to medium-low heat. They're done when they turn slightly tan and smell really good. Keep a really close eye on them because they'll go from perfect to burned in about 15 seconds. It'll take under 5 minutes to toast them.
Other options for add-ins to give this salad some crunch would be sunflower seeds, walnuts, or even cashews.
How to Shave the Zucchini
For this recipe try to find some smaller zucchini. They'll shred easier into small ribbons. Leave those gargantuan zucchini for zucchini bread or something.
Wash them and chop the ends off.
When it comes to shaving the zucchini, you could use a fancy mandoline slicer, but to be honest, I just use a little vegetable peeler called The Titan Peeler that I've had for over a decade. I think it was an infomercial thing at one point and I just got it as a wedding gift many years ago.
I absolutely love this peeler (seriously they aren't paying me to say this… I wish they were). They're sturdy and work like a charm. In fact, they might work almost too well. You have to be really careful or you can take off a piece of skin without even noticing.
And they make really quick work of something like zucchini.
It took me maybe a minute to make those pretty strips.
Other ingredients for the salad
Then just mix everything (except the parmesan cheese) in a medium bowl.
My advice is to go light on the dressing. It's a very strong lemon flavor and can easily overpower the other flavors in the salad. Add just barely enough to lightly coat everything.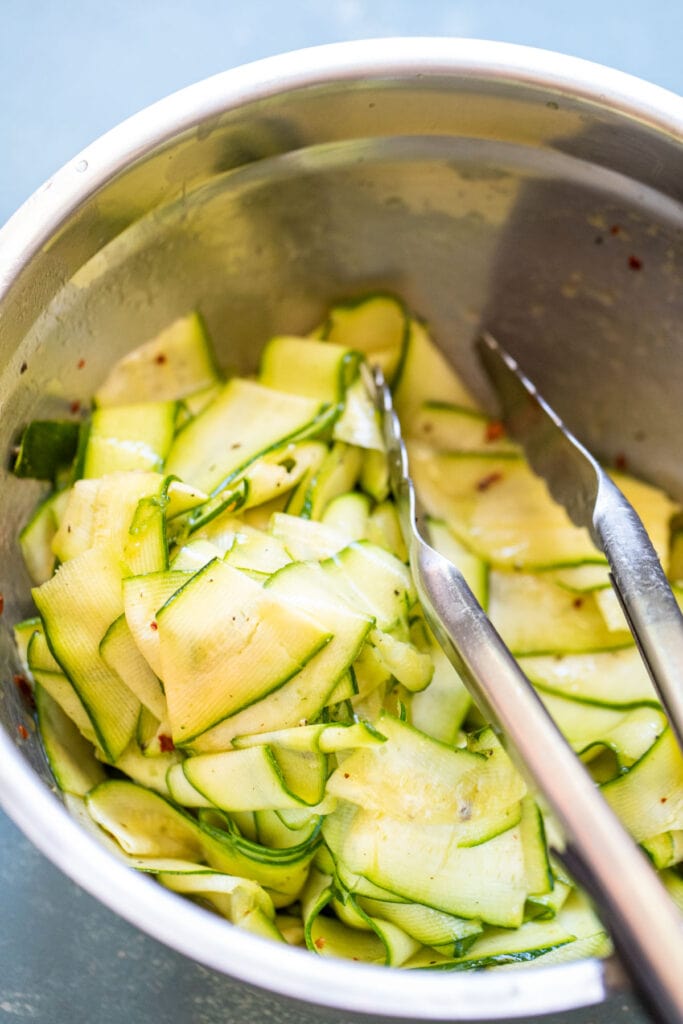 You don't want pools of dressing here people.
Pile this shaved zucchini salad high on a plate and shred some really good Parmesan cheese right on top. I also chopped up a good handful of fresh basil (I used Thai basil from my herb garden) for the salad.
Now that's a good lookin' salad.
I loved this zucchini salad for two reasons. First, it just tasted like summer. The fresh zucchini and lemon and everything was really light and refreshing. Second, it looks way harder to make than it actually is so you can impress your friends and loved ones.
Storing this shaved zucchini salad
This shaved zucchini salad doesn't actually keep well. The zucchini starts to break down once it is made and dressed so I would serve the salad as soon as possible once you have made it.
Shaved Zucchini Salad
Zucchini salad made from paper thin shavings of zucchini with toasted pine nuts, basil, and Parmesan cheese.
Ingredients
⅓

Cup

olive oil

2

Tablespoons

lemon juice

,

about 1/2 lemon

Pinch

of salt and pepper

Pinch

of red pepper flakes

2

pounds

medium zucchini

,

about 4, shaved

½

Cup

fresh basil

,

chopped

¼

Cup

pine nuts or pistachios

,

toasted

Shaved Parmesan cheese
Instructions
Add the olive oil, lemon juice, pepper flakes, and salt and pepper to a small bowl and whisk to combine.

Toast your pine nuts or pistachios in a dry skillet over medium-low heat for a few minutes until they're lightly tan and fragrant. Watch them closely or they'll burn.

Wash your zucchini and chop the ends off. Using a peeler or mandoline, slice the zucchini into very thin slices. Also chop your basil roughly.

Add the zucchini, basil, and pine nuts to a bowl and drizzle in the dressing. Be careful not to over-dress the salad. Just add enough to lightly coat everything.

Piling the dressing on a plate and shave a few big slivers of Parmesan cheese over the dish. Serve it immediately!
Nutrition
Serving:
1
plate
|
Calories:
257
kcal
|
Carbohydrates:
9
g
|
Protein:
4
g
|
Fat:
25
g
|
Saturated Fat:
3
g
|
Polyunsaturated Fat:
5
g
|
Monounsaturated Fat:
15
g
|
Sodium:
19
mg
|
Potassium:
659
mg
|
Fiber:
3
g
|
Sugar:
6
g
|
Vitamin A:
615
IU
|
Vitamin C:
44
mg
|
Calcium:
44
mg
|
Iron:
2
mg
Did you make this recipe?
Here are a few other great zucchini recipes