I've tried to talk about Colorado peaches before and the entire state of Georgia sent me angry letters. But, they are SO sweet and wonderful and if you can get your hands on some Colorado Palisade peaches, I highly recommend them. Any fresh peaches you have though will be great, especially in August, for this Fresh Peach Dutch Baby!
Personally, I think Colorado peaches are better than Georgia peaches, but I've never eaten a Georgia peach in Georgia which I'm sure is best because you can have them at their ripest.
So maybe the best peach is a ripe peach and ripe peaches tend to not travel well!
If you can find some excellent peaches this time of year though, toss them in this baked pancake dutch baby recipe. Because everything is baked together, it's actually fine to use peaches that are even a bit past their prime. They will be really sweet and bake up perfectly.
What is a Dutch Baby?
A dutch baby is an interesting thing because it looks very fancy and is sold as something fancy, but it's actually less work than making a stack of smaller pancakes.
A Dutch baby is just a large puffed pancake that is started in a blazing on pan in the oven so it rises quickly, puffs up, and gets a little crispy around the edges. It's truly a thing of beauty and is served with syrup, powdered sugar, or whatever other pancake toppings you might like.
If it's not peach season, you can check out my three other varieties of Dutch Babies OR for something completely different check out my savory scallion cheddar Dutch baby!
What pan works best for a dutch baby pancake?
The pan is really the most important part of a Dutch baby. You need something that you can get very hot in the oven and a pan that holds heat really well.
For me, this means a cast iron pan. Are there other options? Probably, but I would stick with what works! If you have a cast iron pan, then please use it.
If you don't have one, then you could use a baking dish for this, but no guarantees that you'll get the same puff in your pancake!
How to pick perfect peaches
Picking great peaches is hard, but I find that this time of year you have good luck at farmer's markets and roadside stands. Those peaches will have traveled less and you'll be more likely to end up with really ripe and delicious peaches.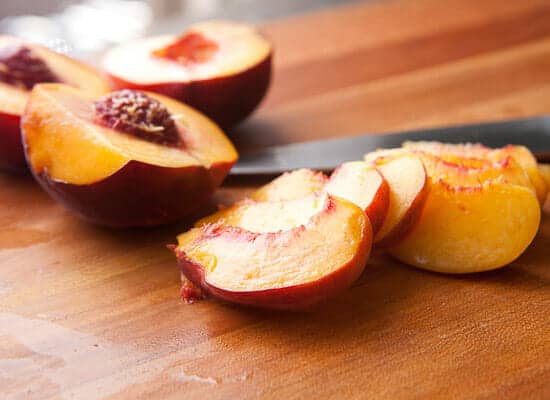 If the grocery store is your only option, you can probably still find good peaches this time of year. Ripe peaches yield easily to pressure but aren't completely mushy. Please don't go pressing on every peach in the grocery story though. If you grab one and it's close, then it's yours!
Making the Quick Berry Syrup
To be honest, I'm not sure you need anything on top of this dutch baby besides maybe some powdered sugar and a little syrup.
So, feel free to just skip this section, but if you want something extra, this berry syrup is pretty easy to cook up.
Just add some fresh berries like raspberries, blueberries, and blackberries , a knob of butter, and a little syrup to a pot. Cook these over low heat for a few minutes until the berries start to break down.
Don't overcook them though! You can serve this syrup warm or make it in advance and serve it chilled.
Making the Peach Dutch Baby
Before you even start the batter, get the oven preheating at 425 degrees F. Preheat a 12-inch cast-iron skillet in the oven also.
The nice thing about making a peach dutch baby pancake is the batter is quick to whip up. You basically just add everything to a blender and pulse it until smooth!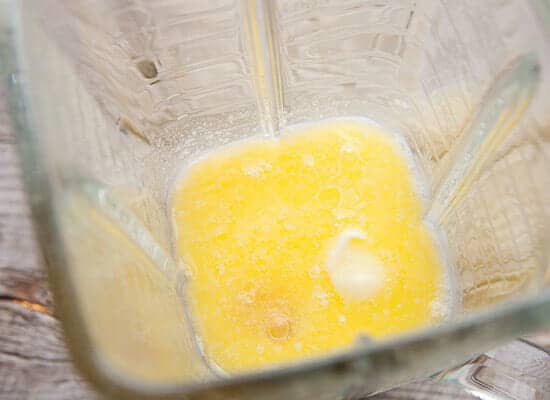 You really want to blend it well so some air gets into the batter. This will help it puff up while baking. You can add everything to the blender including the vanilla, eggs, melted butter, sugar, flour, and milk. Blend it like crazy to get a lot of air in the batter.
This was my finished batter!
If you want, of course you can just whisk everything together!
Okay. Let's talk peaches. Mine were definitely on the ripe side and bruised in places. But hey… they tasted wonderful so in the pan they go.
When your skillet and oven are hot, carefully remove the skillet and add a few tablespoons of butter and sugar to the skillet. Stir that together and add the peach slices!
Then pour in the blender batter!
It'll sizzle like crazy.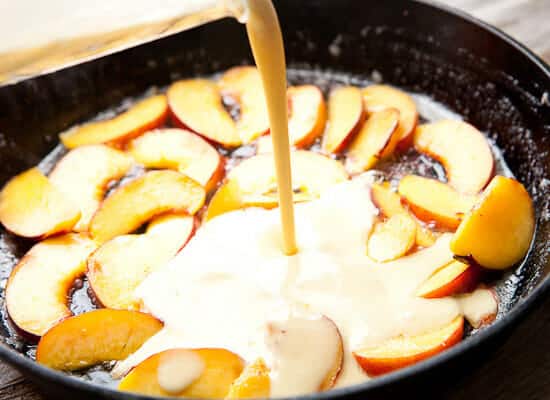 This whole dutch baby goes back in the oven and will need to bake for 20-22 minutes at 425 degrees F.
I tried to sneak a peek of this peach dutch baby baking.
When it comes out of the oven, it'll be puffed and beautiful with crispy edges.
I just love it.
Dust the whole peach dutch baby with powdered sugar, slice it up and serve it!
Regardless of where you get your peaches, now's the time to grab some and bake them up in a perfect dutch baby pancake!
Substitutions and other ideas
There are some easy substitution ideas here for your peach dutch baby!
If you can't find great peaches, check for other stone fruits. Cherries would be an easy substitution and work great in a Dutch baby.
Instead of sugar, add some maple syrup straight to the batter for a more naturally sweetened pancake.
Top the Dutch baby with whipped cream and cinnamon for a peaches and cream-style Dutch baby!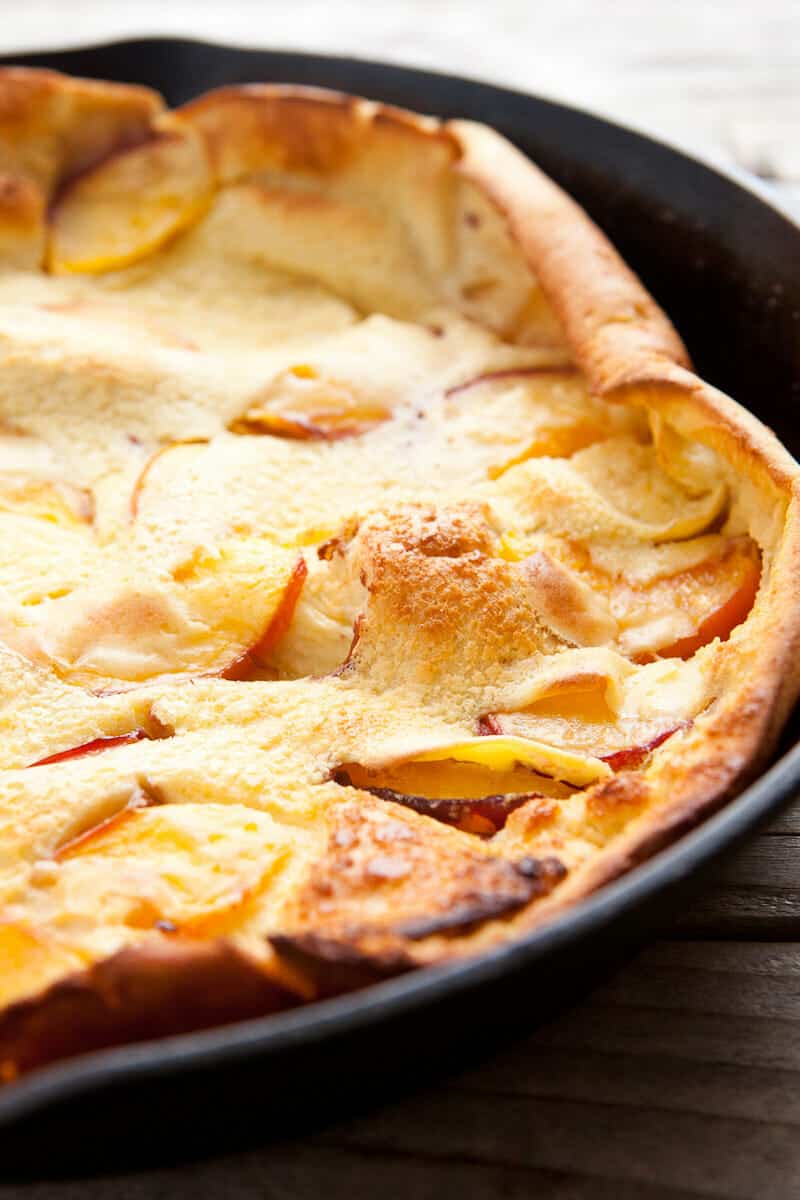 Fresh Peach Dutch Baby
Peach Dutch Baby pancake made with loads of fresh peaches and cooked in a cast-iron skillet. The perfect late summer breakfast!
Ingredients
4

tablespoons

butter

,

melted and divided

4

large eggs

3

tablespoons

sugar

,

divided

¾

cup

all-purpose flour

¾

cup

milk

1

teaspoon

vanilla extract

¼

teaspoon

kosher salt

2

ripe peaches

,

sliced

Powdered sugar

,

for serving
Quick Berry Syrup:
1

cup

assorted berries

2

tablespoons

maple syrup

1

tablespoon

butter
Instructions
Preheat oven to

425

°F

. Preheat a 12-inch cast iron skillet in the oven so it gets nice and hot.

For batter, melt two tablespoons butter and add to a blender with eggs, 2 tablespoons sugar, milk, vanilla, and flour. Blend until smooth, about a minute.

Slice peaches into thin slices. When cast iron skillet is hot, remove it from oven (careful!) and add two tablespoons butter to the skillet along with a tablespoon of sugar. Stir to combine. Lay peaches out on the skillet in an even layer.

Pulse batter one more time to make sure it's combined and immediately pour batter into hot skillet over peaches.

Bake dutch baby in oven for 20-22 minutes until edges are browned and cracking and center is puffed.

Remove pancake from oven and dust with powdered sugar. Serve while warm with berry syrup.

For berry syrup: Combine berries with syrup and butter in a small pot over low heat. Heat until butter is melted and berries just start to break down, just a few minutes. Then remove from heat. Spoon over dutch baby slices while serving.
Nutrition
Serving:
1
slice
|
Calories:
425
kcal
|
Carbohydrates:
51
g
|
Protein:
10
g
|
Fat:
21
g
|
Saturated Fat:
11
g
|
Polyunsaturated Fat:
2
g
|
Monounsaturated Fat:
6
g
|
Trans Fat:
1
g
|
Cholesterol:
207
mg
|
Sodium:
349
mg
|
Potassium:
295
mg
|
Fiber:
3
g
|
Sugar:
29
g
|
Vitamin A:
1012
IU
|
Vitamin C:
4
mg
|
Calcium:
106
mg
|
Iron:
2
mg
Did you make this recipe?
Here are a few other great Brunch Recipes!