This Tomato Burrata Benedict is a summer recipe if I've ever made one! Simple, fresh, and ready in about 15-20 minutes!
To keep things light and not overpower the tomatoes, I don't like to serve this with a hollandaise sauce. It would be too rich I think with the burrata and hollandaise together. Plus, frankly, it's faster to skip it. If you did want to put it over the top with a hollandaise sauce though, I recommend my sous-vide version.
Obviously, it's important to use the best tomatoes you can find for this recipe, which shouldn't be hard this time of year. I opted for some heirloom cherry tomatoes that were calling out to me, but any tomato will work. If you use bigger tomatoes, you could just slice them and lay the slices on the bread rather than mix up the tomato salad like I did.
It's kind of a fun recipe because when you first look at it, you think that there might be four eggs on the plate, but then it's kind of egg/burrata roulette to figure out which is which! A low stakes and delicious game, for sure!
Tomato Burrata Benedicts
When you can find perfect tomatoes in the summer, this Tomato Burrata Benedict has to be on your brunch list! It's easy to make, has delicious flavors, and did I mention BURRATA! Yes, please!
Ingredients
1

large heirloom tomato or 1 cup cherry tomatoes

2-3

tablespoons

extra virgin olive oil

1

tablespoon

fresh basil

,

minced

Coarse sea salt

4

small burrata balls

4

eggs

,

poached

2

english muffins

,

toasted
Instructions
If you are using a large tomato, slice it and drizzle the slices with a tablespoon or two of olive oil and sprinkle with basil and salt. Set aside. If you are using cherry tomatoes, slice them and stir them into a basic salad with the olive oil, basil, and salt.

Poach the eggs in steaming hot water in a shallow pot. Add a drizzle of vinegar to the pot and swirl the water before cracking in the eggs. Once the eggs are in, they will need to poach for about 3 minutes. They are done when the whites are set on all sides, but they still give a bit to pressure, meaning the yolks are not set.

When eggs are done, remove them from the pot with a slotted spoon and let them drain on a few paper towels.

To assemble, toast english muffins and top with tomatoes. Add burrata balls beside the tomato salad and place the poached eggs right on top. Drizzle the eggs benedict with a little extra olive oil, a pinch of coarse salt and pepper, and fresh basil.
Nutrition
Serving:
1
Plate
|
Calories:
390
kcal
|
Carbohydrates:
27
g
|
Protein:
16
g
|
Fat:
24
g
|
Saturated Fat:
5
g
|
Polyunsaturated Fat:
4
g
|
Monounsaturated Fat:
14
g
|
Trans Fat:
0.04
g
|
Cholesterol:
329
mg
|
Sodium:
391
mg
|
Potassium:
218
mg
|
Fiber:
2
g
|
Sugar:
1
g
|
Vitamin A:
584
IU
|
Vitamin C:
2
mg
|
Calcium:
92
mg
|
Iron:
2
mg
Did you make this recipe?
Tomato Burrata Benedict
Starting with very ripe tomatoes is key. If you wanted to make this in off peak season for tomatoes, I'd always use cherry tomatoes.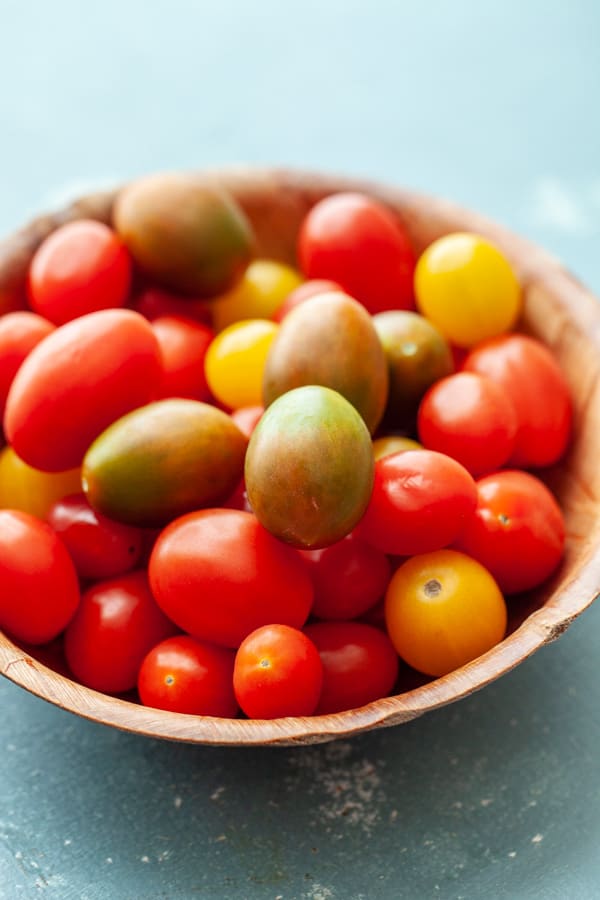 If you are using smaller tomatoes, slice them up and stir them together with some fresh basil, olive oil, and good salt. DONE.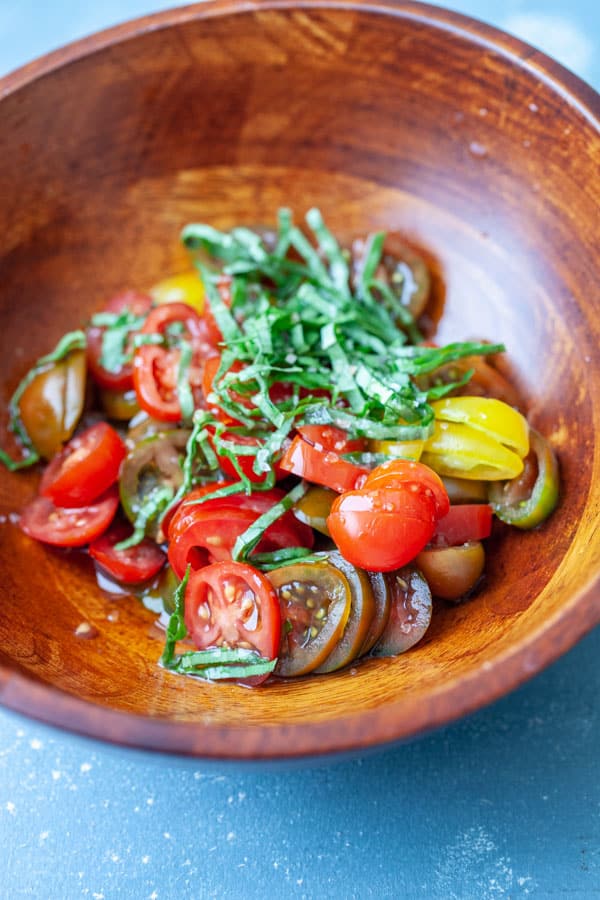 Burrata burrata burrata!!! This stuff is special. If you've never had it before, it's very fresh mozzarella that has been filled and pulled with cream so the center is almost liquid. It's perfect on a benedict because it kind of acts as a sauce and you can use your toast to slather with the burrata also.
Plus, they look just like poached eggs!
You might have to search around a bit to find burrata, but I asked and even my local supermarket sold one brand. It's not impossible to find.
Poaching Eggs
We've talked about poaching eggs many times over the Macheesmo decade. My preferred way to do it is in a few inches of water with a splash of vinegar (I used rice vinegar on this particular day but even just white distilled vinegar will work). When the water is steaming hot, but not boiling, swirl it and crack in your eggs.
If you are new to poached eggs, make a few spares in case you ruin one.
Assembly time!
Toast the English Muffins and add big servings of tomato salad to each muffin. Slice the burrata and place them on the sides of the toast.
Place the eggs right on the tomato salad and drizzle with good quality extra virgin olive oil, a pinch of coarse salt and pepper, and a few fresh basil garnishes.
This Tomato Burrata Eggs Benedict is really a restaurant quality meal that you can make at home in just a few minutes. GET IT.
Here are a few other eggs benedict ideas!