I frequently get asked if I make elaborate meals for my family and the answer is sometimes. But, you know when I definitely DO NOT make elaborate meals? Weekday mornings. On those busy days, I basically make oatmeal every single day. My preference is for steel-cut oatmeal, but since it can take a while to make, this freezer steel-cut oatmeal method is a great way to have it ready in minutes!
The wonderful part about this oatmeal is that it stores in individual pucks so once you have it in your freezer you can pull out one or more for breakfast and have a healthy way to start the day in literally a few minutes!
Steel Cut Oats versus Rolled Oats
Old Fashioned oats or rolled oats are the oatmeal of my childhood. It's what is most commonly served as oatmeal and is made by taking the grains and literally rolling them, flattening them out. This means they cook really fast but changes the texture of the oats and also loses some of the pieces of the grains.
Steel cut oats, on the other hand, keeps the grains whole and cuts them with a steel wheel. This results in a thicker oat that has a chewier texture, but as a trade-off, takes much longer to cook.
I use both kinds of oats frequently. Anytime I'm baking (like these toasted coconut oatmeal bars) rolled oats will be best, but if you are just making a plain old bowl of oatmeal, then steel-cut oats is the way to go if you have time.
How to cook steel-cut oats
Cooking steel-cut oats is really easy and it's actually very flexible. I usually start by bringing 3 cups of water to a simmer for every cup of oats I plan to cook. I'll generally do two cups at a time when planning on freezing the oats, but you could do up to four if you have a large enough pot!
Add a pinch of salt to the water and once it is simmering, stir in the oats. They will need to simmer for 25-30 minutes until they are tender and have absorbed most of the water.
You can, of course, serve it just like this but if you want to freeze it, let it cool to room temperature before you try to work with it!
My favorite way to freeze oatmeal
This is my new favorite way to freeze steel-cut oats. Measure out about 1/2-3/4 cups of the oatmeal and form it into a puck. I just pack the oatmeal into a measuring cup and then scoop it out onto a baking sheet and it will hold its shape. Repeat until you are out of oatmeal. You should get 7-8 servings!
Freeze the oatmeal pucks solid and then once they are frozen you can transfer them to an air-tight container for longer storage.
These will keep beautifully in the freezer for a few months but we got through them in a week!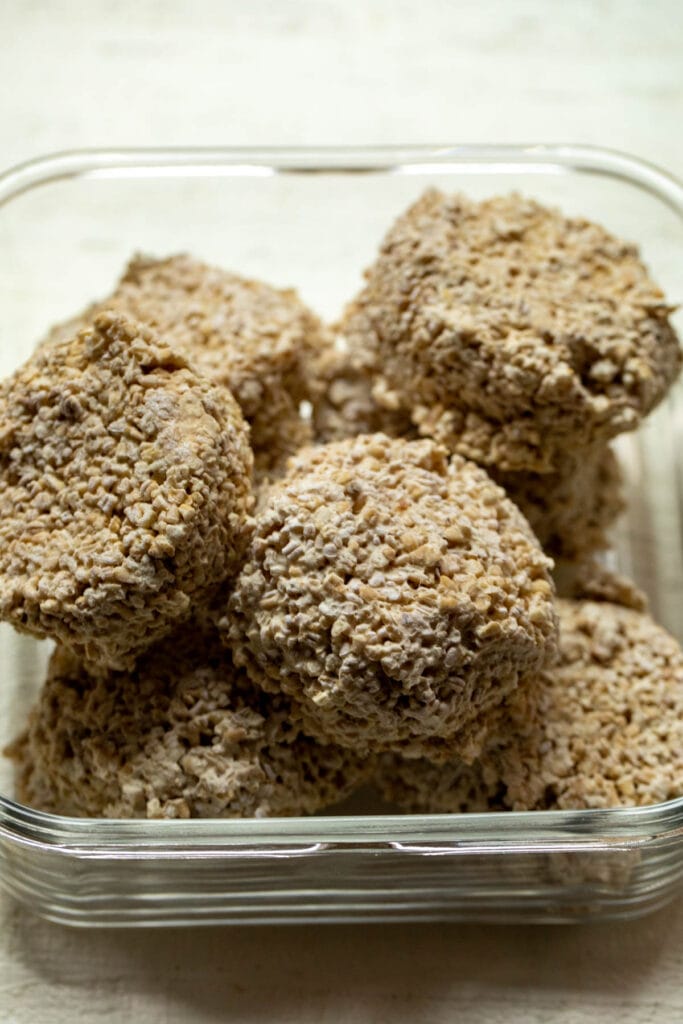 Let's talk about reheating these frozen oatmeal servings!
How to reheat frozen oatmeal
This is the real magic of these frozen oatmeal portions. Reheating them is SO easy.
Just remove a puck and add it to a bowl with about 1/4 cup of water.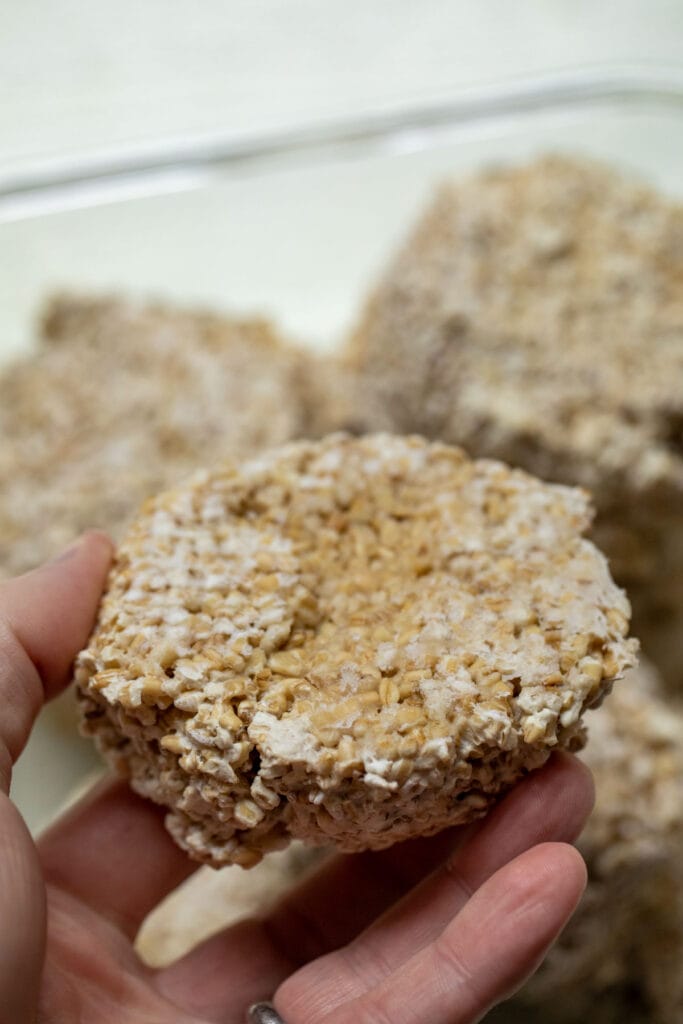 Microwave the oatmeal on high in the bowl for 2 1/2 minutes and it will come right back to life. Literally just as good as on day one!
Of course from here you can top it however you like!
This is a really fast and healthy way to make steel-cut oatmeal a part of your regular meal plan!
Variations and Ideas for this oatmeal
Let's talk serving ideas! Here are a few ideas that I like!
Freezer Steel-Cut Oatmeal
A favorite at my house – these freezer steel-cut oats are a great way to freeze a bunch of high-quality oatmeal and then reheat it quickly when you need a fast breakfast!
Ingredients
2

cups

steel-cut oats

6

cups

water
Instructions
Bring the water to a slight simmer in a medium to large pot (at least 2 1/2 quarts). Add a pinch of salt to the water.

Stir in the steel cut oats and simmer the oats on low heat until they thicken and absorb the water. Stir occasionally so the oatmeal doesn't stick at all to the pot.

After 25-30 minutes, the oats should be tender and most of the water absorbed. Remove the pot from the heat, cover, and let rest for a few minutes to cool.

When ready to freeze, measure out about 1/2-cup to 3/4 cup of oatmeal and place on a baking sheet lined with parchment paper.

Place baking sheet in a freezer to freeze the oatmeal completely and then transfer the oatmeal pucks to an airtight container to store in the freezer for up to three months.
Reheating the Oatmeal
Place one oatmeal puck in a microwave-safe bowl with 1/4 cup water. Microwave on high for 2 1/2 minutes.

Top hot oatmeal with toppings of your choice and serve immediately!
Nutrition
Serving:
1
bowl
|
Calories:
154
kcal
|
Carbohydrates:
26
g
|
Protein:
6
g
|
Fat:
3
g
|
Saturated Fat:
0.4
g
|
Sodium:
2
mg
|
Fiber:
4
g
|
Calcium:
45
mg
|
Iron:
2
mg
Did you make this recipe?
Here are a few other great recipe ideas!