I've been on a big coconut kick lately thanks to the coconut rice in the loco moco dish I made last week. I been chugging coconut water after I go to the gym and squeezing coconut flavors into all kinds of stuff.
Last weekend, I was planning to make a big pot of oatmeal and I figured oatmeal and coconut probably go nicely together. Turns out I was right!
I think it's important to use steel-cut oats for this Coconut Oatmeal, but you could use rolled oats in a pinch.
Toasted Coconut Oatmeal
Steel-cut oatmeal simmered with coconut milk and topped with lightly toasted coconut flakes. You will love this oatmeal!
Ingredients
1

cup

steel cut oats

4

cups

water

¾

cup

coconut milk

¼

cup

ground flax

,

optional: reduce water by ½ cup if you don't use

1

teaspoon

vanilla extract

Pinch

of salt

½

cup

toasted unsweetened coconut flakes
Instructions
Bring water to a simmer in a medium pot over medium heat.

Stir in oats, flax and a pinch of salt and bring to a light simmer over low heat. Simmer for 20 minutes or so, stirring occasionally. If you don't use the flax, reduce the water by ½ cup.

After the oats have thickened substantially, but still aren't quite cooked, stir in coconut milk and continue to stir and simmer. Be sure to shake coconut milk well before adding it.

Toast coconut flakes in a small skillet over medium-low heat until they start to brown slightly. Watch carefully or they will burn. They should take just a minute or two to toast once the pan is hot.

When the oatmeal is thick and cooked through, stir in vanilla.

Serve oatmeal immediately with toasted coconut on top.
Nutrition
Serving:
1
Bowl
|
Calories:
729
kcal
|
Carbohydrates:
66
g
|
Protein:
20
g
|
Fat:
46
g
|
Saturated Fat:
30
g
|
Polyunsaturated Fat:
6
g
|
Monounsaturated Fat:
3
g
|
Sodium:
30
mg
|
Potassium:
467
mg
|
Fiber:
18
g
|
Sugar:
2
g
|
Vitamin C:
1
mg
|
Calcium:
178
mg
|
Iron:
8
mg
Did you make this recipe?
Coconut Oatmeal
Cooking the Oats
Since steel cut oats take much longer to cook, you can slowly simmer the oats with the coconut milk and it turns really creamy and delicious.
If you want to use rolled oats for this dish, I definitely think you could. Just simmer the oats as you normally would and then add in the coconut milk at the end. Cut back the water a bit originally so the oats are very thick and then get thinned out a bit by the coconut milk.
I also like to add some ground flax to my oats which is totally optional. If you do add the flax though, you'll want to add a bit more water since the flax sucks up some water.
I recommend letting the oats simmer over medium-low heat for about 20 minutes so they turn nice and thick before adding the coconut milk.
Then go ahead and add in that coconut milk. I actually used the lite version which worked great and saves some calories.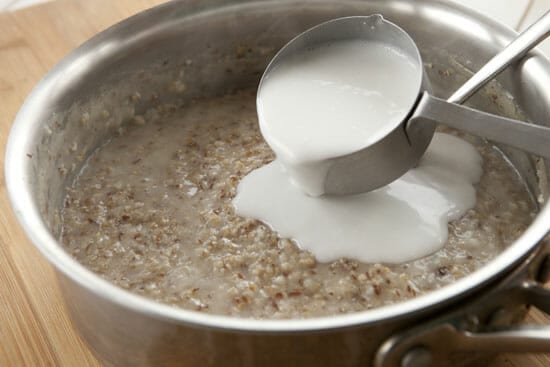 Stir that all together and let it simmer a bit longer. Taste the oats as they simmer over low heat and add more liquid until the oats reach the desired consistency for you. I strongly believe that oatmeal can and should be customized to your liking. I like mine a bit on the runny side (like a porridge) but some people like very thick oats. Your call!
At the end of the cooking, a dash of vanilla brings all the flavors together.
Toasted Coconut
As an added little topping, I toasted some unsweetened coconut flakes I had in the pantry. The thing to remember about toasting coconut is that they can go from perfect to burned in about 15 seconds. So keep a close eye on them and toast them over medium-low heat.
When the flakes look like this, they are perfect.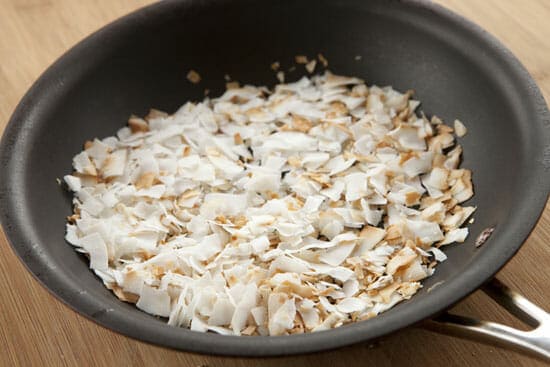 Then toss everything in a bowl and you're good to go!
This Coconut Oatmeal would be the perfect way to use up a half can of coconut milk if you have some leftover from last night's dinner.
I thought about actually using coconut water to cook the oats as well, but decided that might be overkill. As it was, the oats had a nice, light coconut flavor and the toasted coconut flakes were crunchy and delicious.