These Eggplant Pizzas are half pizza and half eggplant parmesan. The two dishes actually have a ton in common.
Both of them can be a bit of a pain to make from scratch (especially on a weeknight), but you can take the best flavors from both and smash them together in what turns out to be a very delicious and easy recipe (If you are looking for another easy and delicious eggplant recipe, check out these Eggplant Parmesan Roll-Ups).
Plus, since there are no carbs or refined sugars in the recipe you can use that trending foodie word of the year: Paleo. I won't use it, but you could. It also happens to be low-carb and gluten-free without trying!
Since these little eggplant pizzas are smaller in size, they are also great for an appetizer. Or just fake out your kids and tell them you're having pizza for dinner. You can blame it on me when they feel slighted.
Do you need to salt eggplant?
It is sometimes helpful to salt eggplant to pull out some of the bitterness in the vegetable. I usually will salt the eggplant slices in a colander if I'm making something like traditional Eggplant Parmesan, but for these eggplant pizzas, I didn't find it necessary.
Since you bake the eggplant slices with olive oil, salt, and pepper before adding any toppings, they end up being perfect and there's no need to salt them.
Why do eggplants work for pizza?
There are a few characteristics of eggplants that I think make them particularly good for pizzas.
First, they are round! If you cut them into slices, they are like mini, personal pizzas.
Second, when you bake them in a high-heat oven, they get a bit crispy around the edges. I'm not going to say that it's like a good homemade pizza crust, but it's pretty delicious.
Third, eggplant are sturdy enough that they hold up to the toppings. Some of the slices you can even pick up and eat like a small pizza!
Eggplant Pizza is Gluten-free and Low Carb!
If you are on a specific diet or have dietary restrictions, these eggplant pizzas might be a great way to get your fill of pizza without the dough.
This recipe is naturally gluten-free and low-carb although you should check the marinara sauce or pizza sauce you use as sometimes sauces can contain a lot of sugar.
Topping options for Eggplant Pizzas
As far as I can tell, you could top these with any pizza toppings you like.
I kept my toppings pretty straightforward: cheese, pepperoni, and a little fresh oregano. You could use mozzarella, but provolone and eggplant are made to go together so trust me on that one.
Because these pizzas are on the small side, be sure to chop up your toppings (like pepperoni) so they fit nicely or buy the mini pepperoni that you can find these days.
While you can use almost any topping, I'm not sure I would recommend using a white pizza sauce. The tomato sauce is pretty important, but there's no need to do anything fancy. I just mixed up some basic tomato puree with a blend of spices. The secret ingredient which I wouldn't normally put in pizza sauce is dried thyme.
Thyme really tastes great with eggplant so use it if you have it.
Other topping ideas:
Spinach and sausage
Fresh garlic and fresh tomato
Fresh basil and roasted red peppers
How to make these Eggplant Pizzas
Eggplants can be an unwieldy veggie to be sure. They are large, have tough skins, and can be on the bitter side. Typically, if you're making a baked dish with them (like these eggplant parm rolls), I would recommend salting and pressing them to remove some of the liquid.
But, there's no need to do that for these little pizzas. Just slice the eggplant into thickish rounds. Shoot for 3/4-1 inch slices. If you get them too thin then they won't stay sturdy after baking.
Preheat the oven to 425 degrees F. and lay out your rounds on a baking sheet or two lined with parchment paper.
Drizzle them all with olive oil and sprinkle with salt and pepper. You can use a liberal hand with the seasonings.
Bake these guys for 15 minutes and then flip them and then roast them for another 10-15 minutes. When they are done, they will be deflated slightly, but also browned on both sides and slightly crispy around the skin.
Finishing the Eggplant Pizzas
After your eggplant rounds are baked, add a smear of tomato sauce or pizza sauce to each one. Easy enough right?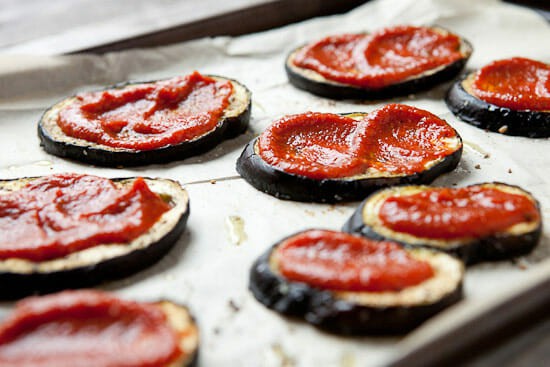 Then top each one with a mound of cheese and toppings.
I like using parchment paper for these because the cheese will melt around the eggplants and get a bit crispy. They are still easy to slide off the sheet though thanks to the parchment.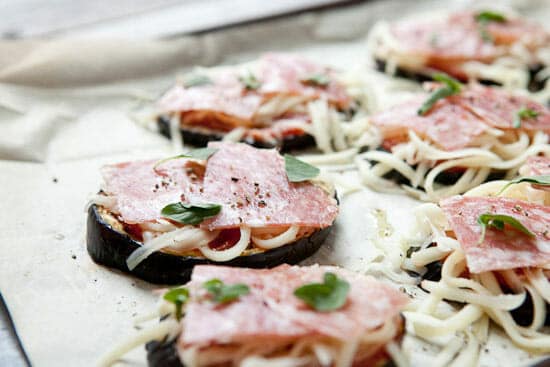 Stick them back into the oven for 5-6 minutes until they are melted and browned around the edges.
Serve these beauties while they are melted and warm. You probably won't be able to actually pick them up and eat them like a slice… they are more of a fork and knife situation.
These easy eggplant pizzas are great appetizer or make a meal with a few them piled up.
How to reheat leftovers
If you have leftovers of these eggplant pizzas, they will keep fine in the fridge for a few days. I recommend not stacking them up as they will just stick together.
You can reheat them though in a 350˚F oven until warmed through and the cheese is melted. If you have an air-fryer, you could also air-fry them for very quick reheating.
What to serve with Eggplant Pizza
These are relatively slight for pizza, but I would still serve them with something on the light side like this shaved zucchini salad or this roasted beet salad or this Broccoli Caesar Salad from my friend, The Curious Plate!
If it's a colder month, you might serve these alongside a hearty soup like this tortellini soup or this White Bean Soup!
Easy Pepperoni Eggplant Pizzas
Baked easy eggplant pizzas topped with a homemade tomato sauce, cheese, and pepperoni. Half pizza and half eggplant parmesan, these are a great quick meal!
Ingredients
2

large eggplants

,

sliced thick

2

tablespoons

olive oil

Salt and pepper

2

cups

tomato sauce

½

teaspoon

garlic powder

½

teaspoon

paprika

½

teaspoon

red pepper flakes

½

teaspoon

dried thyme

8

ounces

provolone cheese

,

grated

4

ounces

pepperoni

,

chopped

Fresh oregano
Instructions
Slice eggplant into 3/4-inch slices. If you slice them too thin, they will fall apart while they bake.

Preheat oven to 425 degrees F. Place eggplant slices on a baking sheet lined with parchment paper. Drizzle the eggplant slices well with olive oil and sprinkle with kosher salt and pepper.

Bake eggplant slices for 15 minutes, then flip and bake for another 10-12 minutes until the slices are slightly browned and crisp around the edges.

Meanwhile stir together tomato sauce with garlic powder, paprika, red pepper flakes, dried thyme, a drizzle of olive oil, and a small pinch of salt and pepper.

When eggplant slices are done, add a smear of tomato sauce to each round, then top with a mound of grated cheese and a few pieces of chopped pepperoni. Add a few fresh leaves of oregano to each pizza.

Bake pizzas for another 5 minutes until cheese is melted and browned around the edges.

Serve pizzas while warm as an appetizer or as a meal. 3-4 slices makes a great meal.
Nutrition
Serving:
3
slices
|
Calories:
493
kcal
|
Carbohydrates:
22
g
|
Protein:
24
g
|
Fat:
36
g
|
Saturated Fat:
16
g
|
Polyunsaturated Fat:
3
g
|
Monounsaturated Fat:
15
g
|
Trans Fat:
0.5
g
|
Cholesterol:
67
mg
|
Sodium:
1450
mg
|
Potassium:
1060
mg
|
Fiber:
9
g
|
Sugar:
13
g
|
Vitamin A:
1284
IU
|
Vitamin C:
14
mg
|
Calcium:
476
mg
|
Iron:
3
mg
Did you make this recipe?
Here are a few other great recipes to try!