I'm a huge eggplant parmesan fan, but I save the full all-out version of eggplant parmesan for special occasions and lazy Sundays. These Eggplant Parmesan Roll-ups though, get you 90% of the way there on flavor with less work.
The idea of rolling roasted eggplant (kinda flimsy) around a cheese filling seemed a bit advanced, but the slices are easier to work with than you might think.
It's sometimes hard for me to express how good a dish is in a post because I just have these small little words and photos. I mean there are no smells. No tastes! But, in this case, I can try a different approach. You see Betsy keeps a running tally of Macheesmo dishes. This dish, after almost 14 years of cooking recipes here, is still in the top 10 of Betsy's favorites!
That means in times of crisis, I'll be making this dish now instead of chicken and dumplings… or at least alternating between the two.
If I'm not making myself clear, that means these Eggplant Parmesan Rolls are the BOMB DOT COM. BACKSLASH DELICIOUS.
Do you need to salt the eggplant for this dish?
I've tried this dish a few different ways over the years. One of the more annoying steps when dealing with eggplant is to salt and press the eggplant. This process gets out some of the bitter liquid in the eggplant and softens the slices up.
Because we are roasting the eggplant, you don't actually need to salt and press the eggplant for this recipe. I've done it both ways. I find the salted version slightly more tender and easier to roll, but there is no real difference in taste.
Preparing the Eggplants
If you have time, you can start by salting the eggplant slices. Salting and pressing the eggplant slices will pull out some of the liquid in the eggplant.
While not essential, if you want to salt the eggplant, start by slicing your eggplant into 1/4 inch slices. You can leave the skin on but discard the end slices that are mostly skin. They will be too tough for this dish.
Then take a large colander and lay down a single row of eggplant and then sprinkle with a Teaspoon of Kosher salt. Lay down another row of eggplant perpendicular to the first and more salt and repeat until you use all your eggplant.
I got 12 slices out of 2 large eggplants.
Now that they are in the colander, put it over a large bowl to catch any liquid that drips and then add a smaller bowl filled with water to the top of the eggplants. This will create enough weight to slowly press the slices. I like using a bowl that's roughly the same size as the colander so it fits snugly.
Leave this for one solid hour!
When the hour is up, take the eggplant out of the colander, wash each piece well under cold water and dry it on some paper towels.
If you want to skip this step, add an extra drizzle of oil to the eggplant slices as they roast and you might need to add 10 minutes onto the roasting time to soften them up a bit more.
Roast the eggplant
Crank up your oven to 500 degrees and line two sheet pans with your eggplant slices. In my case I had 6 slices on each pan. Just try not to overlap the eggplant slices so they cook evenly.
Next, brush each slice of eggplant on both sides with a little bit of olive oil and roast them for about 5-7 minutes until they are slightly browned and flexible.
Again, if you are NOT salting the eggplant, you'll need to roast them for an extra 10 minutes to soften them up and remove some of the moisture from the eggplant.
Remove the eggplant from the oven and let it cool while you make the filling!
The Ricotta Filling
The backbone of the filling for these eggplant parmesan roll-ups is ricotta cheese but it's punctuated with this lovely swiss chard which gives it some very nice flavor.
To prepare the swiss chard, cut out the center stem from each leaf. It's too tough and won't be good in the filling. Then quickly blanch the leaves in salted simmering water (1 Tablespoon/gallon). They will only take about 60-90 seconds to soften up in the water.
A good technique is to stir them around a bit with a good pair of tongs and then you can use those tongs to remove the leaves as well.
Let the leaves drain and cool for a minute on some paper towels or a clean dish towel.
Once the leaves are cool enough to handle (they'll still be hot), pull together your paper towels or dish towel and press out as much liquid as you can! Too much water in your chard will make your filling runny and sad.
Then chop up your chard and add it to a bowl along with all your other filling ingredients including the eggs, fresh mint (or fresh basil), black pepper, and Parmesan cheese.
Making the eggplant rolls-ups
Have confidence in this step! It actually turns out that the eggplant is sturdier than you might think. Just make sure you don't over-roast your eggplant or it'll just turn to mush.
Once your eggplant is cool, set a slice down on a board and put some ricotta cheese filling in the middle. It's hard to say how much filling because your eggplant slices will vary a lot. I would always overfill though and then when you roll it, some may just squirt out the sides, which is cool.
This is about the perfect amount for this particular eggplant piece.
Then slowly roll it. You want to roll the narrow end toward the wider end so the narrow end is tucked in. It should be a pretty tight final roll.
Don't freak out if you mess one up. You can try again until you get it down. As you finish each roll, place it seam-side down in a large baking dish (9×13) that's been lightly oiled and has a light layer of tomato sauce on the bottom.Cool.
When you're all done with all your rolls, add some more tomato sauce to the top of each roll. You don't want to oversauce these roll-ups. An extra tablespoon or so per roll will be more than enough.
Then lay a slice of mozzarella cheese on each slice and dust the whole thing with some Parmesan.
Cover this whole dish with foil and bake it for 30 minutes at 350 degrees.
Then take off the foil and bake it for another 25-30 minutes.
Let it cool for a few minutes and serve it up!
This really was a fantastic take on eggplant parm. The rolls look very elegant actually and the filling is almost like a manicotti filling – also known as amazing.
If you're in the mood to try something new and slightly challenging, eggplant Parmesan rolls are the way to go!
What to serve with these Eggplant Parmesan Roll-ups
These are pretty rich rolls so I recommend serving them with something light alongside some pasta or rice for a starch.
Something like this Acorn Squash Salad would be perfect in the fall or my Ultimate Fall Salad is always a good option!
Storing and reheating these roll-ups
You will most likely have leftovers of these roll-ups unless you are hosting a party. They keep great in the fridge for 5-6 days or you can even freeze them (try to get out as much air as possible if you freeze them). Reheat the eggplant roll-ups in a 350˚F oven until they are warmed through or in the microwave on high for about 90 seconds.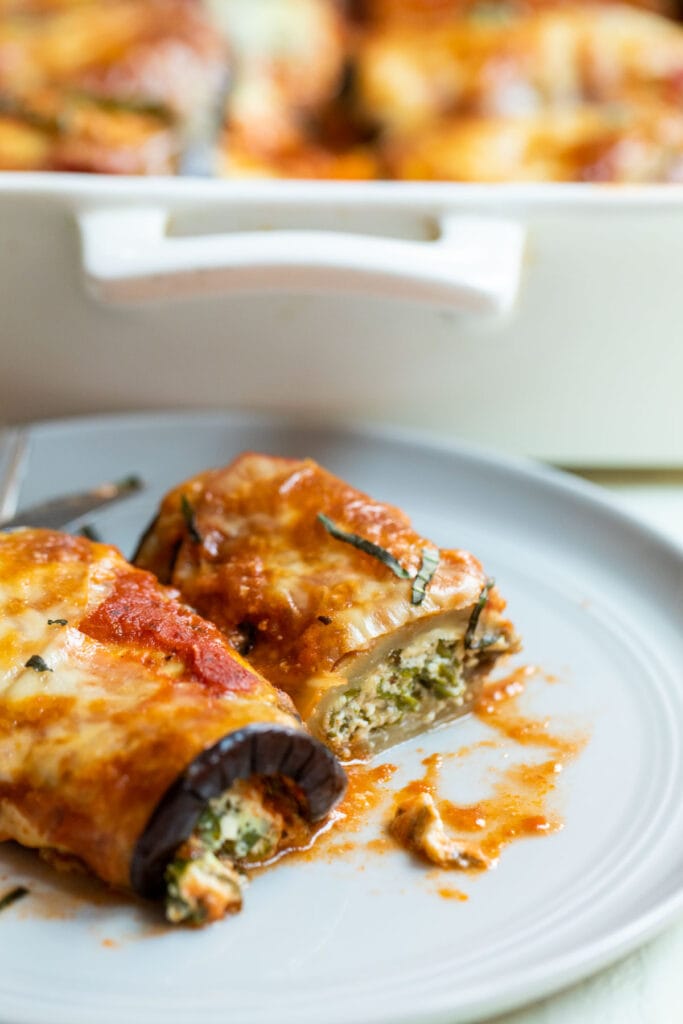 Eggplant Parmesan Rolls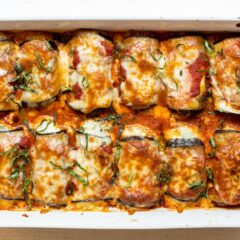 Roasted eggplant is stuffed with a Swiss chard and ricotta cheese filling and baked. It's very delicious.
Ingredients
2

Large eggplants cut into 1/4 inch slices

1

15-ounce can tomato sauce

8

ounces

fresh mozzarella

Kosher salt

Olive oil

,

for brushing eggplant
Fillling:
1

large bunch swiss chard

,

blanched and chopped

16

ounces

ricotta cheese

2

Tablespoons

fresh mint

,

minced

2

large eggs

1

Teaspoon

ground black pepper

1

Cup

grated Parmesan cheese

,

the real stuff – plus extra for topping
Instructions
Slice eggplants longwise into 1/4 inch slices. Don't use the end pieces that are mostly skin.

In a large colander, lay down a row of eggplant slices and sprinkle with a teaspoon of kosher salt. Lay down another row perpendicular to the first and add more salt. Repeat with all the eggplant slices.

Put a large bowl inside the colander so they press down on the eggplant slices. Add some weight to the bowl (fill it with water maybe) and let it press on the eggplant slices for about an hour.

Wash each eggplant slice well under cold water and the dry it on some paper towels.

Crank your oven up to 500 degrees and line two sheet pans with your eggplant slices. Drizzle each slice with a bit of olive oil and roast for 5-7 minutes until the eggplant is lightly browned and flexible.

To prepare the filling, cut the center stem out of each swiss chard leaf. Quickly blanch the leaves in salted simmering water (1 tablespoon per gallon). After 60 seconds, pull the leaves and drain them. Wrap them in a few paper towels and press out as much liquid as possible from the chard.

Dice the swiss chard leaves and stir in with other filling ingredients.

Lower oven heat to 350 degrees F. Lightly oil a baking dish and add a thin layer of tomato sauce to the bottom of the sauce.

Once your eggplant is cool out of the oven, take each slice and add some filling to the enter. Roll the eggplant over the filling and place the roll, seam-side down in your baking dish. Complete all the rolls this way.

Once all your rolls are done, add a tablespoon of sauce to each roll and lay a slice of mozzarella on each roll. Grate some Parmesan over the entire dish

Cover the dish with foil and bake for 25 minutes at 350 degrees F., then remove the cover and bake it for another 25-30 minutes.

Let the rolls cool briefly before serving them up!
Nutrition
Serving:
3
rolls
|
Calories:
567
kcal
|
Carbohydrates:
23
g
|
Protein:
38
g
|
Fat:
37
g
|
Saturated Fat:
22
g
|
Polyunsaturated Fat:
2
g
|
Monounsaturated Fat:
10
g
|
Trans Fat:
0.01
g
|
Cholesterol:
206
mg
|
Sodium:
952
mg
|
Potassium:
830
mg
|
Fiber:
7
g
|
Sugar:
9
g
|
Vitamin A:
2120
IU
|
Vitamin C:
9
mg
|
Calcium:
789
mg
|
Iron:
2
mg
Did you make this recipe?
Here are a few other great recipes to try!