I'm usually incredibly skeptical of making fries out of anything other than potatoes. But, these eggplant fries are surprisingly delicious. The first time I tried them I knew they were going to be in my normal side dish and appetizer rotation!
I'll be honest. I thought for sure that eggplant fries were going to be a debacle. Eggplants are notorious for being a bit tricky to work with. After all, it's basically like cooking a big sponge.
I had no idea how this would end up, but they worked out being very good. My main concern was that they wouldn't be crispy on the outside (how do you crisp up a sponge after all?), but no worries there. These crisped up beautifully and had a really soft and flavorful interior.
Turns out eggplants make some pretty solid fries!
Preparing the Eggplant
Eggplants can be kind of intimidating. They are large and just kind of unwieldy.
They also have some strange properties for vegetables. They are spongy and oxidize quickly. They can also be a bit bitter.
So, sometimes people get discouraged with them I think. They require some basic knowledge to prepare and it's easy to end up with a dish that's just so-so.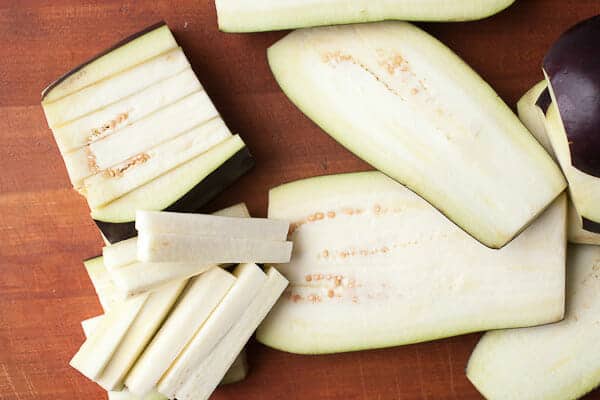 But these fries are surprisingly easy to prepare actually.
Start by chopping off the ends of the eggplant and then cut them into matchsticks. You could make these any size you want I guess, but I went for a large french fry size.
The key step to making these fries work is to soak them in salted, cold water for at least 30 minutes before you try to fry them.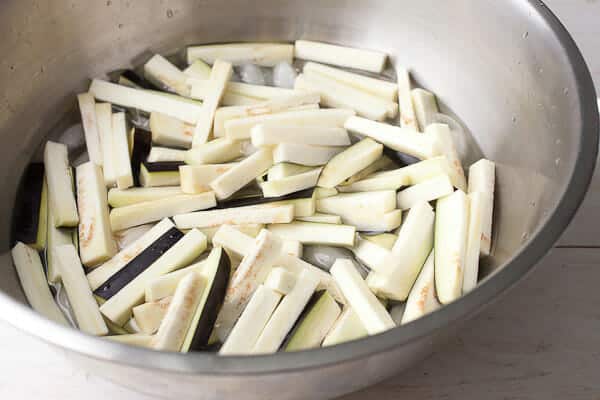 This is an important step. It keeps them from oxidizing, it washes out some of the bitterness from the eggplant, and it also lets the eggplant soak up some of the water which is a good thing for this recipe.
The eggplant fries will actually float in a bowl of water, so feel free to use a plate or something to keep them submerged.
So, dice up the eggplant, soak them, and then forget about them.
Breading and Frying the Eggplant Fries
Let's talk breading. I've cooked these fries using two things over the years. Either rice flour or cornmeal. Cornmeal ends up being crunchier while rice flour has a finer texture and ends up being almost like tempura.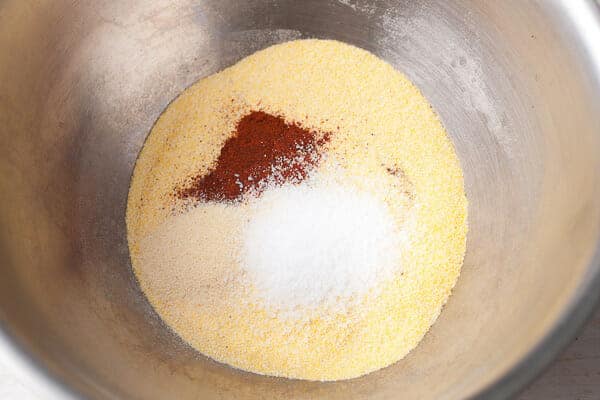 You can use either, but cornmeal is probably easier to find. (You could also use seasoned breadcrumbs or panko breadcrumbs.)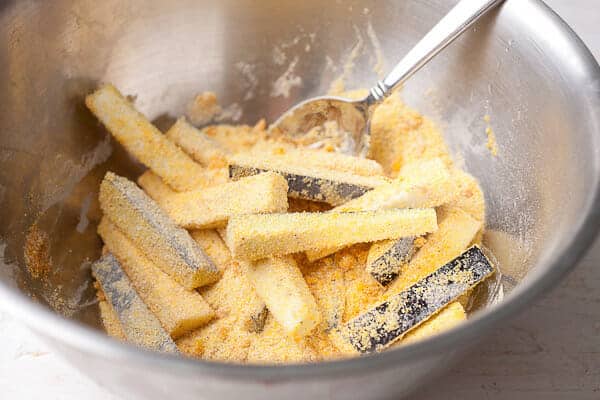 When you're ready to fry, heat up your frying station. As always, I recommend using a deep fry thermometer for these guys. You'll want to heat your oil to between 325 and 350 degrees.
When your oil is hot, remove a few handfuls of fries from the water and toss them in the breading mixture!
Toss them around a bit to get a light coating on each fry and then gently add them straight into the fryer! Carefully lower the eggplant fries into the oil so they don't splatter and work in batches!
These fries will need to fry for about 4-5 minutes.
They should turn golden brown and be really crispy.
I was blown away at how good these turned out.
You'll want to let them cool for a minute before biting into them. The center of the fry is really creamy and delicious though. Not bitter at all.
These were really good!
Baking the Eggplant Fries
There are some food writers who will try to convince you that baked fries are as crispy and delicious as truly fried fries. I'm not that guy.
But, baked eggplant fries are still good and flavorful and if you don't want to bother with a traditional fryer, it's probably your best bet (you could also use an air-fryer – 375˚F for 6 minutes).
If you want to bake the eggplant fries though, lay them out on a baking sheet lined with parchment paper. Make sure they are in a single layer with no overlapping.
Bake them in a preheated 400˚F oven for 18-20 minutes until they are golden brown. You might need to flip them once halfway through.
Serve them with a dip of your choice!
Dip options for these fries
These fries were great on their own, but the original recipe recommended a dipping sauce so I figured I would make one. I didn't have all the ingredients for the original so I just mixed up one with yogurt, mint, and lemon. It was delicious and the mint went perfectly with the eggplant!
I think the crispy eggplant fries would also be excellent in a marinara sauce with fresh basil!
Other great dip options for these eggplant fries would be my Spicy Ranch Dip or my Everything Green Sauce!
Betsy and I weren't really in the mood for fried food on the particular day that we made these (the struggles of a food blogger), but once we had one, we proceeded to eat all of them.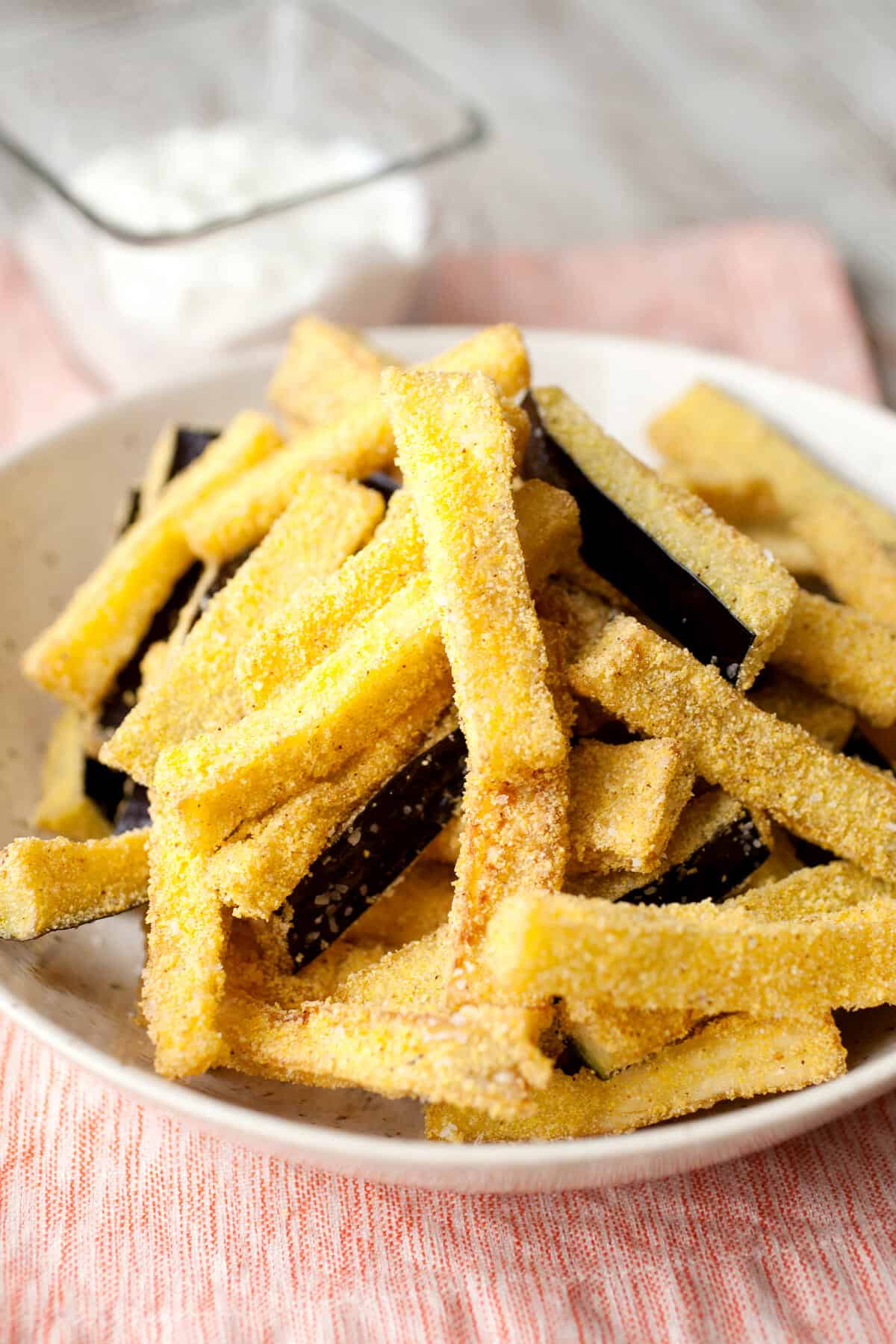 Eggplant Fries
How to make really crispy and delicious fries using eggplants!
Ingredients
2

large eggplants

,

cut into matchsticks and soaked in ice water

2

Cups

rice flour or cornmeal

1

lemon

,

zest + 1 Tablespoon juice

2

Tablespoons

paprika

1

Tablespoon

garlic powder

1

Tablespoon

kosher salt

1

Tablespoon

sesame seeds

,

opt.

2

quarts

oil

,

for frying
Dipping Sauce:
2

Cups

yogurt

2

Tablespoons

fresh mint

,

diced

2

Tablespoons

lemon juice
Instructions
Cut off ends of each eggplant and cut them into matchsticks.

Submerge eggplant fries for at least 30 minutes in ice cold water. You might need to weigh them down for something.

Mix rice flour or cornmeal with other spices.

Mix dipping sauce if you're using it.

Set up frying station and heat oil to 350 degrees.

When ready to fry, take a handful of fries out of water and move to rice flour mixture. Coat lightly on each side.

Move immediately to fryer and fry for 4-5 minutes.

Remove fries and let drain for a minute on a paper towel. Serve immediately!
Notes
Adapted from a Bon Appetit Recipe.
Nutrition
Serving:
0.5
Eggplant
|
Calories:
4658
kcal
|
Carbohydrates:
91
g
|
Protein:
13
g
|
Fat:
481
g
|
Saturated Fat:
38
g
|
Polyunsaturated Fat:
135
g
|
Monounsaturated Fat:
302
g
|
Trans Fat:
2
g
|
Cholesterol:
16
mg
|
Sodium:
1811
mg
|
Potassium:
956
mg
|
Fiber:
11
g
|
Sugar:
15
g
|
Vitamin A:
2013
IU
|
Vitamin C:
24
mg
|
Calcium:
206
mg
|
Iron:
2
mg
Did you make this recipe?
Here are a few other great recipes to try!