School is out and summer is on. With two kids out of school for the summer, our schedule is a whirlwind of camps, play dates, and rushed impromptu childcare. I'm always on the lookout for easy high-protein recipes like this Creamy Peanut Butter Banana Smoothie that can be a breakfast or a cool afternoon snack.
One thing I've learned though is that if I can get my kids some high-protein snacks throughout the busy days, everything just seems to go smoother. They are less fussy and everybody has more fun.
My Smoothies are great for kids
My kids love smoothies and this one goes down really easy! Peanut butter and banana?! Yes please. Not only are smoothies very fast to make but you can add-in whatever you need to supplement in your kids' diet.
If you child needs more protein, add some protein powder to the mix. If they need more fiber add some ground flax seeds. If you wanted slightly less fat or calories, you could make it with their reduced-fat milk or if you want to win extra points from your kiddos, try it with their chocolate milk. WHOA.
Between the milk and the peanut butter, one small serving of this smoothie has a whopping 12 grams of protein. Smoothies are a great way to fuel up and cool down during these hot summer months!
What blender do you need for a smoothie
Truly any blender can work for a smoothie, especially one like this peanut butter banana smoothie which has really easy-to-blend ingredients.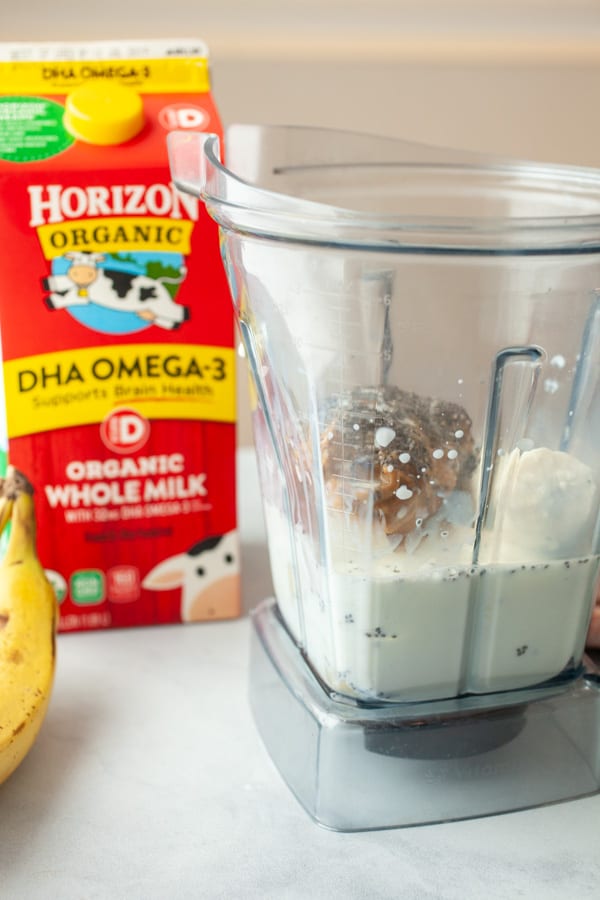 If you are adding ingredients that are harder to blend like vegetables or frozen fruits, it can help to have a high speed blender like a Vitamix or a Ninja blender. Those will blend up almost anything!
Frozen bananas or fresh?
If you can plan in advance, have a few bananas in your freezer is a great idea for smoothies. It means you need less ice and you'll have a thicker smoothie which ends being close to a milkshake in this case!
That said, I frequently forget to freeze my bananas and just toss in a fresh one with some ice. It still works great. Don't let the state of your bananas prevent you from making great smoothies!
Substitutions and ideas
Here are some wonderful substitutions you can easily add to these smoothies
Switch out the milk for almond milk, oat milk, soy milk, or coconut milk to make this smoothie vegan.
To make a chocolate version of this smoothie, add cocoa powder or use chocolate milk.
Instead of peanut butter, try any nut butter like almond butter or sunflower butter if you want to avoid using peanuts.
Amp up the sweetness of the smoothie with some honey or a dash of vanilla extract.
Sneak in some extra vegetables like a handful of spinach. You won't be able to even taste them in the final smoothie.
Tips for making a great Creamy Peanut Butter Banana Smoothie
This recipe is pretty easy and it pays big-time dividends. I love it so much!
If you have a good blender, you can use chunky peanut butter. It'll all get blended together, but smooth peanut butter is best.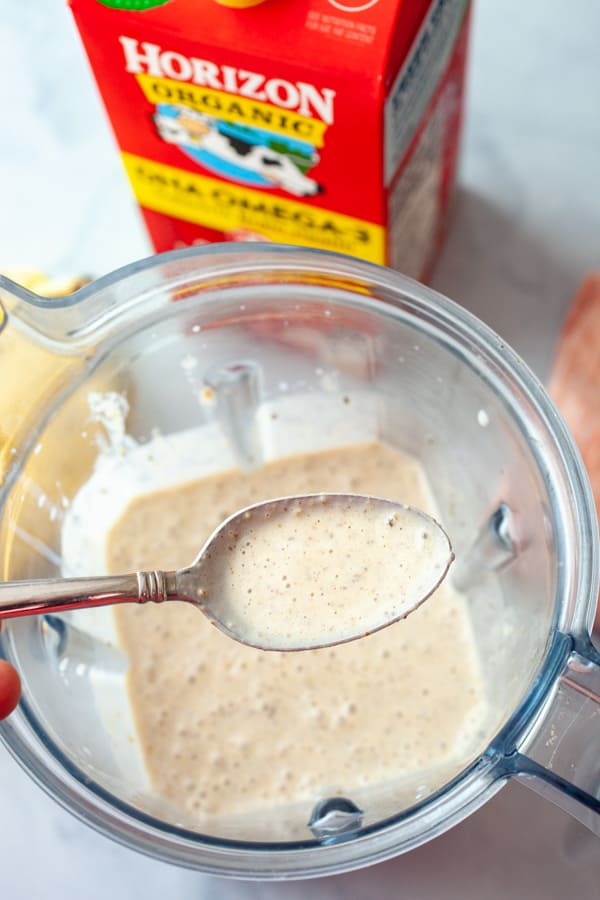 I have one trick and one secret ingredient to make this smoothie really special.
First, add some ice to it. It's a really rich smoothie and the ice helps chill it down, but also lightens it up a bit.
The secret ingredient is chia seeds! You could leave them out and not affect the flavor much, but just a tablespoon of chia seeds adds a bunch of fiber and even more protein to the smoothie. They are SO good for you!
Blend this all together and you are in business!
My kids absolutely loved this Creamy Peanut Butter Banana Smoothie and I would bet money that your kids will as well. It has become a weekend constant at our house this summer!
Cheers to summer!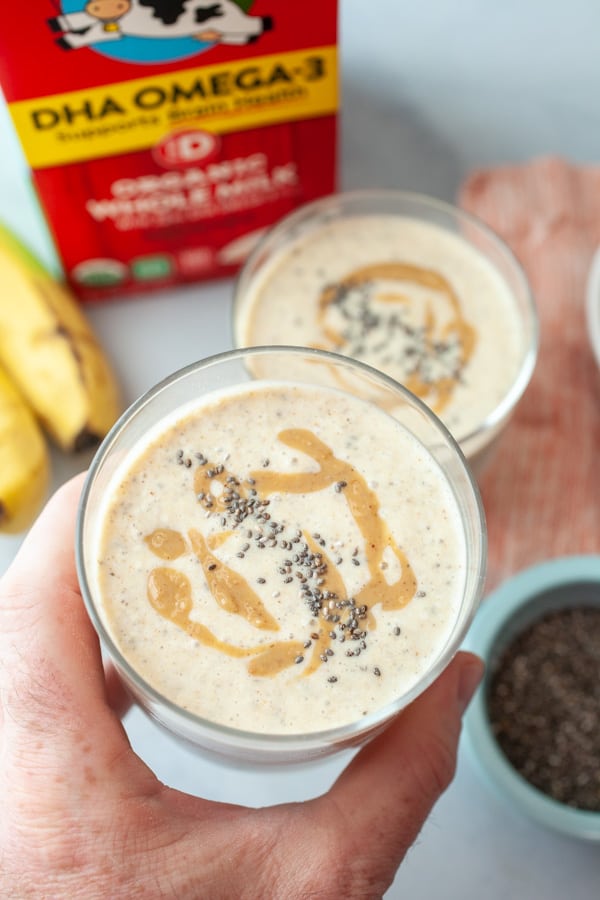 Creamy Peanut Butter Banana Smoothie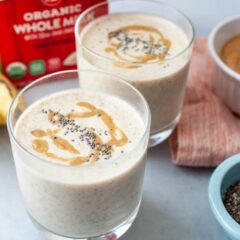 With just a few ingredients you can have a protein-rich snack ready in minutes! This cool creamy Peanut Butter and Banana Smoothie tastes almost like a milkshake but has about 12g of protein per shake!
Ingredients
1

large banana

,

optionally frozen, organic preferred

⅓

cup

creamy peanut butter

,

organic preferred

⅓

cup

ice

1

tablespoon

chia seeds

1

cup

Whole Milk
Instructions
Add all ingredients to a blender and blend until smooth.

Garnish smoothies with a drizzle of peanut butter and a sprinkle of chia seeds. Serve while cold!
Nutrition
Serving:
1
smoothie
|
Calories:
412
kcal
|
Carbohydrates:
31
g
|
Protein:
15
g
|
Fat:
28
g
|
Saturated Fat:
7
g
|
Polyunsaturated Fat:
7
g
|
Monounsaturated Fat:
12
g
|
Trans Fat:
0.01
g
|
Cholesterol:
15
mg
|
Sodium:
234
mg
|
Potassium:
661
mg
|
Fiber:
6
g
|
Sugar:
18
g
|
Vitamin A:
239
IU
|
Vitamin C:
5
mg
|
Calcium:
213
mg
|
Iron:
1
mg
Did you make this recipe?
Here are a few other great Kid Snack Ideas!