The first time I made these little peanut butter and jelly pinwheels was just to use up a spare piece of puff pastry dough I had in my freezer. They were an afterthought, honestly.
But, after they came out of the oven and I proceeded to eat as many as possible, essentially racing my wife and child to the end of the batch, I figured it might be worth sharing with you all!
They are embarrassingly easy to make and look much harder than they are. Literally, four ingredients!
The pinwheels work great as a brunch side, but I like them as an easy sweet afternoon snack or dessert.
Peanut Butter & Jelly Pinwheels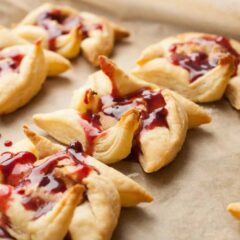 These easy snacks are so addictive. Great as a breakfast side dish or sweet afternoon treat! Kids love them!
Ingredients
2

sheets frozen puff pastry

,

thawed

4

oz.

cream cheese

,

soft

½

cup

creamy peanut butter

½

cup

raspberry jam

,

warm
Instructions
Preheat oven to 400 degrees F.

Roll out thawed puff pastry dough and cut each sheet into 9 even squares. Cut the corners of each square with a sharp knife, leaving about a 1-inch round in the center.

Put a teaspoon or so of cream cheese in the center of each puff pastry and then a dollop of peanut butter on top. Use 1-2 teaspoons of peanut butter for each pinwheel.

Fold one of each cut corner up to the center and press it down with your finger, creating a pinwheel shape. Repeat with all puff pastry squares and place on a baking sheet lined with parchment paper.

Bake pinwheels at 400 degrees F. for 16-18 minutes until they are golden brown. Some might unfold a bit as they bake. That's fine.

Meanwhile, heat jam over low heat in a small pot with 1-2 tablespoons of water.

When pinwheels are out of the oven, drizzle them with warm jam.

Serve while warm or store at room temperature in an airtight container for a day or two.
Nutrition
Serving:
2
pinwheels
|
Calories:
451
kcal
|
Carbohydrates:
42
g
|
Protein:
9
g
|
Fat:
28
g
|
Saturated Fat:
7
g
|
Polyunsaturated Fat:
4
g
|
Monounsaturated Fat:
15
g
|
Cholesterol:
2
mg
|
Sodium:
292
mg
|
Potassium:
164
mg
|
Fiber:
2
g
|
Sugar:
12
g
|
Vitamin A:
7
IU
|
Vitamin C:
2
mg
|
Calcium:
60
mg
|
Iron:
2
mg
Did you make this recipe?
Peanut Butter and Jelly Pinwheels
Frozen puff pastry dough is the future. If you went back in time a few decades and showed this stuff to someone, they would be blown away. The key to working with it is just to make sure you give it time to thaw slowly. Take it out of the freezer 30-45 minutes before you want to work with it so it unfolds easily and doesn't rip.
Actually, for this recipe, it doesn't really matter if it rips since you cut it into 9 squares anyway, but it's good practice.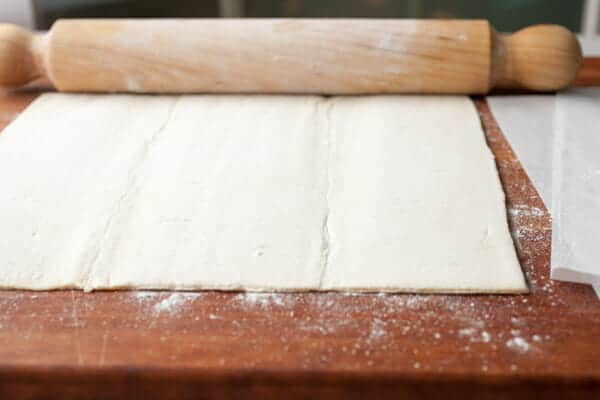 Making the pinwheel is super easy. Just use a sharp paring knife to cut the corners in half for each puff pastry square. Leave about a 1-inch circle in the center.
Add a dollop of cream cheese and peanut butter (maybe a teaspoon of both) to the center of the puff pastry. I didn't really measure. You could use up to two teaspoons of peanut butter without worry.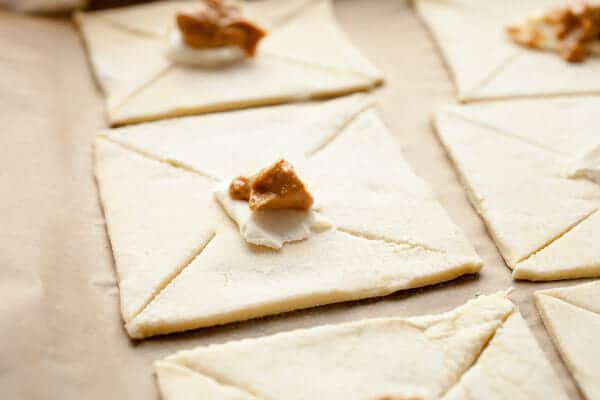 Then fold one piece of each corner up to the center, pressing it down.
Looks fancier than it is!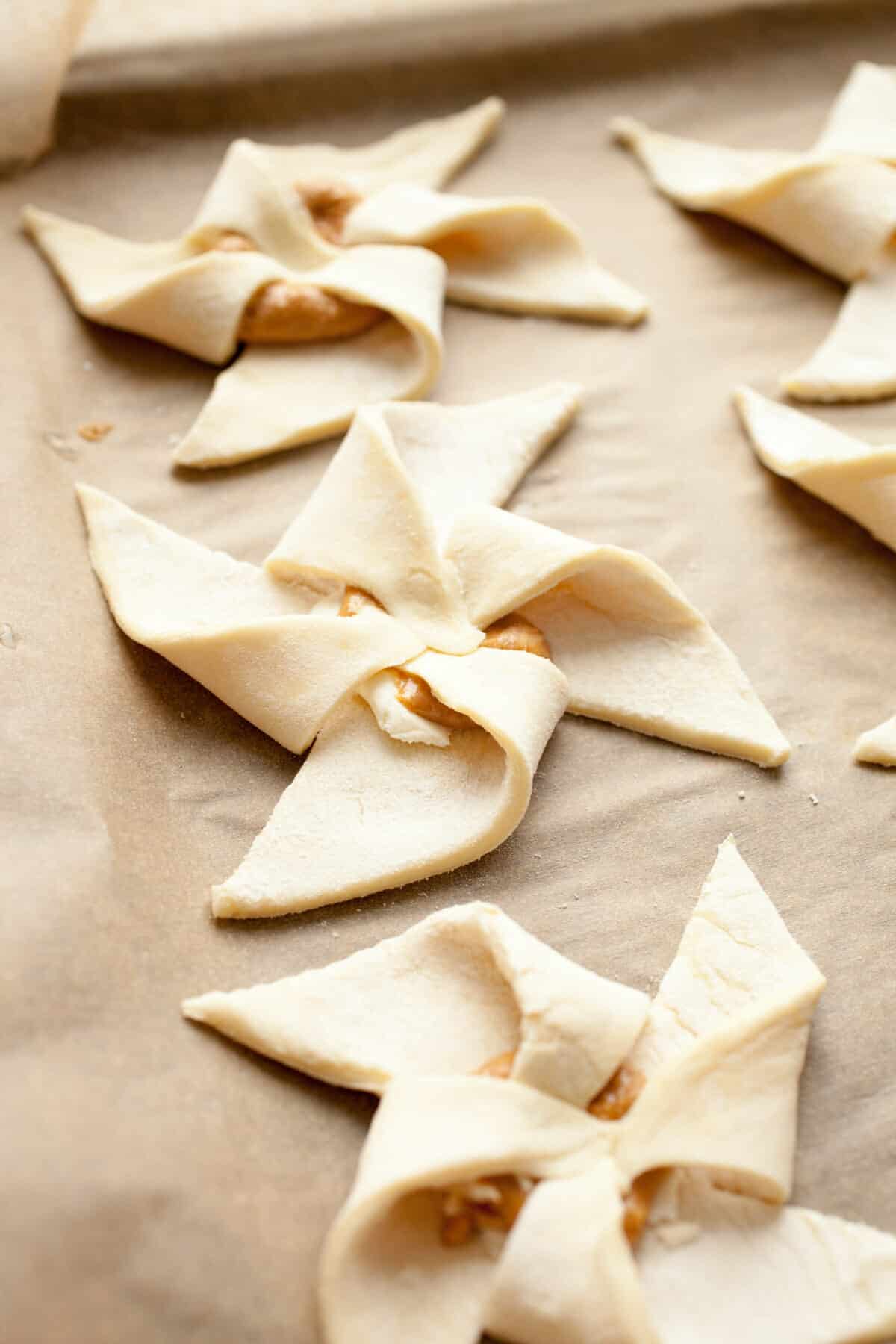 Bake these beauties at 400 degrees F. for 16-18 minutes until they are puffed and golden brown. Some of the pinwheel arms might unfold, but it's all good. Don't worry about it.
While the pinwheels are baking, heat the jam over LOW heat in a small pot. I recommend stirring in a tablespoon of water to loosen the jam a bit. I like strawberry jam for these, but there's no rule. Use what you like!
When the jam is loose, drizzle it over the pinwheels!
These peanut butter and jelly pinwheels are really good while they are slightly warm. This should go without saying because the cream cheese and peanut butter will be a little gooey!
If you somehow manage to not devour them all immediately, they are still great after even a day or two. You can store them in an airtight container at room temperature short term. I wouldn't bother refrigerating them though as they degrade pretty quickly in the fridge.
So, you know, just eat them all!