As our kids get older, snacks are a primary subject of discussion. Finding healthy-ish snacks that both kids will eat is particularly tricky but this Peanut Butter Yogurt Dip is always a hit. I'll make a batch of it for after-school snacks and it'll be gone after a day or two.
Over the years, I have made a few different versions of these snacks to try to find a good way to get the yogurt mixture to stick to the pretzels. To be honest, nothing really worked like the yogurt-dipped pretzels you find in the store. Those have a bunch of other binders and stuff in them.
So instead, I just turn it into a simple Peanut Butter Yogurt Dip. This dip is just four ingredients and you can whip up a batch in a few minutes. It stores great in the fridge so I'd recommend just dipping the pretzels as you need them! (Hint: Also great for a post-bed-time snack for the adults!)
How to make this yogurt dip
Basically every ingredient in this dip is in the title. Start with a ripe banana and some creamy peanut butter and mash that together with a fork.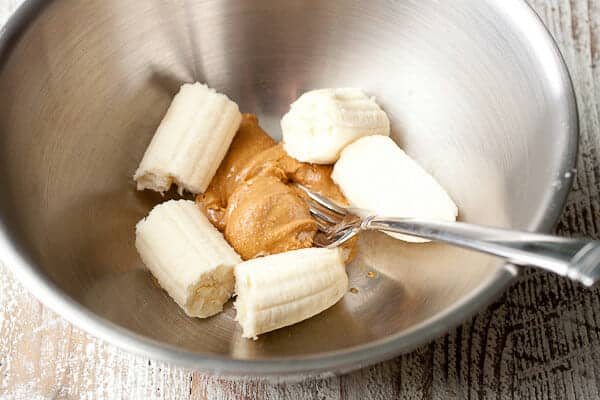 Then add the yogurt and blend it until smooth with a hand mixer. It'll be a little thick at this point and adding some powdered sugar to the mix helps make it more of a dip and gives it a little sweetness to counter the tangy yogurt. You can use anywhere from 1/2 cup to 1 cup of powdered sugar. More than that and it almost turns into a frosting.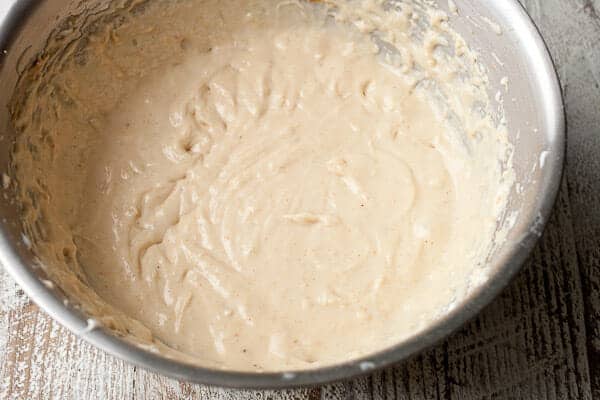 Different ways to use this peanut butter yogurt dip
Ideally, I wanted this to kind of stick to the pretzels. It coats the pretzels really nicely and sticks to them perfectly.
My first thought was maybe I could bake the pretzels at a really low temp and dry out the coating. I put them in a low oven for 2 hours and it sort of worked. The pretzels lost the great color and texture contrast and it's also silly, in my opinion, to turn on the oven for hours to make a snack.
Next try was to freeze the pretzels!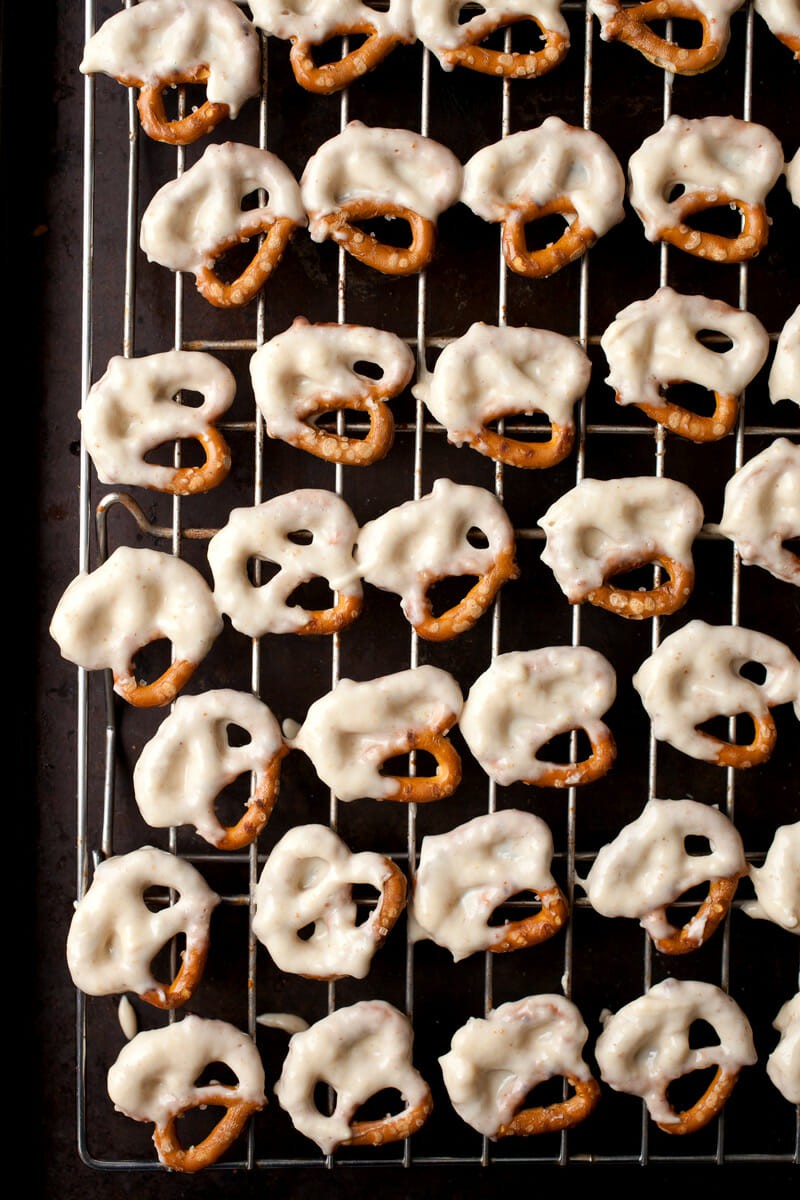 This totally worked with one caveat. You have to keep them frozen. As soon as you take them out they start to melt and you'll quickly end up with a mess on your hands. I did really like them cold though, especially on a hot summer day! If you want to freeze them, do so in an even layer on a baking sheet and then you can store them in a bag and pull out just a few at a time to snack on.
Ultimately though, I realized the best way to eat this snack is just to use it as a dip! Let people dip their own pretzels or dip a few and put them on a plate for a kiddo.
It's a surprisingly delicious dip and any kid will love it. Once the dip is mixed up, you can keep it in the fridge for a few days in an airtight container without a problem. Eventually, the banana will brown a bit and you might want to mix up a new batch.
Some dipping ideas
I like to dip pretzels in this dip, but there are no rules here. A few other good things to dip would be:
Crunchy fruits like apples or larger dippable fruits like strawberries.
Crackers or vanilla wafers or graham crackers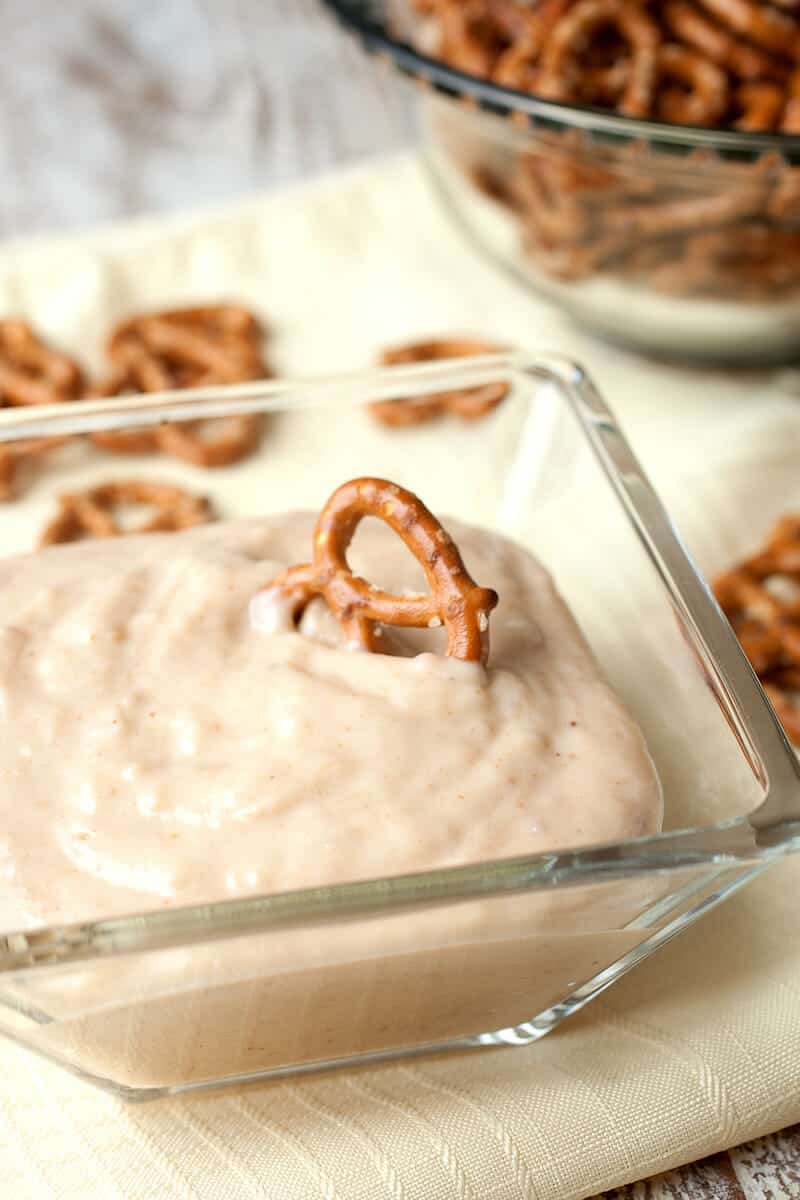 Substitutions for this yogurt dip
Here are a few substitutions you could make to change up this fruit dip.
Use a different sweetener like maple syrup or honey.
Add mini chocolate chips to it for a chocolate twist
Sprinkle it with chopped nuts to add some crunch
Use different nut butters like almond butter instead of peanut butter
Give the dip a vanilla twist by using vanilla yogurt or stirring in some vanilla extract
Peanut Butter Yogurt Dip with Pretzels
A great 4-ingredient snack for kids that adults will love too thanks to the perfect sweet and salty combo!
Ingredients
1

banana

¼

creamy peanut butter

1

cup

Greek yogurt

1

cup

powdered sugar

Mini Pretzels

,

for dipping
Instructions
In a medium bowl, mash together banana and peanut butter with a fork until mixed.

Add in Greek yogurt and use a hand mixer to beat until smooth. Then add in powdered sugar (1/2 cup for a less sweet version) and beat until smooth a second time.

Dip pretzels in the dip. You can freeze the dipped pretzels but you have to keep them cold or they will melt. Personally, I just like to serve it as a dip and let people dip their own pretzels!
Nutrition
Serving:
1
bowl
|
Calories:
57
kcal
|
Carbohydrates:
40
g
|
Protein:
5
g
|
Fat:
0.3
g
|
Saturated Fat:
0.1
g
|
Polyunsaturated Fat:
0.03
g
|
Monounsaturated Fat:
0.05
g
|
Trans Fat:
0.003
g
|
Cholesterol:
3
mg
|
Sodium:
19
mg
|
Potassium:
176
mg
|
Fiber:
1
g
|
Sugar:
5
g
|
Vitamin A:
21
IU
|
Vitamin C:
3
mg
|
Calcium:
57
mg
|
Iron:
0.1
mg
Did you make this recipe?
Here are a few other great snack recipes to try!