Chef Symon's Chocolate Pumpkin Pie
Pumpkin pie is always on my Thanksgiving recipe list but sometimes I like to change up the traditional and this Chocolate Pumpkin Pie is a wonderful change to the classic.
I first wanted to try this recipe one day when my wife came home with a plastic bag from the grocery store. That might not be a shock to you, but it was a complete shock to me.
You see, Betsy hasn't been to a grocery store in months. I do all the food shopping. Why could she have gone to the store? More specifically, what craving was she having?
My first guess was queso because Tex-Mex is always a good guess. But NO!
It was a pumpkin pie. A whole pumpkin pie. And not a good one. I, of course, mentioned that I would've definitely baked her a pumpkin pie, but that wasn't the point. She was specifically craving bad pumpkin pie.
I tried to eat a piece of it. It was weird. The words "bland" and "mushy" come to mind.
It did make me want to make a real pumpkin pie though. But once I fell down the pumpkin pie recipe rabbit hole, I kept coming back. I've always liked Chef Symon so I figured this chocolate pumpkin pie would be a winner.
Ingredients you need for this pie
Here are the basic ingredients that you'll need for this pumpkin pie.
Chocolate. I like to use two kinds of chocolate: semi-sweet chocolate and bittersweet chocolate.
Pumpkin. Make sure to get just pumpkin puree and not pumpkin pie mix.
Butter. What kind of pie doesn't include butter?!
Evaporated milk. This helps with the custard consistency
Eggs and Brown sugar. Pretty basic pie ingredients here.
Cornstarch. Another thickener to make sure the custard sets up nicely.
Spices. Vanilla extract, cinnamon, ground ginger, and nutmeg all go into this.
Pie crust. I like homemade, but you could use store-bought in a pinch.
Homemade Four and Twenty Pie Crust
I've made a lot of pie crusts in my day. I tend to like the Alton Brown method of using vodka in the crust. I've had good luck with it. But for this chocolate pumpkin pie I thought I'd try a new version I saw recently from the Four and Twenty Blackbird pie shop in Brooklyn. Secret ingredient: Apple Cider Vinegar.
Like most crust recipes, combine the dry stuff together and then work in the cold butter. I sometimes use my fingers and sometimes use a pastry cutter. Today was a pastry cutter day. Then add in the liquid (a mix of water and vinegar) until the dough just comes together and then wrap and store it overnight.
I thought this dough was really good (I tasted a pinch of it before even rolling it out). I knew it was a keeper for sure. I also found it to be easier to work with than some previous recipes I've used, but maybe I'm just getting better at pies.
Anyway, into the pie dish it goes. I don't do anything fancy for the edges. I just use my fingers to kind of pinch it around.
After all, I'll probably post this pie on Pinterest, but it's not a Pinterest project. You know what I mean.
Crank your oven up to 425 degrees F. and poke a bunch of holes in the pie. Then add in some foil or parchment paper and bake the pie with some weight on it. They make pie weights, but I've always just used a few handfuls of black beans.
Making the chocolate pumpkin custard filling
This filling for this chocolate pumpkin pie is badass and similar in some ways to a classic pumpkin pie filling. My only note on it is that the recipe above really makes enough filling for TWO nine-inch pies. It's kind of hard to half the recipe though because it works out with the cans of pumpkin and milk.
Start by slowly melting the chocolate and butter in a double boiler or just over some hot water.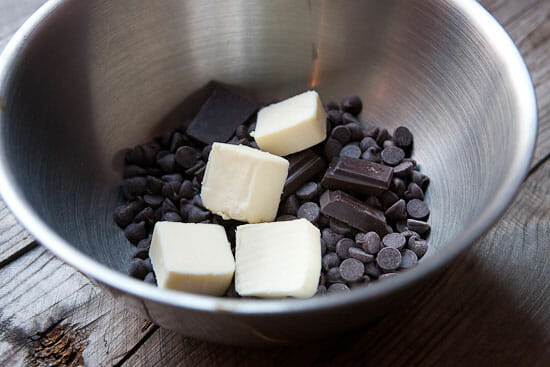 Then add that melted chocolate to a bowl with all the other filling ingredients and whisk like crazy.
The finished chocolate pumpkin pie filling should be thick, smooth, and have a lovely dark color.
Once your crust has baked for 15 minutes at 425 degrees F., remove the weights and pour in the filling. You can pour it pretty full.
If you only wanted to make one pie, you could freeze the extra filling for another day.
Bake the pie at a much lower 325 degree F. for a full hour until it's lightly puffed and set in the middle.
This chocolate pumpkin pie is a really pretty pie.
Be sure to let it cool down before slicing and serving.
Whipped cream is probably a good idea.
The pie ends up being some sort of mad scientist chef cross between chocolate pudding and pumpkin pie. And it's as good as it sounds.
Can you make this pie in advance?
Absolutely! I actually think this chocolate pumpkin pie is better if you let it set up in the fridge for a day. It's a great dessert option to make in advance and the flavors only get better after a day or two.
I wouldn't make it more than two days in advance though. It's fine for leftovers but I wouldn't make it four days in advance and then serve it for the first time.
Chocolate Pumpkin Pie
My version of Chef Symon's chocolate pumpkin pie made in a homemade all-butter crust. A really nice change on the classic pumpkin pie!
Ingredients
Chocolate Pumpkin Filling Recipe
6

ounces

semisweet chocolate

3

ounces

bittersweet chocolate

4

tablespoons

unsalted butter

1

14-oz. can

pumpkin puree

1

12-oz can

evaporated milk

¾

cup

brown sugar

3

large eggs

1

tbsp

corn starch

1

teas

vanilla extract

¾

teas

ground cinnamon

¾

teas

ground ginger

¼

teas

ground nutmeg

Pinch

of salt
2 ½

cup

all-purpose flour

1

teas

kosher salt

1

tbsp

sugar

1

cup

unsalted butter

,

chilled

1

cup

water

¼

cup

apple cider vinegar

1

cup

ice
Instructions
For the Crust
Combine flour, sugar, and salt in a medium bowl. Add cubed cold butter to the dry mix and coat the butter cubes with flour. Then use a pastry cutter, fork, or your fingers to work the butter into the flour mixture until it's in pea-sized pieces.

Combine water, apple cider vinegar, and ice in a separate bowl. Add the liquid to the dry stuff a tablespoon at a time until the dough just comes together with some crumbs on the edges. You should need 4-6 tablespoons of the liquid.

Shape the dough into 2 even round discs, adding more liquid in small drops if needed to get the dough to stick. Once the dough is in a solid disc, wrap them in plastic wrap and store it in the fridge for at least an hour, but overnight is best.

For filling:

Melt the chocolate and butter in a double boiler until it's just melted.

In a separate bowl, whisk together all the other filling ingredients. THen fold in the melted chocolate.

To bake pie:

Preheat oven to 425 degrees F.

Roll pie crust out on a lightly floured surface until it's roughly 10 inches in diameter. Transfer to your pie pan and trim edges to your liking. Poke some holes in the crust with a fork and line the pie with parchment paper or foil. Then add pie weights or dry beans to the crust.

Bake the crust for 15 minutes at 425 degrees F.

Turn oven down to 325 degrees F. Remove weight from crust. Add filling to the pie crust.

Bake the pie at 325 degrees F. for an hour.

Let the pie cool before slicing and serving.
Nutrition
Serving:
1
slice
|
Calories:
349
kcal
|
Carbohydrates:
35
g
|
Protein:
4
g
|
Fat:
21
g
|
Saturated Fat:
13
g
|
Polyunsaturated Fat:
1
g
|
Monounsaturated Fat:
6
g
|
Trans Fat:
1
g
|
Cholesterol:
70
mg
|
Sodium:
165
mg
|
Potassium:
146
mg
|
Fiber:
2
g
|
Sugar:
17
g
|
Vitamin A:
505
IU
|
Vitamin C:
0.01
mg
|
Calcium:
34
mg
|
Iron:
2
mg
Did you make this recipe?
Here are a few other great recipes to try!