There are few things in the food world that get crazier than the general pumpkin spice craze of October. This White Chocolate Pumpkin Bread is my little, humble addition the pumpkin storm and it's quite possibly one of my favorite quick breads that I make throughout the year.
I'm not a fan of adding pumpkin to things for pumpkin's sake, but some things truly are better with it as an ingredient and this seasonal loaf is definitely one of those things!
Why Add Pumpkin to Bread?
Most things, in fact, should never be mixed with pumpkin. For starters, pumpkin is actually a pretty bland flavor in my opinion. What most people think of when they think of pumpkin is much stronger spices like cinnamon, nutmeg, and allspice (stuff in pumpkin pie).
The truth is that if you just added some pure pumpkin to your latte, you probably wouldn't even taste it.
There is one thing that pumpkin is very good at though: adding moisture to baked goods. Adding pumpkin to a quick bread like this white chocolate pumpkin bread is always a good idea. Of course, you'll want to add more spices and stuff as well, but I like the pumpkin as a texture addition and not so much as a flavor additive. The moisture that comes from the pumpkin is similar to banana bread, but I prefer pumpkin occasionally.
All of that said, this is far and away the best pumpkin bread I've ever made. It's just dense enough and packed with flavor. I would normally use butter for a loaf like this but using a combo of melted coconut oil and coconut milk makes the recipe lactose-free (for those keeping track) but also adds a nice subtle coconut flavor to the loaf. Good stuff!
Starting the batter for the pumpkin bread
To start this quick bread, mix the dry ingredients (all-purpose flour, baking soda, allspice, cinnamon, nutmeg, and salt) together in a large bowl. Pretty standard.
Next, stir together the wet ingredients in a separate bowl, including the pumpkin, eggs, sugars, coconut milk, and coconut oil (or butter). You could add a splash of vanilla extract to this if you were so inclined. This will already start to smell good!
The only thing to remember about the batter is to be sure to buy 100% pumpkin puree and not pumpkin pie filling which has a bunch of additives in it.
Then stir the wet ingredients into the dry stuff until the batter comes together. Try not to over-mix the batter. Some lumps are just fine.
Then stir in the white chocolate chips. To be honest, this bread would be good without them, but I like the little studs of chocolate in the final pumpkin bread.
Baking the Pumpkin Bread
Lightly oil/butter a 9×5 loaf pan and dust it with flour. Then pour in all your batter.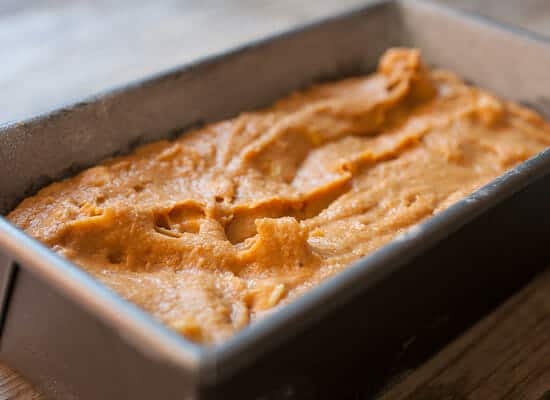 Bake this loaf for 60-65 minutes in a 350˚F oven. The loaf should puff nicely and get crackly on the surface. You're in business. You can always test its doneness with a toothpick. It should come out clean from the center of the loaf.
Let this bread cool for a few minutes and then slide it out of the pan. Let it cool on the counter or on a wire rack for another 15 minutes or so before you try to slice into it.
I love how the edges on this bread get crispy and crackly, but the interior crumb is so perfect.
I was going to send this sucker with Betsy to her office, but then I learned that it actually got better on Day Two. I'm not sure why this is, but giving it a day to sit, wrapped in plastic, rocks. Then I decided I would just keep this one for me.
You can skip most of the pumpkin craze this year, but do try out this coconut white chocolate pumpkin bread. It's a keeper.
Turning this recipe into muffins
You can use the exact same batter for muffins rather than making a loaf out of it. Grease your muffin tin or line it with muffin wraps. Fill your muffin tin 3/4 full of the batter. You should get 10-12 muffins out of a batch of batter.
The muffins will have a much lower cook time than a full loaf. They will need 20-25 minutes to finish baking and will be puffed slightly and golden brown on top when done.
Easy Substitutions for this recipe
So, for those taking notes, you could substitute butter for coconut oil and milk for coconut milk if you want to use more standard ingredients, but I like these switches.
As far as other add-ins, you could change out the pumpkin for bananas if you wanted to transform this into a banana bread.
You could also leave out the chocolate or substitute a dark chocolate for a richer chocolate flavor. You could also take some ideas from my Guinness banana bread recipe and add some beer to this loaf!
To highlight the coconut flavors more, you could add in some toasted coconut flakes.
If you wanted to add some extra texture to the bread, adding some walnuts or pecans to the loaf would be a nice touch.
Storing the Pumpkin Bread
This loaf keeps really well in the fridge for at least a week. Honestly, I'd be shocked if it ever lasts that long. If you made a few loaves at once though and wanted to freeze them, I think they would freeze great. Just wrap them in plastic wrap and freeze them for up to three months. Let them thaw slowly before slicing and serving them.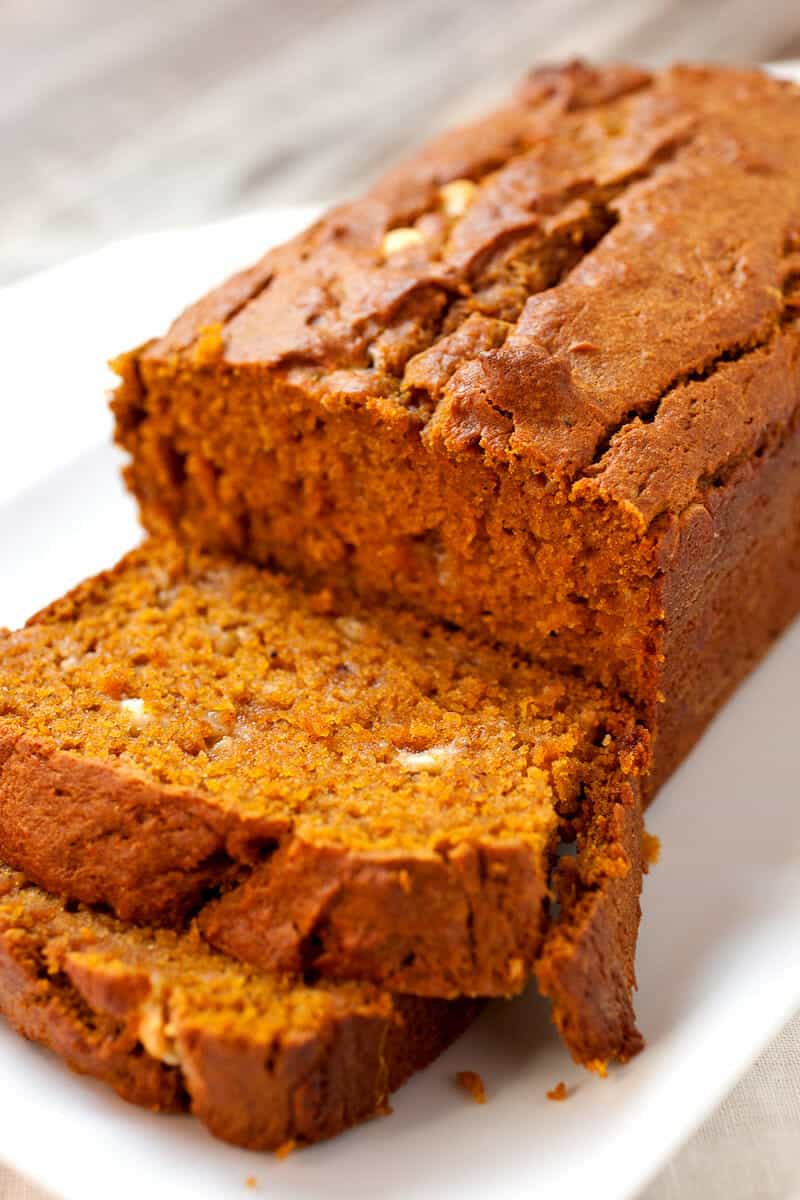 Coconut White Chocolate Pumpkin Loaf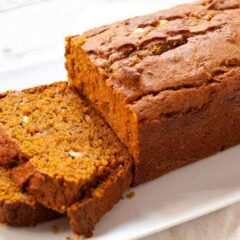 Easy and delicious pumpkin bread recipe! Coconut, white chocolate, and spices makes for a super-moist pumpkin loaf.
Ingredients
1 ¾

cups

all-purpose flour

2

teaspoons

ground cinnamon

1

teaspoon

baking soda

¼

teaspoon

ground nutmeg

¼

teaspoon

ground allspice

1

teaspoon

kosher salt

2

large eggs

¼

cup

sugar

⅔

cup

brown sugar

1 ½

cups

pure pumpkin

½

cup

coconut oil

,

melted and cooled

¼

cup

coconut milk

1

cup

white chocolate chips
Instructions
Preheat oven to 350 degrees F and lightly butter and dust with flour a 9×5 loaf pan. In a large bowl, whisk together flour, cinnamon, nutmeg, allspice, salt, and baking soda.

In a medium bowl, whisk together sugars, pumpkin, coconut oil, coconut milk, and eggs. Add wet mixture into the dry mixture and stir until just combined. Then fold in white chocolate chips. Try not to overwork the batter and some lumps are okie dokie.

Pour batter into prepared loaf pan and bake at 350 degrees F. for 60 minutes. Test center of loaf. A tester (or small knife) should come out clean from the center. It might need another 5-10 minutes in the oven. The loaf should be puffed and cracking on top.

Remove from oven and let cool for five minutes. Then remove the loaf from the pan and let cool for another 15-20 minutes before slicing.

Store pumpkin bread by wrapping it in plastic wrap once it's completely cool. It will keep for up to a week in the fridge or you can double wrap the loaf tightly and freeze it for up to 3 months.
Nutrition
Serving:
1
Slice
|
Calories:
479
kcal
|
Carbohydrates:
64
g
|
Protein:
6
g
|
Fat:
24
g
|
Saturated Fat:
17
g
|
Polyunsaturated Fat:
1
g
|
Monounsaturated Fat:
3
g
|
Trans Fat:
0.004
g
|
Cholesterol:
46
mg
|
Sodium:
472
mg
|
Potassium:
247
mg
|
Fiber:
2
g
|
Sugar:
40
g
|
Vitamin A:
7218
IU
|
Vitamin C:
2
mg
|
Calcium:
89
mg
|
Iron:
3
mg
Did you make this recipe?
Here are a few other great recipes to try!