One of my favorite summer snacks is a perfectly ripe mango dusted heavily with chili powder and a little salt. This Brie Grilled Cheese with Chili Mango Filling is a sandwich adaptation of those flavors.
I consider myself a grilled cheese expert and this is one of the better ones I've made. Want to try a fall version of this grilled cheese? Check out this Apple and Brie Grilled Cheese!
Chili and Mango together
Chili and mango were just made to be together. Personally, I like a little sprinkle of Tajin seasoning on a fresh mango any chance I can get.
For a brie grilled cheese like this, the chili powder should have a little spice to it but not be super spicy. It just gives the mango so savory flavors and pairs perfectly with the juicy sweetness of the fruit. I could eat my weight in the stuff.
So, I would use a medium spiced chili powder here. Nothing as smokey as chipotle or as spicy as cayenne pepper.
Why Brie Cheese works great in this sandwich
I wanted to bring that flavor profile into a grilled cheese but sort of struggled with the right cheese to use. Cheddar was too sharp (and also looked weird because it was all orange). Monterey jack was okay but wasn't quite smooth enough.
I ended up on brie which is a bit more expensive, but works beautifully in this grilled cheese sandwich. The creaminess of the soft cheese goes perfectly with the sharpness of the fruit.
Tips for making a great grilled cheese
There are two tricks to making this sandwich really rockin. Trick one: Pick a really ripe mango. It should give quite a bit to pressure but not be mushy at all.
For slicing for these sandwiches, I like to slice the mango into two large cheeks (slice down the side of the pit) and then slice the fruit into thin strips.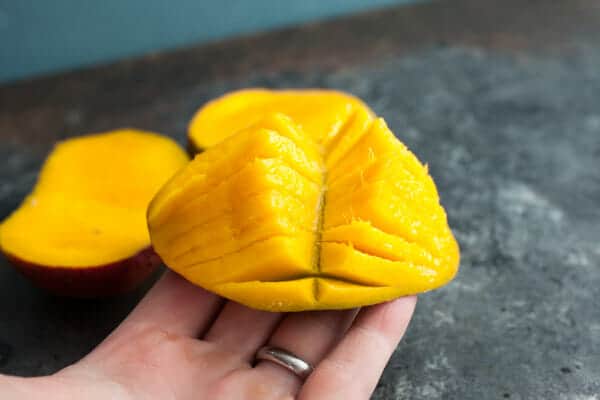 Season the mango really well with chili powder and salt. Be generous here!
Trick Two involves the bread. Normally I would just stack my stuff on the bread and stick it in the pan, but because we are dealing with two fillings that are both on the mushy side, I recommend toasting the bread first and then building the sandwich on the toasted side.
But you can't toast the bread in a toaster because that'll toast both sides of the bread which will lead to over-cooking the bread later.
So, toast the bread in your skillet with a little butter just on one side. (you can also use mayonnaise if you'd like).
Then you build your sandwich on the toasted side (leaving the un-toasted side facing out). Try to have a nice even layer of both mango and a layer of brie cheese. Try to cut off most of the brie rind but some rind is fine.
Then add your sandwich back to your skillet with some butter. Cook the sandwich for about 3 minutes per side over medium heat. The bread should be beautifully browned and the double toasting effort will give it some texture.
The mango and brie work beautifully together but the sandwich needs that little kick from the chili powder, for sure.
Follow those two little tricks (ripe mango and double toasting) and it's hard to go wrong with this chili mango & brie grilled cheese!
What to serve with this grilled cheese sandwich
This is a great meal with any side salad or soup. Even just canned tomato soup would go well with the sandwich or a simple salad like this Thai Chicken Salad or this crunchy chickpea salad.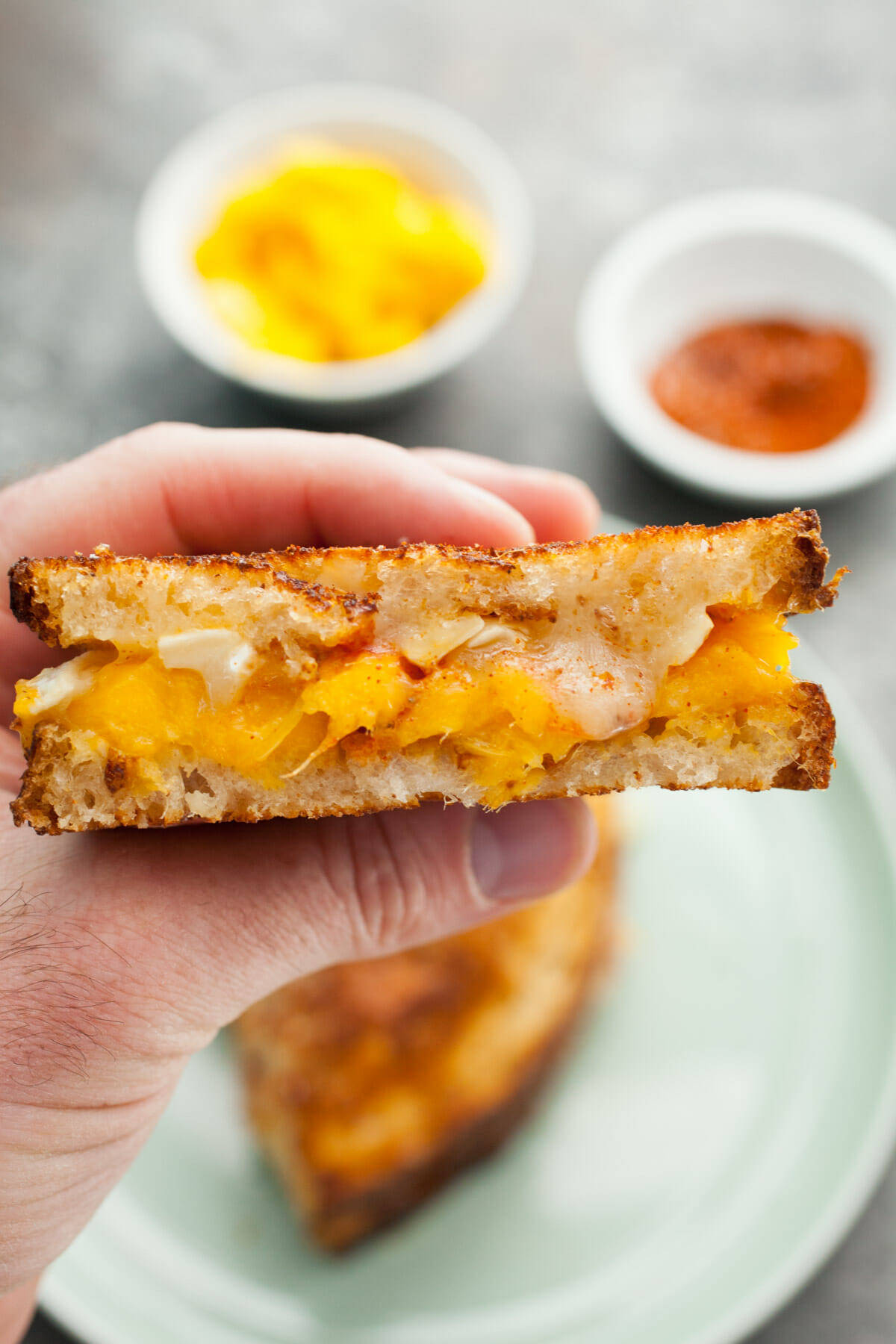 Chili Mango & Brie Grilled Cheese
Chili and mango are made to be together and they perfectly with a creamy brie cheese in this grilled cheese sandwich. It's your new favorite thing. Trust me.
Ingredients
1

ripe mango

,

sliced

1

teaspoon

chili powder

½

teaspoon

kosher salt

6

ounces

brie cheese

,

sliced

2

tablespoons

butter

,

softened

4

slices

sourdough sandwich bread
Instructions
Preheat a sturdy skillet (cast iron works well) over medium heat. Add a small amount of butter to bread and toast in skillet.

Meanwhile slice mango and sprinkle heavily with chili powder and salt. Slice brie as well, cutting off most of the rind, but having some on is no big deal.

When bread is done toasting on one side, remove it and build your sandwich on the toasted side (so the untoasted sides of bread are facing out). Cover the bread with a layer of brie and top with about half of a mango per sandwich.

Melt more butter in the skillet and add in your sandwich. Flip it quickly so both sides absorb some melted butter. Then let the sandwich cook for about 3 minutes per side until cheese is melted and bread is toasted.

Slice and serve!
Nutrition
Serving:
1
sandwich
|
Calories:
449
kcal
|
Carbohydrates:
16
g
|
Protein:
19
g
|
Fat:
35
g
|
Saturated Fat:
22
g
|
Polyunsaturated Fat:
1
g
|
Monounsaturated Fat:
10
g
|
Trans Fat:
0.5
g
|
Cholesterol:
115
mg
|
Sodium:
1224
mg
|
Potassium:
326
mg
|
Fiber:
2
g
|
Sugar:
15
g
|
Vitamin A:
2270
IU
|
Vitamin C:
38
mg
|
Calcium:
175
mg
|
Iron:
1
mg
Did you make this recipe?
Here are a few other great recipes to try!