There was a time in my life when I didn't have easy access to a grill and I got very comfortable using my oven broiler for cuts that people tend to grill. This Broiled Skirt Steak is a perfect starter cut to try under the broiler.
The benefits of using your broiler is that it can get very hot, almost grill hot, but there's no need for special equipment. Almost every oven comes with a broiler built in!
The down side of using a broiler for cuts like skirt steak is that it might get a bit smokey. I like to turn on my vent fan and open a window in my kitchen when I'm using the broiler to vent out any smoke that might be created. It's a fast cooking process though so any smoke is very short-lived.
Let's get started and learn how to make this awesome skirt steak!
Why broil a skirt steak?
If I'm being honest, I prefer the grill for skirt steak but it's just not always feasible to use a grill. If it's raining, or very cold, or if you just plain don't have a grill, then this is probably the second best way to make a skirt steak (or flank steak).
So, while it may not be the number one way to make a good steak, it's a nice tool to have in your arsenal and people will be impressed with the results considering you didn't use a grill.
Skirt steak vs. flank steak
While these steak cuts are sometimes used interchangeably in recipes, they are very different cuts from different parts of the cow. Flank steak is from the bottom abdomen of the cow. It's a very lean cut and thicker than skirt steak.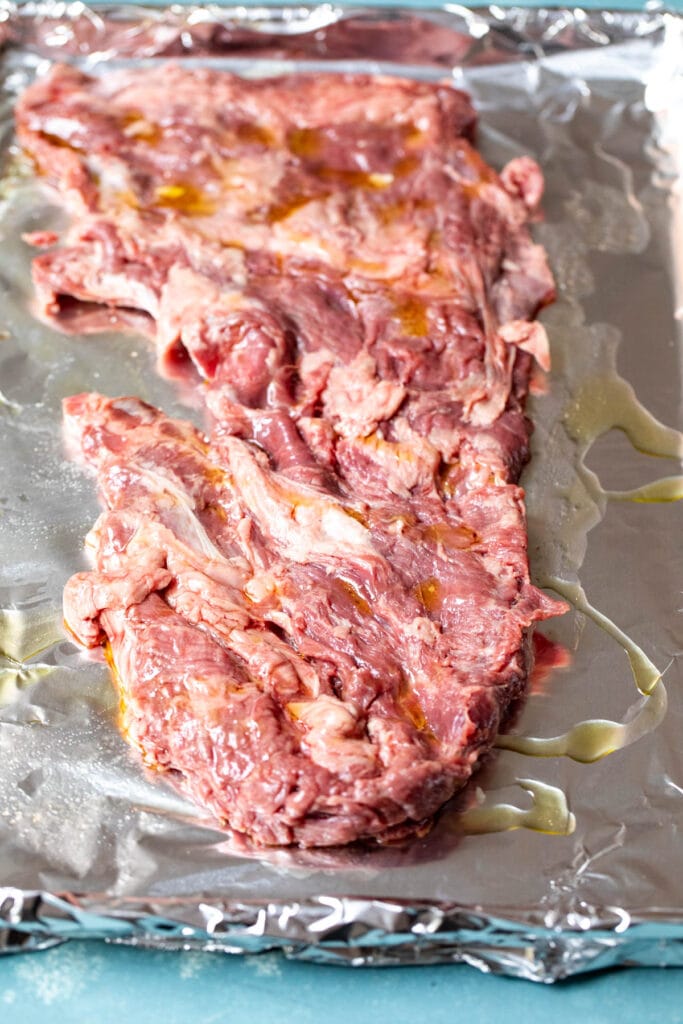 Skirt steak is a thinner, long cut from the diaphragm of the cow. It also is leaner but has more fibers and can be tough if not cooked and sliced correctly.
For more info on the differences, check out this write-up on The Kitchn.
I love both of these cuts, but recently I've been using more skirt steak because flank steak prices have gone way up.
How to season a skirt steak
Since I like to serve this basic skirt steak with a pesto sauce, you can season this very simply with just salt and pepper or a rub of your choice.
On this particular day, I used a Kinder rub I had in my pantry called The Blend that had salt, pepper, and garlic in it. Pretty simple but very delicious!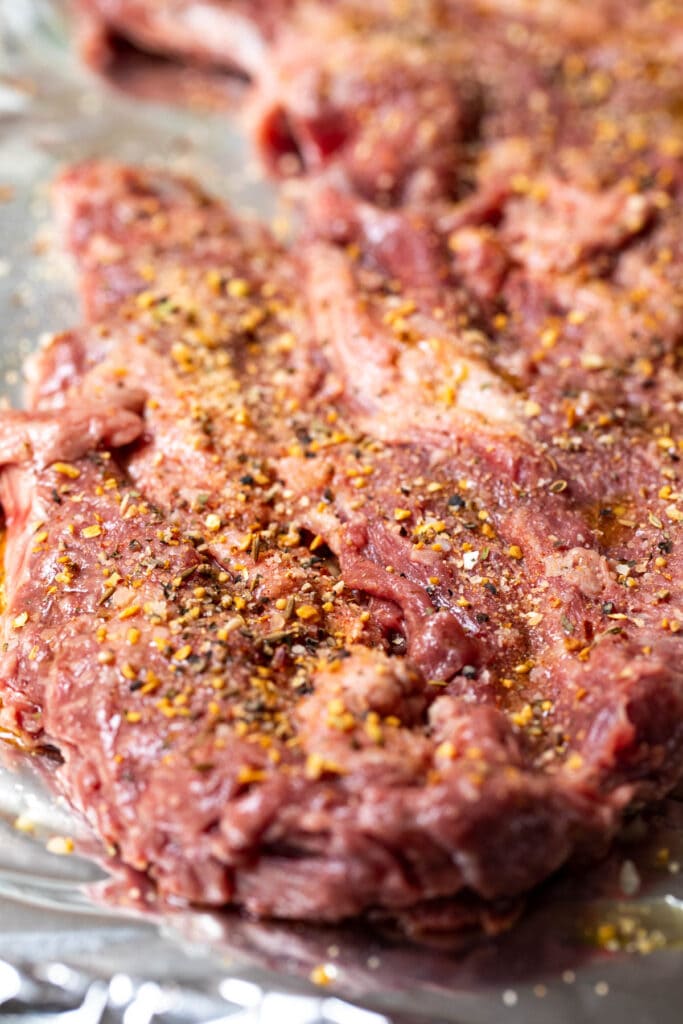 Some people like to marinate skirt steak, but since we are broiling it, I wanted to dry out the steak as much as possible, and submerging it in liquid was the opposite of what I was going for. So I went with a dry rub rather than a marinade for the broiled skirt steak.
Broiling the steak
When it's time to broil, the most important part is to make sure your broiler is nice and preheated and you have a plan for the possible smoke that comes with broiling. I like to let mine preheat for at least five minutes before cooking and I always open a window and turn on my vent to create some air flow.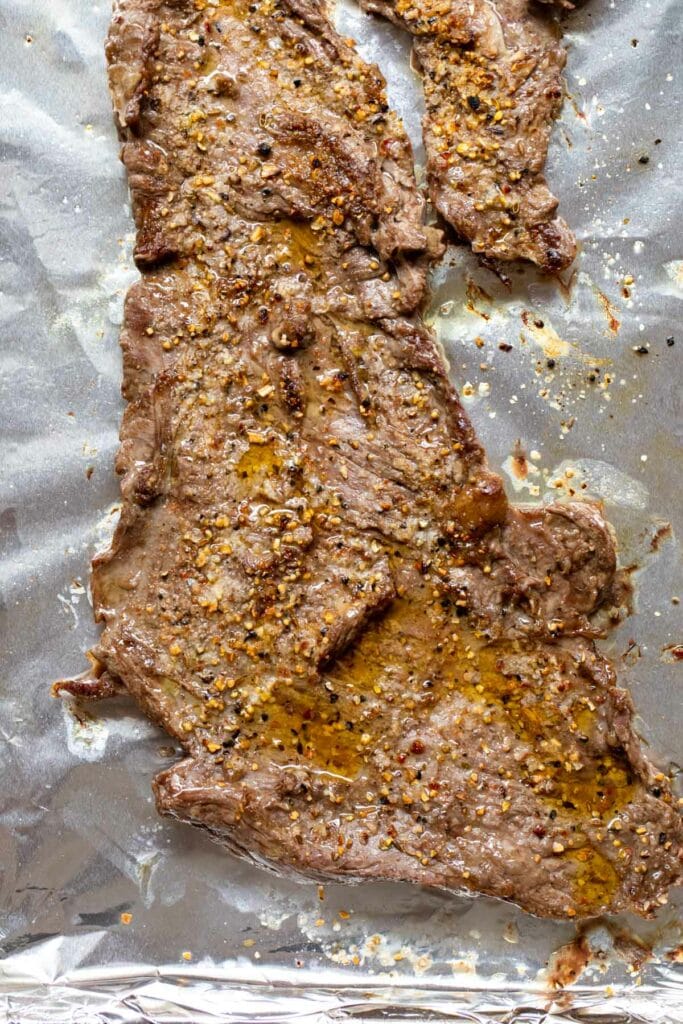 After you have seasoned the steak, place it on a baking sheet lined with foil. Broil the skirt steak on the first side for four minutes. Then flip it and broil it for another five minutes. That should do the trick!
If you are using a flank steak, you will probably need an extra five minutes of broiling time to account for the extra thickness.
For flank steak, I recommend using a meat thermometer to make sure you hit the right temperature (for me 130-135˚F), but for skirt steak, it's so thin that you can assume it's cooked after the cooking time.
Slicing the Steak
Slicing the steak is almost as important as cooking it! Both flank steaks and skirt steaks have very tough muscle fibers that run the length of the steak (called the grain of the steak). If you cut with the grain, leaving those fibers intact, you will have a very tough cut of meat.
If you cut against the grain, across those fibers, then your steak slices will be very tender!
Usually, you can see the grain in the steak, but if you are worried, do a test slice and see if you can easily pull it apart. The piece should stretch and start to fall apart as you pull it.
Making the Pesto Sauce
Quite honestly, I like this steak with no sauce on it, but I had a huge crop of Thai basil this year in my garden so I thought I'd whip up this quick pesto.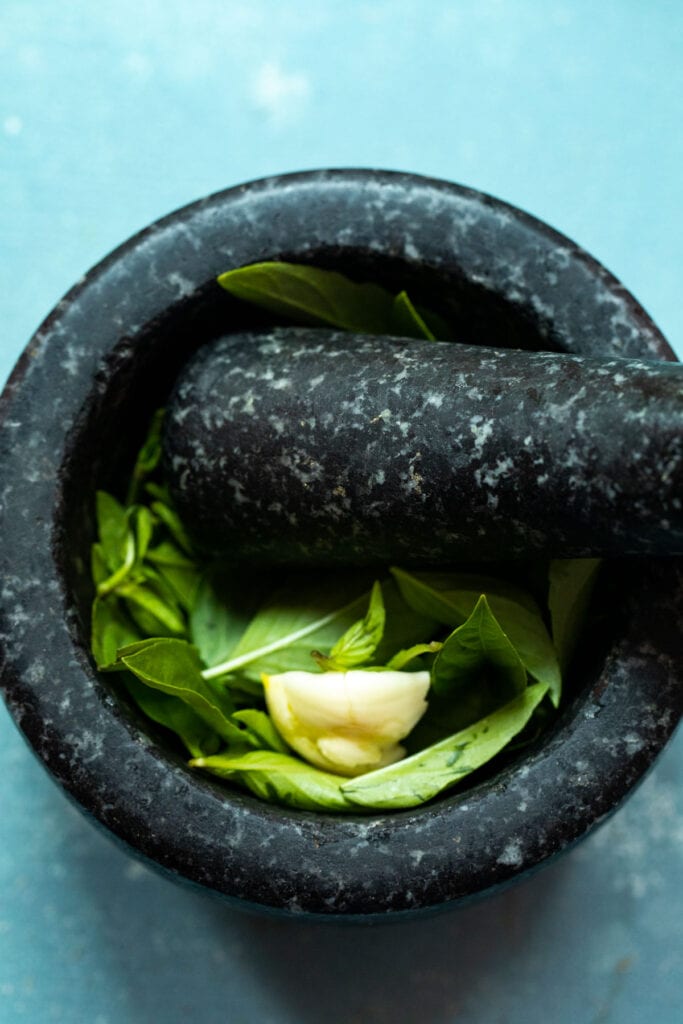 I used a mortar and pestle to break down about 1/2 cup of the basil with a clove of fresh garlic. Then added in some salt, pepper, and red pepper flakes and mixed that with olive oil and a squeeze of lemon. You can adjust to your liking.
It's not exactly a traditional pesto because I left out pine nuts (or some kind of nut) so maybe it's closer to a basil oil. Anyway, it's great on steak!
Broiled Skirt Steak with Thai Basil
Ingredients
1 – 1 ½

pounds

skirt steak

2

Tablespoons

olive oil

2

tablespoons

steak rub
Thai Basil Sauce:
½

cup

packed Thai basil

1

clove

garlic

½

teaspoon

kosher salt

¼

teaspoon

red pepper flakes

¼

teaspoon

black pepper

½

cup

olive oil

½

lemon

,

juice only
Instructions
Preheat broiler to high heat and move an oven rack to the highest rack. Turn on fan and open a window as it might get a bit smokey while you are broiling.

Lay out skirt steak on a baking sheet lined with foil and brush with olive oil on both sides. Season both sides well with steak seasoning.

Cook skirt steak on broil on the first side for 4 minutes. Flip and broil on second side for 5 minutes. A flank steak will probably need an additional 5 minutes of broiling. Steaks are done when they hit 130˚F in the thick part of the steak for medium rare steak. Skirt steak is so thin, that you can assume it's done after the cooking time.

Let steak rest for a few minutes and then slice the steak across the grain into strips.

Serve with the homemade basil pesto.

Leftovers keep well in the fridge for 4-5 days.
Nutrition
Serving:
0.25
lb
|
Calories:
741
kcal
|
Carbohydrates:
2
g
|
Protein:
62
g
|
Fat:
55
g
|
Saturated Fat:
13
g
|
Polyunsaturated Fat:
5
g
|
Monounsaturated Fat:
34
g
|
Trans Fat:
1
g
|
Cholesterol:
179
mg
|
Sodium:
481
mg
|
Potassium:
863
mg
|
Fiber:
1
g
|
Sugar:
0.4
g
|
Vitamin A:
222
IU
|
Vitamin C:
8
mg
|
Calcium:
29
mg
|
Iron:
5
mg
Did you make this recipe?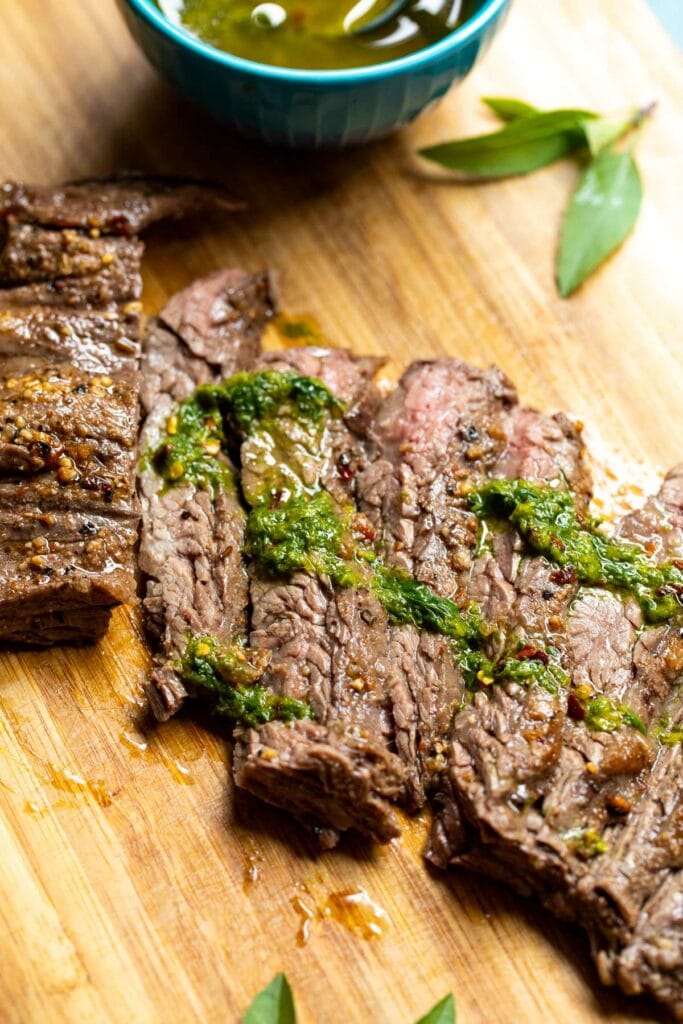 Here are a few other great steak recipes!