It might look like the steak is the star of the above photo, but it's not. The real star is that little bit of chunky sauce on top, called chimichurri. Once you learn about it, this chimichurri recipe, popular in Argentina, will find its way into all sorts of your recipes as a vinegary, spicy, and savory topping.
I spent my college sophomore summer in Argentina with one of my best friends. At pretty much every meal, they bring out a bowl of this delicious mix of spices and veggies. It's strong stuff. Spicy, garlicky stuff. It's the kind of meal that if you're going to be smooching later in the night, you want to make sure you both eat it! I was not smooching my friend, but we were both actively trying to smooth pretty Argentine ladies (with very little success). Luckily, in Argentina, everybody eats chimichurri on everything.
Seriously, you could put this stuff on your shoe. It's that good. I decided to serve mine with a nice steak, but it goes great on tons of things.
Chimichurri Sauce Ingredients
A good chimichurri sauce always has some basics to it. Luckily it's nothing fancy and you will probably have most of these in your pantry already.
Olive oil and red wine vinegar. These are the backbone of any good chimichurri sauce. I wouldn't substitute them.
Onion and red pepper. I like to use a plain white onion for my onion and a normal fresh red pepper which isn't too spicy.
Flat leaf parsley. Don't use the curly stuff.
Fresh bay leaves. Kind of a curveball of an ingredient but once you try it, you'll always want them in your sauce.
Oregano. Dried or fresh can work here!
Garlic cloves. No surprise that fresh garlic is a winner in a sauce like this.
Red pepper flakes. For a little spicy kick!
Salt and pepper. I like to use kosher salt and fresh ground black pepper.
Should I use fresh or dried herbs for chimichurri
I'm not going to pretend that there is a 100% right answer here. Personally, I'll tell you that I prefer fresh parsley, dried oregano, and fresh bay leaves. That is just the mix that I've found works best for me and I also tend to have fresh parsley and dried oregano in my fridge and pantry.
If you use all fresh herbs, the flavor will be a bit stronger, but also will not keep as long in the fridge. If you used all dried ingredients, I find that the flavor is too muted for my liking.
Again though, there is no right answer here. Fresh or dried can work well and you can adjust amounts depending on taste for your chimichurri sauce.
Making the Chimichurri Sauce
There's a good amount of flexibility in this sauce. You can add some extra garlic or subtract a bit of something if you don't like it.
That said, the key to it is to let it sit for about 2 hours at room temperature before serving it. That lets all the flavors really mingle together. So plan accordingly.
You could use a food processor to mince all the ingredients, but I like mine a bit on the chunky side. If you use a food processor, be careful not to over-process it.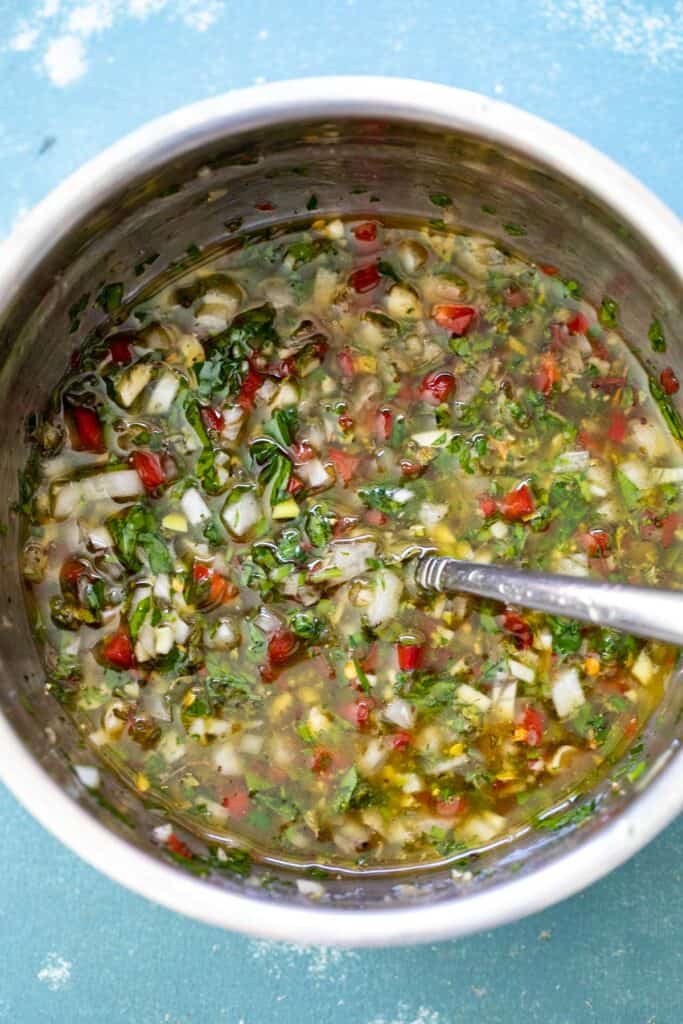 Mince everything pretty finely and add it all to the bowl along with the herbs. You should be able to find fresh bay leaves near the fresh herbs in your grocery store. If you can't find them though, you can leave them out. I wouldn't use dried bay leaves. The bay leaves add a really unique, deep flavor so use them if you can find them.
Use a fork to mix in the olive oil and red wine vinegar to make sure it's all combined well. This will be good now, but it'll be even better in a few hours so cover it and let it sit at room temp for a few hours to let the flavors develop.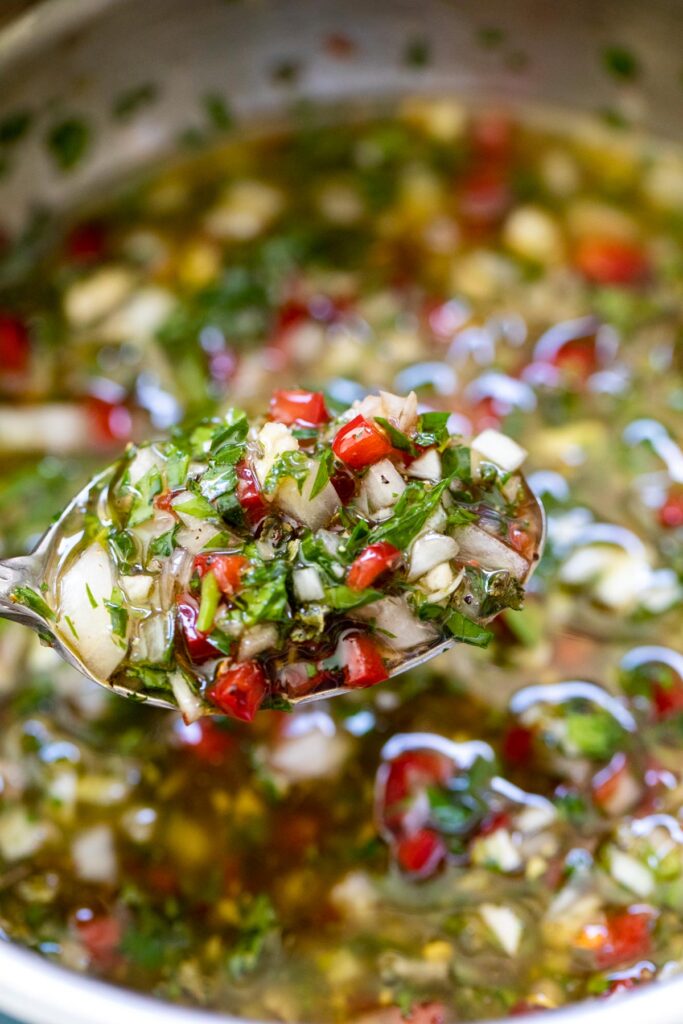 A spoonful of this stuff goes great with almost anything. You could serve it with bread, meat, eggs, potatoes, etc.
Substitutions in the sauce
I wouldn't change the base of this sauce, honestly. Olive oil, red wine vinegar, parsley, and garlic are pretty essential. Some sort of pepper and onion is also important although I could see others working here. Use a red onion or a spicy red pepper would be fine for an easy change-up to flavors.
For the herbs, you could use fresh oregano or dried, but I would only use fresh bay leaves.
What to serve with chimichurri
Steak is a classic chimichurri serving option. On this particular day I did a sous-vide steak and pan-seared it, sliced it thin, and served it with the chimichurri sauce.
There are many other options for serving with chimichurri sauce though. I would happily slather this grilled citrus chicken with chimichurri. It would be excellent on this whole grilled fish as well.
It was all good but I'm not joking when I say that the chimichurri sauce was the best part of the meal.
Don't forget that a sauce like this also works well as a marinade rather than a serving sauce. For a marinade, I would blend it up a bit more and then let steak, chicken, or pork marinate in it for a few hours and grill it up!
Try it out and thank me later!
Argentine Chimichurri
A spicy blend of veggies and herbs that's traditional to Argentina called chimichurri that's good on almost anything!
Ingredients
½

Cup

olive oil

½

Cup

red wine vinegar

¼

medium onion

,

minced fine

¼

red pepper

,

minced fine

⅓

Cup

fresh parsley

,

minced

4

fresh bay leaves

,

minced (opt.)

4

cloves

garlic

,

minced

2

Tablespoon

fresh oregano

,

minced (or 1 Tablespoon dried)

1

Teaspoon

fresh ground black pepper

1

Teaspoon

crushed red pepper flakes

Pinch

of salt
Instructions
Mince ingredient well and add to a medium bowl.

Use a large fork or whisk to mix in olive oil and red wine vinegar. Make sure it is all well-combined.

Cover and let sit at room temperature for an hour or two.

Serve with beef, bread, potatoes, eggs, or anything really…
Nutrition
Serving:
0.25
cup
|
Calories:
88
kcal
|
Carbohydrates:
2
g
|
Protein:
0.3
g
|
Fat:
9
g
|
Saturated Fat:
1
g
|
Polyunsaturated Fat:
1
g
|
Monounsaturated Fat:
7
g
|
Sodium:
5
mg
|
Potassium:
42
mg
|
Fiber:
1
g
|
Sugar:
0.3
g
|
Vitamin A:
285
IU
|
Vitamin C:
6
mg
|
Calcium:
20
mg
|
Iron:
1
mg
Did you make this recipe?
Here are a few other fun sauces to try
There are many delicious sauces recipes in the Macheesmo archive. I like this Put-It-On-Anything green sauce, which is as versatile as it sounds. This spicy ranch dipping sauce is also always a hit at House macheesmo. I also really love this Bourbon BBQ Sauce from Simply Recipes for all your grilling needs this season!