This time of year I'm all about fast weeknight dinners that don't involve much cooking and use really fresh seasonal things, like peaches. This Blue Cheese Steak Salad was a huge hit at my house and it's ready in under 30 minutes and takes FULL advantage of peach season.
Speaking of peaches, I've been hosting an Instagram Live show with Harry and David called Savor the Summer. Yesterday, I interviewed Liz Harris from Floating Kitchen and she gave some great tips on grilling peaches so go check that out if you need some peach inspiration!
This salad is wonderful and has some of my favorite flavor combos so read on and make some delicious grilled steak salad for dinner this week!
What kind of steak to use?
Truly you could use almost any cut of steak for a salad like this. I would say the ribeyes and stuff for a more traditional steak meal though and go for either skirt steak or flank steak for a salad like this.
On this day I found some great skirt steak and it grills up really nicely.
Ultimately, since we are slicing and serving this with a lot of other delicious ingredients, the exact cut of steak isn't super important.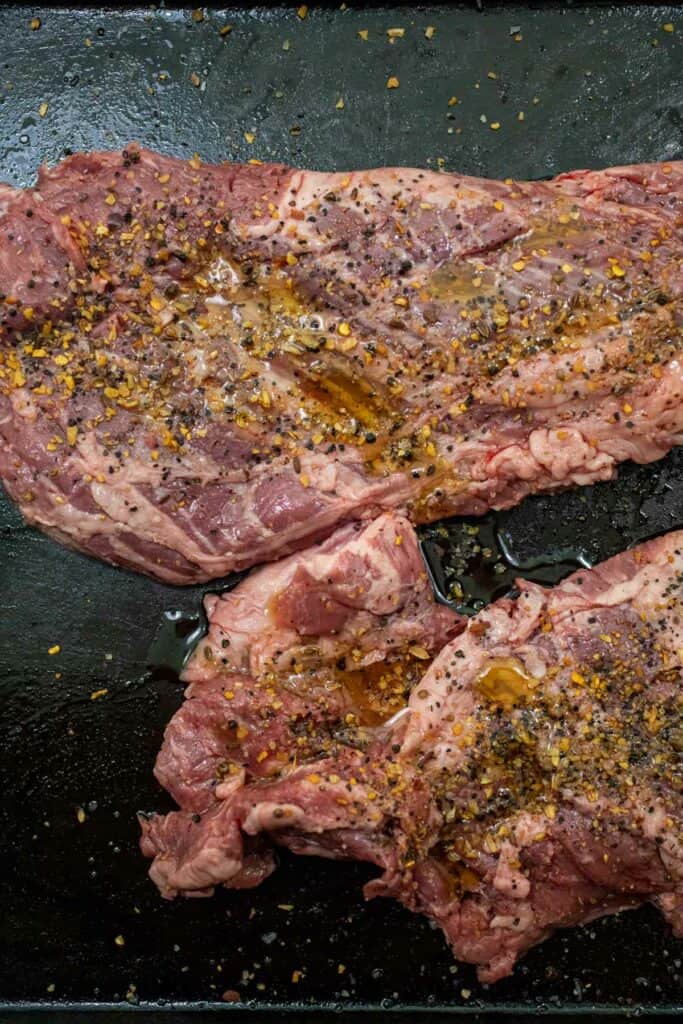 When you have your steak selected, season it well with Montreal seasoning or your favorite seasoning. I really like Montreal seasoning because it has a nice peppery mix and works great with a variety of flavors. In a pinch, you could use just kosher salt and fresh cracked pepper with olive oil and be just fine.
Before you grill the steak, let it rest at room temp for at least 10 minutes (30 minutes for thicker cuts of flank steak) so it isn't fridge-cold. This will help the steak cook more evenly on the grill.
Tips for grilling steak
Grilling skirt and flank steak isn't a hard task. I would encourage everyone to give it a shot. Basically heat your grill to medium-high, direct heat and make sure your grill is clean. Then toss on the steak!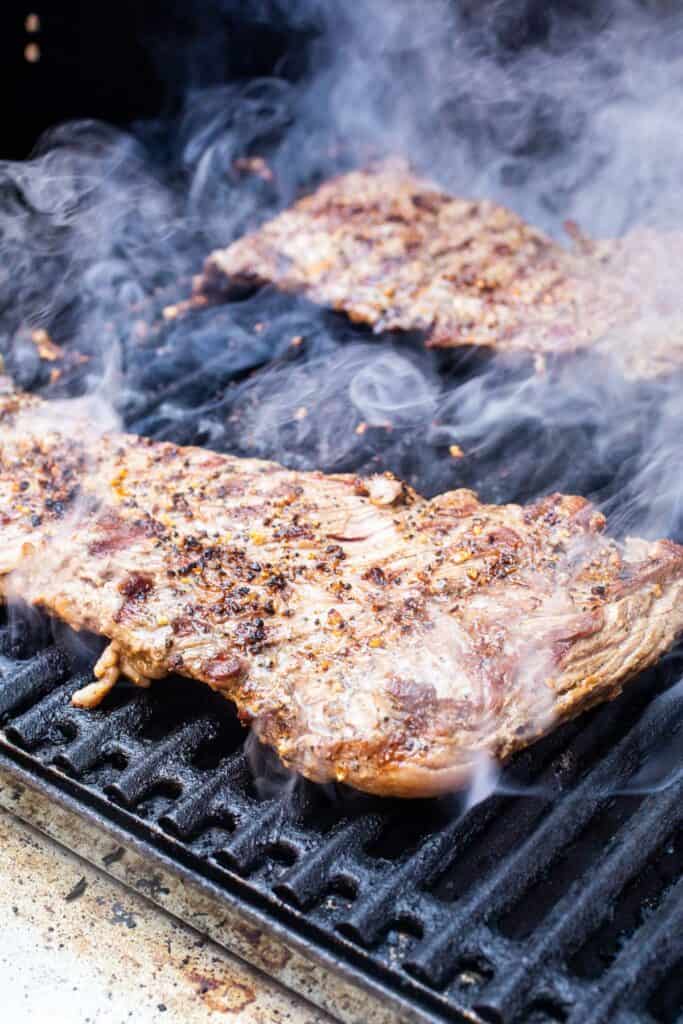 Once the steak is on the grill, don't mess with it too much. Let it grill for 5-7 minutes on the first side, depending on thickness, and then flip it and grill for the same or slightly less time on side two. For thinner cuts like the skirt steak I used, that will be more than enough time to get them to the right temp. For thicker cuts like flank steak, I always use a meat thermometer to make sure they reach around 135˚F in the thickest part of the steak.
Most importantly, when you grill steak, let it rest when it comes off the grill. That will let the juices rest and make it less messy to slice.
Quick tips for grilling peaches for this steak salad
I learned a lot when talking to Liz about grilling peaches. It's frankly something I mess up.
The true trick to grilling peaches is:
A) To use slightly underripe peaches. If you use perfectly ripe peaches they will fall apart on the grill.
B) Make sure your grill is pristinely clean and lightly oiled and rub the peaches really well with oil as well.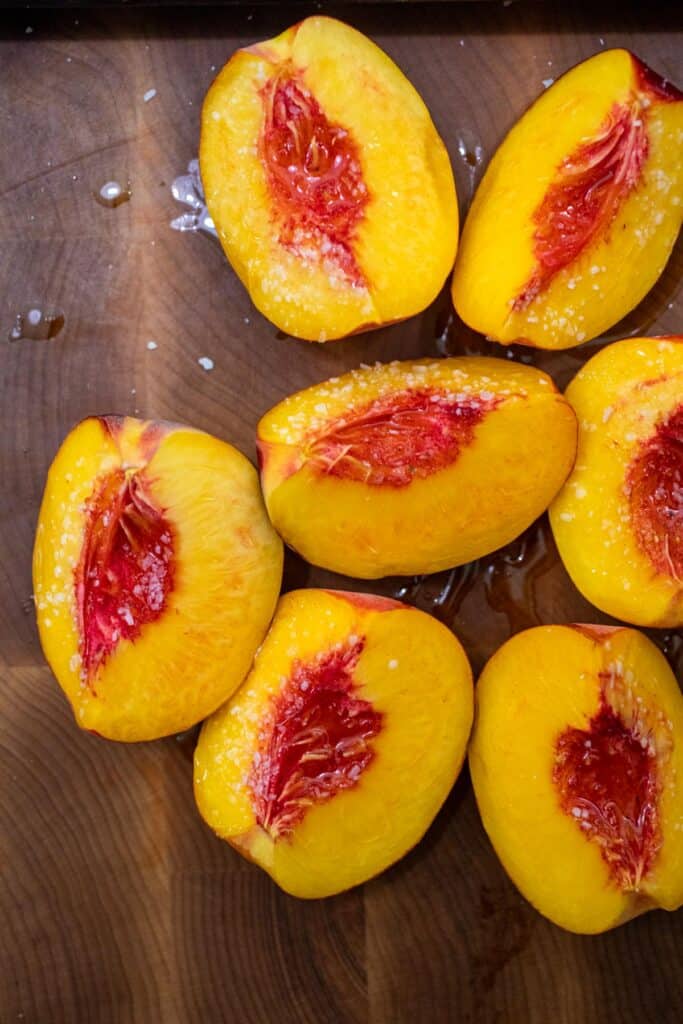 Quite honestly, I kind of messed up these peaches a bit. They stuck more than I'd like but were still very delicious.
If you have ripe peaches that you worry are TOO ripe for grilling, just skip the grilling step and add them directly to the salad. They will juicy and perfect!
Okay! Let's finish our Blue Cheese Steak Salad!
Finishing the Blue Cheese Steak Salad
Once you pull your grilled items off the grill, let them rest a bit while you make the rest of the salad.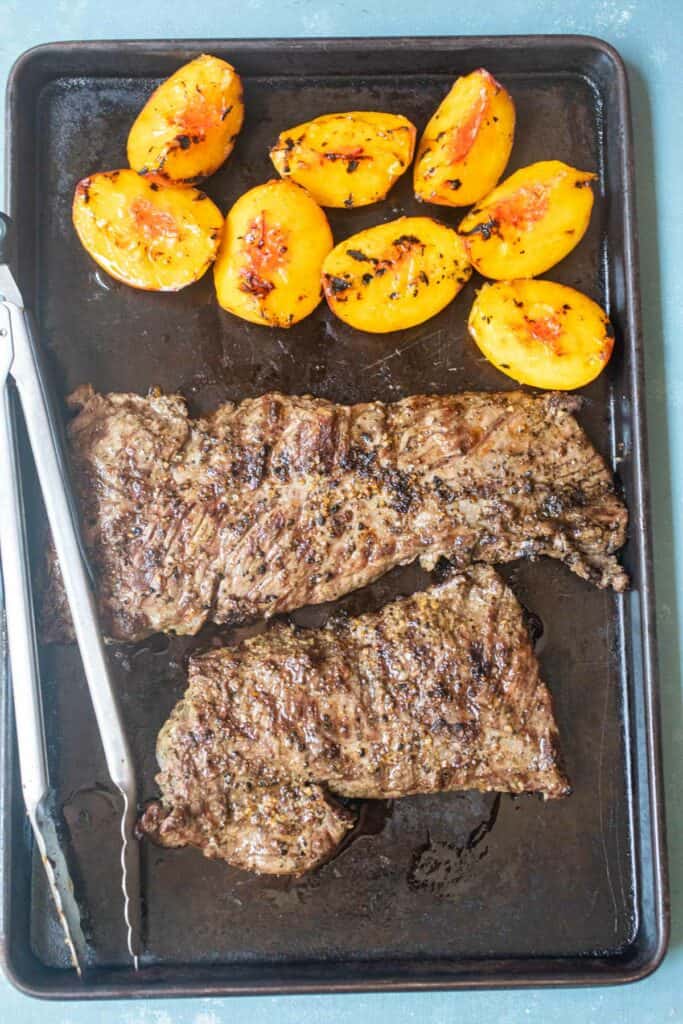 Whether you are using flank steak or skirt steak, be sure to slice it against the grain of the meat. This is very easy if you are using skirt steak which has a very noticeable grain to it.
Doing this will make each slice very tender and easy to eat, even without a steak knife.
When making the salad, toss the arugul with a tiny drizzle of olive oil and lemon. Then add sliced onions, blue cheese, peaches, and steak. YUM!
Substitutions for this steak salad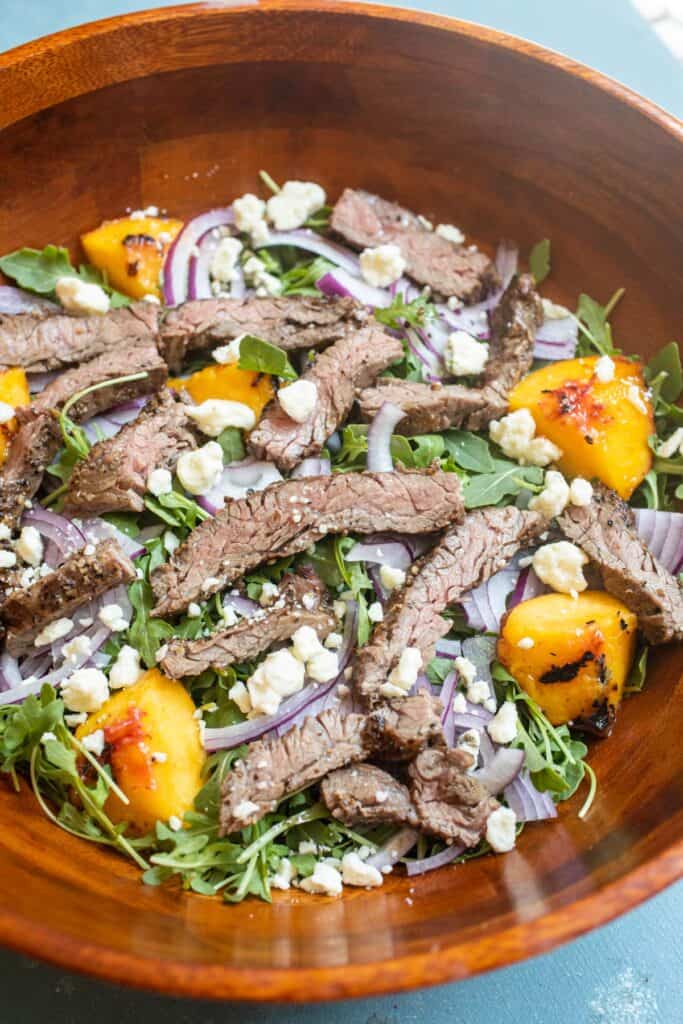 If these flavors aren't your jam, here are some substition ideas:
Leave out the blue cheese or switch it with a sharp cheddar or gouda cheese.
Instead of red onion, try it with capers or quick-pickled shallots
Use any mixed green instead of arugula for a slightly less peppery salad.
Grilled pork chops (and sliced thin) is a nice protein swap.
Blue Cheese Steak Salad with Grilled Peaches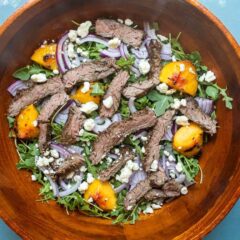 This grilled steak salad with ripe peaches is the perfect light meal to end summer. Served with arugula, it has a nice mix of flavors and is filling enough to work as a meal! Yay for grilled peaches!
Ingredients
1 ½ – 2

pounds

skirt steak or flank steak

2

tablespoons

Montreal Steak seasoning

2-3

peaches

,

quartered

¼

cup

olive oil

,

divided

5

ounces

baby arugula

½

red onion

,

sliced thin

4

ounces

crumbled blue cheese

Olive oil

,

for serving

Fresh lemon

,

for serving

Coarse sea salt

,

garnish
Instructions
Rub steak with about two tablespoons of oil on all sides and season well with montreal steak seasoning (or seasoning of your choice). Let rest for 5-10 minutes while you preheat your grill to medium-high heat, direct heat grilling.

Quarter peaches and remove the pits. Drizzle peaches well with oil and sprinkle with salt.

To grill steak, add to grill over direct heat and grill for 5-7 minutes per side (depending on thickness). When steak is done it will have good grill marks and register 135˚F in the thickest part of the steak. When steak is done, remove and let rest for 10 minutes before slicing and serving.

To grill peaches, clean grill really well and brush grill with some neutral oil. Add peaches when grill is hot and grill for about 2 minutes per side. If the peaches stick, then let them grill for another 30 seconds. Use a metal spatula to flip.

To assemble salad, add arugula to a large bowl and drizzle with olive oil and a squeeze of fresh lemon. Toss well. Then add red onions, sliced thin, crumbled cheese, and sliced steak and peaches. Garnish with a pinch of coarse salt.

Leftover steak will keep well in the fridge for 3-4 days. The grilled peaches won't last long in the fridge and should be eaten the same day.
Nutrition
Serving:
1
bowl
|
Calories:
543
kcal
|
Carbohydrates:
8
g
|
Protein:
62
g
|
Fat:
28
g
|
Saturated Fat:
10
g
|
Polyunsaturated Fat:
2
g
|
Monounsaturated Fat:
13
g
|
Cholesterol:
173
mg
|
Sodium:
371
mg
|
Potassium:
1121
mg
|
Fiber:
1
g
|
Sugar:
5
g
|
Vitamin A:
903
IU
|
Vitamin C:
6
mg
|
Calcium:
211
mg
|
Iron:
5
mg
Did you make this recipe?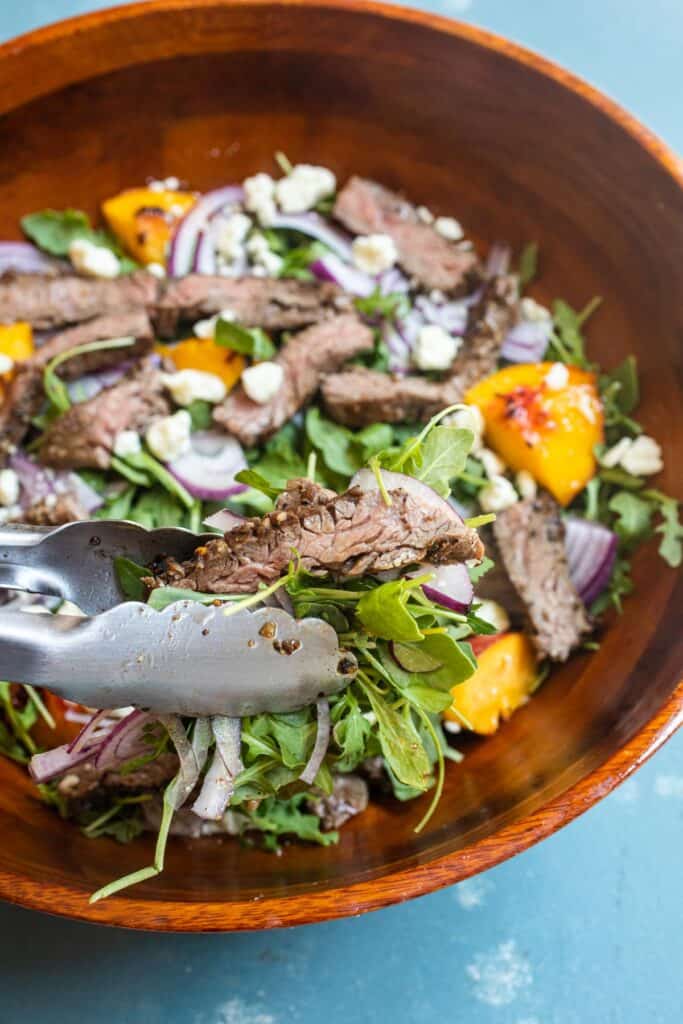 Here are a few other delicious recipes!