Fast breakfasts that are slightly upgraded from the standard are one of my favorite recipe categories to have mastered over my years of cooking. Recently, I've been cooking up these quick Breakfast Tostadas for me and my wife.
I will say that I normally make these on the weekend, but there's no reason for that. They are fast enough to be made on a weekday with no issue.
They are a great way to start the day! I'll admit that my kids aren't really into them and prefer just oatmeal or yogurt with toast, but for 10-15 minutes of work, I find them to be the perfect breakfast.
How to make the Tostada shell
Making tostadas isn't hard at all and takes just a few minutes. I add a good drizzle of oil to a skillet (the same one I'll cook the eggs in later). Place the skillet over medium heat and once it's hot, add a corn tortilla.
The tortilla will puff up a bit as it starts to cook and you should use a fork to poke some holes in it so steam can escape. A flat tortilla will fry more evenly!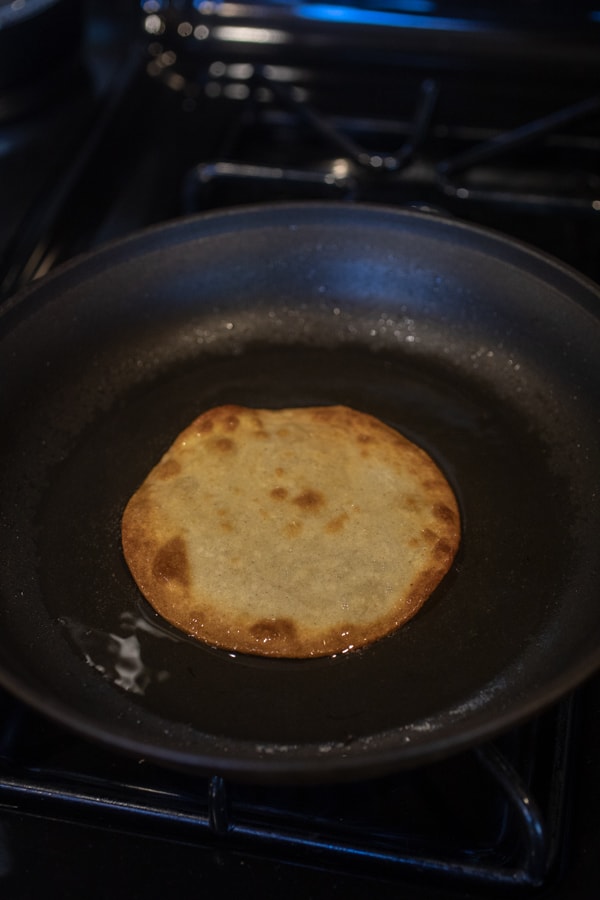 After a minute or two of frying, you can flip it and then after another minute or two you can let this tostada drain on a few paper towels. Beautifully crispy!
If you wanted to use a flour tortilla for these, you absolutely can but be careful. Flour tortillas fry much faster and have a tendency to burn in the oil so watch it closely. Also, I find that the flour tortillas will get soggy if they sit for too long once they are cooked.
Generally, I prefer corn tortilla, but I've used flour tortillas in a pinch and it can be done!
What to use as Breakfast Tostada Toppings
At its most basic, I recommend some smashed avocado and crumbled queso fresco or cotija cheese, but don't let that stop you from experimenting! Here are some other ideas:
Leftover taco filling
Black beans
Red onions
Diced tomatoes
Refried beans
Crumbled crispy bacon or cooked sausage
Salsa or hot sauce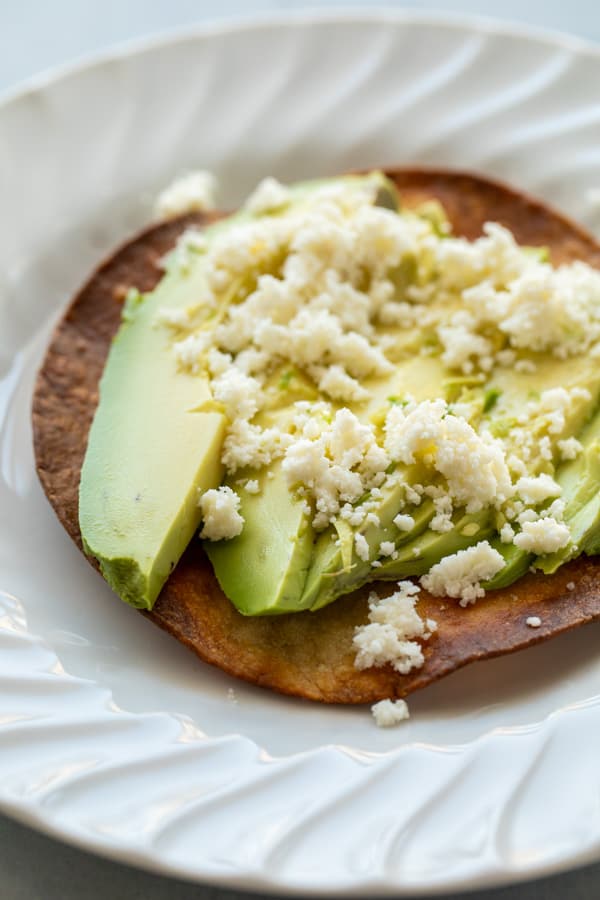 Cooking the Sunny-side up Egg
You better believe I'm putting a perfect sunny-side up egg on my breakfast tostada. I just use the same skillet I used to make the tostadas, crack in a few eggs, and once the whites have mostly set I cover the skillet for about 30 seconds to quickly steam the egg.
BOOM! Breakfast Tostada perfection.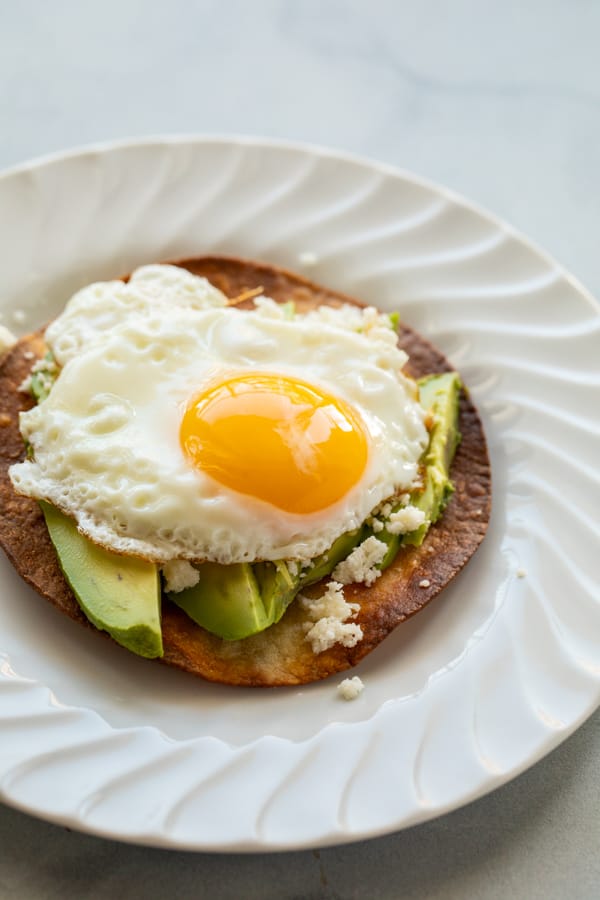 Layering and garnishing the tostada
Once you have your eggs cooked, your tortilla should be drained from any oil and you can assemble.
Add the tortilla to a plate and add some smashed avocado plus a pinch of salt, pepper, and chili powder (optional).
Of course, garnishing the breakfast tostadas is very important. I like a sprinkle of fresh cilantro and a dash of hot sauce.
How delicious does that look?!
Diving in is a really good treat. Honestly, one of these tostadas is a pretty good-sized serving, but I usually can't help myself and eat two of them.
Change up your quick breakfast routine with these breakfast tostadas!
Breakfast Tostada with Eggs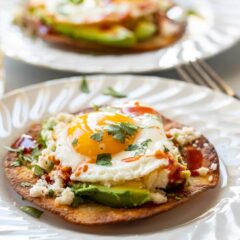 One of my favorite under-10-minute breakfast recipes! This fast breakfast tostada is a delicious way to start the day and always a hit with Tex-Mex lovers! Don't forget the egg on top and the hot sauce!
Ingredients
2

small corn tortillas

2

tablespoons

vegetable oil

½

ripe avocado

¼

cup

crumbled cotija cheese

2

large eggs

,

fried

Fresh cilantro

Hot sauce
Instructions
Add oil to a small skillet over medium heat. Once shimmering hot, add a corn tortilla and as it puffs up from the heat, use a fork to poke some holes in the tortilla to flatten it out. Fry for 1-2 minutes per side until crispy. Remove tortilla and let drain on a tortilla while you fry the other one.

When tortillas are done, crack in two eggs into the skillet. If the skillet is dry, add a fresh drizzle of oil. Fry the eggs for about 2 minutes, without flipping, until the whites are mostly set. Then cover the skillet and let steam for 30 seconds to set the whites but leave the yolk runny.

To plate tortillas, smash half an avocado and spread on crispy tortillas. Sprinkle liberally with cotija cheese. Top each tortilla with eggs and garnish with fresh cilantro and hot sauce. Serve immediately!
Nutrition
Serving:
1
Tostada
|
Calories:
740
kcal
|
Carbohydrates:
34
g
|
Protein:
21
g
|
Fat:
60
g
|
Saturated Fat:
14
g
|
Polyunsaturated Fat:
20
g
|
Monounsaturated Fat:
21
g
|
Trans Fat:
0.2
g
|
Cholesterol:
361
mg
|
Sodium:
583
mg
|
Potassium:
729
mg
|
Fiber:
10
g
|
Sugar:
1
g
|
Vitamin A:
781
IU
|
Vitamin C:
10
mg
|
Calcium:
288
mg
|
Iron:
3
mg
Did you make this recipe?
Here are a few other great Tex-Mex Breakfasts!