One unquestionable rule of cooking is that it's always a good idea to stuff things with other things. My good buddy Dan wrote an entire book on the subject, actually. Food stuffed with other food is the perfect category for this delicious Chile Relleno Burrito!
One specific fast-food company is especially good at this when it comes to Tex-Mex stuff. They put tacos inside of tacos and all kinds of weird stuff.
But they've never done a full chile relleno burrito. I've been on a big burrito kick lately and I thought it just might work out to line a tortilla with a roasted pepper and then stuff it and roll it up. Kind of like a chile relleno, but in burrito form.
Of course, it worked like a freakin' charm. I used some scrambled eggs and potatoes to make mine more of a breakfast chile relleno burrito but you could stuff it with anything really once you get the method down.
How To Video on Chile Relleno Burritos
What is a classic Chile Relleno?
A classic chile relleno is kind of a different beast than this burrito. Generally, a chile relleno is a roasted pepper that is stuffed and then deep fried so you get this nice combination of crunchy fried goodness, then cheesy interior and a slightly spicy pepper. It's a great combo and one of my favorite Mexican restaurant orders.
Roasting the Peppers
You could grill these peppers if the weather is cooperating, but the oven is always an option. Crank it up to 450 degrees F. and roast the peppers on a baking sheet until they are very blistered on all sides. It should take 12-15 minutes.
When the peppers come out, add them to a bowl and cover them with plastic wrap for about 10 minutes. This will let them steam and make them easier to peel.
After a few minutes, you should be able to take each pepper and peel or rub off most of the skin. It's okay if there are some skin still on them. Then cut off the stems and cut down one side of the pepper to make them lay flat. Scrap out any seeds as well.
This step of roasting the peppers is actually one of the longer pieces of cooking for this recipe and you can 100% do it in advance. Roast the peppers and they will keep well in the fridge for up to a week or you can freeze them for even longer.
Other Burrito Filling Ingredients
As I said, I kept my version for this post pretty simple because I was more concerned with the process than the fillings.
I just mixed up some scrambled eggs and quickly browned some cubed potatoes in a little olive oil.
Cheese isn't really optional in my opinion. You could use cheddar, pepper jack, or a more traditional queso fresco.
I also added in some diced red onions and avocado which will end up acting like a glue between the pepper and the tortilla.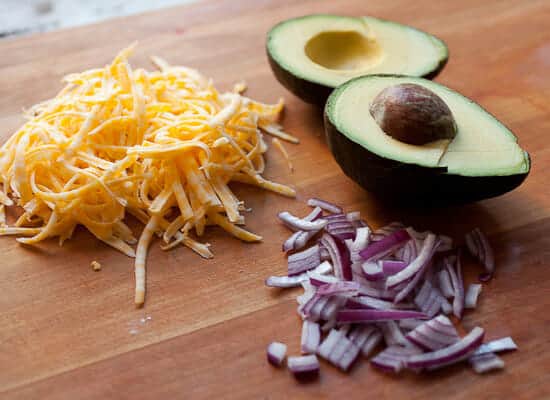 What tortillas work best for these burritos?
In short, something large. If you are buying tortillas from your normal grocery store you will want to choose a large or extra-large tortilla or one that is specifically labeled for burritos. 10" tortillas will work, but will be a bit tight. 12" tortillas are your best bet and what is normal for burritos.
Assembling the Burritos
This is a pretty straightforward process, but it does require that you have some pretty large tortillas. The small ones just won't work.
I like to start with a smear of avocado on the tortilla with makes the pepper stick to it nicely. Then add an entire pepper to the tortilla.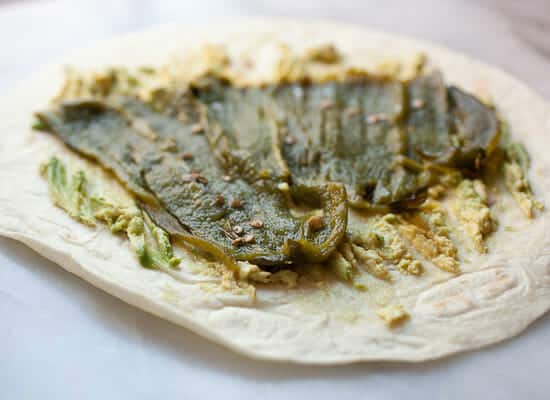 Then scoop in a good amount of whatever filling you're using. I used a handful of grated cheese, a full egg (scrambled), about 1/4 cup of potatoes, and small pinches of the other ingredients. Make it your own depending on your tortilla size and rolling abilities!
PRO TIP: If you add the cheese on top of the pepper and microwave it for 20 seconds before you add the other filling ingredients, the cheese will get really melted!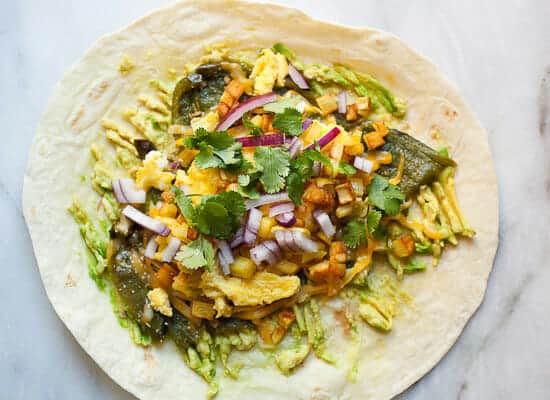 The important part when rolling this guy up is to make the pepper whole again, if that makes sense.
So you basically want the seam that you cut open to match up again. To make sure my filling stayed mostly in the burrito, I tucked the ends over, said a quick prayer, and rolled.
It was a bit awkward, but I got it done. If it's not perfect, don't worry. It'll still be good. I like to wrap mine in foil to keep everything warm. You can definitely eat these on the go!
Need a faster burrito option? Try my Microwaved Breakfast Burrito!
As with any burrito you could serve these guys with salsa, sour cream, or hot sauce… you get the idea.
I thought these were really fun and ended up being very pretty actually. They held their shape very nicely. I could've almost sliced them into coins.
Mark these Chile Relleno Burritos down as yet another example of why it's always a good idea to stuff things with other things!
Chili Relleno Burrito
A huge burrito stuffed with an entire chile relleno! Cheese, eggs, potatoes, and avocado. A Tex-Mex masterpiece!
Ingredients
4

large flour tortillas

4

poblano peppers

,

roasted

4

ounces

cheddar cheese

,

shredded

4

large eggs

,

scrambled

1

large potato

,

cubed and sauteed

2

tbsp

Olive oil

1

Red onion

,

sliced thin

1

avocado

,

sliced

1

Pinch

of salt and pepper

Cilantro

,

garnish

Hot sauce

,

garnish
Instructions
Roast poblano peppers either on a very hot grill or in a 450 degree F. oven. Rotate every few minutes until peppers are completely charred.

Add peppers to a bowl and cover with plastic wrap. Let steam for 10 minutes. Then rub off skin of peppers, cut off stems, slice down one side of pepper and remove seeds.

Peel and cube potatoes and cook in a little olive oil until browned. Season with salt and pepper. Scramble eggs over medium-low heat until they are just cooked.

Spread 1/4 of an avocado on each tortilla and place a peeled and seeded roasted poblano on the avocado.

Sprinkle the pepper with cheese and (optionally) microwave for 20 seconds on high to melt cheese.

Add eggs, potatoes, red onion, cilantro, and any other fillings you want.

Fold the tortilla ends over and roll burrito in the same direction as the pepper.

Wrap burrito in foil and/or serve with salsa, sour cream, and hot sauce.
Nutrition
Calories:
488
kcal
|
Carbohydrates:
38
g
|
Protein:
18
g
|
Fat:
31
g
|
Saturated Fat:
10
g
|
Polyunsaturated Fat:
4
g
|
Monounsaturated Fat:
14
g
|
Trans Fat:
0.02
g
|
Cholesterol:
192
mg
|
Sodium:
480
mg
|
Potassium:
836
mg
|
Fiber:
8
g
|
Sugar:
6
g
|
Vitamin A:
1037
IU
|
Vitamin C:
113
mg
|
Calcium:
300
mg
|
Iron:
3
mg
Did you make this recipe?
Here are a few other great recipes to try!