The Breakfast Crunch Wrap is my answer to the classic Tex-Mex dilemma : Flour tortilla or corn tortilla? Soft tortilla or crunchy tortilla?
If you're an indecisive Tex-Mex lover these decisions can really weigh on you (first world problems, I know).
The genius of the breakfast crunch wrap is that it completely solves all of these issues by combining everything in one magical wrap. You get the corn tortilla that's crunchy folded into a soft flour tortilla.
While the method is more important than the fillings, I went ahead and made a breakfast crunch wrap version for this post. Once you get it down though you could fill your crunch wraps with any Tex-Mex filling under the sun.
Breakfast Crunch Wraps
How to make homemade breakfast crunch wraps for the indecisive Tex-Mex lover who wants a crispy shell and a soft tortilla!
Ingredients
1

large red potato

,

diced

½

red pepper

,

diced

½

green pepper

,

diced

½

red onion

,

diced

¼

cup

tomatillo salsa

2

tablespoons

olive oil

2

eggs

,

scrambled

2

6-inch

corn tortillas

,

crispy

2

large burrito sized flour tortillas

4

ounces

pepper jack cheese

,

grated

Salt and pepper

Hot sauce

,

for serving

Cilantro

,

garnish
Instructions
Cook corn tortillas until they are crispy, either by baking them at 375 degrees F. for 10-12 minutes or by lightly frying them in a skillet with a drizzle of oil. Set crispy corn tortillas aside (you can also buy crispy tostadas).

Add vegetables to a skillet with a drizzle of oil and season with salt and pepper. Cook until veggies soften, 6-8 minutes. Then stir in salsa. Remove filling from skillet and wipe out skillet.

In a separate, small skillet, add a small drizzle of oil over medium heat. Add scrambled eggs and cook gently until they are almost cooked through. It's okay if they are slightly undercooked. Season with a pinch of salt and remove from heat.

To make crunch wraps, set down a flour tortilla and sprinkle some cheese right in the center. Place crunchy corn tortilla on the cheese. Top with half of the filling (veg and egg) and sprinkle with more cheese.

Fold flour tortilla up and around the filling, enclosing it completely.

Heat a drizzle of oil in your skillet over medium heat. Place the wrap in the skillet fold-side down and cook for 3-4 minutes so the tortilla seals closed. Then flip and cook for another 3-4 minutes.

Remove from skillet and keep warm in a warm oven while you make the second one. Serve crunch wraps with hot sauce garnished with fresh cilantro.
Nutrition
Serving:
1
Crunch Wrap
|
Calories:
659
kcal
|
Carbohydrates:
52
g
|
Protein:
26
g
|
Fat:
39
g
|
Saturated Fat:
15
g
|
Polyunsaturated Fat:
4
g
|
Monounsaturated Fat:
18
g
|
Trans Fat:
0.01
g
|
Cholesterol:
214
mg
|
Sodium:
861
mg
|
Potassium:
890
mg
|
Fiber:
6
g
|
Sugar:
8
g
|
Vitamin A:
1900
IU
|
Vitamin C:
74
mg
|
Calcium:
535
mg
|
Iron:
4
mg
Did you make this recipe?
Breakfast Crunch Wrap Fillings
In my opinion any good breakfast burrito will have eggs and potatoes. To be honest, I don't even need meat in mine. Just pack it with those things and I'm all set.
Could you add bacon or ham? Certainly. I wouldn't stop you, but keeping it simple works too.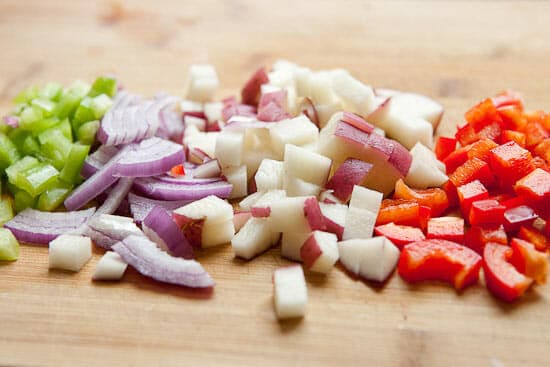 Toss all your veggies in a skillet with a drizzle of oil and cook them over medium heat until they are soft and the potatoes are fork tender. Some of the veggies might get a bit more charred than others and that's just fine by me!
Once they are cooked, stir in the tomatillo salsa and season them with salt and pepper. That's a great veggie base for any burrito.
An egg is necessary for a breakfast anything. Just scramble the eggs and cook them over medium heat until they are just set (oil or butter will work).
The eggs will continue to cook in the crunch wrap so it's okay for them to be a bit undercooked at this point.
Making the Breakfast Crunch Wrap
For this to work, you need two things:
1) Large flour tortillas. These are usually labeled as burrito sized but get the largest you can find.
2) Crunchy 6-inch corn tortillas. You can either buy the already crunchy tostadas or take some corn tortillas and bake them at 375 degrees until they are nice and crispy.
Start the breakfast crunch wrap by putting down a sprinkle of cheese in the center of the flour tortilla and placing the corn tortilla on top. This is cheese glue.
Then pile on half of your fillings, eggs and vegetables. More cheese! Always more cheese!
You can stuff these pretty full, but leave about 2 inches around the exterior for folding.
These aren't terribly hard to fold once you get them filled. Just fold over one edge and then work around the burrito, folding up the tortilla as you go.
When you're done, your wrap will want to unwrap so you'll have to hold it closed until you cook it.
It's a thing of beauty though!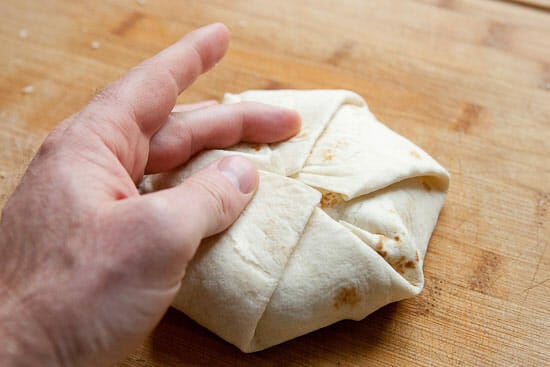 Cooking the Wrap
Add a drizzle of oil to a skillet over medium heat (you can use the same one you used for the veggies, just wipe it out). Then place the wrap folded-side down in the skillet. Let it cook for about 4 minutes and it will seal the wrap closed.
Then you can flip it and cook it for a few minutes on the second side.
Look at this sucker!
When the tortilla has browned slightly on each side, they are done.
You can keep these warm in a 200 degree oven or just serve them right away. I like to chop mine in half for easier handling.
These breakfast crunch wraps are so good!
Betsy and I ate them for more than one meal once I had the method down.
Are you a crunch wrap fan? What would you put in yours?