This Stuffed Griddle Cake recipe was updated on June 17th, 2021 to include new photos and description.
There is a certain pancake or griddle cake that haunted my dreams for a few years. The breakfast dish is centered around light and fluffy corn cakes that are stuffed with delicious things.
Most recently, we tried them out at The Village Smithy in Carbondale.
While The Village Smithy claims to be the creator of the breakfast dish, a copy of it can also be found at the famous Pancake Pantry in Nashville.
In other words, this dish gets around.
So I figured my Bacon Stuffed Griddle Cakes recipe might as well make its debut on Macheesmo.
I was very scared to make this dish. Some breakfast institutions make it and I would hate to not do it justice.
When my wife (official griddle cake taste-tester) took her first bite, she proclaimed: "Yours are better."
'Nuff said.
I've been making some version of these griddle cakes for YEARS now and they are always a hit on any breakfast table.
How to Make Griddle Cake Batter
I really struggled over what kind of cake to make for this. Betsy actually had some cakes leftover from when we went to The Village Smithy and I inspected them pretty closely. I think they use a cornmeal/flour blend for their cakes.
Ultimately, I decided to go a slightly different route and use a 100% cornmeal mix that ended up being wonderful and actually gluten free.
The recipe I ended up with is one that I adapted from an old Bittman recipe (I added an egg and subtracted some other stuff).
Being the cocky cook that I am, I didn't even read the full recipe before starting it. I just stirred my milk straight into my cornmeal.
Needless to say that this didn't work. I ended up with a very thick paste that would not be good in pancake form.
I was about to write Mr. Bittman a mean letter, but then I actually read the recipe and step one was to add 1 1/2 cups of boiling water to the cornmeal.
That made MUCH more sense. You need to hydrate the cornmeal before you add other stuff to it! So after adding boiling water to the cornmeal you'll have this:
Then you can stir in your milk, olive oil, and egg and your batter will be just about perfect.
The batter should be similar to pancake batter so if it seems too thick, feel free to add a bit more milk to thin it out.
Filling options for Griddle Cakes
I kept my filling simple: bacon, scallions, grated cheese.
Here are some other options for filling!
Mushroom and Gouda Cheese
Spicy peppers and Queso Fresco
Ham, Green peppers, and Cheddar
Then just stir all your filling ingredients together!
Making the Griddle Cakes
I was not positive that I would be able to fill these successfully. I had a few different methods that I was going to try, but luckily the first method worked like a charm.
Here's what you do.
Heat a griddle or large skillet over medium heat with a drizzle of oil. Then add in 1/4 cup (1/3 would make a really big cake) of corn cake batter.
Immediately top the batter with a small hand full of the filling mixture. It's okay if it spills over a bit.
Press down on the filling a bit to get it kind of sunk into the pancake.
As soon as your filling is in place, add another 1/4 cup (or 1/3 cup) of batter to the top of the filling.
It's okay if the batter doesn't completely cover the filling but try to get it to mostly cover it.
Let this cook for about 4 minutes until the edges of the cake are really nice and firm.
Then give it a flip!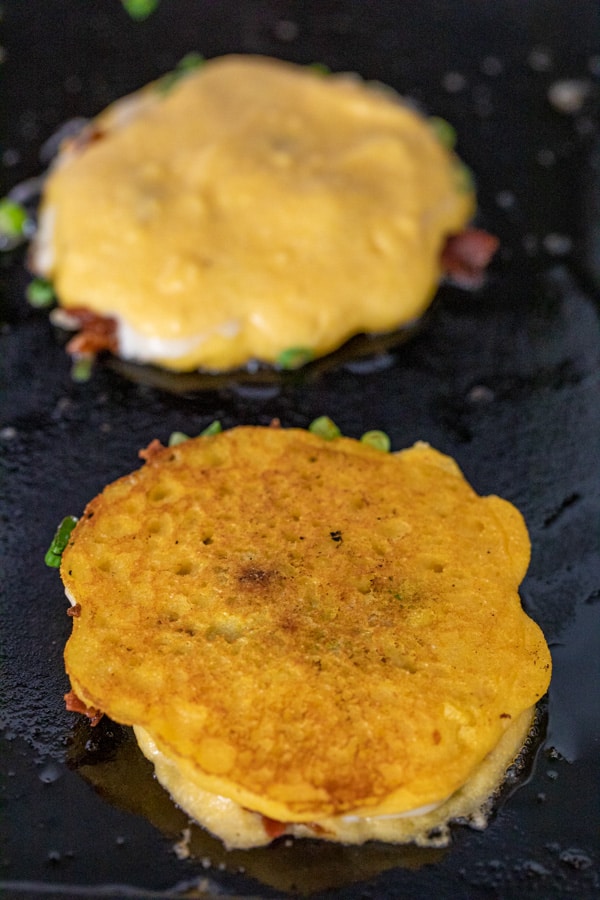 Cook the cake for another three minutes or so on the second side and serve these up as soon as possible!
Serving the Cakes
Sometimes I'll see savory griddle cakes like this served with salsa, but I don't dig the texture of that. Instead I go for a savory/sweet approach and serve mine with maple syrup!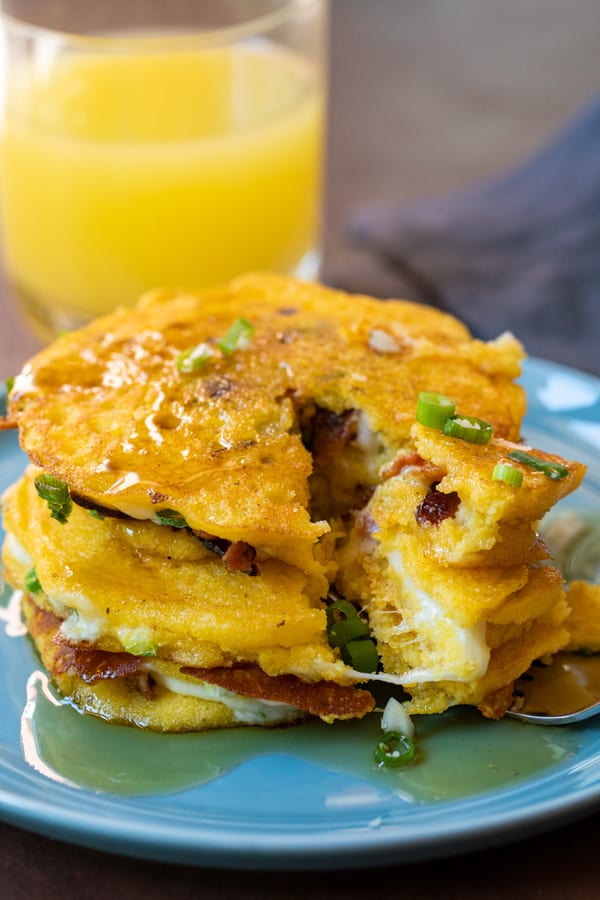 As you can see from the cross section, the cakes are incredibly light and the filling is right in the middle.
I was actually shocked at how well these came out!
I was surprised that Betsy thought my version was better but then after trying it, I had to agree with her.
These Bacon Stuffed Griddle Cakes were the perfect breakfast!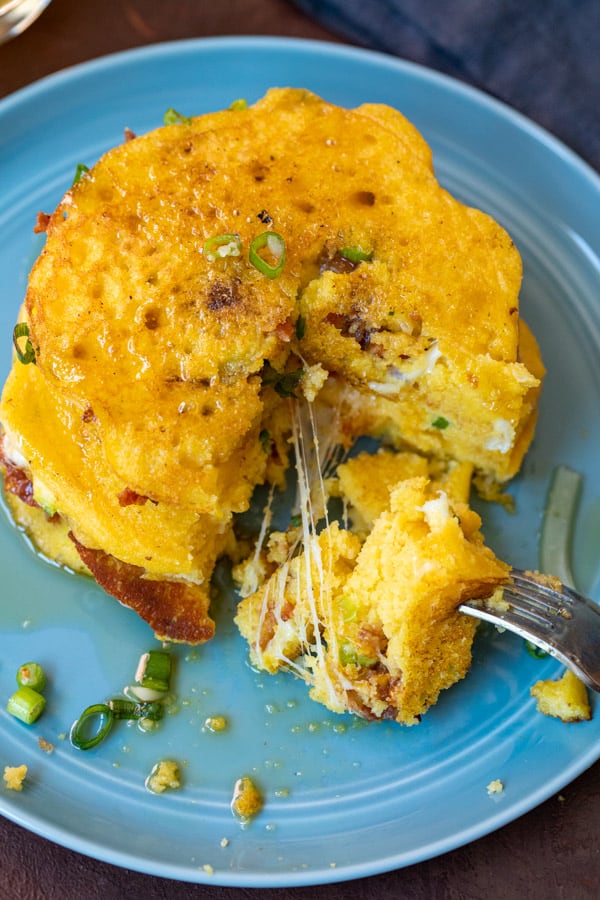 Bacon Stuffed Griddle Cakes
Light and fluffy griddle cakes that are stuffed with delicious bacon, scallions, and cheese. This is the perfect breakfast!
Ingredients
Corn Cake Mixture:
1 ½

cups

fine or medium ground cornmeal

1

teaspoon

salt

1 ½

cups

boiling water

½

cup

milk

2

tablespoons

olive oil plus some for cooking

1

tablespoon

sugar

1

large egg
Filling:
4

large strips bacon

,

diced

3-4

scallions

,

minced

1

cup

shredded cheese

Maple Syrup

,

for serving
Instructions
Stir together cornmeal and salt. Add boiling water and stir. Let sit for 5-10 minutes so water can absorb.

Stir in milk, olive oil, and egg into batter. Let rest while you make filling.

Bake bacon until crispy at 350 degrees or cook in a skillet until crispy over medium heat. Dice or crumble the bacon and stir in with diced scallions and grated cheese.

To make cakes, add a drizzle of oil to a griddle or large skillet over medium heat. Once hot, add ¼ cup of the cornmeal batter.

Immediately top batter with a small handful of the bacon filling. Spoon another ¼ cup of batter over the top of the filling so it mostly covers the filling. It's okay if it doesn't cover everything.

Let cook for 3-4 minutes or until the edges are firm around the griddle cake.

Flip cake and cook for another few minutes until they are cooked through.

Serve cakes immediately with maple syrup!
Nutrition
Serving:
1
Pancake
|
Calories:
345
kcal
|
Carbohydrates:
33
g
|
Protein:
12
g
|
Fat:
18
g
|
Saturated Fat:
6
g
|
Polyunsaturated Fat:
3
g
|
Monounsaturated Fat:
8
g
|
Trans Fat:
0.02
g
|
Cholesterol:
54
mg
|
Sodium:
625
mg
|
Potassium:
229
mg
|
Fiber:
4
g
|
Sugar:
4
g
|
Vitamin A:
264
IU
|
Vitamin C:
1
mg
|
Calcium:
133
mg
|
Iron:
2
mg
Did you make this recipe?
Here are a few other great recipes!