When Betsy and I were in Peru we noticed a strange meal phenomenon: Carbs on carbs. My favorite version of this trend is Lomo Saltado, a simple beef stir-fry that is served with rice AND french fries. You have to try it to believe it, but it's very delicious.
Frequently we would have a meal that involved some sort of fried (delicious) carb like potatoes served on a bed of carbs (rice). The key to pulling off this carb-on-carb situation is to make sure you have a flavorful and spicy sauce to balance out the starches in the carbs.
I used a mix of green and red peppers for my version of lomo saltado and got pretty close to the flavors.
Lomo Saltado
Lomo Saltado is a classic Peruvian stir fry dish made with sirloin steak and french fries served over rice and topped with a flavorful spicy pepper sauce.
Ingredients
1

large russet potato

,

cut into matchsticks, fried

1

pound

sirloin

,

sliced thin

1

red onion

,

chopped

3

medium tomatoes

,

diced

2-3

Serrano peppers

,

chopped

1

red jalapeno

,

chopped

2

cloves

garlic

,

minced

1

teaspoon

ground cumin

2

tablespoons

tomato paste

1

tablespoon

soy sauce

¼

cup

red wine vinegar

¼

cup

beer

Salt and pepper

Fresh cilantro

,

garnish

Rice

,

for serving

Oil for frying
Instructions
Slice potato into matchsticks and add to a small bowl of cold water to rinse briefly. Drain potatoes and dry them on a few paper towels. Slice veggies for the stir-fry and cut steak in to small strips. Whisk together soy sauce, tomato paste, vinegar, and cumin to make a sauce.

Heat about two inches of oil in a sturdy pot or wok until it registers 350 degrees Fahrenheit. Add potatoes and fry until they are golden brown, about 6-8 minutes.

Remove potatoes and let the fries drain on a few paper towels, then keep them warm in a 300 degree oven until needed.

Carefully pour out oil in the wok. Add beef and stir-fry for a few minutes over medium-high heat until it is just cooked through which should just take a few minutes.

Remove beef and add veggies to the wok. Cook for a few minutes until they are cooked through, but still a bit crispy. Add beer to pan and use the liquid to scrape up any bits.

Stir in sauce and let thicken for a minute. Then add beef to reheat.

Serve stir-fry over rice with fresh cilantro and potatoes on the side.
Nutrition
Serving:
1
bowl
|
Calories:
442
kcal
|
Carbohydrates:
35
g
|
Protein:
30
g
|
Fat:
20
g
|
Saturated Fat:
3
g
|
Polyunsaturated Fat:
4
g
|
Monounsaturated Fat:
11
g
|
Trans Fat:
0.1
g
|
Cholesterol:
69
mg
|
Sodium:
393
mg
|
Potassium:
1028
mg
|
Fiber:
4
g
|
Sugar:
5
g
|
Vitamin A:
960
IU
|
Vitamin C:
34
mg
|
Calcium:
69
mg
|
Iron:
4
mg
Did you make this recipe?
What is Lomo Saltado?
One of the more popular dishes in Peru is a simple beef stir-fry that features a mix called Lomo Saltado, fried beef. It's a simple stir-fry that traditionally uses a very specific kind of pepper which happens to be pretty hard to find in the US.
But luckily we can get close to it with a mix of readily available peppers and serve it in a classic way, with French Fries believe it or not. The french fries are great at soaking up any sauce in the bowl.
You should not be intimidated by Lomo Saltado. It is your friend and should be on your dinner table!
Lomo Saltado: Carbs on Carbs
Traditionally, this dish includes both fried potatoes and rice which is kind of a strange mix. If you are skeptical (or just don't want to fry potatoes), you can leave them out obviously and just serve it like a standard stir fry.
Also, as a short-cut you could use frozen french fries.
If you want to do it from scratch though, slice a large potato into matchsticks and then rinse them in cold water to wash off some of the starch. Dry them on a paper towel to pull off the moisture.
Add a few inches of oil to a wok or a large, sturdy pot and heat the oil to 350 degrees. As always, I recommend using a deep fry thermometer to make sure your temperature is right.
These guys will need to fry for 6-8 minutes and should turn nice and golden brown when they are done.
Drain the finished fries on a paper towel and then keep them warm in a 300 degree Fahrenheit oven until you're ready to serve them.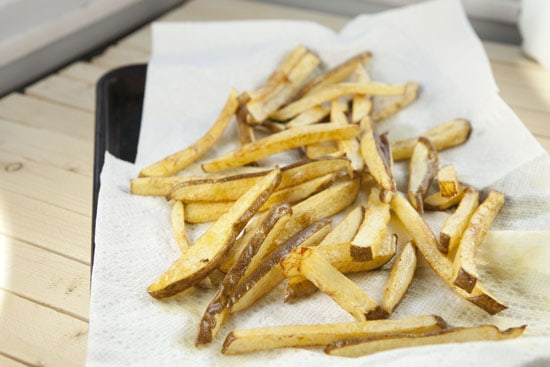 Making the Lomo Saltado
I had some version of this dish three times while we were in Peru and my experiences ranged from amazingly delicious to, well, not.
The key to success is to make sure you use enough peppers and sauce to give you something to balance out all the carbs. Also, be sure to cook your beef fast over high heat and then not over-cook it or it will dry out and you'll have leather saltado.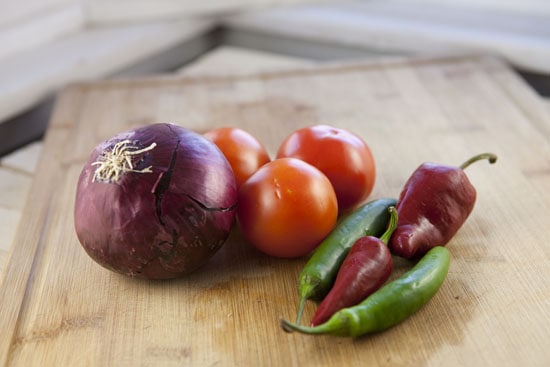 You can chop your veggies very roughly for this dish. I just roughly diced up my onion and tomatoes and sliced my peppers roughly.
Note: If you can't find any decent tomatoes, I think you could use canned whole tomatoes. Just use 2-3 whole canned tomatoes and it should work out okay.
The sauce for this Lomo Saltado is very important. The vinegar really makes the whole dish in my opinion. Just whisk together the soy sauce with the vinegar and the cumin and tomato paste.
You could use many different cuts of beef for this, but I like a nice piece of sirloin steak which I sliced thin and tried to remove any large pieces of fat.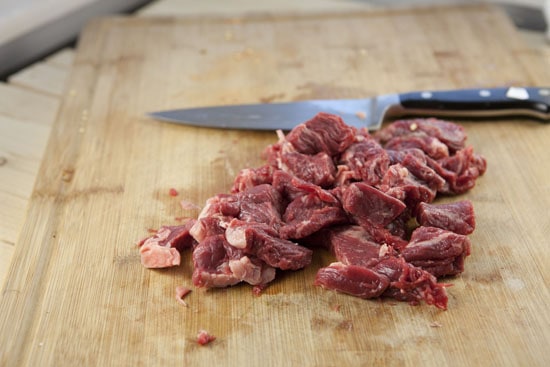 Get your wok or skillet hot over high heat and then add a drizzle of oil if your pan is dry.
Cook until your beef and brown it well on all sides. It should only need 4-5 minutes to cook through. Whatever you do, try not to overcook the beef or it will turn tough later in the dish.
Finishing the Lomo Saltado: Timing is Key
It's really important that you don't let the steak sit in the hot pan while you cook the veggies and stuff as it will get really tough. So take it out and then add your veggies.
Once they cook for a minute or two and start to brown, pour your beer into the pan and use the liquid to scrape up any bits stuck to the pan.
Then add your sauce and let it thicken for a minute or two.
Toss your beef back in at the end just to warm it up.
Serve this Lomo Saltado stir-fry over rice with fresh cilantro and a handful of fries on the side!
I realize that rice and french fries are not a typical American combination, but it actually does work pretty well if you make sure to make it spicy and use lots of vinegar!
To be honest, I thought the Lomo Saltado dish was great without the fries, but I'm not one to shun tradition!
Here are a few other great beef recipes!