This is a sponsored post written by me on behalf of Laura's Lean. I used their 96% Laura's Lean Ground Beef for this Beef Pad Thai. Be sure to follow them on Instagram for more great recipes!
I love trying recipes from other cultures and Asian noodle dishes, like Pad Thai, is one of my favorite dishes to experiment with. The dish is flexible enough to be able to adapt to different proteins, but you shouldn't veer too far from the basics of the dish or you'll lose its special tang and flavor.
Generally, you will find pad Thai with shrimp or chicken, but I actually love it with lean ground beef, which complements the sauce nicely and adds loads of protein to the recipe. Plus, it cooks fast and, since I use Laura's Lean Ground Beef, it's readily available and I can know that it has no hormones or antibiotics added.
Let's dig in and make this wonderful Beef Pad Thai recipe!
What is Pad Thai?
Pad Thai, at its base, is a noodle stir-fry. Normally, it is made with rice noodles which get stir-fried in a mix of protein, onions, chives (traditionally garlic chives), bean sprouts, and a tangy sweet sauce.
You will frequently see pad Thai made with chicken and/or shrimp but it works well with almost any protein. If you are using ground beef, like I did for this recipe, it's important to use a lean ground beef as you wouldn't want to add extra fat to the stir-fry, which would make the final dish greasy.
How to make pad Thai sauce
The sauce is very important to a good pad Thai recipe. While you can find store-bought pad Thai sauces, I've never found one that I thought brought the traditional tang that I love. That means I always make mine and I would encourage you to make yours as well!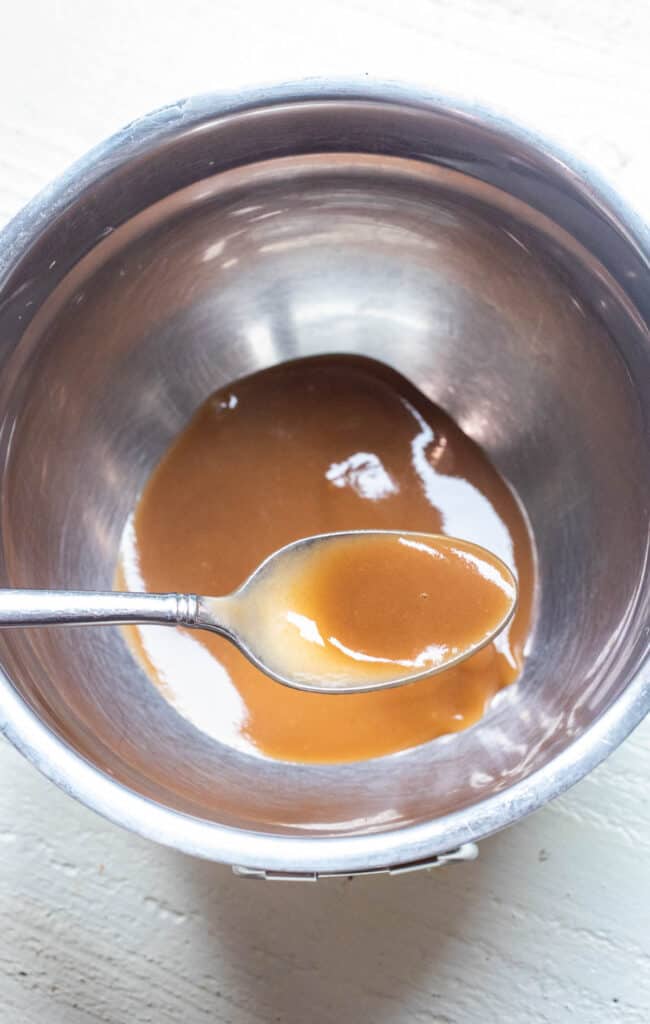 The hardest thing to find in the sauce is a tamarind paste or concentrate. If you can't find a tamarind paste at your grocery store, you can order it online as well. Most big grocery stores will carry at least one kind though.
If you are using the paste, be sure to follow the instructions as you'll have to reconstitute it in water before adding it to the pad Thai sauce.
Other than that, the sauce has easy-to-find ingredients: fish sauce, brown sugar, oyster sauce, and fresh lime.
While it is a strong sauce, I do recommend tasting it before adding it to the stir-fry. It'll be potent, but you can adjust any flavors that seem unbalanced. Feel free to add an extra pinch of sugar or squeeze of lime to balance the flavors.
How to use beef in pad Thai
The most important thing about using beef in a pad Thai is to use a lean ground beef so it doesn't produce too much fat, which will make the finished stir-fry really greasy.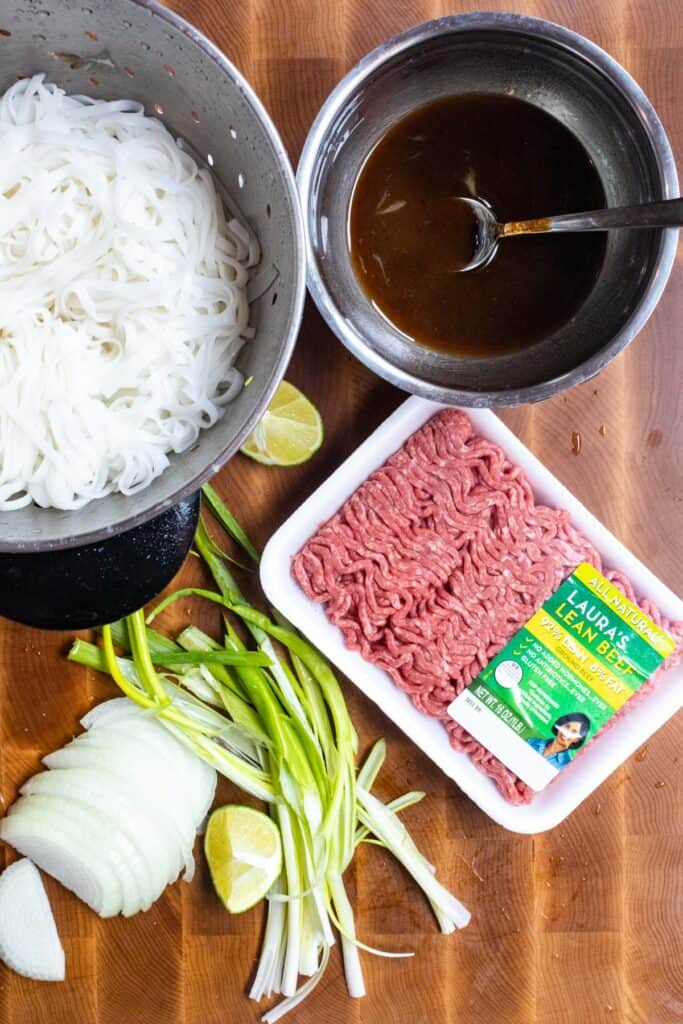 To start the pad Thai, cook the beef first in a large wok or skillet over medium heat. Add some oil to the wok and then break up the beef as it cooks and browns. When it is completely cooked, then add the sliced onion and let them soften for a few minutes.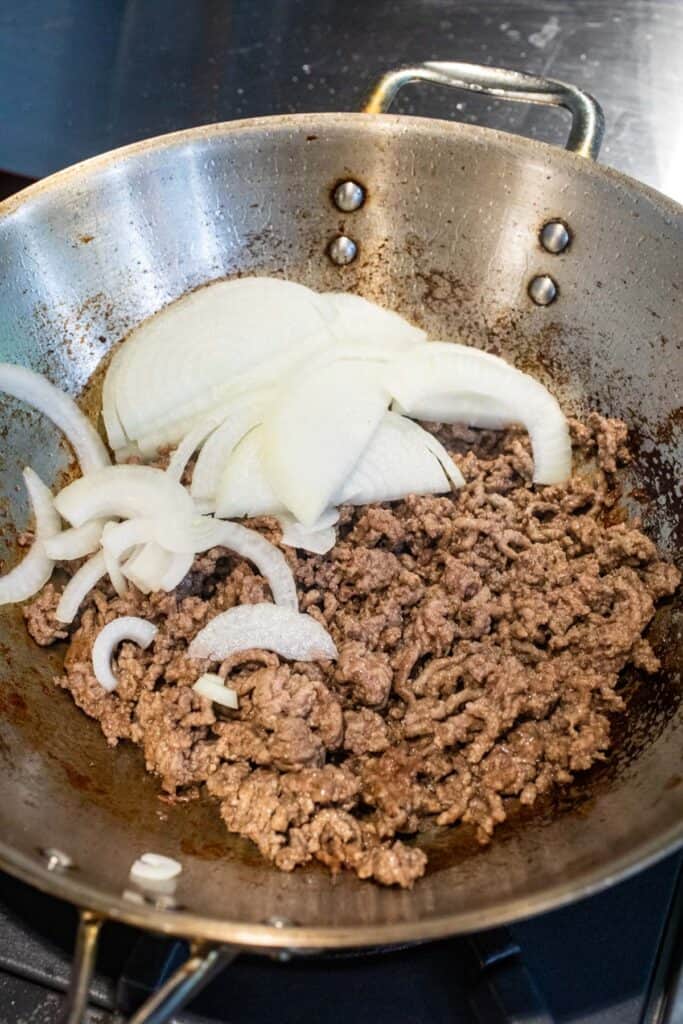 How to finish the beef pad Thai
Once your beef and onions are cooked, move them to the side of the skillet, and add a fresh drizzle of oil. Add your eggs and scramble then. Once they are incorporated, stir them into the beef mixture.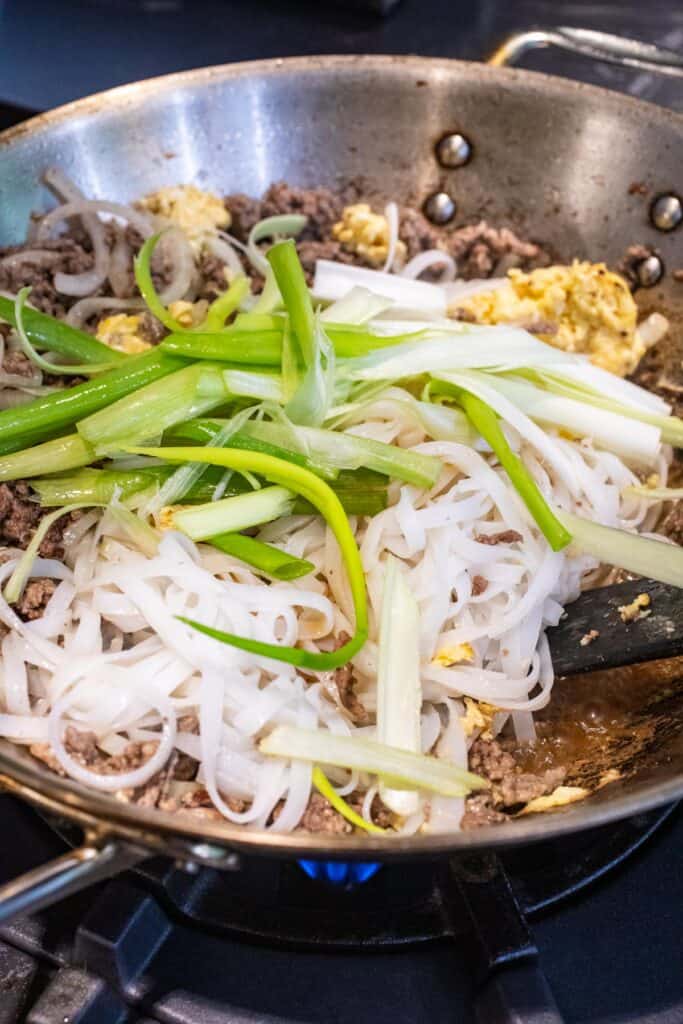 Then you can add the noodles, bean sprouts (fresh are best, but canned are okay), scallions or chives, and the pad Thai sauce you made.
Once everything is added, just toss the dish together to warm everything through and combine flavors and you're done!
Serve the pad Thai garnished with chopped peanuts and maybe a handful of extra scallions.
Beef Pad Thai
Beef Pad Thai is a fun twist on the classic noodle stir-fry dish! It gives the dish a huge protein boost without making it greasy. Don't skimp on the homemade Pad Thai sauce also!
Ingredients
Pad Thai Sauce:
¼

cup

tamarind puree

¼

cup

brown sugar

¼

cup

fish sauce

2

tbsp

oyster sauce

1

lime

,

juice only

1

pound

Laura's Lean Ground Beef

2

tablespoons

oil

½

white onion

,

sliced thin

8

ounces

pad Thai rice noodles

3

eggs

,

whisked

1

cup

bean sprouts

4

scallions

,

sliced long

½

cup

roasted peanuts
Instructions
Whisk together sauce ingredients until smooth and combined well.

Cook rice noodles according to package. Some require boiling while others recommend just soaking in hot water. No matter the method, rinse with cold water to prevent over-cooking.

In a large wok or skillet over medium heat, add oil and ground beef. Use a wood spatula or spoon to break up the ground beef as it cooks and browns. Brown the beef until fully cooked.

Add onions to the beef and cook until the onions soften, 3-4 minutes.

Move the beef and onion mixture to one side and add a small drizzle of oil to the skillet if it's dry. Add eggs and cook until scrambled, maybe one minute.

Add rice noodles to the skillet along with bean sprouts, scallions, and sauce. Toss together well.

Add half of the peanuts to the pad thai and toss together well. Taste and adjust to your liking.

Plate up the pad thai immediately and garnish with extra scallion and peanuts.
Nutrition
Serving:
1
plate
|
Calories:
444
kcal
|
Carbohydrates:
28
g
|
Protein:
21
g
|
Fat:
28
g
|
Saturated Fat:
8
g
|
Polyunsaturated Fat:
4
g
|
Monounsaturated Fat:
13
g
|
Trans Fat:
1
g
|
Cholesterol:
136
mg
|
Sodium:
1071
mg
|
Potassium:
478
mg
|
Fiber:
3
g
|
Sugar:
13
g
|
Vitamin A:
211
IU
|
Vitamin C:
8
mg
|
Calcium:
71
mg
|
Iron:
3
mg
Did you make this recipe?
Storing and reheating beef pad Thai
Beef pad Thai keeps well for 3-4 days in the fridge. It reheats okay in the microwave with a splash of water, but is best to reheat in a skillet over low heat with a splash of water or chicken stock.
Here are a few other delicious recipes!