Sometimes recipes are just plain easier than they should be based on how delicious the final result is. This Ricotta Pasta Sauce recipe, with a whole head of roasted garlic, is a perfect example.
It's so easy to mix together, and if done correctly you'll be let with a wonderfully creamy pasta sauce!
Making the Roasted Garlic
I'm trying to think if there's any kitchen scent I would rank above the smell of roasted garlic. I seriously can't think of one. Any time I roast a clove of garlic, I want to open my windows, not to let the smell out, but to give the rest of the neighborhood a little taste of the deliciousness.
It makes me hungry just writing about it.
The hard part about roasting garlic is, well, nothing technically. It's about the easiest thing you can do in a kitchen. The hard part is not eating all the cloves, one at a time on crackers or toast, before you make what you are actually supposed to be making. If you're me, just roast two bulbs of the stuff and use one for snacking and one for recipe making. Problem solved.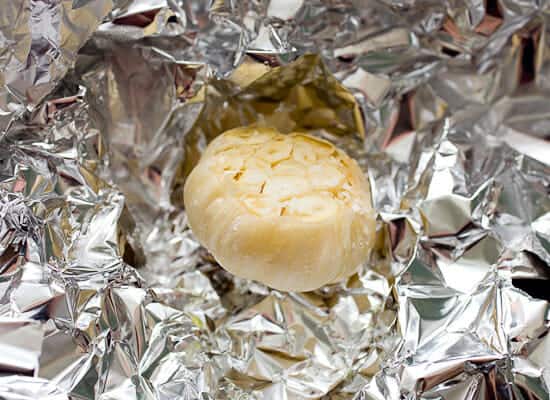 To roast a clove of garlic, just cut off the point end of the bulb, exposing all the cloves. Drizzle with olive oil and a pinch of salt and wrap tightly in foil. Roast at 350˚F for 30 minutes or so. Once the bulb cools slightly you can squeeze the roasted cloves out with your fingers.
If you've never had roasted garlic, you are missing out. It's so good. You can literally just eat the cloves by themselves. They are sweet and flavorful and have just a touch of garlic bite.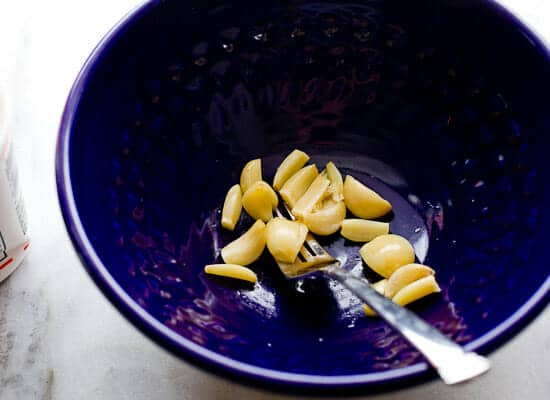 What kind of ricotta cheese to buy
Depending on the market, you may not have a ton of options when it comes to ricotta, but if you can find a whole milk ricotta that will best for this recipe since it's rich and creamy. Sometimes you might see ricotta salata in the cheese area, but this is a firmer cheese and won't work for this recipe. You have to start with fresh, creamy ricotta for this to work.
Making a Ricotta Pasta Sauce
If done correctly, ricotta cheese can be used to make one of the better pasta sauces I've had in a while. If you're in a pasta rut with marinara or some boring jarred Alfredo sauce, this roasted garlic ricotta pasta sauce is a must-try!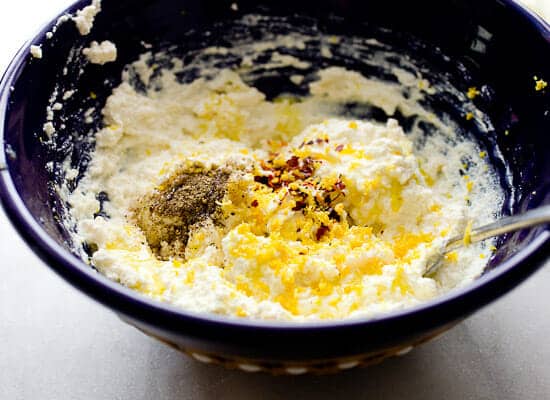 This sauce is really easy to make once you have your garlic roasted.
In a large bowl, mash together the garlic cloves with a pinch of salt until they are in a rough paste. Then mix in ricotta, lemon zest, red pepper flakes, and a pinch of black pepper. This is the base of your pasta sauce.
There's some flexibility at this point with add-ins for the sauce. You could add some fresh or dried herbs like basil leaves or thyme. Just remember that texture is important at this point so if you are going to add something like parmesan cheese, I would add it as a topper to the pasta and not directly into the sauce.
Finishing the Sauce
At this point you basically just have a ricotta mixture. The secret to making it a smooth sauce, perfect for pasta, is one thing that is important in SO many pasta dishes: hot pasta water.
So, boil your pasta in a large pot until it's al dente and set your ricotta mixture aside. I like to use fusilli but I guess any pasta works fine. Save about 2 cups of the starchy pasta water.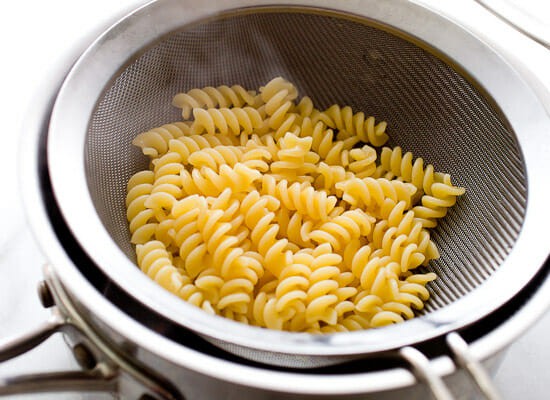 Then add the ricotta mixture to a pot over low heat in about a 2-1 ratio of ricotta-to-water. So if you're just making one or two servings, you might add one cup of ricotta mixture with 1/2 cup of hot pasta water.
If you're making the full batch, you'll want to add 1 cup of reserved pasta water to the mixture and stir it together over low heat. It'll turn smooth and creamy in no time.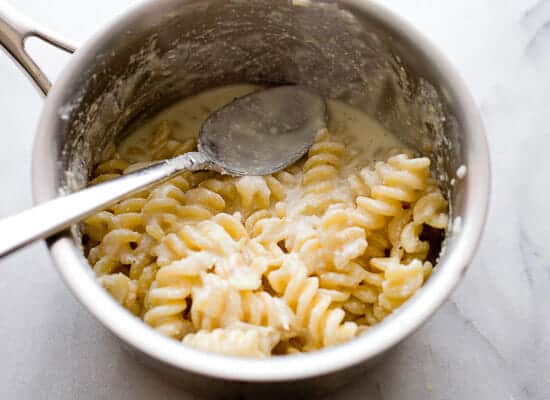 At this point you can stir some of the cooked pasta into the sauce in the pan if you want, but I wouldn't add the ricotta base to ALL the pasta and try to make it work. Make the sauce in a side pot and then add the pasta to the sauce.
Or, I actually thought it was better to keep the sauce smooth in the pot, divide the noodles between bowls, and pour the hot sauce over each bowl. You can garnish each bowl with some basil, lemon zest, and red pepper flakes.
You would think this is some kind of fancy cream based pasta sauce, but it's so easy to make and the roasted garlic totally makes it unique.
Who's a roasted garlic fan?! Raise your hand! ✋
What to serve with this pasta meal?
You could serve a wide range of things with this. Something like this creamy kale slaw would be wonderful on the side. If you are looking for extra protein, you could serve this ricotta sauce on this crispy pan chicken. Or just an easy side like this baguette garlic bread would be good.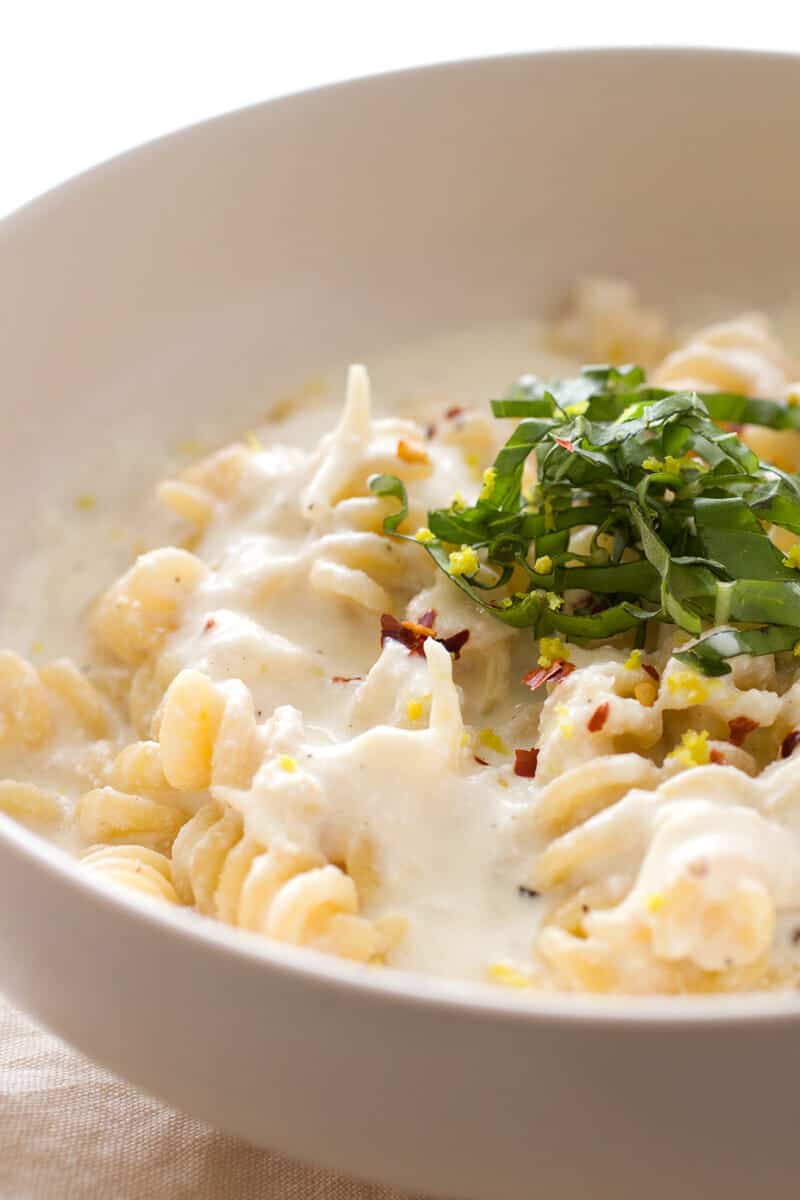 How to reheat this sauce
I found that this sauce doesn't reheat very well if it is mixed with pasta. If you keep the base in the fridge and make fresh pasta and hot pasta water, then you can whip up a batch of the pasta anytime you want, but once the sauce and pasta have combined, it is hard to reheat it and get it as creamy and delicious as the original version.
Roasted Garlic Ricotta Pasta Sauce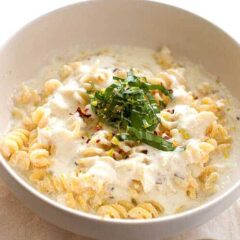 With just a few ingredients, this creamy and flavorful sauce will completely change your pasta game.
Ingredients
1

bulb garlic

,

roasted

1

tablespoon

olive oil

Pinch

kosher salt

16

ounces

ricotta cheese

1

lemon

,

zest only

½

teaspoon

red pepper flakes

½

teaspoon

black pepper

Fusilli Pasta

Reserved pasta water

Basil

,

for garnish
Instructions
Preheat oven to 350 degrees F. Cut the tip off the garlic bulb, just exposing the cloves. Drizzle with olive oil and a pinch of kosher salt. Wrap the bulb in foil and roast for 30 minutes. Let garlic cool and then squeeze out roasted cloves into a bowl.

To roasted garlic, add a pinch of salt and mash together with a fork. Stir in ricotta cheese, lemon zest, black pepper, and red pepper flakes. Set aside.

Cook 12-16 oz. pasta according to package. Reserve 2 cups of pasta water from the cooking process when you drain the pasta.

To finish the sauce, add ricotta base to a pot with pasta sauce in a 2-1 sauce-to-water ratio. You can finish the sauce in batches or all at once in this way. If you add the whole ricotta sauce base to a pot, you'll want to add at least a cup of reserved pasta water and maybe a bit more. Stir hot pasta water into the ricotta over low heat and continue to stir until it's smooth and thick.

Divide cooked pasta between bowls and top with pasta sauce. Garnish each bowl of pasta with chopped basil, red pepper flakes, and lemon zest.
Nutrition
Serving:
1
bowl
|
Calories:
239
kcal
|
Carbohydrates:
6
g
|
Protein:
13
g
|
Fat:
18
g
|
Saturated Fat:
10
g
|
Polyunsaturated Fat:
1
g
|
Monounsaturated Fat:
7
g
|
Cholesterol:
58
mg
|
Sodium:
100
mg
|
Potassium:
168
mg
|
Fiber:
1
g
|
Sugar:
1
g
|
Vitamin A:
586
IU
|
Vitamin C:
15
mg
|
Calcium:
245
mg
|
Iron:
1
mg
Did you make this recipe?
Here are a few other great weeknight dinners to try!