I'm fully confident that the first time someone made classic chicken and noodles, it was a mistake. For the record, this recipe is not chicken noodle SOUP. It's something entirely different and the first time I tried it I was fairly certain it wouldn't work.
Then I realized that it's actually magical.
Simmering noodles in just enough liquid to cook the noodles and create a creamy sauce is really wonderful. Folding in some shredded rotisserie chicken makes it a complete meal and sI like to serve it with crispy bread crumbs for a little texture.
This is a wonderfully warming meal and comes together really quickly. I guarantee your family will like it!
Ingredients I use for Chicken and Noodles
If you have the time, you absolutely can start this recipe with a full chicken, cook it down in a slow cooker or instant pot, make chicken stock, and then proceed with the recipe. That is 100% delicious, but is also a Sunday-only endeavor for me.
Personally, I like to use rotisserie chicken to make this recipe even easier. Shredded the chicken and adding it to the noodles completes the dish. You could also easily use leftover chicken if you happen to have some in your fridge or freezer!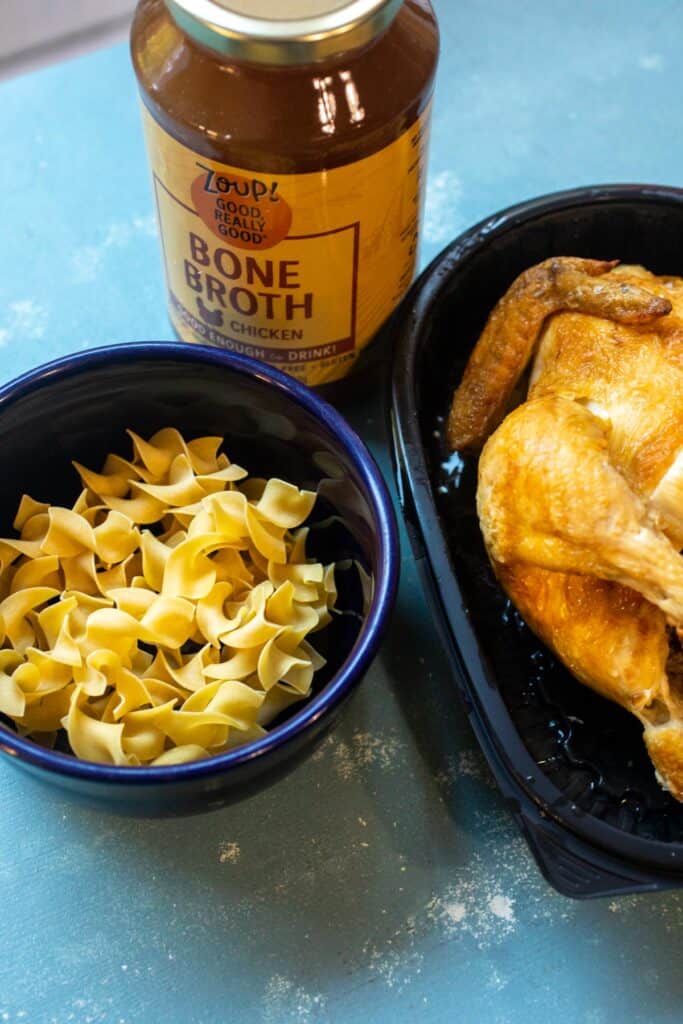 The downside of doing that, of course, is that the stock isn't as good as if you simmer a chicken all day. So, be sure to use really good chicken stock, whether that be homemade or a high-end store-bought bone broth. It's worth it to spend a little extra on good stock at the grocery store because this recipe literally just has a few ingredients.
A halfway measure between doing the whole chicken and using a rotisserie chicken would be blanching some chicken breasts and then making shredded chicken out of that, but I'm not really sure that's worth the work for a recipe like this. Doing that doesn't really improve your chicken or stock flavors for the recipe so I think I would either start with a full chicken and make good chicken broth or go the rotisserie route.
When it comes to the noodles, I prefer the wider cut egg noodles but any egg noodle will do the trick. If you use a different egg noodle, you might have to adjust your cooking liquid amount slightly to make sure your noodles are cooked through.
Some recipes called for cream of chicken soup for this recipe, but I don't think you need that. Good chicken broth and noodles will get you a really creamy base. There are other ingredients that you could add to this recipe like sauteed onions, roasted garlic, or minced carrots, but I think it's really good just like this and adding stuff is easy once you get the hang of it!
Cooking the chicken and noodles recipe
There are a few different versions of this recipe floating around and some use slow cookers or even instant pots. Personally, I don't think you need that unless you are trying to speed up cooking a whole chicken.
The recipe cooks very easily and quickly in a standard pot and that's what I've used the few times I made this recipe.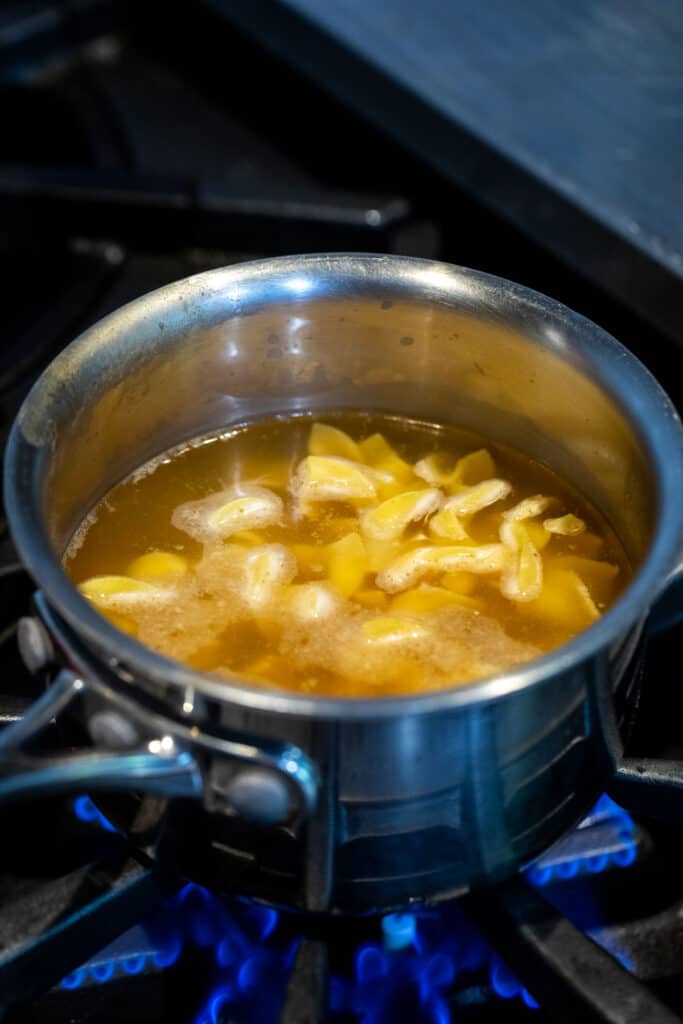 The trick is to start your noodles and stock in a pot over medium heat. Add your noodles to the cold stock so the noodles have more time to start slowly soaking up the liquid. It's kind of counter-intuitive to normal pasta making but it ends up making a creamy chicken sauce. Just make sure to stir the noodles regularly to prevent sticking.
As the liquid comes to a simmer, keep the pot uncovered so the liquid evaporates slowly, further thickening the sauce, and let the noodles cook. The cook time for the noodles will be somewhere in the 12-15 minutes range, but I would start checking them after about 10 minutes.
Want an even faster chicken dinner option? Try my chicken and couscous with tomato salad recipe!
When they are getting close, they should get really tender and the sauce should be thickening up. If the pot looks dry, add more stock or even water and if the noodles are cooked and it's still too soupy, you might need to ladle off a little liquid to keep the noodles from overcooking.
To finish the chicken and noodles, stir in some butter and taste the broth. It'll probably need a big pinch of salt and pepper. Fold in your shredded chicken right near the end of cooking and you're ready to serve!
Making Crispy Parsley Bread Crumbs
I really like the warming, comfort food aspects of this recipe, but I thought the texture of the dish was a little one-dimensional. So, I like to make these spicy, herbed bread crumbs to go on top.
Make these by combining butter and bread crumbs in a skillet over low heat. As the bread crumbs start to brown, add the garlic powder, red pepper flakes, and a pinch of salt. After a minute or two, the bread crumbs should turn golden brown and crispy. Remove them from the heat and stir in the fresh parsley. Sprinkle these beauties over any and every pasta dish, but definitely use them on these chicken and noodles.
What to serve with this recipe
This is a family favorite recipe for us over here at House Macheesmo already. My kids loved it as did my wife, but it is a rich and creamy meal so be sure to serve it with something lighter like a salad.
It would be great paired with my Ultimate Fall Salad or this Shaved Brussels Sprouts salad! You can browse my salad archives for other ideas!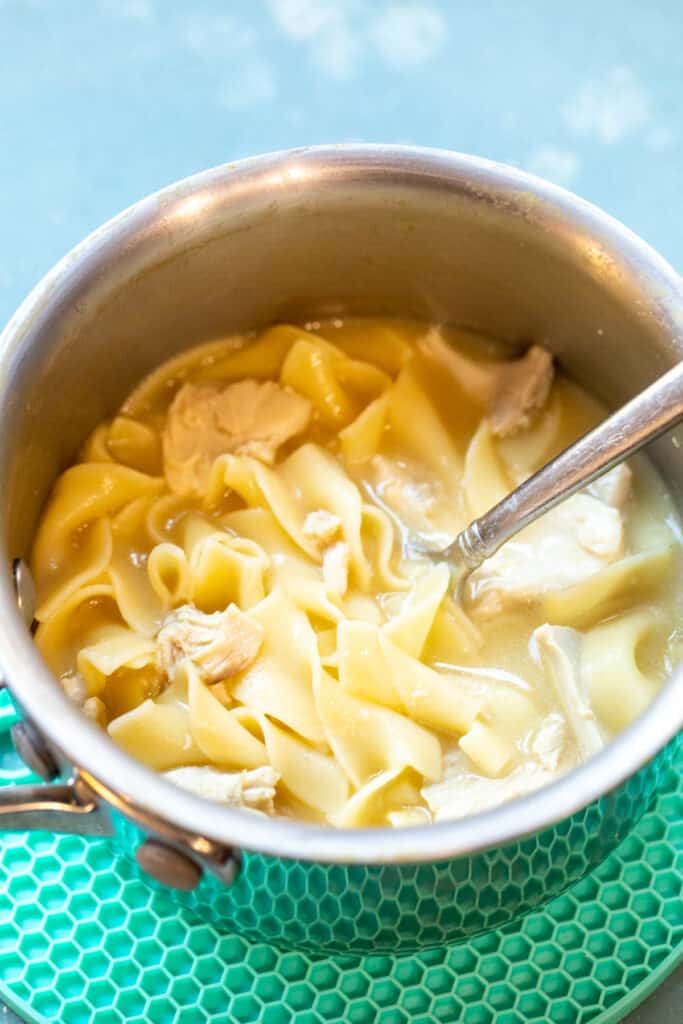 Reheating leftover chicken and noodles
This chicken and noodles recipe is best right out off the stove, honestly. The problem with storing and reheating it is that the noodles get soggy and start to fall apart when you reheat it. But, that said, I wouldn't throw away the leftovers! They are still mighty tasty! If you do have leftovers, store the chicken and noodles in an airtight container for 3 days.
To reheat the noodles, add a tiny splash of water to a pot along with the leftover noodles. Put the pot over low heat and cover the pot. Try not to stir them too much as they heat up as that will cause the noodles to break down more. When they are warmed through, eat them up!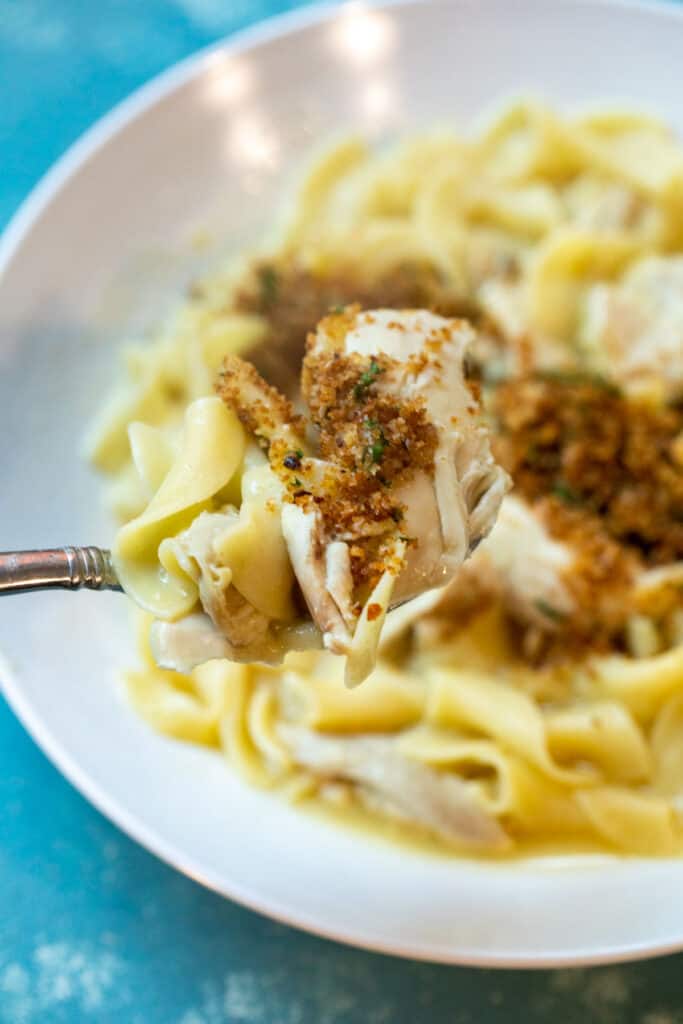 Chicken and Noodles with Crispy Breadcrumbs
A creamy and rich chicken and noodles dish that is fast to make and perfect on a chilly night. I like to top mine with some Crispy Parsley Bread Crumbs!
Ingredients
8

ounces

egg noodles

4

cups

chicken stock

1

cup

shredded chicken

2

tablespoon

butter

Pinch

salt and pepper
Crispy Breadcrumbs:
¼

cup

breadcrumbs

¼

teaspoon

Garlic powder

¼

teaspoon

red pepper flakes

Pinch

salt

1

teaspoon

fresh parsley
Instructions
To make bread crumbs: add butter and breadcrumbs to a small skillet over low heat. Stir occasionally as bread crumbs cook and add salt and red pepper flakes and garlic powder. When bread crumbs are crispy and browned, remove from heat then stir in fresh parsley.

To make chicken and noodles:

Add noodles and chicken stock to a medium pot over medium heat. Bring to a simmer, stirring occasionally, uncovered. Let the noodles continue to cook, soaking up all the stock, until they are tender. It will take 12-15 minutes for the noodles to cook.

Finish the noodles with butter and a pinch of salt and pepper. Stir in shredded chicken at the end of cooking. If the chicken and noodles seem dry or noodles aren't cooked, then add an extra 1/2 cup of water or chicken stock. If it seems too soupy, you can scoop out a little of the cooking liquid.

Serve steaming hot chicken and noodles with crispy bread crumbs.
Nutrition
Serving:
1
bowl
|
Calories:
440
kcal
|
Carbohydrates:
54
g
|
Protein:
24
g
|
Fat:
14
g
|
Saturated Fat:
6
g
|
Polyunsaturated Fat:
2
g
|
Monounsaturated Fat:
5
g
|
Trans Fat:
0.3
g
|
Cholesterol:
96
mg
|
Sodium:
478
mg
|
Potassium:
490
mg
|
Fiber:
2
g
|
Sugar:
5
g
|
Vitamin A:
271
IU
|
Vitamin C:
1
mg
|
Calcium:
46
mg
|
Iron:
2
mg
Did you make this recipe?
Here are a few other great recipes to try!