This soba noodle tutorial came out of a complete fail of a meal I made once when my mom was in town. She wanted me to make a noodle bowl. I can usually rock these. Some sort of grilled meat with loads of veggies and a simple sauce with a noodle base. Easy enough right?!
Unless you screw up the noodles. I overcooked the noodles by about 30 seconds (because beer) and they turned into a gummy mess of a thing. Not exactly what I had in mind.
If I can screw it up, I figured I'm not the only one. So, I figured I would post the correct way to cook perfect soba noodles every single time. Step one is to ditch the instructions on the box that the soba came in. They are almost certainly wrong!
What are Soba Noodles?
Soba noodles are a big deal in Japan and are becoming more popular in the United States as people slowly realize how amazing they are. They are made with buckwheat flour most of the time, although there are some alternatives.
Soba noodles tend to be more delicate than other noodles (except maybe glass noodles). If you overcook them, they become a weird, gummy mess and aren't exactly fun to eat.
But, they are also a wonderful noodle to master. They have a naturally nutty flavor and my favorite aspect of soba is that they are almost better cold than hot (in my opinion). Cold soba noodles, especially in the dead of summer, can be a refreshing meal.
Many times, cold soba noodles are served with a chilled dipping sauce (like this version from Serious Eats) and can be served with all manner of veggies and spicy or savory toppings.
Are soba noodles gluten free?
The short answer is… it depends. In generaly, it's true that soba noodles are gluten-free if they are made from 100% buckwheat flour. Buckwheat flour doesn't contain gluten so you should be fine.
That said, it's not 100% across the board true. For starters, there is a variety of soba noodle called Nagano Soba that contains wheat flour along with buckwheat flour. Also though, it can be the case that soba noodles are manufactured on the same line as wheat flour noodles.
If gluten-free is a concern, I would always double-check the label and maybe even test the noodles with a gluten sensor even though in theory buckwheat noodles should be gluten free.
Tips for Perfect Soba Noodles
Soba noodles are buckwheat noodles and they are much more fragile than, say, spaghetti. They cook faster and are much more delicate. While Italian pasta can stand a bit of overcooking, most soba noodles will turn into a complete mess if you overcook them.
So that's our main rule here: Don't overcook them!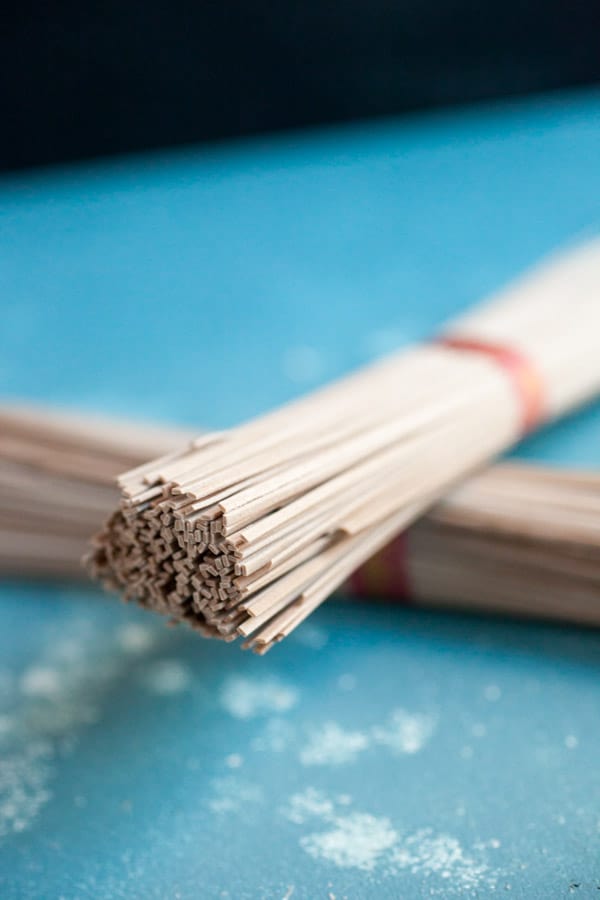 The other big problem that can happen with soba noodles is clumping. You need to give them a lot of room to cook. I bring a big pot of water to boil for even 6-8 ounces of soba noodles. Give them lots of room to wiggle around as they boil.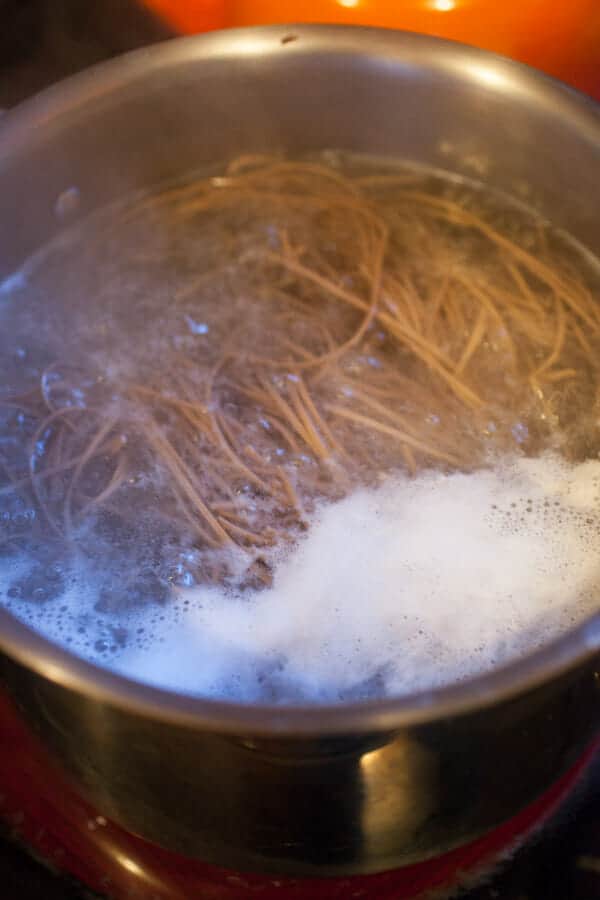 SET A TIMER. Seriously. I'll eyeball spaghetti, but not soba. 150 seconds. Most boxes will say three minutes, but I think that's a bit long after a few tests. I like to err on the side of al dente.
Two and a half minutes and then they are out of the hot water and into cold water. This is the second most important step besides the timer. You have to cool these down as soon as possible. I prefer putting them in a bowl of cold water over rinsing them with cold water because rinsing them compacts the noodles down while the bowl of cool water gives them room to stay separate.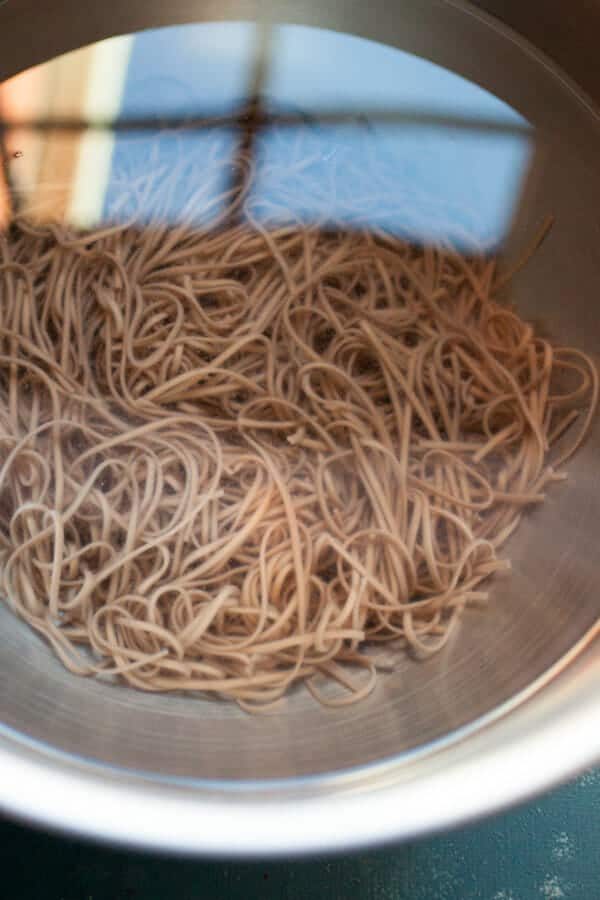 Once the soba noodles are cooled down you can keep them like that for a bit or drain them and dry them out on a few paper towels.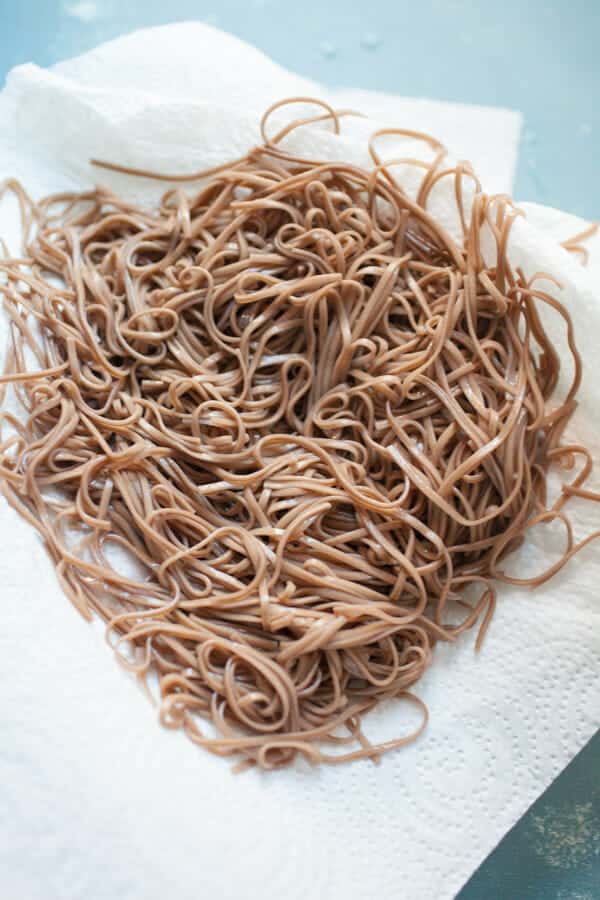 My preference is to drain them and then toss them with a small dash of sesame oil and soy sauce which will keep them from sticking and season the noodles nicely.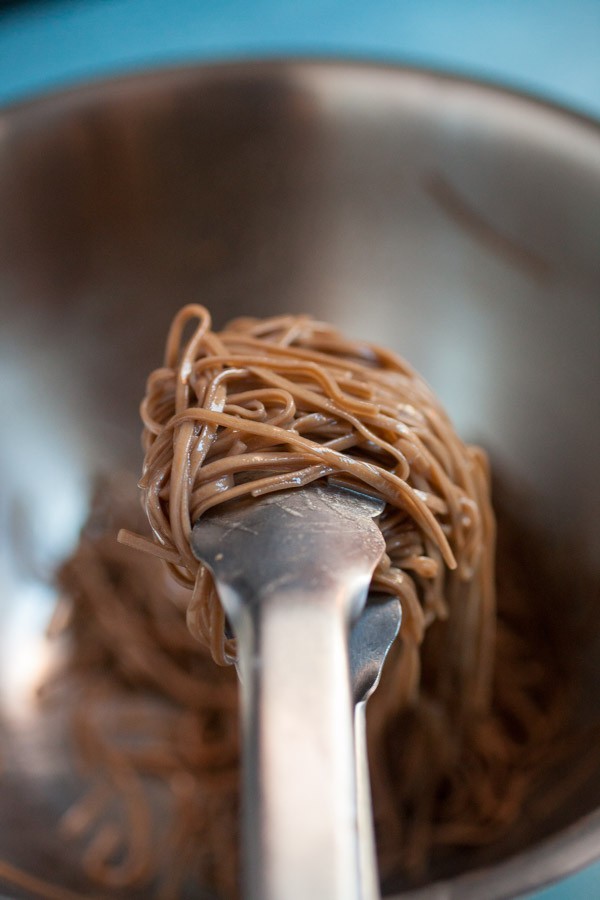 The soba noodles are cold at this point and I actually prefer cold soba noodles, but if you want them hot, just dunk them in a pot of hot stock or water right before serving them.
What to serve with soba noodles?
Soba can be a very simple dish. For the most basic version, garnish with chives and sesame seeds and you're in business.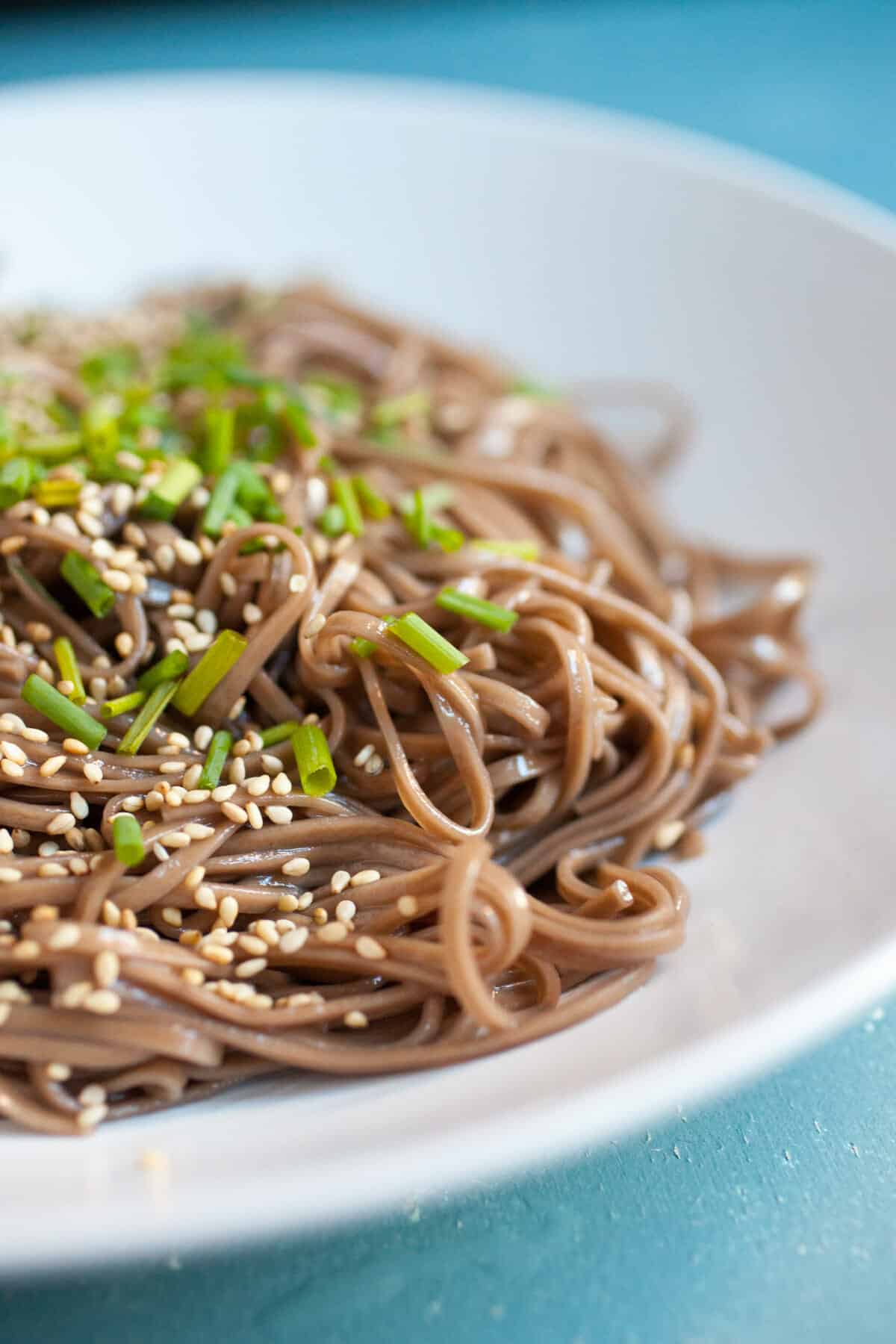 Here are a few other ideas for your soba noodles though:
Make a cold soba picnic salad with sesame oil, edamame, sesame seeds, seared tofu, and chili flakes.
Use them in a stir-fry topped with grilled protein and crunchy veggies.
Add them to a warm soup (think soba chicken noodle soup)
Add them to kid's lunchboxes. They are amazing at room temperature or slightly chilled.
Raise your hand if you've ever screwed up soba noodles and never want to do it again! ✋✋✋✋
How to Cook Perfect Soba Noodles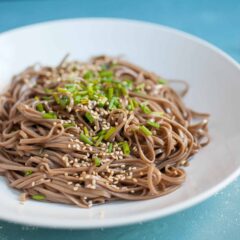 Ditch the instructions on the box. This is how you cook perfect, non-gummy soba noodles every single time!
Ingredients
3

oz.

dried soba noodles

Sesame oil

Soy sauce

Sesame seeds

Scallions
Instructions
Bring a large pot of water to a rapid boil. Add soba and use tongs to spread out. Cook for 150 seconds (2 1/2 minutes).

Immediately drain soba and transfer to a bowl with cold water to stop the cooking.

Once soba is cooled, drain and transfer to a few paper towels to dry.

Toss cooled soba with a small drizzle of sesame oil and soy sauce. Maybe 1 teaspoon of both.

Eat immediately with sesame seeds and/or scallions.

You can also reheat the soba by quickly dipping it in hot water or stock.
Nutrition
Serving:
1
bowl
|
Calories:
286
kcal
|
Carbohydrates:
63
g
|
Protein:
12
g
|
Fat:
1
g
|
Saturated Fat:
0.1
g
|
Polyunsaturated Fat:
0.2
g
|
Monounsaturated Fat:
0.2
g
|
Sodium:
674
mg
|
Potassium:
214
mg
|
Calcium:
30
mg
|
Iron:
2
mg
Did you make this recipe?
Here are a few other great recipes!