It's officially summer hot outside and if you're me, you need recipes that require no cooking and are instantly refreshing. The Macheesmo family is simply not made for this kind of heat and so we turn to eating mostly cold things during the months of July and August. These Mojito Fruit Kabobs are THE appetizer of summer and can be made adult-friendly (booze) or kid-friendly.
Any time you are having people over or if you just need something cold to keep in the fridge for a quick snack when. you get home, these fruit kabobs are your ticket. They are crisp, ice-cold, and so refreshing.
Any melon will get the job done here but I like a mix of watermelon and cantaloupe. Plus a small mountain of fresh mint and a good glug of rum will get you there. Don't let these sit too long or they will turn into some sort of strange alcoholic slurry, but after a few minutes, they are a pretty refreshing thing on a stick.
What fruit is good for skewers?
There is a pretty wide range of fruit you could use for these skewers/kabobs. Basically anything that will fit on a stick. Personally, I would avoid more delicate berries like raspberries and blackberries, but fresh strawberries would be just fine.
Sturdier round fruits like blueberries or grapes would work fine as well for these.
Stone fruits like peaches, cherries, or plums would be fine, but obviously remove the pits from them before cutting them and skewering them.
Tropical fruits like mango and banana don't work as well for these kabobs since they get a bit mushy when being soaked.
Personally, I stick to melon fruits like watermelon and cantaloupe (honeydew would be nice also) since they are readily available and you can use a melon baller to make them the perfect shape.
Do you soak skewers for fruit kabobs?
Since we aren't actually cooking these, there is no need to soak the actual skewers for the kabobs.
If you find it easier, you could make the kabobs and then submerge them in the mojito mixture so you can just pop them out and serve them immediately.
Personally, I like to skewer the kabobs right before serving so the stick isn't sticky and gross. So I marinate my fruit pieces in an airtight container and then pop them on a skewer right before serving.
Preparing the fruit
These are the perfect adult dessert for an outdoor party. If you don't have a melon baller (how do you live?!) you can also just chop the melon into cubes. But I like the bigger-sized balls on the melon baller.
I did 1/2 of a cantaloupe and 1/2 a small watermelon plus a pretty huge amount of fresh mint. If it smells like a gum factory in your kitchen, you're doing it right.
How to make the mojito marinade
In a large container that will hold all your fruit, add in the rum. Use a light rum. Nothing too strong.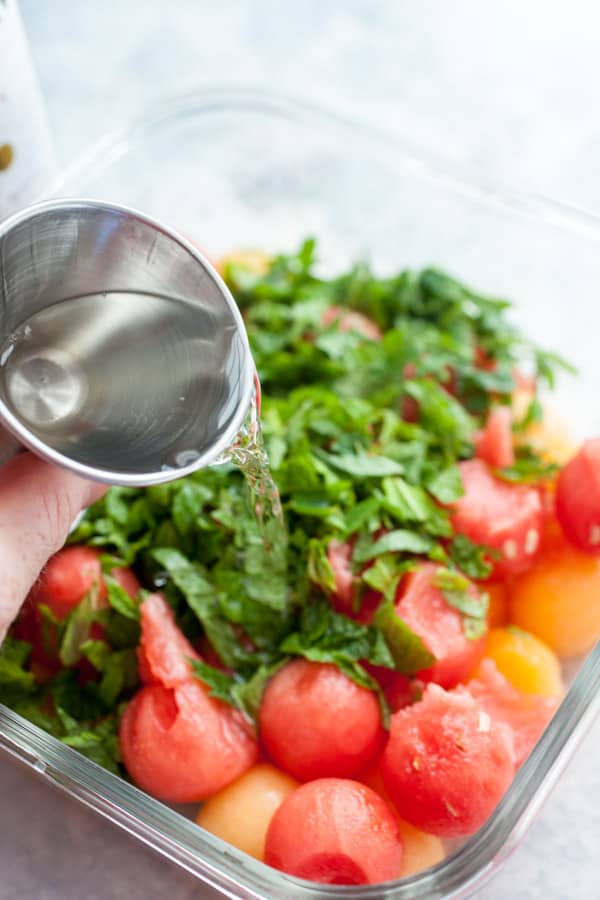 Then add the lemon-lime soda for some fizz. The liquid will probably not completely cover the fruit, but that's okay. Just give it a shake every 5-10 minutes while the fruit marinates. I like to add some fresh mint to my mixture as well.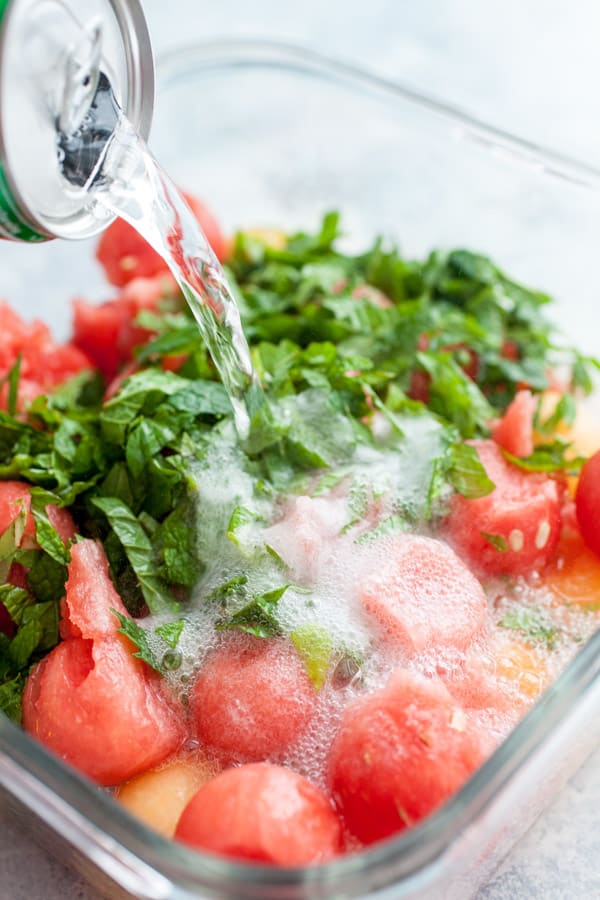 Kid-friendly version: If you want to make these fruit kabobs without the alcohol, they are still very delicious! Just leave the rum out and double the soda and mint and you are good to go!
How far in advance can I make fruit kabobs?
I think about 30 minutes is plenty of time to infuse the fruit. It soaks up the rum surprisingly fast, but doesn't end up being super strong.
If you let this fruit sit longer than 30 minutes, the melon will start to actually break down and you'll be left with more of an alcoholic slurry, of sorts. Not great for fruit kabobs!
From here, the fruit goes right on skewers and you're done!
BONUS POINTS: Take shots of the leftover juice? I'm no longer in my 20's and generally don't do shots, so I poured it into a rocks glass with ice like a damn adult. It was delicious.
Mojito Fruit skewers though?! Summer perfection.
Take that ridiculous, sweltering heat.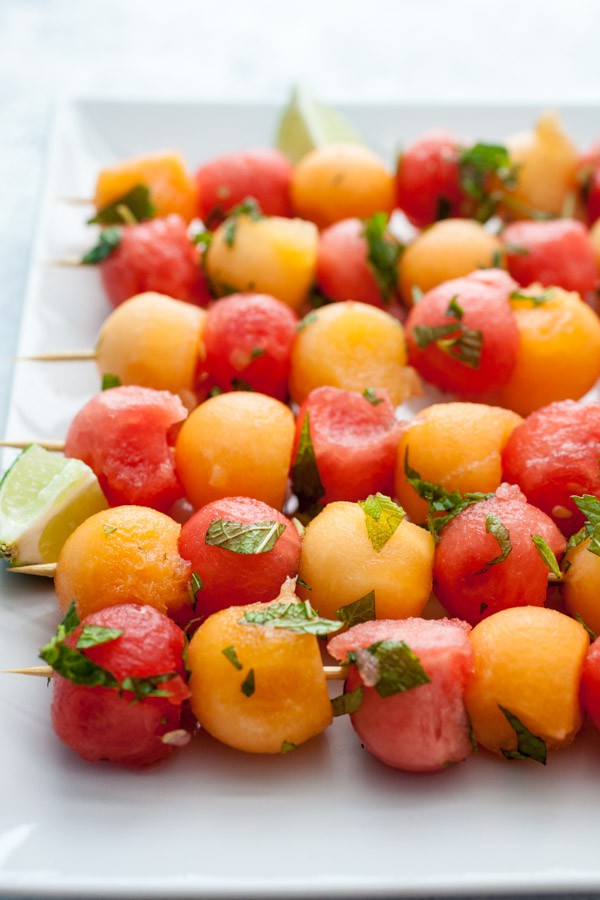 Mojito Fruit Kabobs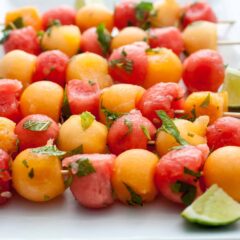 These kabobs are summer on a stick! Soaked in lemon lime soda and light rum, they are bright, refreshing, and the perfect summer adult snack.
Ingredients
3

cups

cantaloupe melon balls

3

cups

watermelon balls

¼

cup

chopped fresh mint

6

ounces

light rum

6

ounces

lemon lime soda
Instructions
Use a melon baller to make melon balls with a cantaloupe, watermelon, or melon of your choice. Add balls to a large container with fresh mint.

Add in light rum and soda and stir to combine.

Cover and store in the fridge for 20-30 minutes. Don't keep them longer than a few hours in the fridge in the liquid or they will start to break down.

Drain off liquid (or make a cocktail??) and make kabobs with melon balls! Eat immediately!
Nutrition
Serving:
1
Kabob
|
Calories:
96
kcal
|
Carbohydrates:
12
g
|
Protein:
1
g
|
Fat:
0.2
g
|
Saturated Fat:
0.04
g
|
Polyunsaturated Fat:
0.1
g
|
Monounsaturated Fat:
0.02
g
|
Sodium:
21
mg
|
Potassium:
167
mg
|
Fiber:
1
g
|
Sugar:
10
g
|
Vitamin A:
2413
IU
|
Vitamin C:
12
mg
|
Calcium:
13
mg
|
Iron:
0.4
mg
Did you make this recipe?
Here are a few other great recipes to try!