It's Halloween week and so you know I had to bring you something that is both gross and delicious. Say hello to my new favorite treat: ZIT RAVIOLI!
The thing about this fun ravioli is that it's actually delicious. It's homemade pasta dough with a creamy lemon and ricotta filling. You can just serve it as-is and it's wonderful, but check out my Halloween tips for turning these standard ravioli into ZITS!
Homemade Pasta Dough
This recipe is a labor of love and it starts with homemade pasta dough! I'm not going to walk through the whole pasta dough process, but you can read my homemade pasta post to get started on it if you're interested.
While I normally use semolina for pasta, I used all-purpose flour this zit version so the pasta is a little more flexible.
These days you can also buy decent fresh pasta from markets so you could go that route also!
Ravioli Filling
I wanted this filling to taste really good but also I wanted to make sure it was "poppable" once it was cooked. Ricotta was the best at this. I mixed some ricotta with lemon, nutmeg, and some olive oil to give it a little viscosity.
Other Ravioli Filling Ideas
If you are making Zit ravioli then you want to keep the filling pretty simple. Any lumps or chunks and you'll lose the effect of popping the zit. So, I wouldn't add to much to this filling.
That said, you could add some fresh herbs to it, if you dice them well. Sage would be a great choice.
If you just wanted to make a great ravioli, then by all means mix in some browned meat or sauteed spinach or chard.
How to Fill Ravioli
To fill these ravioli, I rolled out my pasta sheets to the second thinnest setting on my machine. Then I added about 1 teaspoon of filling in even dots along the pasta. I was able to get two ravioli side-by-side on my sheets.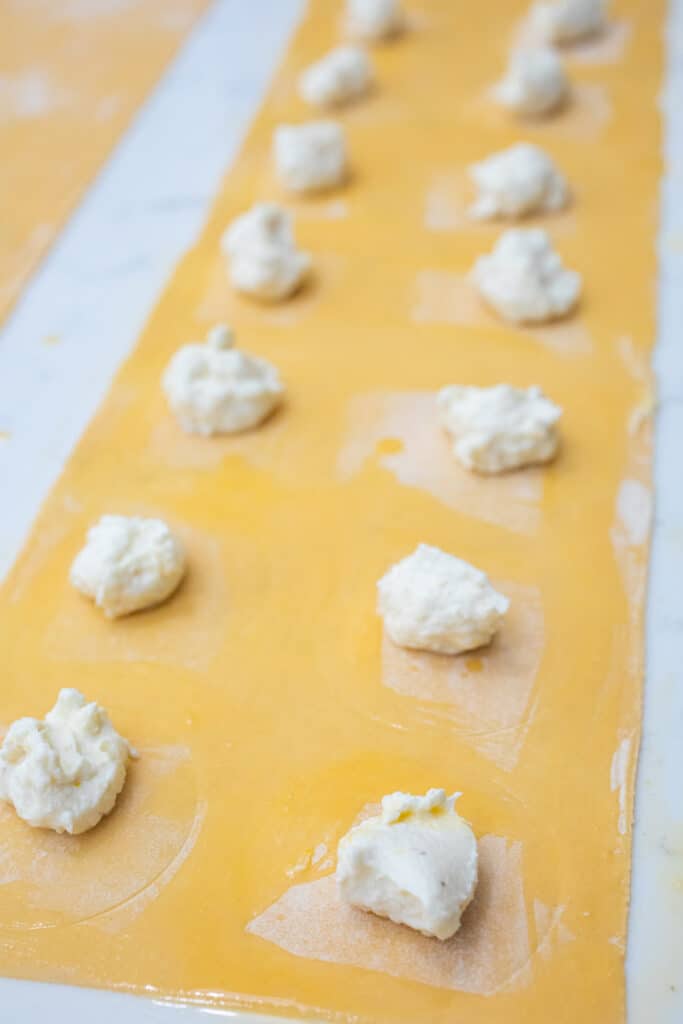 Brush around each filling piece with egg wash and then press your top piece of pasta on top. I used a circular cutter to cut my ravioli, but you could make them square also.
Cooking the Ravioli
When you cut your ravioli, be sure to press out as much of the air as possible and crimp around the edges to make sure they are sealed well.
To be honest, making ravioli is kind of a pain in the butt.
I couldn't stop laughing at the idea of turning these beauties into disgusting (but still delicious) zits.
Ravioli cook VERY quickly. They will need just 2-3 minutes in salted water. They are done when they float!
How to Make Zit Ravioli
To turn these into zits, you have to do some minor operations AFTER you cook the ravioli. I tried to do this ahead of cooking, but it doesn't work for a number of reasons.
So, once the ravioli come out of the water, use a toothpick to poke a small hole right in the center and then stick a pomegranate seed in the hole. Repeat with all the ravioli that you want to pop.
When you press on the ravioli now, the filling will come up through the hole and look just like the most satisfying of zit pops.
Gross? YES.
Delicious? Also YES!
Not sure what to do with all of the leftover Halloween candy? My Leftover Candy Peanut Butter Tart is the solution!
Zit Ravioli (Ricotta Filling)
A fun take on Ravioli for the Halloween season! Zit Ravioli might look kinda gross, but it's actually delicious!
Ingredients
Ricotta Filling:
2

cups

ricotta

½

cup

Parmesan

2

tablespoons

olive oil

1

lemon zest juice

½

teaspoon

nutmeg

½

teaspoon

salt
Other ingredients:
Egg wash

,

for sealing

Pomegranate Seeds

Butter

,

for sauce
Instructions
Make homemade pasta (https://www.crunchtimekitchen.com/homemade-trials-pasta/) or buy fresh store-bought pasta dough. If making homemade for this recipe, I prefer to use all-purpose flour instead of semolina flour so it's more flexible.

Roll pasta out until it's thin enough you can see through hit. On my 8 thickness roller, I roll mine out on the 2nd to the thinnest setting.

Place 1 teaspoon of ricotta filling on the pasta dough. You should be able to get about 20 ravioli on a single sheet of pasta. Brush around the pasta with egg wash and then cover with a second sheet of fresh pasta. Press around the filling to make sure you press out as much of the air as possible.

Use a circulate cutter to cut out ravioli and make sure they are all sealed well.

Cook ravioli in salted, boiling water for 2-3 minutes until they float. Remove with a slotted spoon and let cool.

To make the "zit" effect, poke a small hole in each ravioli with a toothpick and fill the hole with a pomegranate seed.

Serve the ravioli with a quick melted butter sauce and let the kiddos "pop" their ravioli.
Nutrition
Serving:
1
plate
|
Calories:
378
kcal
|
Carbohydrates:
46
g
|
Protein:
17
g
|
Fat:
14
g
|
Saturated Fat:
7
g
|
Polyunsaturated Fat:
1
g
|
Monounsaturated Fat:
5
g
|
Cholesterol:
36
mg
|
Sodium:
301
mg
|
Potassium:
216
mg
|
Fiber:
2
g
|
Sugar:
2
g
|
Vitamin A:
328
IU
|
Vitamin C:
7
mg
|
Calcium:
218
mg
|
Iron:
1
mg
Did you make this recipe?
Here are a few other great recipes to try!