One of the best ways to use some leftovers is to make a quick egg scramble. After my spinach ricotta balls that I posted on Thursday, I had a pretty good amount of spinach and ricotta leftover so I figured I'd try making a quick scramble out of them.
Now, of course, you could get all fancy and make an omelet, but sometimes that's just unnecessary. Sometimes a scramble is a better way to go. One awesome benefit of the scramble is that you can easily multiply it for as many people as you're feeding. That's harder to do with omelets.
For a scramble though, you can just as easily make it for one or twenty!
Eggs with Spinach and Ricotta
Scrambled eggs mixed with chopped spinach and ricotta cheese makes a quick and filling breakfast.
Ingredients
2

large eggs

1

Cup

fresh spinach

,

chopped

⅓

Cup

ricotta cheese

1

Teaspoon

olive oil

Pinch

of salt and pepper

Hot sauce

,

opt.
Instructions
Chop spinach well. Scramble eggs and mix in ricotta cheese.

In a nonstick skillet, add a drizzle of oil and heat over medium heat.

Add spinach and cook until lightly wilted, about 30 seconds.

Add eggs and turn heat down to low.

Cook, stirring constantly, until the eggs are set but not firm. You want them to still be nice and fluffy.

Serve with hot sauce or just a pinch of salt and pepper.
Nutrition
Serving:
1
plate
|
Calories:
311
kcal
|
Carbohydrates:
4
g
|
Protein:
21
g
|
Fat:
23
g
|
Saturated Fat:
10
g
|
Polyunsaturated Fat:
2
g
|
Monounsaturated Fat:
9
g
|
Trans Fat:
0.03
g
|
Cholesterol:
369
mg
|
Sodium:
218
mg
|
Potassium:
375
mg
|
Fiber:
1
g
|
Sugar:
1
g
|
Vitamin A:
3653
IU
|
Vitamin C:
8
mg
|
Calcium:
249
mg
|
Iron:
3
mg
Did you make this recipe?
The Scramble Method
There's really only one key, in my mind, to making a really good scrambled egg dish and that's to do the exact opposite of what most people do.
What most people do is crank the heat on high and toss in the eggs. This is pretty much a surefire way to get overcooked, cardboard-like eggs. Nobody likes eating cardboard.
The real key to good scrambled eggs is actually low heat. The eggs don't need a lot of heat to cook and that gives you much better control while they cook. The result will be really moist, fluffy eggs.
The other important thing is starting with really good ingredients.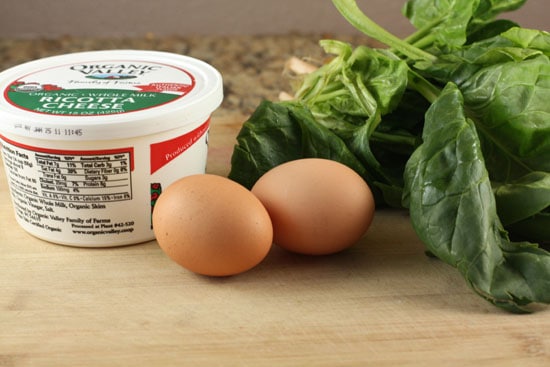 If you're using greens like spinach make sure to chop them up pretty finely so they kind of melt into the eggs.
For spinach, I just ran my knife through it a few times.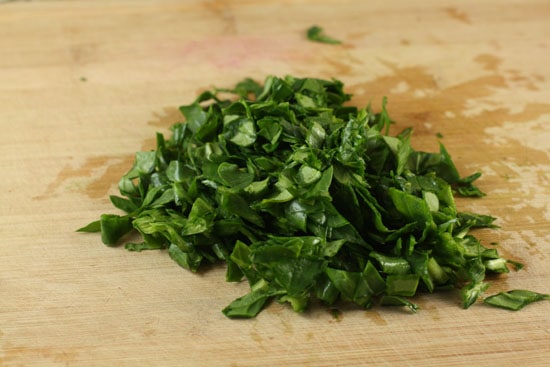 The Ricotta
I tried something new this time that I wasn't entirely sure would work. As I scrambled my eggs, I added my ricotta into the eggs!
I figured that as the eggs slowly cooked, the ricotta would melt a bit and keep the eggs moist and flavorful.
This worked like a charm! Just be sure to scramble up the ricotta so you don't have one big chunk in the bowl.
Cooking the scramble
In a small nonstick pan, add a drizzle of oil and all the spinach. Obviously adjust the pan size if you're multiplying the servings.
Cook this over medium heat until the spinach just starts to wilt, maybe 30 seconds.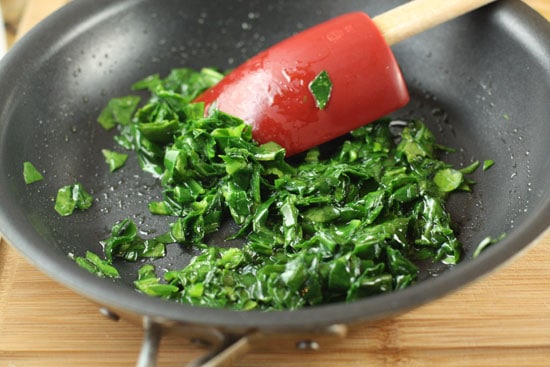 Then turn the heat down to low. Add the egg/ricotta mixture and cook, stirring continuously.
Obviously it will take a bit longer if you cook the eggs over low instead of blazing heat, but the results will be a lot better. My eggs took about 3-4 minutes to cook. We aren't talking hours here people.
And the results were perfectly fluffy and delicious.
Of course, you could add a million things to this dish. Some garlic or scallion wouldn't hurt. Finishing it with some hot sauce is a solid idea. Heck, you could even use this as the base for an awesome egg sandwich!
Really you can't go wrong as long as you start with good ingredients and keep your hands off the high heat!