I like to call these Braised Meatballs my Lure-From-The-TV Meatballs. As they braise, they make the whole house smell like an Italian Grandmother kitchen and people will be bopping in to ask, "What is cooking?"
By the time they are done, people will have no problem turning off the game or show to get in line for a big plate of meatballs and sauce.
Good meatballs can be a variety of things. They can have a crispy exterior like these Sesame Ginger Meatballs, they can be rich and covered in sauce like these Enchilada Meatballs, they can go on toothpicks or over pasta.
This braised meatball recipe is seriously all of those things. The finished meatballs can be spooned over pasta with the braising sauce almost like a Sunday gravy, but you can also use these as an appetizer and serve them with some crusty bread.
Want to get crazy? Stack 'em up in a hoagie with some provolone cheese. Meatball Sub!
As the weather cools off, I find myself wanting to have a big pot of something in the oven and this recipe definitely fits that bill.
Why you should be braising meatballs
There are as many ways to make meatballs. You can bake them in the oven or simmer them in a pot with some sauce. Braising them kind of uses both of those methods together and you end up with not only wondefully tender meatballs, but also a delicious and rich tomato sauce that you can use over pasta or on sandwiches.
Braising is also nice because once you get the pot in the oven, it is a very hands-off way of cooking. You can focus on other parts of the meal or just sit down with a glass of wine.
Braised Meatballs – Ingredients
These meatballs are a two bowl process and get ready to get your hands dirty.
Start by combining the ground pork and ground beef with all the herbs and spices. While you can use either beef or pork, I prefer a mix of both which gives some nice fat and flavor to the meatballs.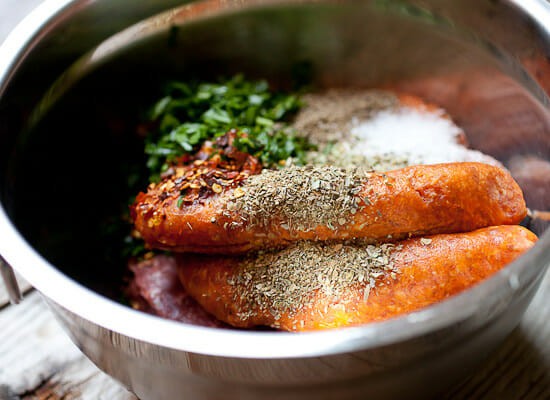 As far as spices go, I like to use fresh parsley but dried oregano and mix in some fennel seeds and allspice. I think the allspice adds a nice touch but if you don't have it, I wouldn't buy it just for this recipe. Do go heavy on the parsley. You could even up it to a full cup if you really like the herb flavor.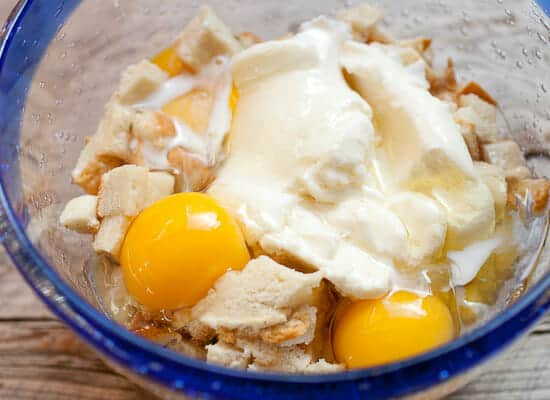 In the second bowl, you want the binders. Breadcrumbs, ricotta, milk, and eggs. Ideally the bread would be on the stale side. I just chop mine up but you could pulse it in the food processor if you want it finer.
Instructions for Shaping the Meatballs
Time to get dirty. Combine both bowls in the large bowl and mix really well. Spend a few minutes mixing this to make sure it's evenly combined into one even meat mixture.
Then shape your meatballs. I shoot for about an inch across for my meatballs (heaping spoonful). It's not an exact science. Also, this recipe will produce a loose meatball. They will firm up as they cook, but the mixture will be a bit loose at this stage. Have no fear!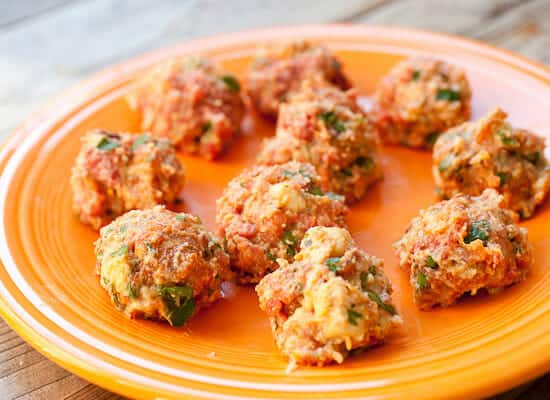 You should probably get 30-35 meatballs out of this recipe.
Searing the Braised Meatballs
Before we get to sauce time, it helps to sear all the meatballs. This gives them that nice crust and also starts building flavors in the pot. Add a good amount of olive oil to a sturdy, large Dutch oven (that's oven safe). If you don't have a dutch oven, you can sear the meatballs in a large skillet and then transfer everything to a baking dish. Everything will end up in this one pot.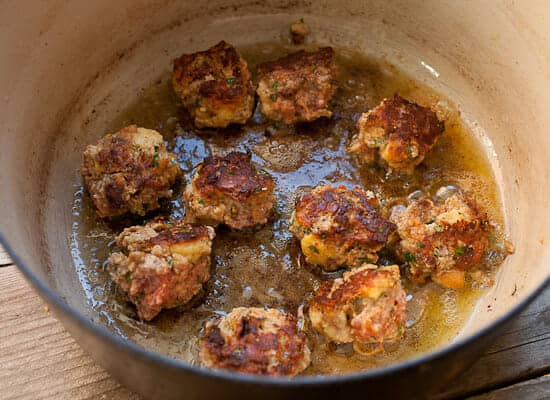 I like to add 3-4 tablespoons of olive oil over medium heat. Then sear the meatballs in batches for 3-4 minutes each.
As you sear the meatballs, don't be afraid to add more oil if the pot looks dry. You probably won't need more, but you might.
When all the meatballs have seared, you'll be left with a pan that has lots of crud on it. Don't wash it! Instead, add some water to the pot and use the liquid to scrape up all those bits. Big flavors in there that will help add flavor to the red wine gravy.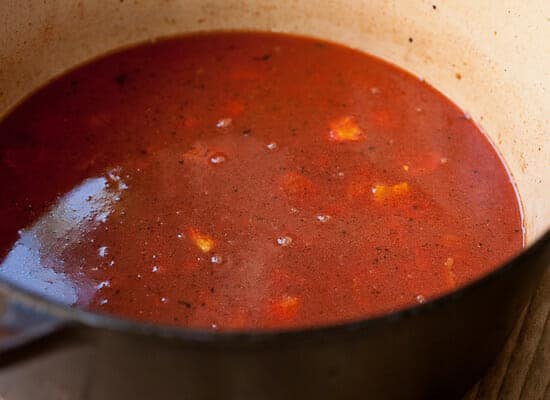 Then add the red wine and tomatoes. This is your braising liquid.
Bring that to a simmer over medium-high heat and then tuck the meatballs back in the pot. It's okay if the sauce doesn't completely cover them, but it should cover most of them.
Cover this masterpiece and stick it in a 325 degree F. oven for about 90 minutes. Go do something else! Dinner is on auto-pilot at this point.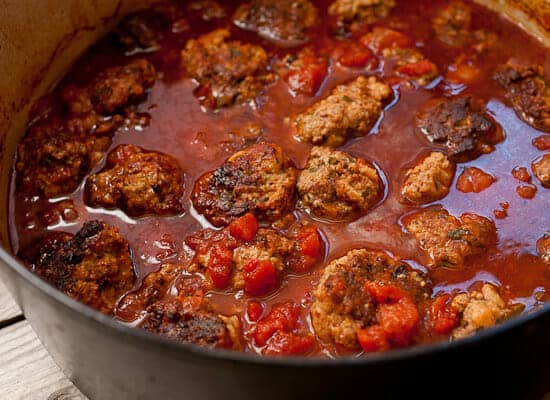 The Finished Meatballs
Be careful when you pull your braised meatballs out of the oven. A lot of steam will be built up in the pan so be careful opening it.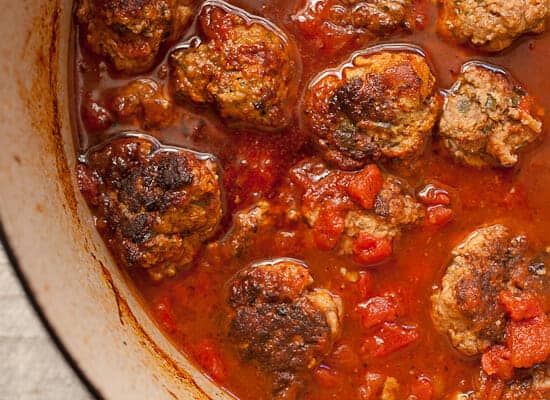 When you do open it though, it'll be a delicious show. The meatballs will be super tender and the sauce will have cooked down into something really special. I recommend tasting the sauce on its own. It might need a pinch of salt and pepper but probably not much else.
This is one of those magical recipes where everything is helped by everything. The sauce gets better by cooking with the meatballs and the meatballs get better cooking in the sauce.
Make this your Sunday cooking project, people. I think you'll love it!
How to serve these braised meatballs
The options are many for serving these meatballs. You could serve them over spaghetti or any sort of pasta. Spooning the sauce over the pasta or scooping some of the sauce into a skillet with cooked pasta is a great way to sauce pasta. Sprinkle the finished pasta with lots of Parmesan cheese, fresh parsley, and red chili flakes.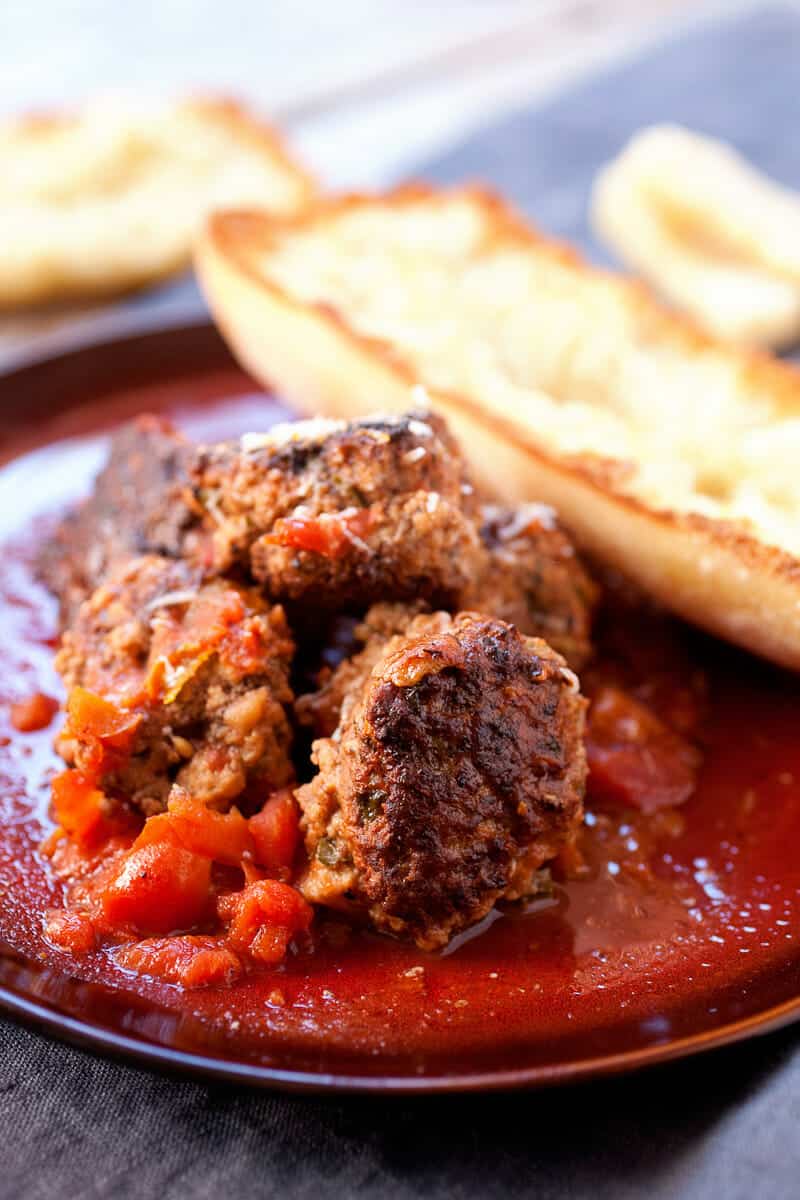 The other option for serving, which works well as an appetizer, is just to serve the meatballs and sauce with some good crusty bread. It truly needs nothing else to be great.
Storing and reheating meatballs
These meatballs store really well in the sauce in the fridge for five days. They will also freeze well for three months in an air-tight freezer-safe container.
Reheat the meatballs gently in a pot with a splash of water. You can also add the leftover meatballs to some good French bread with provolone cheese and bake it for a few minutes to make an absolutely killer meatball sub sandwich.
Tomato Red Wine Braised Meatballs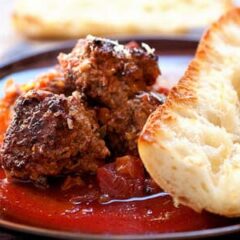 These homemade braised meatballs are slow-simmered in tomatoes and red wine and so good served over pasta or in a sandwich.
Ingredients
1

pound

lean ground beef

1

pound

ground pork

⅔

cup

minced fresh parsley

1

teaspoon

dried oregano

1

teaspoon

fennel seeds

1

teaspoon

red pepper flakes

¼

teaspoon

ground allspice

,

opt.

2

cups

white bread

½

cup

ricotta cheese

2

tablespoons

milk

3

large eggs

6

tablespoons

olive oil

⅓

cup

red wine

1

28-oz. can diced tomatoes

1

cup

water

Salt and pepper

Parmesan

,

for serving

Pasta or crusty bread

,

for serving
Instructions
Preheat oven to 325 degrees F. In a large bowl, combine beef, pork, parsley, oregano, fennel, red pepper flakes, allspice, and a pinch of salt and pepper. Mix together lightly with your hands.

In a separate bowl, mix together torn (cubed) bread, ricotta, milk, and eggs. Mash together mixture then work it into the meat mixture until everything is well combined. Mixture will be loose, but should roughly hold its shape if formed into a ball.

In a large dutch oven, heat 3 tablespoons olive oil over medium heat. Form heaping spoonfuls of the meatball mixture and gently roll them into balls. It's okay if they are loose. Add the meatballs to the hot Dutch oven and sear them for 3-4 minutes per side until they are well-seared. Work in batches. It will take probably 3 batches to sear all the meatballs. If at any point the pot looks dry, add more olive oil.

When meatballs are all seared, add water to the Dutch oven and use the liquid to scrape up any bits stuck to the pan. Then add tomatoes and red wine. Bring mixture to a slight simmer.

Add all seared meatballs back into the Dutch oven. They should be mostly covered by the liquid. Cover the Dutch oven and transfer it to a 325 degrees F. oven. Braise for 90 minutes.

Serve braised meatballs over pasta or with big pieces of crusty bread. They would also make a perfect meatball sub sandwich.
Nutrition
Serving:
5
Meatballs
|
Calories:
554
kcal
|
Carbohydrates:
10
g
|
Protein:
36
g
|
Fat:
39
g
|
Saturated Fat:
12
g
|
Polyunsaturated Fat:
4
g
|
Monounsaturated Fat:
21
g
|
Trans Fat:
0.3
g
|
Cholesterol:
194
mg
|
Sodium:
225
mg
|
Potassium:
627
mg
|
Fiber:
1
g
|
Sugar:
1
g
|
Vitamin A:
891
IU
|
Vitamin C:
10
mg
|
Calcium:
137
mg
|
Iron:
4
mg
Did you make this recipe?
Here are a few other great recipes to try!