I think when most people picture spaghetti and meatballs they envision a gigantic pot of red sauce with drowning meatballs dunked in it.
Because that's what most people do when they make meatballs. It's pretty easy to make decent meatballs and sauce if you do it this way, BUT… we can do better.
Especially in the summer, I'm just not in the mood for a thick sauce piled on my pasta. And that's when this recipe saves the day. The meatballs, made of buffalo because of last week's poll, are light and super-flavorful. Serving them over buttered egg noodles instead of sauced spaghetti makes this a great hearty summer dinner.
Buffalo Meatballs
Delicious roasted meatballs made with ground buffalo. Skip the red sauce and try these out!
Ingredients
1

pound

ground buffalo

4

ounces

about ½ Cup frozen spinach, thawed and drained

½

Cup

Parmesan cheese

,

grated

1

large egg

¼

Cup

bread crumbs

,

plus more for coating meatballs

1

Tablespoon

fresh basil

1

Tablespoon

fresh parsley

1

Teaspoon

garlic powder

½

Teaspoon

red pepper flakes

Pinch

of salt and pepper
Instructions
Thaw spinach and press out as much moisture as possible with a few paper towels.

Chop spinach and fresh herbs very finely.

Mix ground buffalo and other ingredients in a large bowl. This can be done in advance.

Form meatballs with 1½-2 ounces of meat. Keep the mixture nice and light.

Once the meatball is formed, toss it around in bread crumbs until completely covered.

Set meatballs in a mini muffin tin (or on a sheet pan if you don't have one)

Bake at 400 degrees for 25 minutes. Turn once halfway through.

Serve meatballs over buttered noodles with Parmesan cheese and parsley.
Nutrition
Serving:
3
Meatballs
|
Calories:
119
kcal
|
Carbohydrates:
2
g
|
Protein:
10
g
|
Fat:
8
g
|
Saturated Fat:
3
g
|
Polyunsaturated Fat:
0.4
g
|
Monounsaturated Fat:
3
g
|
Trans Fat:
0.002
g
|
Cholesterol:
43
mg
|
Sodium:
122
mg
|
Potassium:
169
mg
|
Fiber:
0.4
g
|
Sugar:
0.3
g
|
Vitamin A:
1222
IU
|
Vitamin C:
1
mg
|
Calcium:
73
mg
|
Iron:
1
mg
Did you make this recipe?
Making the Meatballs
The problem with some meatballs is that they tend to either A) fall apart or B) be completely dry. These guys have neither problem. They have plenty of moisture and texture and stay together really nicely.
You could use dried herbs if you wanted (use 1 1/2 Teaspoons instead of a full tablespoon), but I think fresh works great.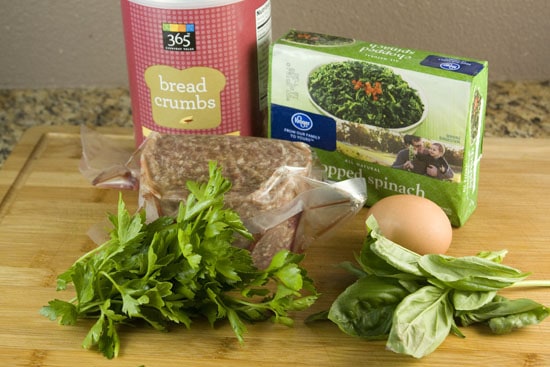 While I think it's good to use fresh herbs, I don't think it's important at all to use fresh spinach. I just used the frozen stuff, thawed it out and pressed out as much liquid as possible with a few paper towels.
Then just chop it up!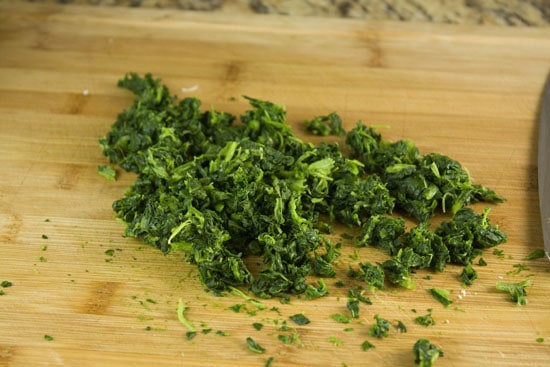 Add all your meatball ingredients to a large bowl and start stirring!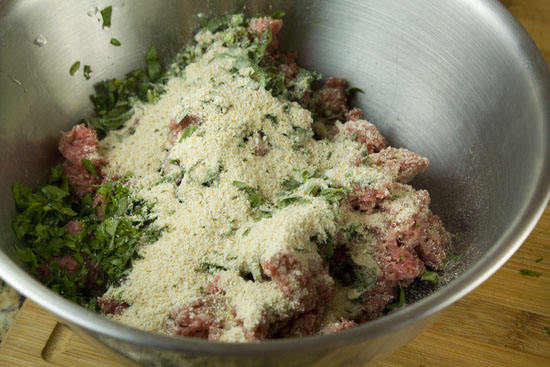 The key when making meatballs is to keep the mixture nice and light. You don't want to be pressing down really hard on the meat. Just stir it until the ingredients are mostly combined and think light thoughts!
You could make this up to 24 hours in advance if you wanted. Not that it takes long to make.
Forming the balls
I like to weigh my meatballs to make sure they are all pretty much the same size. This isn't completely necessary though. You are basically looking for a 1.5-2 ounce meatball. It should be the size of a small golf ball basically.
Just roll the meat gently between your hands until it forms a ball. Again, keep it nice and light.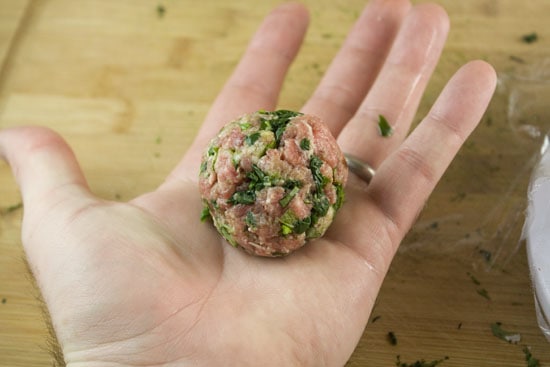 Then add the ball to a bowl full of bread crumbs and roll it around a bit until it's completely covered.
Repeat until all the balls are formed!
Cooking the meatballs
There are a ton of ways to cook meatballs. Actually, pretty much any way you can cook stuff, you can cook meatballs. You could fry them, cook them on the stove, roast them… the options are pretty endless.
Alton came up with a great technique on his meatballs episode that I just had to try.
You cook the meatballs in a mini muffin pan!
The benefits of doing this are two fold. First, since the meatballs are gently held above the bottom of the pan, the fat can drain away. Second, the even heating ensures that they get nice and browed all around while still keeping their shape.
I baked mine for 25 minutes at 400 degrees and turned the meatballs once halfway through. These are ready to go!
Serving Options
Options are pretty limitless when it comes to serving. You could stick them on toothpicks, toss them in some red sauce at this point, or go the way I chose.
Cook up some egg noodles, drain them, and then toss in a few tablespoons of butter. Once the noodles are well buttered, serve the meatballs on top with some fresh Parmesan cheese and parsley.
This really lets the meatball flavor shine.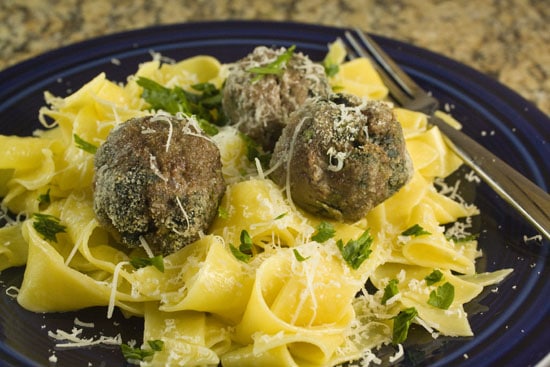 These were really fun to make and took me only about 35 minutes start to finish. That's not too bad for a really nice dinner.
Leftovers are great on a hoagie with provolone cheese!
Meatballs in a mini muffin tin. Go figure.