This post is a collaboration with Beef. It's What's for Dinner. On behalf of the Beef Checkoff. I received compensation, but all opinions are my own.
This post is a collaboration with Beef. It's What's for Dinner. On behalf of the Beef Checkoff. I received compensation, but all opinions are my own.
It finally feels like fall and there is nothing more I like to do on a lazy fall weekend than cook something comforting for family and friends. This Beef Braciole dish is a bit of a lift, but the results are really special, and perfect to serve on a chilly Sunday.
This is far from a quick (crunch time) dinner, but the nice thing about learning to be a good home cook is to make time and space for the occasional reach meal.
After all, cooking shouldn't always be about finding the fastest way to feed people, it should also be about enjoying the kitchen and eating well, even if that takes a bit longer.
Let's dive in and learn how to make this really special twist on a classic Italian dish.
What is Braciole?
Braciole is a traditional Italian dish that can take on many forms depending on the region. It can be made with either beef or other proteins and is generally sliced thin, stuffed and rolled into a roulade, and simmered in a tomato sauce until tender.
It's Italian comfort food at its best in my opinion!
What types of beef work well for Braciole?
In theory, there are a lot of cuts that would work well for Braciole. I would stay away from anything too pricy or too fatty, like a Sirloin Steak or something. Personally, I like to use a Top Round Roast which is a bit leaner than Chuck Roast and can be easily sliced into strips.
Any cut will technically work though as long as you can slice it, and pound it into thin sections.
Making the Braciole filling
Before you make the braciole, be sure to have the filling ready to go. For my version, I blanched some Swiss chard in salted water, drained it and dried it and then chopped it and mixed it with breadcrumbs, parmesan, and garlic.
Crunch Time Tips
Taste the filling. It shouldn't need much seasoning thanks to the saltiness in the blanching water and the parmesan cheese, but if the filling tastes underseasoned, add a pinch of salt and maybe pepper to it.
Shaping the Braciole
Getting the braciole shaped is the hardest part of this recipe, so take a deep breath and take your time with it!
Start by slicing your beef cut into ⅓-½ inch slices. If needed, you can also butterfly them slightly to spread them out.
Then place the beef slices between some plastic wrap and lightly pound them with a mallet or rolling pin to flatten them out.
I would flatten all the beef pieces before you shape the braciole.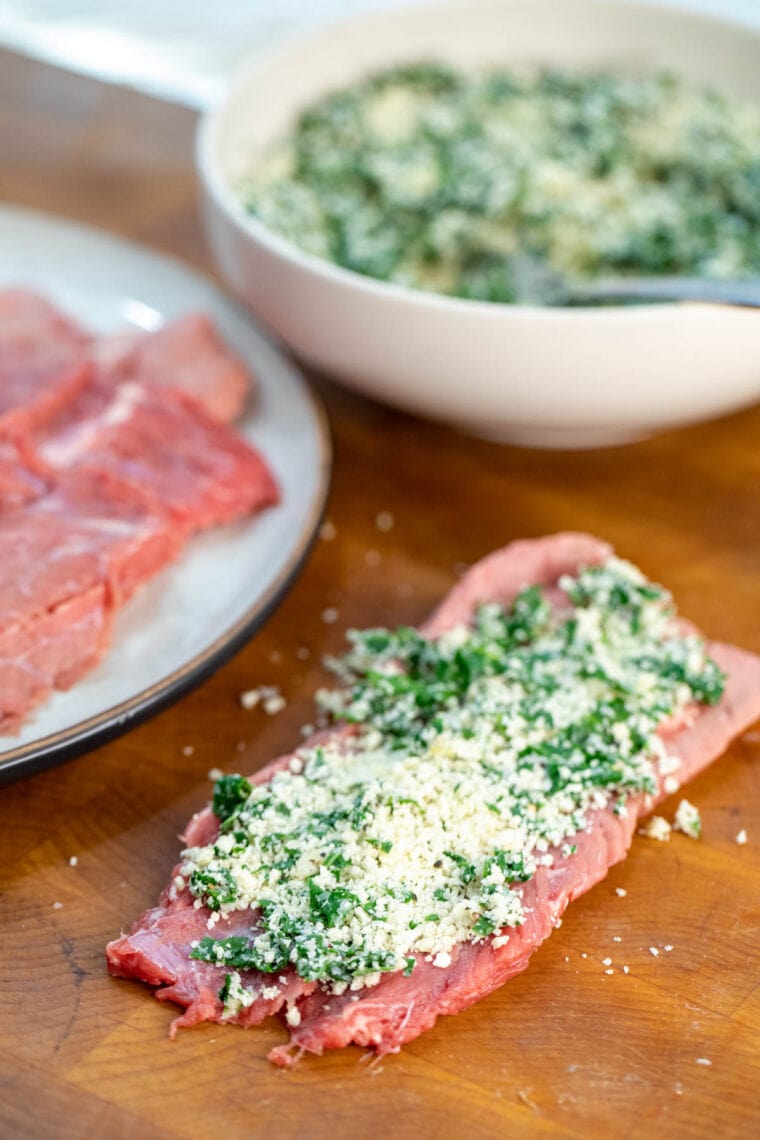 Then add about ¼ cup of the filling to each beef slice and press it into the beef. Roll it into a tight cylinder and then secure each piece with a piece of twine. You should get at least eight braciole out of the batch, but you might be able to get ten.
Crunch Time Tips
As far as shape goes, I like to think of a long rectangle for my beef slices. When you roll the pieces, you want to roll them with the short side facing you, so the rolls are thicker and shorter rather than wide and thin.
Searing and braising the Braciole
Don't skip the step of searing the braciole before adding them to the braising liquid. Sear each piece in some olive oil for a few minutes per side. If you have a big skillet, you can probably fit all of them in at once or do them in batches.
To make the sauce, add olive oil to a large, sturdy pot over medium heat. Then add in onions and tomatoes. Bring to a simmer and add spices and then nestle your braciole in the liquid.
I also recommend deglazing the skillet with a little water or wine and scraping up any bits stuck to the skillet. Add that liquid to the braising pot as well.
Bring the liquid to a slight simmer, cover, and cook the braciole over low heat for 90 minutes or until the beef is very tender.
Making the creamy polenta
Near the end of the beef cooking, you can whisk together the polenta. Alternatively, you could serve this over pasta or egg noodles.
I keep my polenta pretty simple and cook it in beef stock with about a cup of whole milk. You could also use all stock or water as well. Whisk in the polenta once the liquid is simmering and stir to prevent clumping.
Cook the polenta until it's tender (10-15 minutes) and don't be afraid to add more liquid if it gets too thick. Add butter near the end to make it creamy and season with salt and pepper.
Serving the Beef Braciole
This is a beautiful plate of food. Spoon some polenta onto each plate and top with a braciole or two. Then spoon on some tomato sauce and garnish with Parmesan parsley. Serve with a light salad and a glass of red wine for a wonderful fall dinner.
Leftovers
This beef braciole dish is best right away. As the beef cools it can get a bit tough. If you have leftovers though, they are best reheated in the oven with some of the leftover sauce and covered with foil. They will need to reheat for 25-30 minutes at 350˚F until they are again very tender.
If you microwave the braciole, it will stay pretty tough although you can do it in a pinch if you slice it thinly once it is hot.
Beef Braciole with Creamy Polenta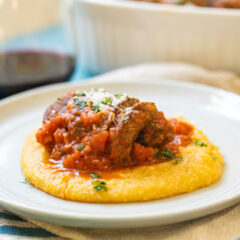 Braised Beef Braciolewith Swiss Chard over creamy polenta! The perfect comfort food for a lazy fall night.
Ingredients
Braciole Filling:
1

bunch

Swiss chard

,

blanched and chopped

½

cup

breadcrumbs

½

cup

grated Parmesan cheese

2

cloves

garlic

,

minced
Braciole Ingredients:
2

pounds

Beef top round

,

sliced thin and pounded

¼

cup

olive oil

,

divided

1

medium

white onion

,

chopped

2

28-ounce can

crushed tomatoes

1

tablespoon

Italian seasoning

½

teaspoon

red pepper flakes

1

teaspoon

kosher salt

½

teaspoon

black pepper

6

leaves

fresh basil

Grated Parmesan

,

for serving

Minced parsley

,

garnish
Creamy Polenta:
1

cup

dried polenta

3

cups

beef stock

1

cup

water

,

or whole milk

¼

cup

butter

Salt and pepper

,

to taste
Instructions
For Braciole Filling:
Bring a medium pot of salted water to a simmer. Add Swiss chard and blanch for 90 seconds. Drain and let cool. Squeeze out as much water as possible.

Remove larger stems from the chard and mince the chard. Stir together with grated parmesan cheese, breadcrumbs, and minced garlic. Set the filling aside.
To make braciole:
Slice your beef into about ⅓ inch thick slices. Depending on the thickness of your roast or steak, you may want to butterfly it a bit, so it is thin. Then place the beef between some plastic wrap and flatten it with a mallet or rolling pin so it is very thin and rollable. I like to prepare all the beef slices before filling (you should get at least 8).

Working with one slice of beef at a time, place on a clean surface and add ¼ cup of chard filling to the beef. Press it evenly into the beef and roll the beef into a tight cylinder. Wrap braciole with some twine to hold it tightly. Repeat with all beef and filling.

Add 2 tablespoons of olive oil to a skillet over medium-high heat. Once the oil is shimmering and hot, add beef braciole and sear the beef on both sides for 2-3 minutes per side until nicely browned. Remove from heat. Add a little water to the skillet and deglaze the pan (you could also use wine) and set that liquid aside.
Braising the Braciole:
In a large Dutch oven or sturdy pot, add 2 tablespoons of olive oil over medium heat. Add diced onion and sweat the onion down for a few minutes until translucent.

Add canned crushed tomatoes, Italian seasoning, and spices. Also add the deglazed liquid from the skillet. Bring the tomato mixture to a slight simmer and turn heat down to low.

Add seared braciole to the tomato sauce, cover, and simmer over low heat for 90 minutes or until beef is very tender.
Making the creamy polenta:
While the braciole is cooking, you can make the polenta right before serving. Bring stock and milk (or water) to a simmer in a medium pot. Whisk in the corn in a steady stream. Continue to stir to prevent clumping.

Simmer the polenta until it thickens. If it is very thick, feel free to add another ½ cup of liquid to keep it stirable.

Simmer the polenta for about 10 minutes until tender. Once it is tender, add butter and season with salt and pepper. Keep polenta warm until serving and don't be afraid to add a little more liquid to keep it thin as polenta will solidify if it cools too much.
Serving the braciole:
Serve the braciole by adding a serving of polenta to a plate and top with one or two braciole along with some tomato sauce. Add grated cheese and minced parsley and serve immediately.
Nutrition
Serving:
1
braciole
|
Calories:
589
kcal
|
Carbohydrates:
26
g
|
Protein:
29
g
|
Fat:
41
g
|
Saturated Fat:
16
g
|
Polyunsaturated Fat:
2
g
|
Monounsaturated Fat:
18
g
|
Trans Fat:
0.2
g
|
Cholesterol:
103
mg
|
Sodium:
867
mg
|
Potassium:
750
mg
|
Fiber:
2
g
|
Sugar:
2
g
|
Vitamin A:
2663
IU
|
Vitamin C:
13
mg
|
Calcium:
152
mg
|
Iron:
5
mg
Did you make this recipe?
Here are a few other great recipes to try!
---