Any time we travel to the South, I'm always on the lookout for good hush puppies. These fried golden fritters are usually found at BBQ shacks, but can also be found served alongside fresh seafood. Dipped in honey butter, they are truly one of my favorite fried side dishes. I made this Sweet Corn Hush Puppy version since fresh corn is so delicious right now.
These are definitely worth busting out the fry oil for and making them any time you want something special to serve with your grillables this Labor Day weekend!
What is a hush puppy?
I usually enjoy hush puppies when we travel to North Carolina in the summer. It's a side dish that can be served with BBQ or with fresh seafood and is a staple in the South. There is a story that the name comes from an Atlanta cook who once gave a platter of fried corn balls to a puppy and said, "hush puppy" and the name stuck.
Who knows how much truth there is to naming stories like that, but I like the name and like, even more, eating hush puppies!
Hush puppies are made with mostly cornmeal although I do like to add in a little flour as well. They end up being crunchier on the outside than a flour fritter and a little sturdier.
Oddly, I find hush puppies excellent even after they have cooled off and are room temperature. I have no problem serving and eating them many hours after cooking them.
Ingredients for Hush puppies
Hush puppies are a really basic fritter, of sorts.
The must-haves for hush puppies are cornmeal, buttermilk, eggs, and some leavening ingredients (baking powder and baking soda).
Those ingredients plus a pinch of salt will get you to a basic cornmeal hush puppy batter that can be fried as-is. I use almost the same batter in my Jalapeño Hush Puppy recipe which has a spicy kick.
For this corn version of hush puppies, which just seems to make sense this time of year, I added fresh sweet corn to the batter as well as some Tajin spice for a salty, chili kick! You could leave that out if you can't find it or don't want to bother.
Can you use frozen or canned corn?
I would recommend using fresh corn if you can find it, which shouldn't be too hard in late summer/fall. But if you are reading this out of season, you can use frozen or canned corn as a substitute in these corn hush puppies.
My only tip here is to make sure you dry off the corn as much as possible as too much liquid will ruin your batter. For the canned corn, drain it well and then dry it off on some paper towels. For the frozen corn, thaw it completely and then dry it off in the same way.
Making the honey butter
It's not completely essential to make a dip for these corn hush puppies. They are excellent on their own or you could use many store-bought dips like BBQ sauce or ranch dressing.
Personally, though, this honey butter kicks up the hush puppies to another level. It's pretty easy to mix together. Starting with softened butter is the most essential part as hardened butter will never mix correctly.
Mash together the butter and the honey and you'll be in hush puppy heaven.
How to fry the hush puppies
Mixing this corn hush puppy batter is pretty straightforward. Whisk together the dry ingredients in a medium bowl and then add the egg and buttermilk. Fold in the corn kernels.
Fry these hush puppies in hot oil (350˚F) until they are golden brown, about 3-4 minutes. I just use canola oil for frying but you could use peanut oil or any oil of your liking.
These are pretty small to fry so I don't bust out the deep fryer for them and just fry the hush puppies in a sturdy pot.
Resist making these too big and use a spoon to drop small rounds of batter into the oil, carefully. They will puff up as they fry.
If you find that your hush puppies are not round enough and are more round, then add a little extra flour to them to thicken the batter and they will firm up and be more ball-shaped.
When the hush puppies come out of the hot oil, let them drain on a baking sheet with some paper towels. Serve them while warm or they are also fine at room temperature.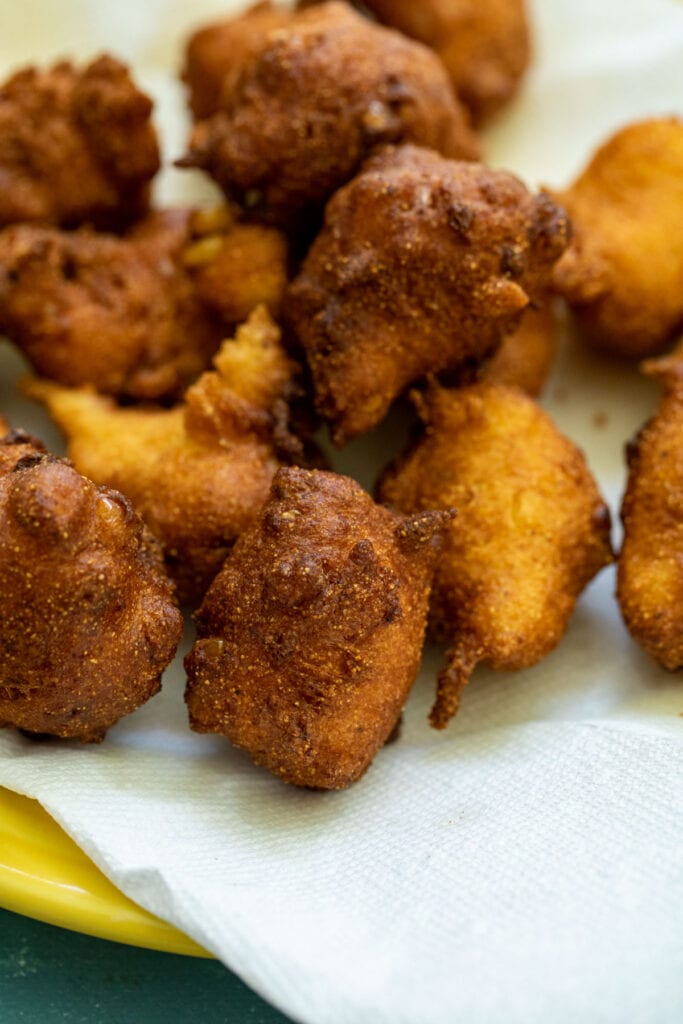 Substitutions and ideas
Hush puppies are a simple dish so I wouldn't over-stuff these with too many add-ins, but there are some easy ideas here that you could try out if you don't want to go the fresh corn route.
Change up the spices. Add some garlic or onion powder to the hush puppies for extra savory flavors.
Add some shredded cheddar cheese to the batter for a cheesy hush puppy
Try out fresh herbs in the batter like scallions, chives, or minced cilantro
Make a different dipping sauce like my easy tartar sauce recipe.
Storing leftovers
If you have leftover hush puppies, they keep really well in an airtight container for a few days. I would reheat them in a 300˚F oven until they are warmed through, but you can microwave them also, although they will loose some of their crunchy texture in the microwave.
Sweet Corn Hush Puppies
These fried sweet corn hush puppies are the perfect side to any late summer or fall meal. Golden brown cornmeal puffs served with homemade honey butter!
Ingredients
¾

cup

cornmeal

½

cup

all-purpose flour

1

teaspoon

Tajin

,

optional

½

teaspoon

salt

½

teaspoon

baking powder

¼

teaspoon

baking soda

1

large egg

½

cup

buttermilk

1

cup

fresh sweet corn kernels

,

about two ears

Oil for frying
Honey Butter:
½

cup

salted butter

2

tablespoons

honey
Instructions
For honey butter, allow butter to soften and then mash together with honey. Keep at room temperature to serve so it is dippable.
For hush puppies:
Add cornmeal, flour, salt, Tajin, baking powder, and baking soda to a medium bowl and whisk together. Whisk in egg and buttermilk to form a very thick batter. Fold in corn kernels.

Heat oil about 3 cups of oil in a sturdy pot to 350˚F. You only need a few inches of oil to fry these. When oil is hot, use a spoon to gently spoon in scant tablespoons of batter into the oil, being careful not to splash. Allow hush puppies to fry for 3-4 minutes, flipping them as needed to ensure even frying. Work in batches to not crowd the pot.

Remove golden brown hush puppies with a slotted spoon and allow to drain on a baking sheet with paper towel.

Repeat until you have used all your batter.

Serve hush puppies warm or at room temperature with honey butter.
Nutrition
Serving:
1
Hush Puppy
|
Calories:
80
kcal
|
Carbohydrates:
9
g
|
Protein:
1
g
|
Fat:
5
g
|
Saturated Fat:
3
g
|
Polyunsaturated Fat:
0.4
g
|
Monounsaturated Fat:
1
g
|
Trans Fat:
0.2
g
|
Cholesterol:
18
mg
|
Sodium:
107
mg
|
Potassium:
44
mg
|
Fiber:
1
g
|
Sugar:
2
g
|
Vitamin A:
153
IU
|
Vitamin C:
0.4
mg
|
Calcium:
14
mg
|
Iron:
0.3
mg
Did you make this recipe?
Here are a few other great recipes to try!