Last month, Betsy's mom was in town and we went out to eat at a really awesome restaurant here in Denver called Beast + Bottle. They focus in great brews and wines and also do head to tail cooking which is awesome. One dish that stuck with us all was a simple corn souffle. It was incredibly light and airy, but still rich. When I got home I new I wanted to try my hand at making a corn souffle from scratch!
I'm obviously not sure how they make their version, but I think I got pretty close with my Corn Souffle and it's definitely a really special dish.
Corn Souffle
A step-by-step walk through of how to make this light and fluffy corn souffle! This delicious side is a showstopper for your holiday table!
Ingredients
1

tablespoon

olive oil

½

white onion

,

diced

1

cup

sweet corn

1

teaspoon

paprika

4

tablespoons

unsalted butter

4

tablespoons

all-purpose flour

1 ½

cups

milk

,

warm

1

cup

cheddar cheese

,

grated

6

eggs

,

divided

1

teaspoon

cream of tartar

Pinch

of cayenne pepper

Salt and pepper
Instructions
Make sure to prepare all the ingredients before starting to mix together the souffle. When separating the eggs, do it one egg at a time and make sure not even a single drop of yolk gets in your egg whites. Preheat oven to 375 degrees F.

Add olive oil to a medium pan over medium heat and add onions and corn. Season with salt, pepper, and paprika. Add a pinch of cayenne if you want it spicier. Cook until veggies are soft, about 4 minutes. Then transfer mixture to a small food processor and pulse a few times. Set corn mixture aside for later.

Wipe pan clean and then add butter to a saucepan over medium-high heat until butter is melted and then whisk in your flour. Cook for three or four minutes, whisking constantly.

Slowly whisk your milk into the roux (flour and butter). Work slowly so no lumps form in the sauce. It helps if your milk is warm for this so feel free to microwave it quickly.

Once your milk is whisked in, continue to cook the sauce so it thickens. Add your grated cheese and corn mixture to the sauce.

Whisk about 1 cup of the hot cheese sauce into your whisked egg yolks. Go slowly so your yolks slowly rise in temperature. Once that's done, whisk your yolk mixture back into your cheese mixture.

To whip egg whites, make sure your bowl and whisk are VERY clean. If you're using the same whisk that you used for your yolks, make sure it's sparkling clean. Even a single drop of fat (yolk) will kill your whites.

Beat the whites until they form stiff peaks, about 5 minutes if you're a good whisker. I recommend using a stand mixer for this.

Now the hard part. Take about 1/6 of your whites and stir them into your custard base. Don't worry about maintaining volume at this point. This will just lighten the base a bit.

Now add the rest of your egg whites and gently FOLD the whites into the sauce. Use a flat spatula and gently fold the base over the whites. Don't stir it in or you'll destroy the volume in the egg whites.

As soon as the mixture is combined, pour it into a buttered 2 1/2 quart dish (or individual ramekins) and bake for 30 minutes (15-20 with ramekins) at 375 degrees.

Test the middle of the souffle to make sure it's cooked through and serve immediately.
Nutrition
Serving:
1
ramekins
|
Calories:
469
kcal
|
Carbohydrates:
21
g
|
Protein:
20
g
|
Fat:
34
g
|
Saturated Fat:
17
g
|
Polyunsaturated Fat:
3
g
|
Monounsaturated Fat:
11
g
|
Trans Fat:
0.5
g
|
Cholesterol:
315
mg
|
Sodium:
317
mg
|
Potassium:
501
mg
|
Fiber:
2
g
|
Sugar:
7
g
|
Vitamin A:
1486
IU
|
Vitamin C:
3
mg
|
Calcium:
359
mg
|
Iron:
2
mg
Did you make this recipe?
What is Corn Souffle?
A souffle is a classic french dish where egg whites are folded into a egg yolks to form a very light baked dish. It can either be sweet or savory. A corn souffle usually has some onion or shallot in it along with spices to make a savory souffle. If you want to see a classic souffle, be sure to check out my basic cheese souffle tutorial!
A souffle is thought of as a tough dish to make and has a lot of myth around it, but you don't need to go to culinary school to learn to make it and as long as you fold your ingredients together carefully, it should puff up beautifully.
How to Make a Corn Souffle
Obviously using fresh corn is best for this corn souffle and I'm sure that Beast + Bottle probably used fresh sweet corn. That's kind of tough to find year round though so I just used frozen sweet corn which I thought worked fine.
To start the corn mixture, cook the onions and corn in a medium pot for a few minutes until the veggies are soft. Season the corn mixture really well with a pinch of salt, pepper, and paprika. If you want the final dish a little spicy, add a pinch of cayenne also!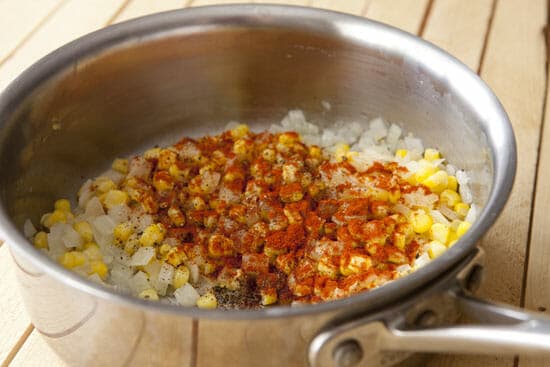 While I think you could leave the veggies whole for the souffle, I decided to pulse mine in a small food processor a few times just to make it easier to fold into the batter later.
You don't want the mixture completely smooth. Some texture is great.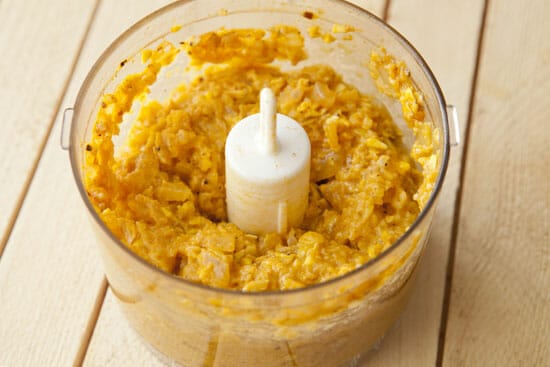 There are two parts to any souffle and both are intermediate difficulty but together they are probably advanced. Step one is making a bechamel and then folding in egg yolks to make a thick custard.
To start this, melt the butter in a medium pot and whisk in the flour. Cook this for a few minutes over medium heat until the flour starts to turn a light tan color. Then slowly whisk in the warmed milk.
The mixture will thicken substantially. Now, you need to temper the sauce into a few eggs – six to be exact.
Whisk the yolks until they are a light color. Then slowly whisk about a cup of the hot sauce into the yolks. This will slowly bring the yolks up in temperature.
Then you can whisk the warmed yolks back into the rest of the hot custard sauce!
Let this mixture simmer over medium heat until it thickens into a gravy-like consistency. This shouldn't take more than a few minutes.
Then you can just whisk in the cheddar cheese and corn mixture.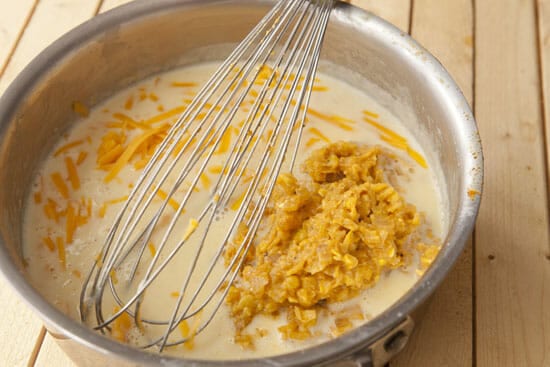 Finishing the Souffle Batter
The second part of the Corn Souffle, and the most important in my opinion, is the egg whites!
Because you need to whip the whites into a meringue, it's really important that the whites are completely separate from the yolks. Even one drop of yolk will completely ruin the batch so separate the eggs one at a time and then add the separated white into the larger batch.
When you have your bechamel done, add the egg whites to a bowl and whip them with the whisk attachment in a stand mixer.
For those interested, you absolutely can do this by hand with a whisk. It'll take about six minutes and lots of forearm strength!
Before you start whisking, add the cream of tartar to the whites which will help the whites set up. They should hold really stiff peaks when they are ready.
Baking the Corn Souffle
Now for what is considered the hardest part of the whole souffle process: mixing these two things together. Typically, fat and whipped egg meringue don't mix so it's important to work quickly here or your batter will collapse.
For starters though, just stir about a sixth of the whites into the bechamel sauce. This will lighten the batter a bit and make it easier to fold the rest of the whites into the batter.
Then add the rest of the whites and gently start folding the whites into the batter. To do this, scrape around the outside of the bowl and fold the batter around. So you aren't stirring it, you're folding it. Be gentle with it! The goal is to keep it as light and airy as possible.
Preheat your oven to 375 degrees F. when you are ready to bake the souffle! If you put this in a warm oven, it just won't work.
Also, make sure you butter the baking dish really well or else the Corn Souffle will stick as it rises.
This was my batter in the dish!
Bake the souffle until it's puffed and set in the center. It should take about 30-35 minutes.
In my opinion, you can ignore all the old wive's tales about getting a souffle to rise. You don't have to be really quiet or anything. If you do the egg whites correctly, it should puff up nicely.
I've seen puffier souffles than mine turned out, but the finished version was really light and airy so I'll take it!
How to tell if a Souffle is done
It can be tough to tell if your souffle is baked all the way through. Baking time could vary depending on your oven and even the dish you use. A finished souffle should be puffed and browned on top. A tester should come out of the center completely clean with no liquid egg batter on it. For a corn souffle like this, that will be somewhere around 30-35 minutes most likely.
Can you store a souffle?
Souffles are made to be eaten right away. I wouldn't try to make it in advance or store it for later. It just won't be the same and will lose all of its airy wonderful quality. Make it and eat it!
What to serve with a Corn Souffle?
I think this dish works as a fantastic side dish to so many dishes. It would go great with any sort of grilled protein. Particularly, I think it would be nice with pork recipes like this roasted pork loin with chutney recipe. Souffle is traditionally a french dish, but I think this corn souffle goes well with Southern dishes as well. Fried chicken and souffle? Sounds good to me!
If you're feeling ambitious though and have the oven room, it's definitely a show stopper.
Here are a few other great corn recipes!