Most summers we make an annual trip to North Carolina with Betsy's family and I always look forward to cooking buckets of fresh shrimp and fish. A good homemade tartar sauce is always in the mix. This version is courtesy of a friend who is usually on the trip as well. I love it because it's just packed with flavor. A
I'm generally not one for tartar sauce and will usually pass on it for a big hit of lemon, but when I tried this tartar sauce I did two things. First, I took a big scoop of it for myself. Screw sharing. It was delicious. Second, I annoyed the maker of said tartar sauce until he gave me the recipe.
Ingredients you need for tartar sauce
Store-bought tartar sauce will be pretty skimpy on the add-ins, mostly using mayonnaise, sugar, and salt to come up with something passable for a dip. This dip though is packed with the goods.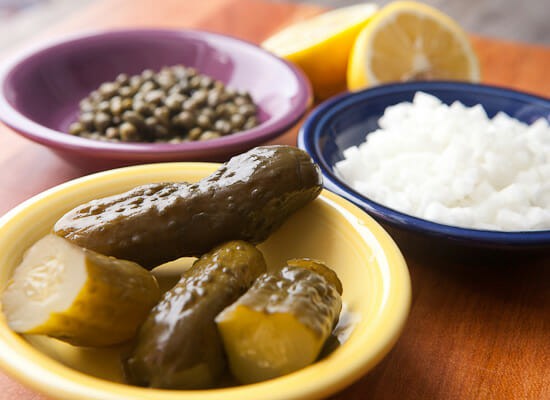 Mayonnaise. Yes you need mayonnaise. Homemade is best, but a good version like Duke's will work also.
Onion. You could use shallot, sweet onion, or even scallions for this.
Pickles. I know some people aren't into pickles (my wife) but they are essential for a tartar sauce.
Capers. This is kind of a curveball ingredient. You could leave them out and add more pickles, but they add a punch that is really good.
Lemon. A must have. Fresh lemon juice only please!
The shocking thing about this recipe is that I was sure there was more to it. But no. It really only has a few ingredients but there are a few important things to note.
Tips for making excellent tartar sauce
First, the amount of capers is not a typo. It's a lot of capers. I'm not talking about the little spots of capers you get on a bagel. I'm talking about capers-in-every-bite deliciousness.
Second, use good dill pickles. They should be crunchy and bright. If you can find them, my favorite brand at the moment is Bubbies pickles.
A few more tricks!
After you dice the onions (you can use sweet onions, white onions, red onions, or shallots), I like to rinse them under cold water. This rinses off some of the harsh onion taste.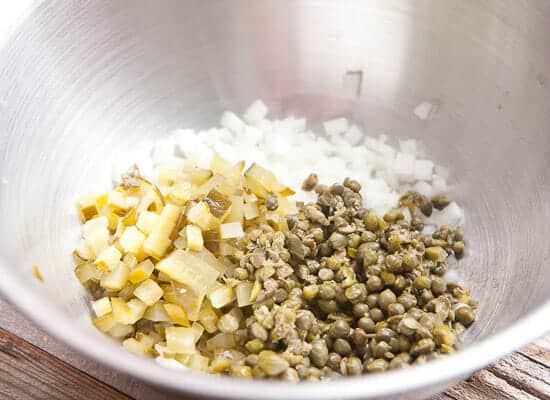 Also, try to dice your pickles and onions so they are about the size of capers… pretty finely. You can also chop up the capers roughly.
Now the hard work is done!
Let's talk mayonnaise
The base of a good tartar sauce is mayonnaise. I've seen some healthy-ish versions trying to substitute yogurt. Not my thing. Mayonnaise is essential for tartar sauce.
If you can, homemade mayo is probably best, but I used store-bought and it was great also. The amount of mayo and lemon is roughly estimated in the recipe to what I like. I like mine pretty chunky with the mayo just barely holding everything together. You could add more if you want it creamier.
All stirred together it should be nice and chunky. Season it with salt and pepper! I gave amounts in the recipe, but as I've mentioned, you should probably season it as you go as the capers and pickles will vary in saltiness depending on what you use.
What to serve with tartar sauce
Serve this stuff in hearty amounts with any fried or grilled fish. It's good slathered on most seafood.
I made a big batch of homemade fish sticks for this post and it was, not surprisingly, amazing.
As a true testament to the deliciousness of this homemade tartar sauce, I fed it to Betsy who downright despises both pickles and capers.
She ate it and didn't absolutely hate it. Trust me when I say that's a win!
Other serving suggestions would be alongside these spicy salmon cakes, Beer battered shrimp, or even as a sauce for these homemade shrimp burgers!
Variations and ideas
To be honest, I like this homemade tartar sauce recipe as-is because it's very simple and you don't have to pick up a ton of ingredients for a tartar sauce. But, if you were so inclined to change it up, here are some ideas!
Use fresh herbs. You could stir in all kinds of fresh herbs including fresh chives, parsley, or even tarragon.
Try different pickles like sweet pickles, butter pickles, or even pickled jalapenos.
For a spicy kick, stir in a little sriracha or tabasco sauce!
Storing the tartar sauce
The sauce actually keeps really well for up to a week in the fridge, which is conveniently the amount of time of most beach vacations. Mix up a big batch at the beginning of the week and you'll be all set for all your seafood dipping needs.
If you store the sauce in the fridge (and you should), you might notice a little water layer on top of the dip after a day or so. That's not a worry and you can just stir it back into the dip before serving.
Easy Homemade Tartar Sauce
Easy homemade tartar sauce made with loads of savory pickles and capers. Perfect for any fried or grilled shrimp or fish!
Ingredients
½

cup

minced onion

,

rinsed

½

cup

minced dill pickles

⅓

cup

chopped capers

⅔

cup

mayonnaise

1

large lemon

,

juice only

½

teaspoon

Kosher salt

½

teaspoon

black pepper
Instructions
Mince onions and rinse with cold water. Stir together with chopped capers and pickles.

Stir in mayonnaise and thin with lemon juice. Season with salt and pepper to taste and serve with any fried or grilled fish.

Made sauce will be fine in the fridge for 3-4 days.
Nutrition
Serving:
4
Tablespoons
|
Calories:
184
kcal
|
Carbohydrates:
4
g
|
Protein:
1
g
|
Fat:
19
g
|
Saturated Fat:
3
g
|
Polyunsaturated Fat:
11
g
|
Monounsaturated Fat:
4
g
|
Trans Fat:
0.05
g
|
Cholesterol:
10
mg
|
Sodium:
718
mg
|
Potassium:
69
mg
|
Fiber:
1
g
|
Sugar:
1
g
|
Vitamin A:
57
IU
|
Vitamin C:
11
mg
|
Calcium:
21
mg
|
Iron:
0.4
mg
Did you make this recipe?
Here are a few other great recipes to try!