I have a bone to pick, so to speak. If you go to a search engine, say Google, and look up boneless chicken wings, you'll find recipes that have absolutely nothing to do with chicken wings. You'll find recipes that use boneless skinless chicken breasts, cut in cubes, and fried.
That's fine… I guess and maybe actually what most people want when they search for boneless chicken wings! But, I wanted to explore making actual boneless chicken wings using real chicken wings and deboning them!
This recipe is therefore not for the faint of heart, but it is for the wing enthusiast! It's also helpful to know your way around a knife because you'll be using one a lot to make these happen!
So, come with me, if you will, and we'll walk through the steps to make these real boneless chicken wings happen for game day!
How to De-Bone a Chicken Wing
Okay. Let's get this out of the way. You are going to have to cut chicken wings off the bone to make these happen. This isn't that hard once you get the hang of it, but it does require a certain patience.
The trick to making it work is to grab a good paring knife and start with the biggest end of either the wing flat or wing drumette. Use the knife to cut around end of the joint to free the meat from the joint. (middle wing below).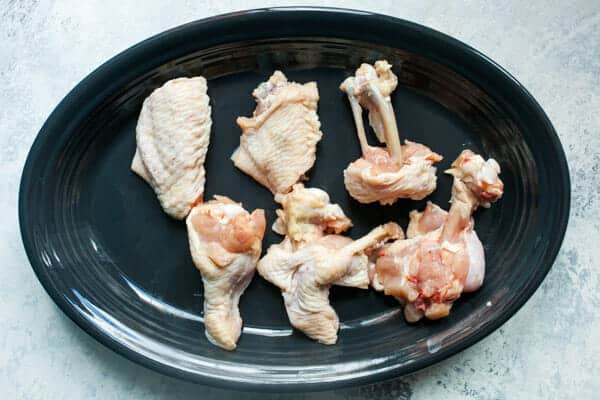 Then use the paring knife to slowly separate the meat from the bone as you work it down. Eventually it should release from the bone and literally slide off. (right wings below)
Then you can just pull the meat off and over the bottom joint and use your paring knife to separate it.
The trick to make this work is to take a minute to trim down the wing once you have it off the bone. There might be some extra tendons or extra skin/fat around the wing that you'll want to trim off. Of course, you want to leave on some of the skin because that's the whole point of doing this!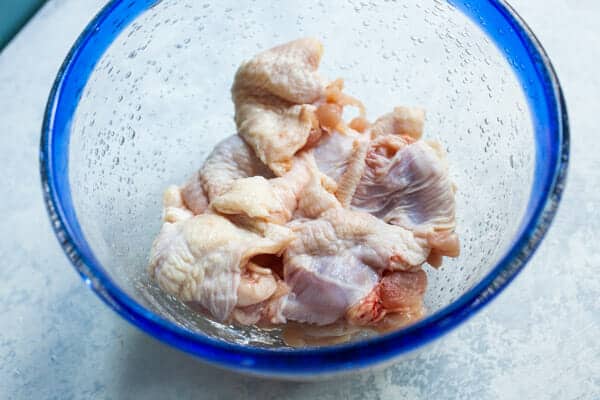 Obviously, once the wings deboned, the hardest part of this recipe is DONE.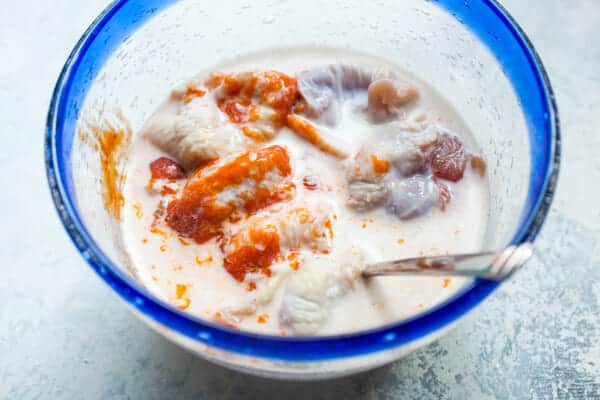 Marinating and Frying your boneless chicken wings
Once you have the true boneless chicken wings ready to go, just stir the wings into some buttermilk and hot sauce. You could let this marinate overnight, but at least let it go for 20-30 minutes.
Now's time to fry! Heat your fry oil in a deep fryer until it reaches 350˚F. You could also use an air fryer for these, but I prefer to actually fry these in oil so they get extra crispy.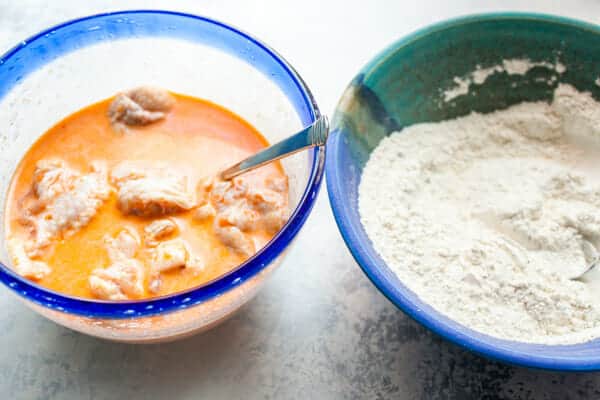 Mix the flour, salt, pepper, chili powder, and garlic powder. Then dip the wings from the buttermilk into the flour!
I'll note that the amount of flour and buttermilk in the below recipe is probably enough for 24 wings, even though I only wrote 12 in the recipe. Once you get the hang of the deboning thing, you can pump them out.
Once these are breaded in the flour mixture, fry them for about eight minutes at 350 degrees F. until they are golden brown and crispy! I fry my wings in either peanut oil or vegetable oil, depending on t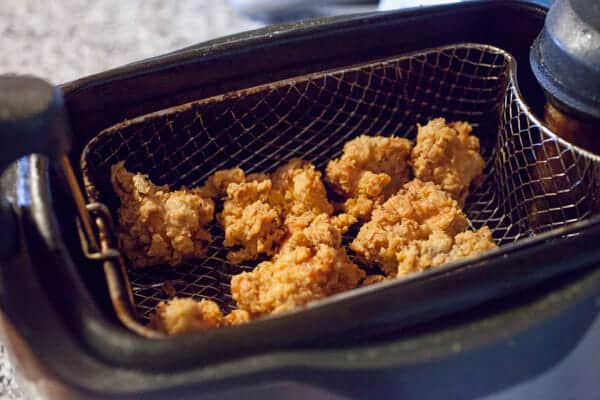 Let the wings drain for a bit on a paper towel and then move them to a bowl.
Then add your favorite wing sauce like buffalo sauce and you are ready to go! BOOM!
Serve these, as you do, with blue cheese or ranch dressing and lots of carrots and celery sticks.
One thing I like about these is that I find them more filling than the imposter boneless wings because they have more fat on them. They have a great texture and remind me a lot of eating wings on the bone!
They are still messy of course, which is the point! The flavor and texture of the boneless wings is perfect and they are much easier to eat than your classic wing.
I realize that these might be more work than many people are willing to do for an appetizer, but if you're like me and love wings, they might be worth a shot on a special day!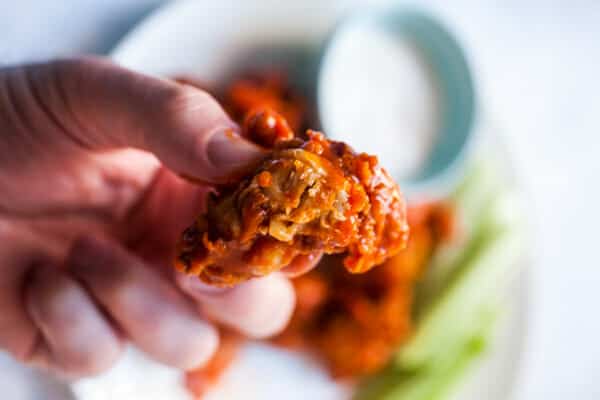 Substitutions and Ideas for Changes
There are some options and different ways you could go with these!
If you want to do less work, you could start with chicken thighs. De-bone those but keep the skin on and then one thigh is probably equal to 2-3 chicken wings.
Spice up the flour with other spices like paprika or cayenne pepper.
Instead of frying these and saucing them, you could toss them with a dry rub and bake them in the oven (like my Baked Pesto Chicken Wings) .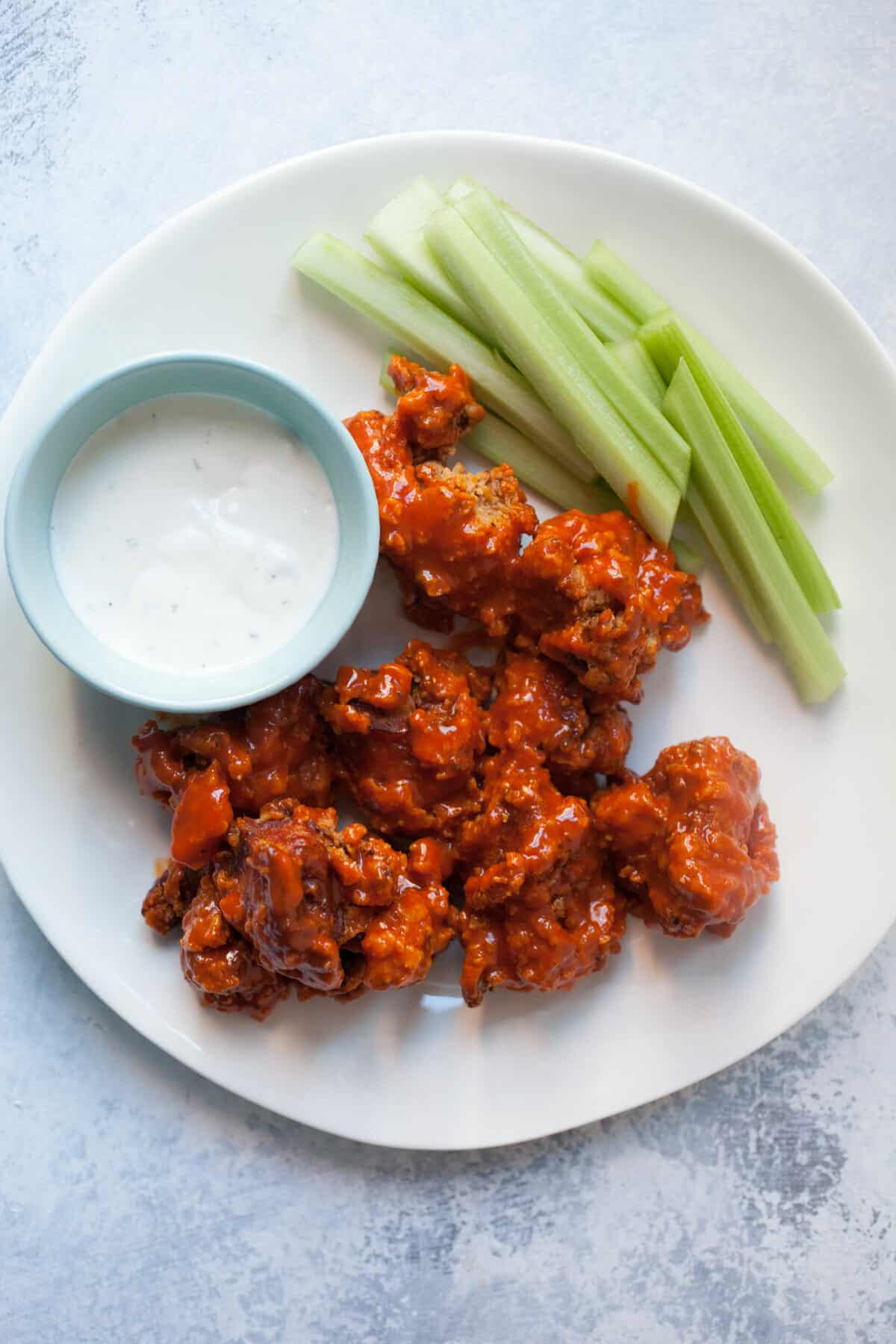 Real Boneless Chicken Wings
Ditch the boneless skinless chicken breasts and learn how to make real boneless wings, which yes, involves some work. The results are incredible though!
Ingredients
12

chicken wings

,

drumettes or flats

2

cups

buttermilk

2

tablespoons

hot sauce

2

cups

all-purpose flour

1

tablespoon

kosher salt

1

tablespoon

black pepper

1

tablespoon

chili powder

1

teaspoon

garlic powder

Hot wing sauce

,

for coating

Neutral oil

,

for frying

Blue cheese dressing

,

for serving
Instructions
In advance if you want: prep chicken wings. Use a sharp paring knife and start at the big end of either the flat or drum. Use your paring knife to carefully cut around the joint, separating the skin and meat from the bone.

Pull the chicken wing meat down and cut away from the bone. At some point the meat will release and slide down around the bone. Then use your knife to cut the meat off the other end of the bone.

Trim up the boneless wing by cutting off any tendons or large pieces of fat or skin.

Add the trimmed chicken wings to a bowl with buttermilk and hot sauce. Stir together. Finish all wings and let them marinate at least 20 minutes or overnight!

When ready to fry, preheat oil to 350 degrees F. Mix together flour, salt, pepper, garlic powder, and chili powder. Move chicken wings from buttermilk to flour and coat well.

Move chicken wings immediately to the fryer and fry for 8-10 minutes until the chicken wings are cooked through.

When boneless wings come out of the fryer, let them drain on a paper towel for a few minutes and then toss with sauce. Serve while warm!

NOTE: This recipe is easy to double. You'll have enough flour for at least a double batch of wings if you want.
Nutrition
Serving:
6
wings
|
Calories:
1269
kcal
|
Carbohydrates:
112
g
|
Protein:
75
g
|
Fat:
56
g
|
Saturated Fat:
18
g
|
Polyunsaturated Fat:
11
g
|
Monounsaturated Fat:
21
g
|
Trans Fat:
1
g
|
Cholesterol:
248
mg
|
Sodium:
4364
mg
|
Potassium:
1063
mg
|
Fiber:
6
g
|
Sugar:
13
g
|
Vitamin A:
2046
IU
|
Vitamin C:
12
mg
|
Calcium:
360
mg
|
Iron:
10
mg
Did you make this recipe?
Other Chicken Appetizer Ideas
Don't want to deal with the de-boning process for these boneless chicken wings? I get it. Here are a few other great chicken appetizers. For ease and flavor, these pickle chicken wings are one of my all-time favorites. If you aren't looking for something spicy, try these tequila lime chicken wings which have amazing flavor. I also love this Sticky Chicken Tender recipe from The Novice Chef!