Breakfast bowls seem to land on two sides of the recipe spectrum these days. Either they are basically a bowl of fruit and yogurt that are colorful and definitely "pin-worthy" or they are a massive heap of potatoes, cheese, and meat. This Healthy Breakfast Bowl is an entirely different thing. Starting with some kind of grain or veggie patty, you then layer on sauteed veggies and an egg for a really wonderful start to the day.
The goal of this breakfast bowl is to feel fulfilled after breakfast, but not FULL.
Since it's spring, I got the urge to cook up some delicious (and easy-to-find) spring veggies and make this Spring Greens Breakfast Bowl! The result was a breakfast bowl recipe that was delicious and filling but gave me plenty of energy for the morning.
You can dig into this one and feel good about it!
What grain works well for breakfast bowls
There are dozens of grains or starches you could use for this bowl. You could use potatoes or sweet potatoes for a heartier bowl or leftover grains you have in the fridge like rice, quinoa, or cousous.
For my bowl, I actually use a great veggie burger from Dr. Praeger's that I just seared in a little olive oil. Meanwhile, you can sear the veggie burgers in a little olive oil as well. You could also microwave them but I prefer searing them in a skillet so they get a bit caramelized!
Ingredients in a savory breakfast bowl
Once you have your grain or base selected for these, the next step is some veggies!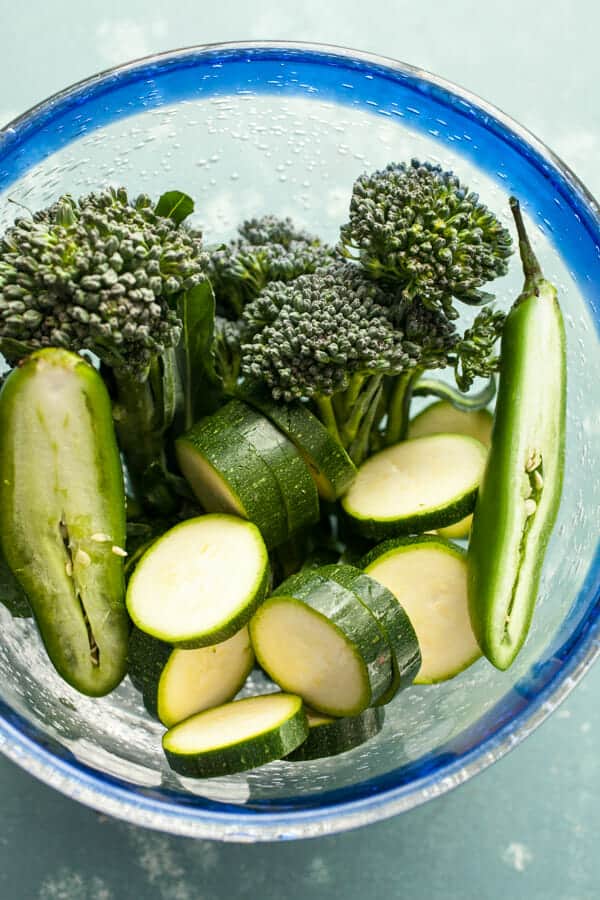 I picked some vegetables for this bowl that looked really fresh and bright on the particular day I was in the market, but the nice thing about this bowl is that it's incredibly flexible. I would pick 2-3 veggies that sautee well and look very fresh and call it a day. A few ideas would be the zucchini and rapini that I used, but could also expand to peppers, squash, green onions, brussels sprouts, grape tomatoes, mushrooms, avocado, and maybe even some cabbages.
I wanted this to have a tiny bit of spice to it so I tossed in a jalapeno that I just halved down the middle as well.
How to cook the greens for this recipe
To cook the veggies, chop them into large pieces and add them to a skillet with some olive oil, salt, and pepper. You want them to get some color so a medium-high heat is good. After a few minutes they will be good to go! Be sure not to cook them so much that they get mushy. Good sauteed vegetables will still have a little crunch to them.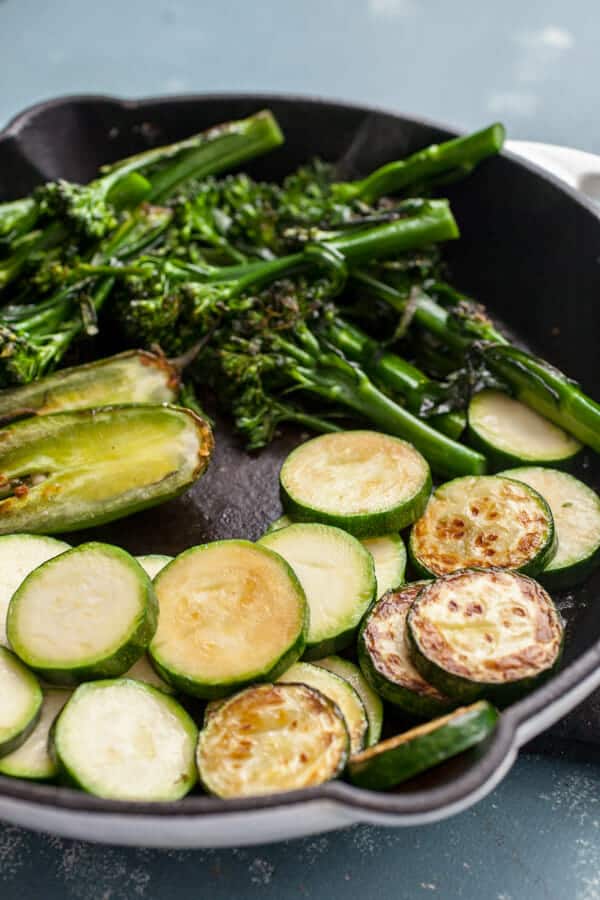 Making the eggs for these healthy breakfast bowls
And it wouldn't be breakfast for me without an egg. For a bowl like this, I like a sunny side-up one. I cooked this one in a little butter and put a plate over the pan for about 30 seconds to set the top of the egg without having to flip it.
You could also poach your egg or even do a soft-boiled egg if that's your preference.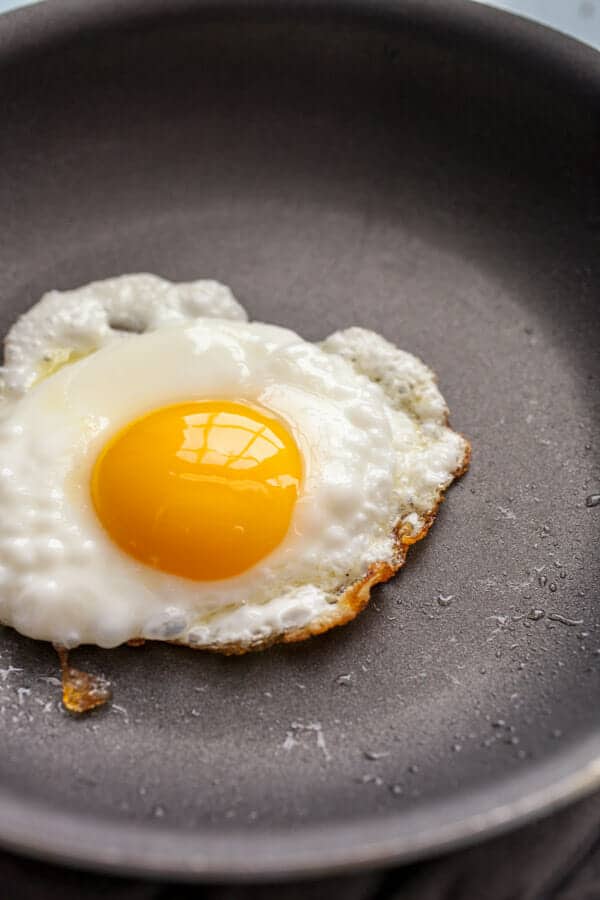 Finishing these breakfast bowls
All together now! I added lots of delicious garnishes: sesame seeds, red pepper flakes, and scallions!
These spring greens breakfast bowls are the perfect way to kick off an action-packed weekend. Not too filling, but just right.
Enjoy!
Substitution ideas
If you need other substitution ideas for these, check out these alternative ideas:
Make these breakfast bowls vegan by skipping the egg and adding a drizzle of olive oil for some good fats.
Make a quick creamed spinach with baby spinach in a skillet with a splash of cream and add that to the bowl.
Up the Tex-Mex flavors with sauteed peppers, cheese, salsa, avocado, and some hot sauce.
Make a Greek style breakfast bowl with red onion, feta, parsley, baby tomatoes, and a poached egg.
Spring Greens Breakfast Bowls
These bright fresh breakfast bowls are a filling and healthy way to start the day. Mix and match veggies to your liking!
Ingredients
1

small zucchini

,

sliced

1

bunch rapini

,

or baby broccoli

1

jalapeno

,

halved

2

tablespoons

olive oil

,

divided

2

veggie burgers or 1 cup leftover grains

2

large eggs

,

sunny-side up

Salt and pepper

Fresh scallions

,

garnish

Fresh cilantro

,

garnish

Sesame seeds

,

garnish

Red pepper flakes

,

garnish
Instructions
For vegetables, add about one tablespoon of olive oil to a medium skillet over medium heat. Once hot, add sliced zucchini, rapini, and jalapeños. Saute over medium heat until vegetables are blistered and tender, but not soggy, about 7-8 minutes, turning once. Season with salt and pepper and remove from heat once done, but leave in the warm pan.

For burgers, any veggie burger would work great or frozen hash browns! Add a drizzle of oil to a small nonstick skillet over medium-low heat. Add burgers and cook for about 4 minutes per side until browned and cooked through. Remove burgers from skillet. Alternatively, you can use about 1/2 cup of leftover grains.

Cook eggs in the same nonstick skillet in a drizzle of oil. You can flip them for over-easy eggs, but if you want them sunny side up (my preference), then once the whites have mostly set on the eggs (two minutes over medium heat), just cover the skillet with a small plate for the final 45-60 seconds of cooking. That will set the top part of the whites but leave the yolk a bright yellow.

Assemble the bowls by splitting the veggies between two bowls and adding a chopped burger and an egg. Top with garnishes including scallions, cilantro, red pepper flakes, and sesame seeds. Go about your day after a delicious breakfast!
Nutrition
Serving:
1
bowl
|
Calories:
354
kcal
|
Carbohydrates:
17
g
|
Protein:
21
g
|
Fat:
23
g
|
Saturated Fat:
4
g
|
Polyunsaturated Fat:
4
g
|
Monounsaturated Fat:
13
g
|
Trans Fat:
0.01
g
|
Cholesterol:
167
mg
|
Sodium:
506
mg
|
Potassium:
789
mg
|
Fiber:
8
g
|
Sugar:
4
g
|
Vitamin A:
3483
IU
|
Vitamin C:
52
mg
|
Calcium:
259
mg
|
Iron:
5
mg
Did you make this recipe?
Here are a few other great breakfast recipes!
If have the time on the weekend, you could do worse than making a big batch of homemade breakfast sausage which you can freeze or use throughout the week. For a heartier breakfast bowl idea, check out this breakfast hash from one of my favorite chefs. For more of a baked situation, this Challah Breakfast Casserole is one of my favorite options. For a fruity take, check out this Smoothie Bowl from The Inspiration Edit!