I think I can very safely call myself a bacon guy. When given the choice between bacon or sausage, I almost always choose bacon. Most sausage (especially in restaurants) tends to be dry and kind of bland and I'd rather just not waste my time with it. But, I embarked to make a delicious Homemade Breakfast Sausage that is definitely worth choosing!
Turns out, if you have a spare hour or two, you can whip up some of the best breakfast sausages around. In my opinion, there's one ingredient that makes this recipe a real breakfast sausage: maple syrup. Real maple syrup. It gives it a slightly sweet flavor that's just killer.
I ground my own meat for this recipe, but if you're in a pinch you can ask your butcher to grind it for you, or at the least, buy some pre-ground pork. Doing it yourself is pretty easy though and makes for a great final product.
Recipe updated with new images and directions on August 23rd, 2019.
Homemade Breakfast Sausage
Making breakfast sausage at home is really easy and it freezes perfectly for fast weekend breakfasts. I'm so excited to have this stocked in my freezer now! Extra easy if you have a meat grinder, but possible without one!
Ingredients
3

pounds

boneless pork butt

1

Tablespoon

fresh sage

,

finely chopped

1

Teaspoon

dried marjoram

2

Teaspoons

dried thyme

2

Teaspoons

red pepper flakes

1

Teaspoon

granulated onion

1 ½

Teaspoons

salt

1

Teaspoon

fresh ground black pepper

¼

cup

real maple syrup

,

opt.
Instructions
Trim off any large pieces of fat from the pork shoulder and cut the fat pieces and the meat pieces into 1-inch cubes.

If you're using a food processor, pulse the fat pieces until they are basically a paste. Remove the fat to a bowl. If you're using a meat grinder, grind it once coarsely then once finely.

Add the meat pieces and pulse until coarsely ground.

Combine the meat and fat in a big bowl.

Add spices, syrup, and chopped sage. Mix well with your hands! Optionally, you can add the spices after the first grind and then grind it a second time to integrate the spices. Stir in the maple syrup after grinding.

At this point, you can cook the sausage as ground meat, or form patties with it, or freeze it in a freezer-safe bag for months.
Nutrition
Serving:
1
Sausage
|
Calories:
57
kcal
|
Carbohydrates:
2
g
|
Protein:
7
g
|
Fat:
2
g
|
Saturated Fat:
1
g
|
Polyunsaturated Fat:
0.2
g
|
Monounsaturated Fat:
1
g
|
Trans Fat:
0.01
g
|
Cholesterol:
23
mg
|
Sodium:
124
mg
|
Potassium:
138
mg
|
Fiber:
0.1
g
|
Sugar:
1
g
|
Vitamin A:
36
IU
|
Vitamin C:
0.04
mg
|
Calcium:
11
mg
|
Iron:
1
mg
Did you make this recipe?
Preparing the Pork Shoulder
If you're going to bother making sausage from scratch, I really recommend starting with a good pork butt. Sure. It's a lot easier to find ground pork, but trust me, the flavor and texture just isn't the same.
Some people might consider this a bit advanced, but I really encourage you to give it a shot if you can. It's really not that bad.
Get ready for some serious meat shots.
You should be able to find a 3-3.5 pound boneless pork butt (which is actually the shoulder). If you can't find one that small you can either A) ask your butcher to cut a larger one down for you (what I did) or B) just make A LOT of sausages!
The first thing to do if you're doing this yourself is to trim off some of the fat from the pork. A good pork butt will probably be 30% fat which makes it perfect for sausage. The problem is that you can't just process or grind everything together because you want the fat to be a lot finer than the meat. If you just pulsed everything together you'd have these really big pieces of fat in your sausage which isn't ideal really.
So trim off as much of it as you can and process that first. You don't have to be crazy about it. Just get the big pieces cut off. Then cut everything into about 1-inch cubes. If the fat in your pork butt is pretty evenly distributed, you can just cube it up without worrying about separating the fat and lean meat.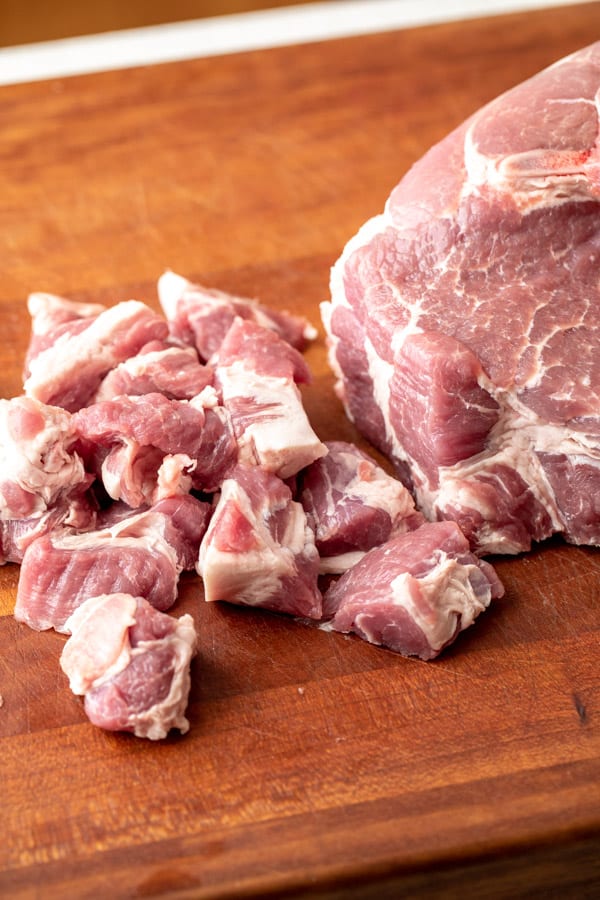 If you're using a grinder, grind it once on medium grind for the first grind.
I recommend processing the mixture a second time on a smaller grind after you add the spices!
Using a Food Processor
I've used my food processor to do this and it works really great. Basically, just add all the fat pieces to the processor and pulse a few times to chop them up and then switch it on to process the fat down basically to a paste.
Once your fat is done, add your meat to the processor and pulse it a few times. It should have a much more coarse texture than the fat.
Then you just stir the two together with your hands. There's no clean way to do it but it'll work! A grinder will have a better texture in my opinion, but if all you have is a food processor, it definitely works!
The Spices
You can go pretty crazy on the spices in sausage. The meat can handle a lot of spices so don't be shy about adding it. The hard part is that you can't really taste and adjust so you kind of have to go on blind faith.
Like I said, the important thing for me in this recipe was the maple syrup. Get the good stuff too. It makes a huge difference. (Don't stir in your maple syrup until AFTER you grind it though. Maple syrup can mess up a meat grinder.)
I like using dried herbs generally in sausage but I used fresh sage in this case because I wanted the sage flavor to really pop. It goes well with the maple flavor. You can use fresh herbs though if you want, just remember to chop them pretty fine.
Add all your spices and everything to your ground pork and mix it up. Without a doubt, the best tool for this is your hands. Don't be afraid to get a little dirty! I ran mine through the meat grinder a second time after adding the spices.
Finishing the Homemade Breakfast Sausage
Once you have the mixture mixed up, you can do a ton of stuff with it. You could of course stuff it into casings, but I don't have a stuffer so I didn't do that. So these are the options left if you aren't stuffing it:
1) Freeze it! Put the sausage in a freezer bag and get out as much air as possible. It'll freeze fine for months.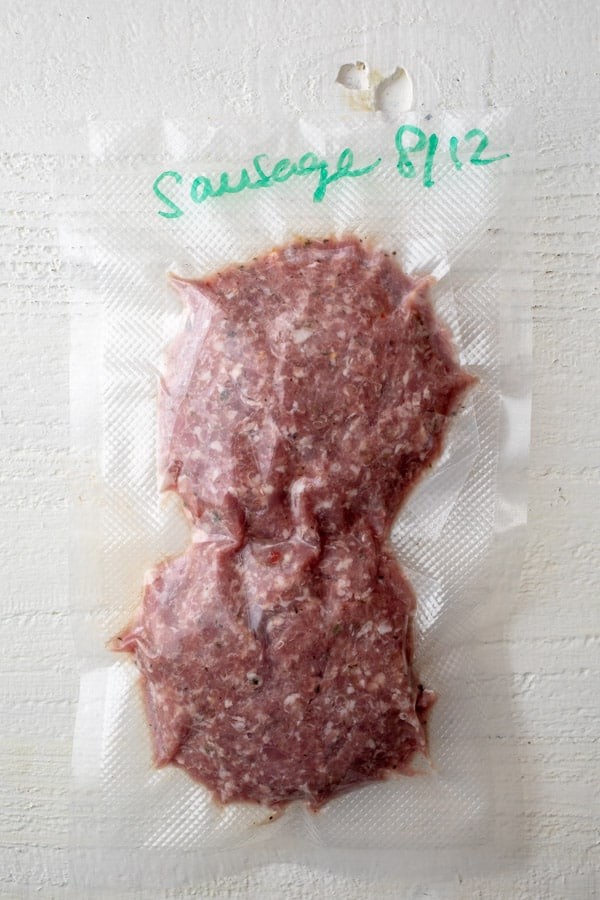 2) Cook it ground. You can add it to omelets or a ton of other breakfast dishes!
3) Make sausage patties.
I actually did all three of these options because 3 pounds of sausage is a bit much for me to use at once obviously. I made some small 2 ounce patties for my breakfast on the day I made the sausage.
Cook these in a hot skillet (no oil needed) for about 6 minutes a side until they are really well browned and done all the way through.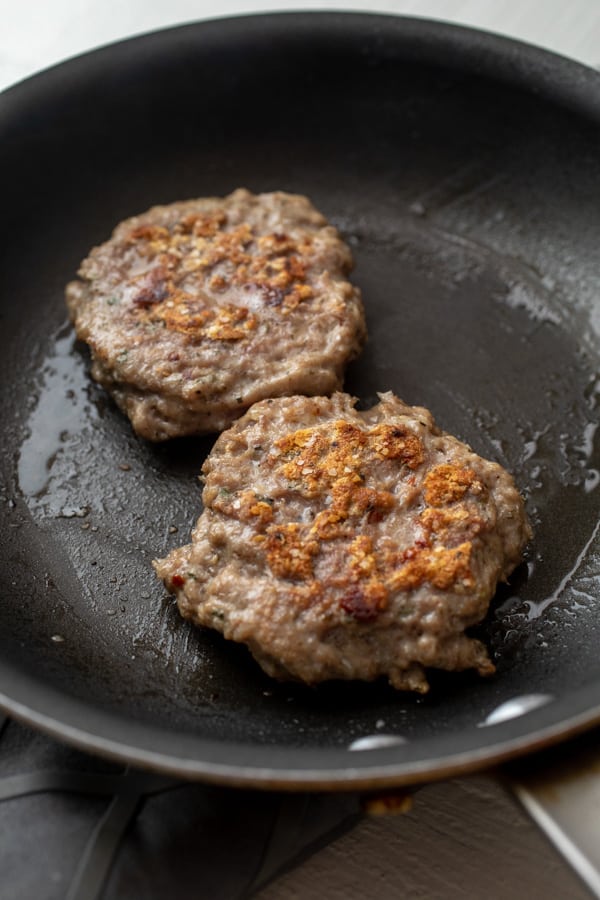 The flavor is kind of amazing.
I served my Homemade Breakfast Sausages patties with an egg sunny side up! Great breakfast.
Is this a bit of work? Sure. And you might have to step outside your comfort zone a bit, but it's completely worth it. I'd put this sausage recipe up against any store-bought sausage out there.
So what do you think? Too much work or worth the effort?
Here are a few other great pork recipes!