Over the summer, our family had S'Mores a few times while camping and I think everyone knows that when you plan to make s'mores camping, you always just buy more stuff because you never want to run out! Well, now that school is back in session, I found myself with a pantry of graham crackers and thought it would be fun to make some S'More Energy Balls for snacks!
These energy balls have all the flavors of a s'more but without the need of open flame and also with some added chocolate protein powder for extra protein, which will keep you and any kiddos full for longer and, in my case, less cranky.
So, let's make them! Good news: They are very easy.
What is an energy ball?
There's no specific definition of what an energy ball is but I like to think of energy balls as no-bake cookies but with more protein instead of just sugar and butter.
Usually an energy ball, or energy bite, will start with some sort of grain like oatmeal or rolled oats and then have some protein powder and other add-ins like seeds and nuts.
Then you need to add some sort of binder for the balls like peanut butter, seed butter, or something like pureed dates. This will hold the mixture together.
Finally, of course, most energy balls will have some sort of add-in. In this case, it's marshmallows and chocolate chips to mimic the s'more flavors!
Ingredients for Energy Balls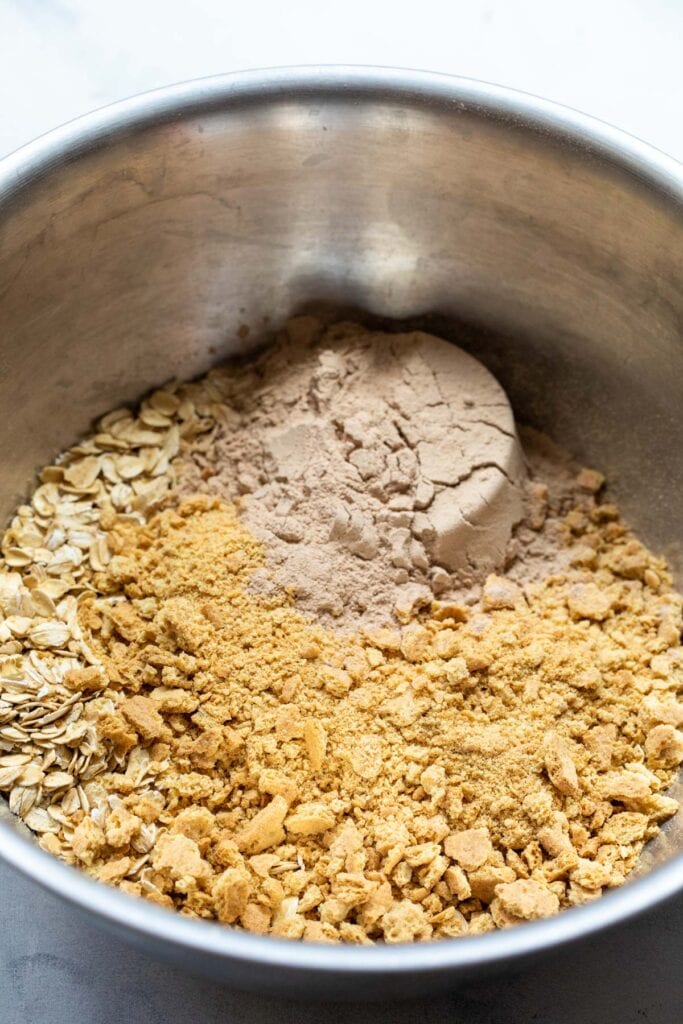 The base for these energy balls is pretty straightforward. I started with some rolled oats and then added some crushed up graham crackers to the mix and also some chocolate protein powder. This is a nice base for energy balls.
For add-ins I folded in some mini marshmallows and mini chocolate chips. Since I was planning on rolling these energy balls into tinier balls, it's important to get the mini version of the add-ins so they mix in well.
Binder for S'More Energy Balls
Obviously you need a binder for these. I considered using Marshmallow fluff for these, but wanted them to not be too sticky so I went with peanut butter which holds everything together really well and after you chill it, solidifies nicely so you can stick these energy balls in lunch boxes.
I added about a cup of peanut butter and mix that into the base well before folding in the add-ins so they don't fall apart.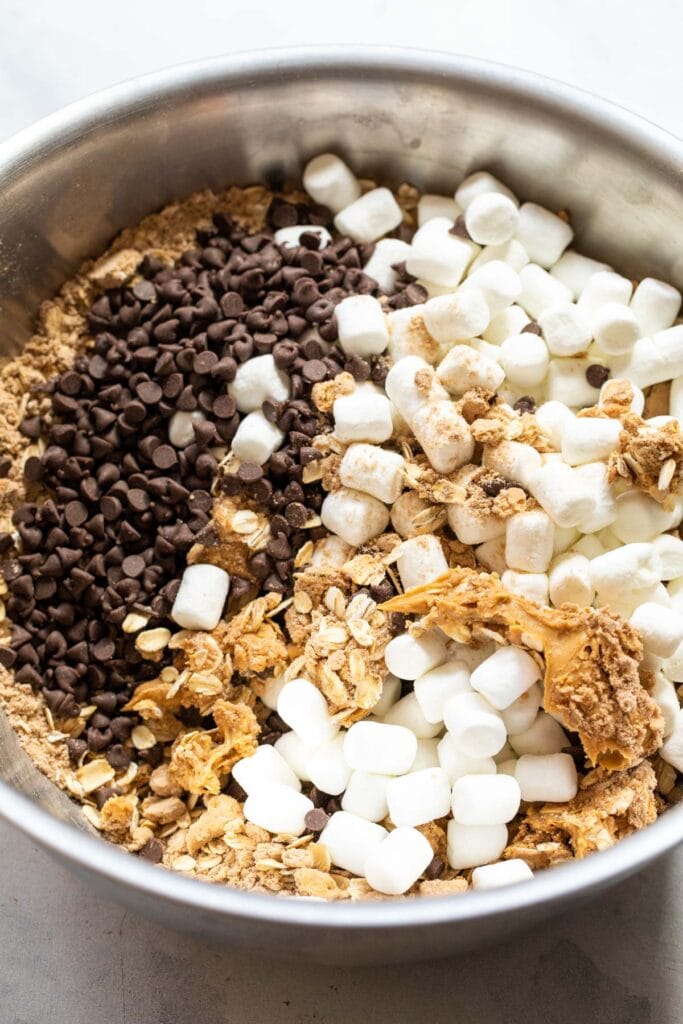 Fixing dry or sticky energy balls
There's a little bit of trial and error here with these energy balls. You want them to hold together but not be sticky at all.
I would start with a cup of peanut butter, but know that you might need to add more peanut butter to get them hold together.
If you pick up a ball of the s'more mixture and try to press it into a ball, if it doesn't hold and crumbles apart, then you know you need to add more peanut butter.
If the mixture is very sticky and you can't form a ball without it sticking to your hand, then I would add more oats!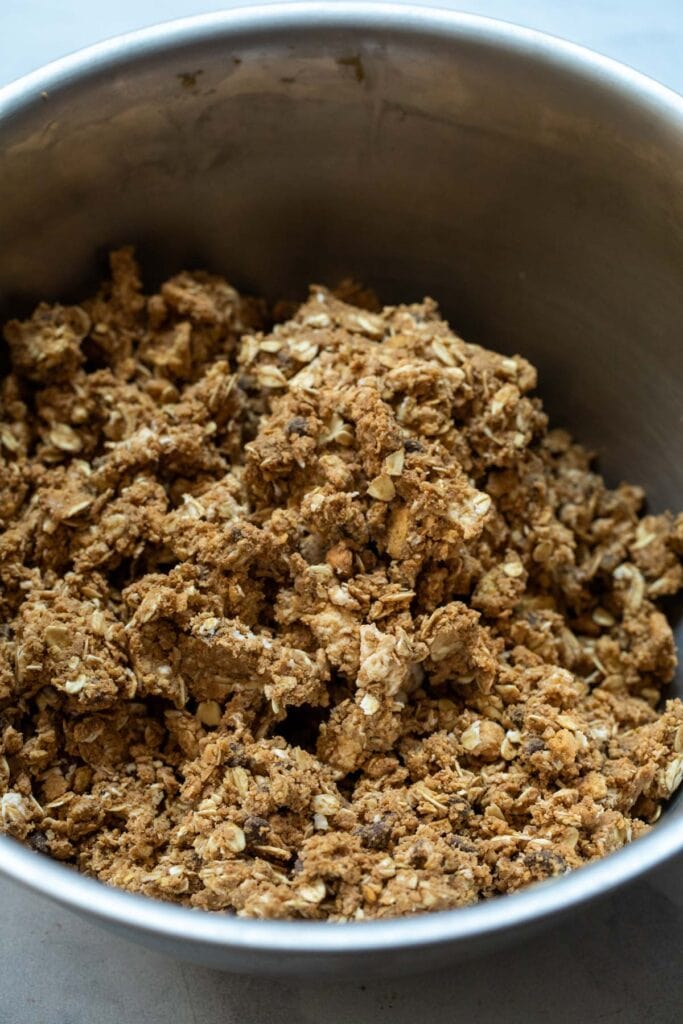 How to roll these energy balls
The recipe is pretty straightforward from here. Use a big spoon to shape these into heaping tablespoon-sized balls and roll them really tightly. Pack them down so they are compact and firm.
Store these energy balls on a baking sheet in the fridge until they firm up and then you can store them in an airtighter container in the fridge for at least a week.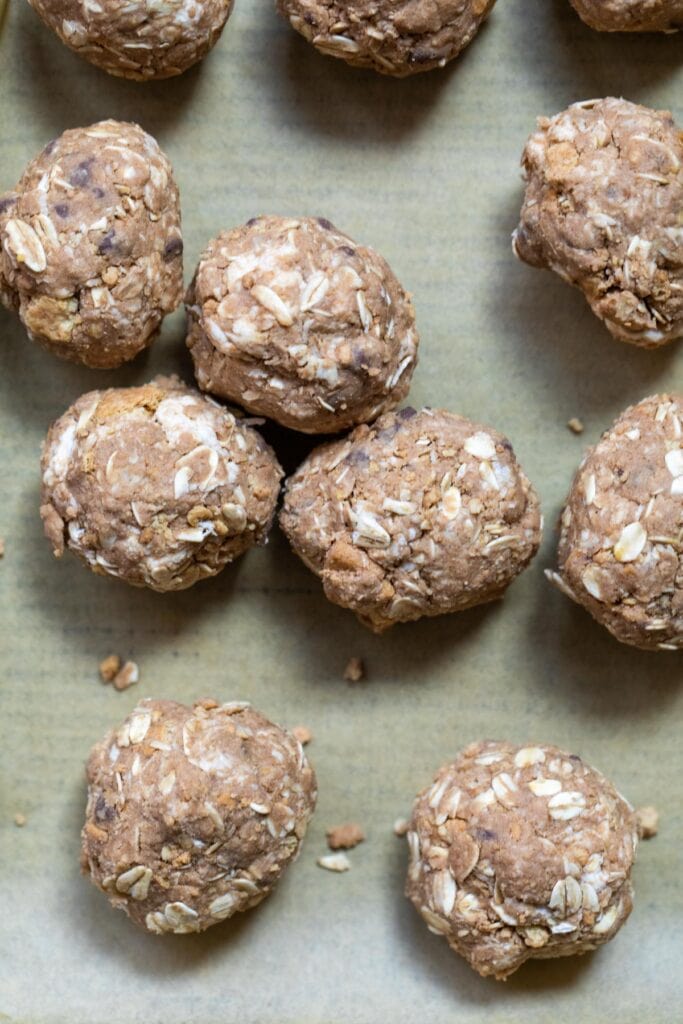 Substitutions and Ideas
As with any snack recipe, these are pretty flexible! Here are a few ideas to play around with these S'more energy balls.
If you want to make these nut free, use a seed butter as a binder like Sunflower butter.
Make these more nutritious with some fiber additions like chia seeds or flax seeds.
Use Marshmallow fluff as the binder for a stickier ball that is lighter.
Coat the energy balls in melted chocolate and sprinkles.
Add chopped dates for a naturally sweet energy ball like in these Date Energy Balls.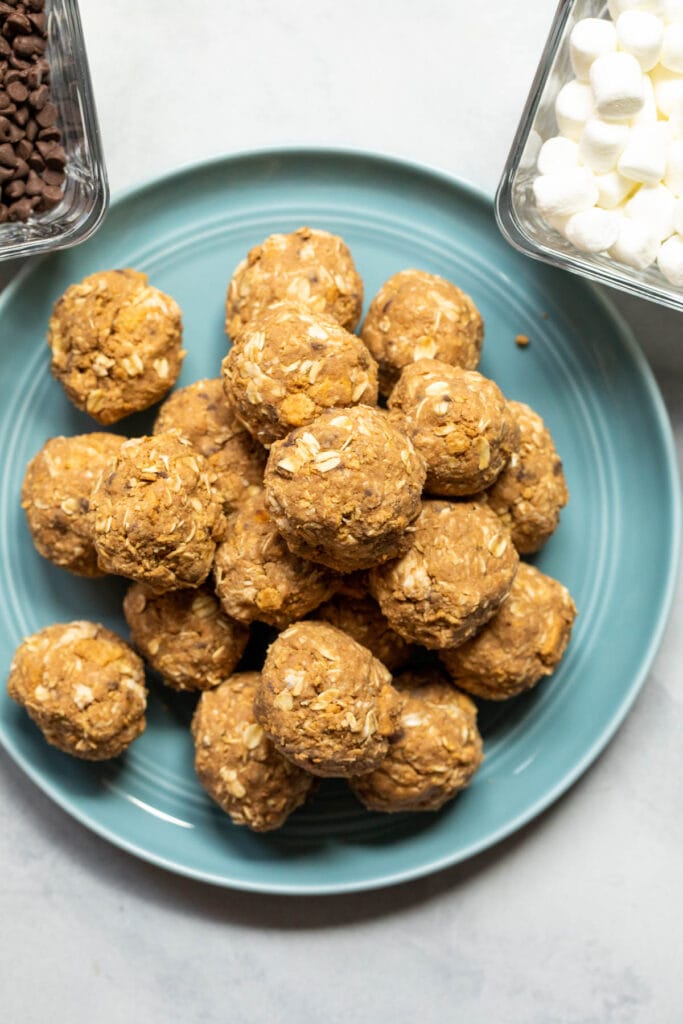 S'More Energy Balls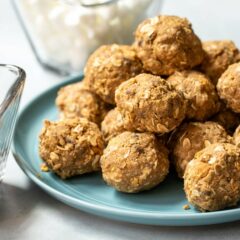 These easy S'More Energy balls are stuffed with marshmallows, chocolate, and protein powder. A great after-school or lunchbox snack!
Ingredients
2

cups

rolled oats

½

cup

crushed graham crackers

½

cup

chocolate protein powder

1

cup

creamy peanut butter

,

warmed

½

cup

mini marshmallows

½

cup

mini chocolate chips
Instructions
Add oats, graham crackers (crushed well), and protein powder to a medium bowl. Microwave peanut butter for 30 seconds just to warm it slightly and pour over the oat mixture. Stir together well.

Stir in marshmallows and chocolate chips and fold until evenly distributed. If mixture is very sticky, add more oats by the ¼ cup. If mixture is very dry and won't hold its shape, add more peanut butter by the ¼ cup.

When mixture is combined well and can hold it's shape, roll it into heaping tablespoon-sized energy balls and transfer to a baking sheet lined with parchment paper.

After all balls are made store energy balls in the fridge for up to a week. You can transfer them to an air-tight container once they are chilled as they will harden slightly.
Nutrition
Serving:
1
Energy Ball
|
Calories:
153
kcal
Did you make this recipe?
Here are a few other great snack ideas!