A few weeks ago we ventured out to an Octoberfest block party in Denver. It was pretty fun and had live music for the kiddos to dance to. The food options were limited, but there were plenty of pretzels to go with the beer and one stand doing it right selling big pork schnitzel sandwiches.
Ever since then I've been craving them and recently made them at home. They are surprisingly easy to make. The hardest part might just be finding the right lingonberry jam to slather on the sandwich! I guess you could leave out the lingonberry if you wanted to (or substitute it with some other jam), but if you can find the real stuff, it's pretty delicious!
I figured it'd be a good idea to wrap up the month of October with these delicious pork schnitzel sandwiches.
Pork Schnitzel Sandwiches
Delicious fried pork cutlets served on soft buns with traditional German toppings. One of my favorite sandwiches!
Ingredients
Pork loin roast

,

about 3 lb., sliced

½

cup

Dijon mustard

¼

cup

olive oil

½

lemon

,

juice only

½

teaspoon

kosher salt

½

teaspoon

black pepper

2

cups

bread crumbs

¼

cup

olive oil + 1/4 cup butter

,

for frying

Swiss cheese

Red Onion slices

Fresh arugula

Sandwich buns

Lingonberries
Instructions
Slice pork loin into 8 even slices. Place each slice on a clean surface and gently pound it with a meat mallet until it's an even thickness. Shoot for about 1/4-inch thick.

In a small bowl, combine olive oil, mustard, lemon juice, salt and pepper. Coat each piece of pork with the mixture. Then press breadcrumbs onto both sides of the pork. Let it rest for a few minutes.

In a large skillet, heat olive oil and butter over medium heat. Once butter is melted and hot, add pork and fry for about 4 minutes per side until the pork is golden brown.

When you flip the pork schnitzel, add a slice of swiss cheese to it so the cheese can melt. (Opt.)

Serve pork on sandwich buns, topped with lingonberries, red onion, and arugula.
Nutrition
Serving:
1
sandwich
|
Calories:
681
kcal
|
Carbohydrates:
51
g
|
Protein:
56
g
|
Fat:
27
g
|
Saturated Fat:
9
g
|
Polyunsaturated Fat:
3
g
|
Monounsaturated Fat:
11
g
|
Trans Fat:
0.003
g
|
Cholesterol:
134
mg
|
Sodium:
960
mg
|
Potassium:
805
mg
|
Fiber:
3
g
|
Sugar:
3
g
|
Vitamin A:
249
IU
|
Vitamin C:
4
mg
|
Calcium:
377
mg
|
Iron:
4
mg
Did you make this recipe?
Pork Schnitzel Sandwiches
Let's talk pork. The best way to make these sandwiches is to buy a small pork loin roast (no bone) and then slice it into individual pieces. If you get a 3 pound roast, you should be able to get about 8 good sized pieces which will be perfect for a sandwich.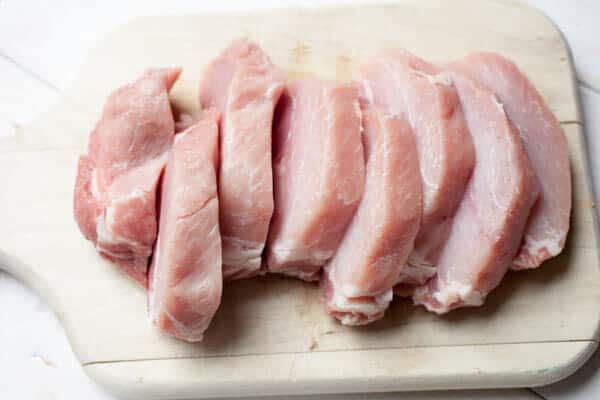 Use a meat mallet pound each piece into an even thin piece. Ideally you want them to be about 1/4-inch thick.
Then mix some mustard with oil, lemon, salt, and pepper, and slather a thin layer of the mixture onto the pork. This will season the pork but also act as a glue for the breadcrumbs.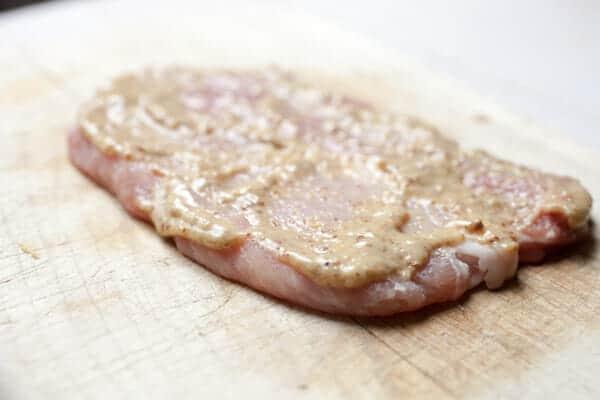 Speaking of breadcrumbs, press some on!
And now a break to talk about lingonberries.
These are really good and not as sweet as many jams. You should be able to find them in the jam section of your store, but if you can't you could substitute something like cranberry jam which isn't super-sweet.
Once your pork is breaded, add some oil and butter to a skillet over medium heat. I really like frying stuff like this in a mixture of butter and oil. It make it crispy but the butter also gives it some great flavor.
Fry your schnitzel pieces over medium heat for about 4 minutes per side. Mine got a little toasty on this side, but it was still tasty!
Optionally, when you flip the schnitzel, you can add some swiss cheese so it can melt nicely on it.
BOOM.
Once the pork hits the bun, top it with some lingonberries, fresh arugula, and red onion.
Pretty tough to beat this pork schnitzel sandwich and a few beers!
Can't find Lingonberries? This would be a great with my rhubarb chutney also!
A few other recipes you might like!