A typical way to infuse meats with flavor is to marinate them before cooking. This can work well for some marinades, but not with all of them. Sometimes you might have a marinade that will burn easily and if you pair that with a meat that you want to cook at high temperatures (like steak) you have a recipe for disaster.
The answer is to forget about marinating the steak before you cook it. Just sear the steak and get it to the right temperature and then marinate it after you cook it. Since the steak is hot, it'll actually absorb a ton of flavor from the marinade.
The downside of this method is that it'll leave you with a room temperature steak, but that's not the end of the world for a noodle bowl dish like this. In fact, I actually prefer my steak to be on the cold side for Steak Noodle Bowl. Then you can pile on lots of crunchy veggies and serve a big vat of peanut sauce on the side.
Peanut Sauce and Steak Noodle Bowl
Infuse your steak with lots of flavor by marinating it after it is cooked! I do that using a nice peanut sauce for this noodle bowl!
Ingredients
Peanut Sauce:
1

clove

garlic

,

minced

1

inch

fresh ginger

,

minced

4

limes

,

juice only

3

tablespoons

creamy peanut butter

3

tablespoons

fish sauce

3

tablespoons

rice wine vinegar

2

tablespoons

brown sugar

1

tablespoon

soy sauce

1

teaspoon

sesame oil
Bowl Ingredients:
1

pound

Sirloin steak

Salt and pepper

Olive oil

8

ounces

rice noodles

,

cooked

1

tablespoon

sesame oil

1

large cucumber

,

sliced

1

large carrot

,

grated

1

stalk broccoli

,

grated (opt.)

Fresh Cilantro

Scallions

Sprouts

Lime wedges
Instructions
For sauce, mince garlic and ginger and juice limes. Combine all ingredients in a small food processor and pulse until smooth. You can also mince the garlic and ginger very finely and whisk together ingredients. Taste the sauce and adjust to your liking.

For steak, season well with salt and pepper. Heat a cast iron skillet over medium high heat and once hot, sear steak for about 4-5 minutes per side until it's cooked through medium rare. Time may vary a bit depending on the thickness of your steak. It should hit an internal temperature of about 130 degrees F. for medium rare.

Once steak is cooked, remove from the pan and add steak to a bowl. Drizzle a few tablespoons of the peanut sauce in with the steak, cover, and let marinade for 20-30 minutes.

Cook your rice noodles according to the package. When they are done, rinse with cold water to stop the cooking and toss with a tablespoon of sesame oil.

Slice up cucumber into half coins, grate carrot and broccoli stalk.

when you're ready to make the bowls, divide noodles between four bowls and drizzle in some of the reserved peanut sauce (not the sauce with the steak). Slice steak into thin strips (it should be room temperature or slightly cold).

Top each bowl with sliced cucumbers, grated veggies, and other toppings. Serve extra sauce on the side.
Nutrition
Serving:
1
bowl
|
Calories:
593
kcal
|
Carbohydrates:
77
g
|
Protein:
36
g
|
Fat:
17
g
|
Saturated Fat:
4
g
|
Polyunsaturated Fat:
4
g
|
Monounsaturated Fat:
7
g
|
Cholesterol:
69
mg
|
Sodium:
1596
mg
|
Potassium:
1239
mg
|
Fiber:
8
g
|
Sugar:
13
g
|
Vitamin A:
3584
IU
|
Vitamin C:
159
mg
|
Calcium:
171
mg
|
Iron:
4
mg
Did you make this recipe?
Steak Noodle Bowl
Legit Peanut Sauce
I smashed together like four peanut sauce recipes to come up with this concoction. It has a fair number of ingredients, but if you do any Asian cooking at all, you probably have most of them handy. The key to the recipe is the fresh lime juice. It'll look like a lot, but the acid balances the peanut flavors nicely.
If you have a mini food processor, just mince the garlic and ginger, juice the limes, and pulse everything together until it's an even consistency. You can obviously adjust the flavors to your liking, but the above recipe should give you a really good starting point.
If you don't have a food processor, you can mince the garlic and ginger finely and whisk everything together without too much worry.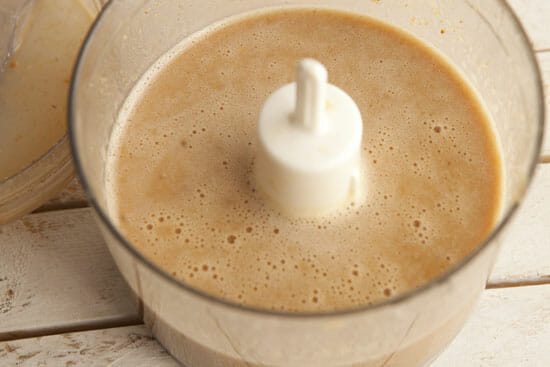 Dealing with the Steak
Now let's talk about the steak. I used a nice, thick Sirloin cut for my Steak Noodle Bowl, but that's hardly a rule. Any steak will do the trick here. You could use flank steak, skirt steak, or anything similar. I would stay away from any super-fatty or bone-in cut just because it'll be hard to slice later.
To cook my steak, I just rubbed it with a bit of olive oil and seasoned it well with some salt, pepper, and a pinch of red pepper flakes (optional).
Sear the steak over medium-high heat for 4-5 minutes per side until it's medium rare in the middle. You could grill the sucker ideally, but in the winter, I find a cast iron skillet is a little easier to manage.
And yes, I know i need to reseason my skillet. It's on my list!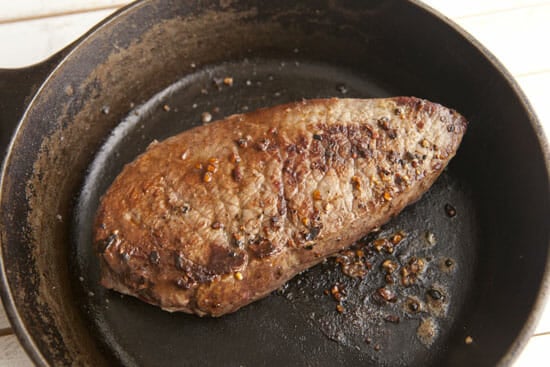 Now, here's the cool part. Once your steak is cooked to your liking, immediately stick it in a bowl and drizzle in some of the peanut sauce. You don't need a ton. A few tablespoons will do the trick. It should coat the steak nicely and since the steak is hot, it will absorb into the meat.
Let this sit for about 20 minutes while you prep the other stuff.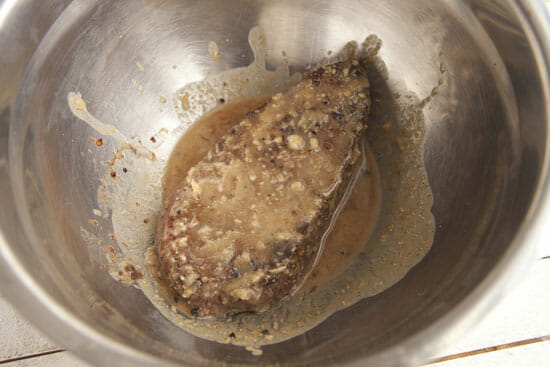 After the steak marinates for a bit, you can just slice it into thin slices and it's ready to serve. It's super-flavorful and very delicious.
If you did want to reheat it a bit, you could wrap the steak in foil and heat it in a 350 degree oven for 3-4 minutes just to gently reheat it.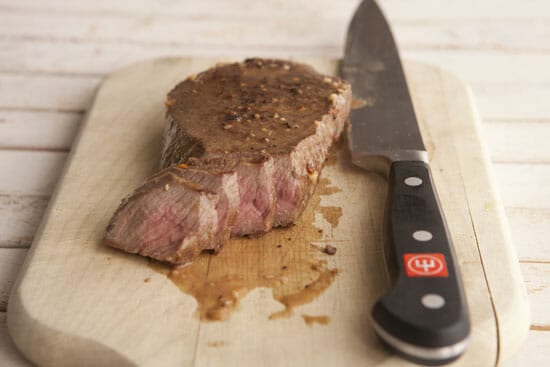 The Fixins
Any good noodle bowl will have a bunch of veggies. I went with some cucumber, carrot, and broccoli stalk for this Steak Noodle Bowl. To be honest, the broccoli was just because I had some in the fridge and wanted to use the stalks up. It was a nice addition, but not necessary.
Slice the cucumbers into half-coins and grate the carrot and broccoli. I chopped up some scallions and prepped some fresh cilantro and sprouts also.
The base of the bowl is thin rice noodles. Any rice noodle will do the trick so just cook your noodles according to the package and then rinse them with cold water.
Toss the noodles with a tablespoon of sesame oil to keep the noodles from sticking and you're ready to rock.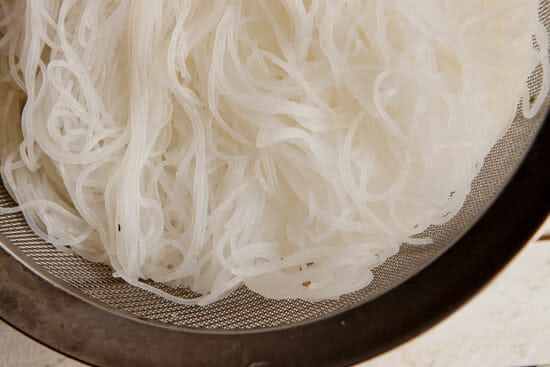 When you're wanting to make the bowls, just divide the noodles between four bowls and drizzle on some of that lovely peanut sauce.
The sauce is a bit thinner than some peanut sauces so it'll mix well with the noodles.
Then pile on the steak slices and veggies and drizzle a bit more sauce over the top.
Serve it with lots of sauce on the side as well so people can add more.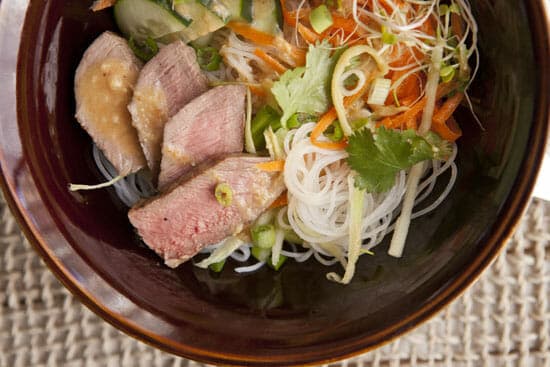 I actually really liked that the ingredients in this Steak Noodle Bowl are served at room temperature or slightly chilled. It kind of takes some of the stress off for making sure everything is piping hot.
My favorite trick of this recipe though is the cold-marinating. It's a great technique and easy to do.