Normal pasta carbonara is really good. I mean it's pretty hard to go wrong with bacon, a creamy sauce, and good cheese. But that doesn't mean that it can't be improved on! Especially since we are in the summer months when there are so many delicious fresh veggies. This Summer Vegetable Carbonara takes advantage of some of the most available produce.
Not only does it happen to be delicious, but it's also very quick and easy once you conquer the carbonara sauce! Start to finish is definitely under 30 minutes assuming you're halfway competent with a knife.
Starting the Ingredients for this Carbonara
The original version of this dish starts by noting that it's really important to get the best ingredients you can. I would definitely agree. If you can get some good thick bacon, really nice fresh eggs, and colorful summer veggies, this dish will be very good.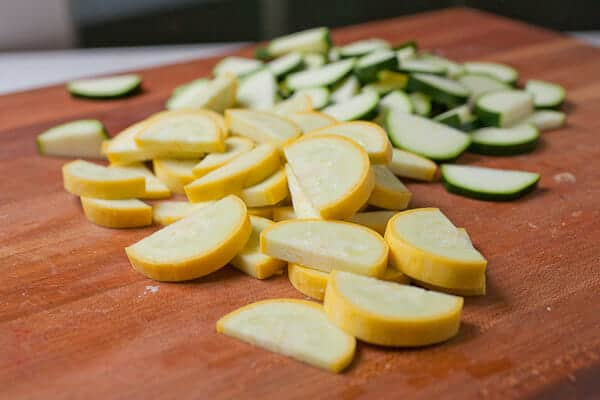 As far as prep goes, start by chopping up your bacon along with your summer zucchini and squash. When you're chopping your zucchini and/or squash, try to chop them into about the size of the penne pasta. It gives the dish a great texture if everything is roughly the same size.
Also, chop up your bacon into cubes. You want to start the bacon in a cold pan and cook it over low heat.
Instructions on Making the Carbonara Sauce
The only other thing you need to prep before you get started cooking is the carbonara egg sauce. Just combine your egg yolks (you can save the whites in the fridge for an omelet or something), along with 1/2 cup Parmesan cheese in a medium bowl and whisk it together until it's smooth. Add a pinch of salt and pepper also.
Some people prefer to add a dash of heavy cream to carbonara sauce. You can do this if you like, but it isn't actually necessary and traditional Carbonara doesn't have it.
Finishing the Carbonara
This vegetable carbonara comes together pretty fast. The thing that takes the longest is probably boiling the water for the pasta actually. So be sure to get that started pretty early. Cook the pasta al dente in a large pot of salted water.
To start the carbonara though, add your bacon to a large pan preferably with high sides. Eventually, everything will be in this one large pan. Cook the bacon on low heat and start it in a cold pan. The fat should render out pretty quickly though because it is chopped.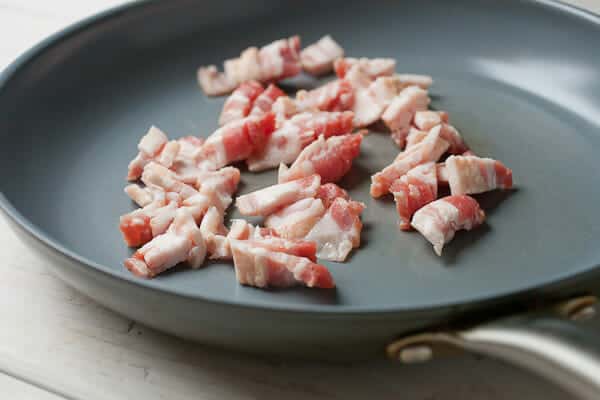 You want the bacon to be browned and really crispy.
Remove the bacon but leave a few tablespoons of bacon grease in the pan.
The next step involves just a bit of timing. The trick with the veggies is to not overcook them. Squash and zucchini can get a bit mushy if you cook them for more than a few minutes. So ideally you would start them when your pasta is 2-3 minutes from being done.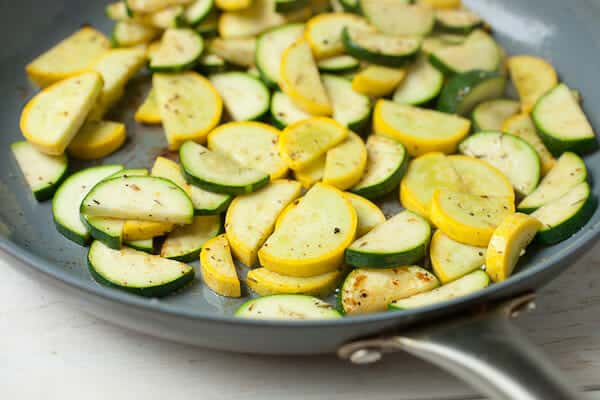 When you're ready, add all the veggies to your pan with a pinch of salt and pepper and a few sprigs of thyme if you want. Stir this all around so the veggies get coated nicely in all the bacon oil.
This will smell pretty delicious. You might have people knocking on your door.
Saucing the Pasta
The key to making a good carbonara is to make sure you don't add the egg mixture to a super-hot pan otherwise it'll just over-cook the eggs and you'll have scrambled egg pasta. Scrambled egg pasta isn't the best thing in the world.
So here's how to work it. When your pasta is done, drain it and reserve about a cup of the cooking water (most important step) from the pasta. I just ladle out a cup or so of liquid right before draining.
Then add your drained pasta straight to the pan with the veggies. Stir that all together really well so the pasta is mixed in with the veggies.
Next, turn off the heat. Add about 1/4 cup of the pasta water to the egg sauce and whisk it together. Then add all your egg mixture to the skillet along with the vegetables off the heat!
The residual heat from the pan and the pasta will be more than enough heat to cook the eggs, but it won't cook them quickly so they'll stay nice and creamy. If it looks a little dry, add back some of your pasta water. The starch from the water will help thicken the sauce and make it even creamier.
I added probably 1/2 Cup of pasta water back to my version. The key is to keep stirring once you add your egg mixture!
The sauce should coat the vegetable carbonara but shouldn't clump at all.
The only other trick to this meal is to eat it as soon as possible! Add the bacon back in as well as some of your leftover cheese right on the pasta as you serve it.
Ideally, your veggies will still have a tiny bit of crunch to them, the bacon will be crispy and salty, and the sauce will be rich and creamy.
This is a really simple dish that can really impress!
Summer Vegetable Carbonara
Penne pasta mixed with summer squash and zucchini and tossed with a traditional carbonara sauce. One of my favorite pastas!
Ingredients
2

medium zucchini or squash

8

oz.

penne pasta

4

large egg yolks

1/2

cup

grated Parmesan cheese

,

plus garnish

4-6

slices

thick bacon

Few sprigs of fresh thyme

Salt and pepper
Instructions
Chop your zucchini and fresh squash into half-circles about the size of the penne pasta. Also chop your bacon into cubes.

Whisk your egg yolks, 1/2 Cup Parmesan, and a pinch of salt and pepper in a separate bowl. Set aside for later.

Cook Penne according to the box.

In a large pan with high sides, cook bacon over medium-low heat until very crispy and brown. Remove bacon from pan.

When your pasta is done, drain it and reserve about 1 Cup of cooking water.

Add veggies to the pan with the bacon grease along with a few thyme sprigs if you want and some salt and pepper.

Cook the veggies over medium-high heat for just a minute or two. Any longer than that and they'll get soggy and mushy.

Combine pasta with veggies and add your bacon back in.

Whisk 1/2 cup of pasta water to the egg sauce. Turn off the heat and slowly add in your egg yolk mixture, stirring furiously while you add it. If you do this over the heat, your eggs will just cook, but they should into a creamy sauce if the pan isn't on direct heat.

If it looks too thick, add a bit of reserved pasta water to make the sauce thicker.

Sprinkle carbonara with more cheese and serve immediately.
Nutrition
Calories:
488
kcal
|
Carbohydrates:
48
g
|
Protein:
20
g
|
Fat:
24
g
|
Saturated Fat:
9
g
|
Polyunsaturated Fat:
4
g
|
Monounsaturated Fat:
9
g
|
Trans Fat:
0.05
g
|
Cholesterol:
229
mg
|
Sodium:
768
mg
|
Potassium:
496
mg
|
Fiber:
3
g
|
Sugar:
4
g
|
Vitamin A:
577
IU
|
Vitamin C:
18
mg
|
Calcium:
163
mg
|
Iron:
2
mg
Did you make this recipe?
Substitution ideas for this Vegetable Carbonara
Here are some great substitutions for this vegetable carbonara recipe.
While I like to use penne pasta for this version, traditionally classic carbonara uses spaghetti so you can substitute that or something like bucatini.
Feel free to add more summer vegetables like asparagus, mushrooms, or peas. If you use mushrooms, saute them separately as they will take longer to cook.
Make this a vegetarian carbonara by leaving out the bacon and adding mushrooms for some savory flavors.
Use pancetta or guanciale rather than bacon to change up the pork flavors in the carbonara. Guanciale is actually the traditional pork product in carbonara if you can find it.
Add some pecorino cheese to the egg sauce to maximize the cheesy flavors.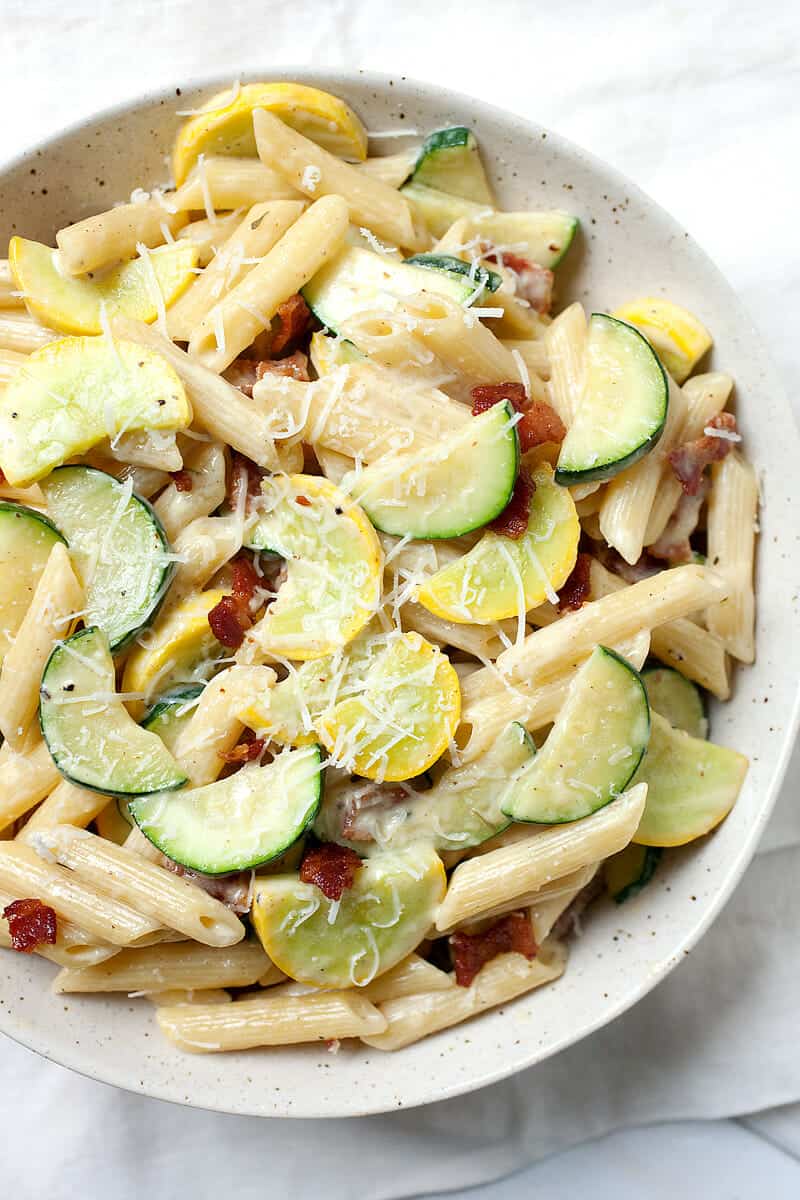 Reheating the Vegetable Carbonara
Carbonara doesn't reheat super well if I'm being honest. It's best if you can make just enough and eat it right away! If you do have leftovers though, the best way to reheat carbonara is gently over the stove.
To do this, add about a cup of water to a medium skillet over medium heat. Once the water is simmering, add the carbonara and let it gently reheat as you stir. The sauce should come back to life.
Here are a few other great recipes to try!