This Salt and Vinegar Popcorn looks unassuming at first glance, almost like it has no seasoning on it at all. But, if you're a salt and vinegar chip fan (like me) one bite of this stuff and you will be hoarding the whole bowl. Everyone else can get their own.
I had this idea in my head for a few weeks and tried a few different versions. First, I tried using actual malt vinegar on the popcorn with butter and salt. This had good flavor but the popcorn wasn't consistently good. It was either nicely seasoned, but soggy, or not seasoned enough. Not great.
Next, I found some of the basic malt vinegar powder that I believe is exactly what they use on Salt and vinegar chips. Who knew you can just order stuff like this?!
What I didn't plan for was how strong the raw seasoning powder would be. I tried just sprinkling it on… too strong. I tried mixing it with salt, too strong!
But, the flavor was right so after experimenting some I found the perfect way to add this delicious seasoning combo to popcorn!
Salt and Vinegar Popcorn
Salt and vinegar chips are my absolute favorite snack. I wanted to adapt the flavors for a popcorn seasoning. It took some work and a special seasoning, but I finally nailed it. This Salt and Vinegar Popcorn is such a delicious, addictive snack!
Ingredients
⅓

cup

popcorn

,

air-popped

2

tablespoons

butter

1

teaspoon

malt vinegar powder

½

teaspoon

kosher salt
Instructions
Add kernels to air popper and pop.

In a small pot over low heat, add butter and melt. Once butter is melted stir in malt vinegar powder.

Drizzle seasoned butter over the popcorn and season with salt.
Nutrition
Serving:
1
bowl
|
Calories:
54
kcal
|
Carbohydrates:
1
g
|
Protein:
0.2
g
|
Fat:
6
g
|
Saturated Fat:
4
g
|
Polyunsaturated Fat:
0.2
g
|
Monounsaturated Fat:
1
g
|
Trans Fat:
0.2
g
|
Cholesterol:
15
mg
|
Sodium:
336
mg
|
Potassium:
5
mg
|
Fiber:
0.1
g
|
Sugar:
0.01
g
|
Vitamin A:
177
IU
|
Calcium:
2
mg
|
Iron:
0.04
mg
Did you make this recipe?
Malt Vinegar Powder
This seasoning is really strong and it's also really fine. It mixes nicely with other things, but is a bit too strong on its own. If you want to add an extra vinegar kick to your popcorn, mix this with salt in about a 1-4 ratio (4 teaspoons salt – 1 teaspoon powder) and use that as a seasoning boost. I tried it in a 1-1 ratio and it was crazy strong.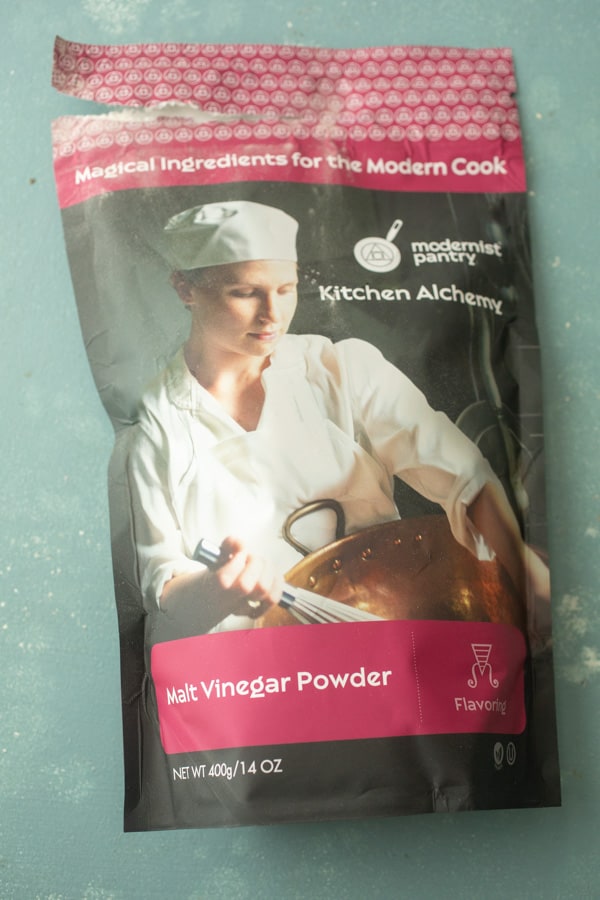 How to Make Salt and Vinegar Popcorn
Ultimately, I found the best way to get the flavor without overpowering the popcorn with the straight powder or making my popcorn soggy with liquid malt vinegar was to add the powder to my melted butter! If you don't want melted butter on your popcorn, melted coconut oil works well too!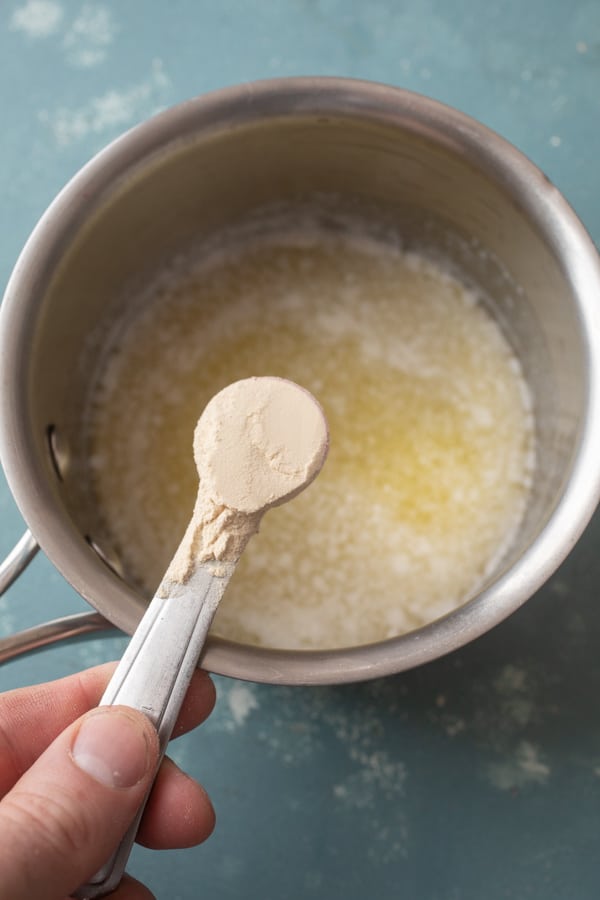 That distributes the seasoning nicely and then you can drizzle it on your popcorn.
I like to use an air popper for my popcorn so it needs a lot of flavors as it has no fats or seasonings when it comes out of the air popper.
Once you have drizzled the popcorn with the malted vinegar butter, sprinkle some salt of your choice on the popcorn and you are ready to go!
It doesn't look like much, but this stuff is GOOD.
Serve the Salt and Vinegar Popcorn with a cold beer. I think it's a pretty unique popcorn seasoning and one people will love.
Here are a few other great snacks!