I'm on a constant search for the most addictive popcorn snack. It has led me down a Mexican chocolate route and a browned butter sriracha route, most recently. Those were both very delicious, but this bacon dust popcorn is an entirely different thing.
Let's talk bacon dust! What is this stuff? It's kind of like bacon bits, like you would put on a salad, but much finer and easier to sprinkle on snacks! Plus it has some salt and sugar mixed right in for easy seasoning.
You can actually purchase stuff like this bacon dust, but most of it has maltodextrin in it. If you happen to have maltodextrin laying around, you could add some in. It helps preserve the bacon and also makes it easier to process into a dryer, finer dust.
But, frankly, I wanted to write a recipe that didn't require you swing by your local chemical shop, so here we are with this version! I think you'll find it very adequate and it will keep just fine for the 15 minutes it exists before everybody eats all the popcorn!
Bacon Dust Popcorn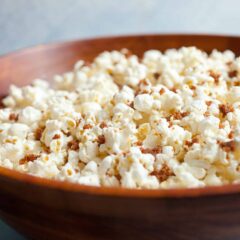 A bacon lover's dream. This popcorn is coated with big spoonfuls of what I call bacon dust. Dried and ground bacon bits with salt and sugar mixed in. It's a perfect snack topper.
Ingredients
5

strips bacon

½

teaspoon

kosher salt

2

teaspoons

sugar
Instructions
Lay out bacon strips on a wire rack and bake at 350 degrees F. for 15-20 minutes until the bacon is cooked through and just turning crispy. Most of the fat should be drained off.

Turn oven heat down to 225 degrees F. and bake for another 60 minutes. Check bacon. It should super-brittle and crispy. Flip bacon and continue to bake for another 60 minutes.

Let bacon cool completely off of rack on a few paper towels to soak up any residual bacon fat.

Move bacon to a spice grinder (will have to crumble it a bit) and add salt and sugar. Pulse until bacon is in a powder.

Remove bacon dust from grinder and clean grinder by grinding rice in it.

Sprinkle bacon dust over cooked popcorn or anything else your mind can imagine!
Nutrition
Serving:
1
bowl
|
Calories:
124
kcal
|
Carbohydrates:
3
g
|
Protein:
3
g
|
Fat:
11
g
|
Saturated Fat:
4
g
|
Polyunsaturated Fat:
2
g
|
Monounsaturated Fat:
5
g
|
Trans Fat:
0.04
g
|
Cholesterol:
18
mg
|
Sodium:
473
mg
|
Potassium:
55
mg
|
Sugar:
2
g
|
Vitamin A:
10
IU
|
Calcium:
2
mg
|
Iron:
0.1
mg
Did you make this recipe?
Bacon Dust Walkthrough
Obviously, you need bacon to make bacon dust! Just a few notes:
Don't buy thick-cut bacon. You want it thin so it dries out faster!
You have to use a wire rack for this recipe. It's probably the most important part. As the bacon slowly roasts, the moisture and fat in it will render out and you want to make sure it drips off the bacon!
Bake the bacon at 350 degrees F. to start for about 15 minutes. This is about where I would stop if I were actually eating the bacon now. We are going so much further though!
Important: Turn your heat down to 225 degrees F. If you continue to cook the bacon at a high temp, it'll just burn rather than dehydrate, which is what you want.
Let the bacon continue to dry out at the lower temperature for around two hours. I recommend flipping it once halfway through. When the bacon is done it'll be very brittle and dry to the touch.
Now it's time to dust it up!
Crumble the bacon into a spice grinder and add some sugar and salt. Those will help give the bacon dust some volume and also will obviously season it!
Hit go and BOOM.
Scoop out the bacon dust and you'll be left with one bacon flavored spice grinder! Ha!
Okay… quick way to clean a spice grinder. Just add a few tablespoons of white rice to it and pulse it up. The rice will pick up any leftover bacon bits.
Back to the dust!
This was my finished product. It's much finer than bacon bits, but still has some texture to it.
I could see sprinkling this stuff on all kinds of snacks because it has a really nice salty/sweet flavor. It would go well on sweets like brownies or cookies, but popcorn is an obvious win.
Anybody ever made anything like this before? It was my first attempt but I thought it came out great!